How To Get Black Armour in OSRS
This post may contain affiliate links. If you buy something we may get a small commission at no extra cost to you. (Learn more).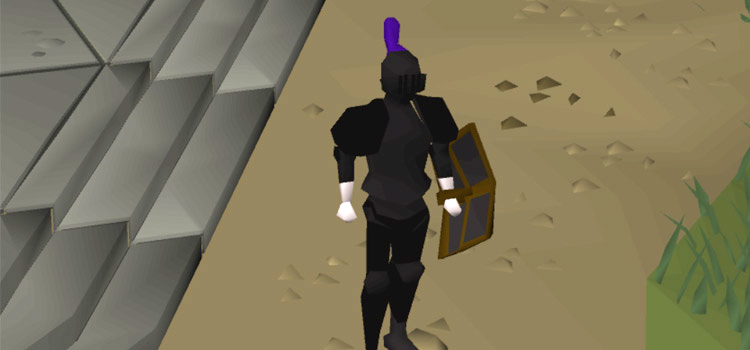 The Black Armour Set consists of a full helm, platebody, platelegs, and kiteshield. These items only require 10 Defence to be worn.
Black items cannot be created through the Smithing skill. Instead, these have to be obtained via one of a few methods:
Drops from various monsters
Purchased from certain shops around Gielinor
Or you can purchase them from other players
Three of these items (helm, platebody and platelegs) can be obtained through shops in Free-to-Play areas.
Black kiteshields, however, can only be obtained through a shop located in a members-only location.
Obtaining the Black Full Helm
Black full helms can be obtained from Valaine, upstairs in the Champions' Guild.
These sell for 1,372 coins each. This is currently the only method for F2P players to obtain this item.
The Champions' Guild is located south of Varrock, in the Misthalin area. It's worth noting that in order to enter this building, you must have a minimum of 32 Quest Points achieved in their account.
Obtaining the Black Platebody
Black Platebodies can be bought from Horvik, the blacksmith just east of Varrock Square.
He sells black platebodies for 3,840 coins each. This is the only method for Free players to obtain them. Members can also purchase them from Zenesha in East Ardougne for the same price.
Horvik's Armour Shop is located just east of Varrock Square, in the Misthalin area. There are no requirements in order to get to this area, nor are there any requirements in order to purchase the Black Platebody (other than the 3.840 coins required).
Some recommended ways to get here are:
Teleport to Varrock (Square)
Canoe to Cook's Guild, and run east
Home teleport to Lumbridge, and run north
Obtaining the Black Platelegs/Plateskirt
Black Platelegs and Plateskirts can be purchased from Ranael (plateskirts) and Louie Legs (platelegs), both in Al Kharid.
Alternatively, Valaine in the Champions' Guild also sells the platelegs.
Free-to-play players can obtain either of these for 1,920 coins each. The difference is purely aesthetics: Plateskirts and platelegs offer the same defensive bonuses and weight.
Note: There are currently no shops exclusive to Members that offer these items in stock for purchase.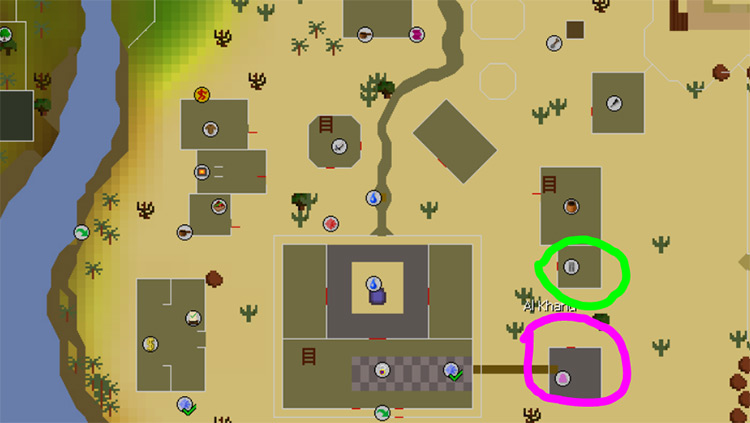 These shops are located next to each other, in the southeast corner of Al Kharid. There are no requirements to access this area, nor are there any prerequisites required to purchase the Plateskirts or Platelegs (other than the 1,920 coins).
Some recommended method of teleportation are:
Home teleport to Lumbridge, and run east
Amulet of Glory teleport to Al Kharid (Members)
Obtaining the Black Kiteshield
Currently, the only shop that handles Black Kiteshields is in a Members-only area: Saro's Quality Armour Shop in southwestern Keldagrim. You can buy them for 2,121 coins each.
To make matters more complicated here, the shop doesn't restock naturally.
This means the stock is normally at 0, and will only rise when another player sells a Black Kiteshield to the store.
Aside from buying the shield, Combat is your only other method of obtaining one.
Although free-to-play players who are unable to trade other players (such as Ironmen) can only obtain the Black Kiteshield by killing Ice Giants in the Asgarnian Dungeon, at a drop rate of 1/30.
If you'd rather choose the trading route, Saro's store is located in the southwest corner of the dwarven city of Keldagrim.
Getting there requires starting The Giant Dwarf quest (just taking the boat to the city).
Some recommended teleports are:
Minecart system from the Grand Exchange
Fairy Ring to Rellekka Slayer Cave
Slayer Ring teleport to the Slayer Cave
Blast Furnace minigames teleport
And that's it!
Black armour is a flashy set of gear that piques the interest of a lot of newer players, while still offering rather decent defensive stats. If that's your thing, grab your teleports can go buy a couple pieces of black armour.
Browse:
RuneScape
Video Games