How Do You Get Nettle Tea in OSRS?
This post may contain affiliate links. If you buy something we may get a small commission at no extra cost to you. (Learn more).
To get Nettle Tea, you'll first need to collect nettles and add them to a bowl of water. This will create nettle-water, which you can then cook to create Nettle Tea.
Nettle Tea is untradeable, so you have to make it yourself.
And you'll need at least Level 20 Cooking to make the tea.
Nettles are a members only item, so they are unobtainable for F2P (Free to Play) accounts.
Step 1: Obtaining Nettles
Nettles can be found in many places in RuneScape, but first you'll need to find gloves. If you try to pick nettles without any gloves on, you'll take damage – and more importantly you won't get any nettles!
Almost any pair of gloves will work, except for the Beekeeper's Gloves from the beekeeper random event.
There's a high chance you have some gloves in your bank already, but if not, leather gloves are easy to obtain.
One of the most convenient spots for gloves and nettle-picking is Edgeville. It has a leather glove spawn next to the bank, and the nettles growing there are only 33 steps away from the bank booth.
If you don't want to gather from Edgeville, the maps below show all the locations where you can get nettles.
Nettle Locations in Gielinor's Mainland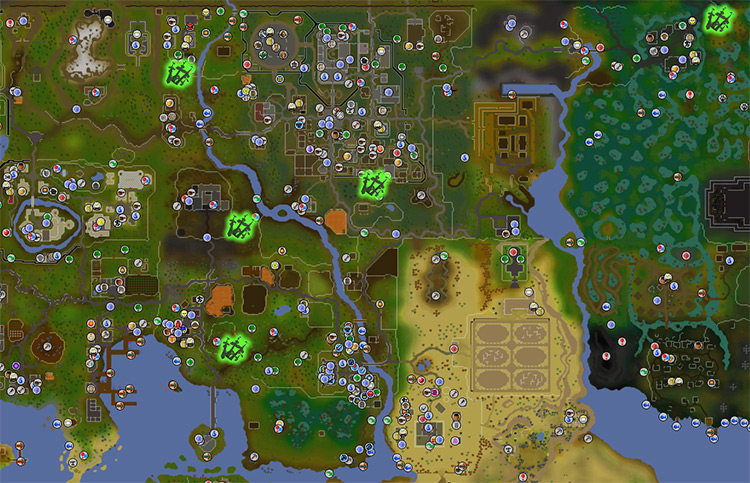 Nettle Locations in Great Kourend
While wearing gloves, go to any location where nettles are growing and click on the plant to receive some.
There are no skill requirements for picking nettles, and you can take as many as you need, as they respawn faster than you can pick them.
Step 2: Preparing the Bowl
With the nettles obtained, it's time to get a bowl to make the tea in.
While you can make a bowl yourself, it's faster and easier to pick one up at an item spawn or buy one from most general stores.
Luckily, Edgeville has a general store that sells bowls for 5 gold each. It's in the northwest corner of Edgeville, marked with the pot icon in the map.
You need water in your bowl to make the tea, so bring the bowl to any water source (except wells). You can find water sources on the map by looking for the water drop symbol.
Once again, Edgeville has our back.
The house just south of the general store has a sink and a stove. Click on the bowl, then the water source, and you'll fill it with water.
Warning: Do not skip a step and heat the water before putting in the nettles! A bowl of hot water cannot be made into Nettle Tea, and you'll have to start over.
Step 3: Creating the Nettle Tea
When you have nettles and a bowl of water in your inventory, select the nettles and add them to the bowl of water. This will make nettle-water.
You'll be able to choose how many nettle-waters to make, including making them all in one go. Then go to any stove, range, or fire and use the nettle-water on it.
Be careful when selecting the nettle-water, since you might accidentally drink it instead.
If you meet the 20 Cooking requirement, you'll be able to make Nettle Tea.
If successful, you'll get the tea and be rewarded with 52 Cooking experience.
There is a chance you can fail cooking the Nettle Tea and end up with an empty bowl and no experience, losing the water and the nettles. If so, you'll have to start over.
It's a good idea to have multiple bowls of water and extra nettles just in case.
The higher your Cooking skill is, the higher your chances are of successfully cooking the tea. At level 20 Cooking, you have a 55% chance of properly making the tea.
At level 54 Cooking, you will never fail at making Nettle Tea.
While there is no difference between cooking Nettle Tea on a range or on an open fire, you can increase your chances of success by using the Hosidius cooking ranges in Kourend if you have enough favor.
Uses for Nettle Tea
Here's a brief summary of what Nettle Tea is used for:
When consumed, it heals small amounts of health and restores some run energy
Nettle Tea can be poured into a cup or mixed with milk to make cosmetic variants
It's a required item for the Ghosts Ahoy quest, where an Old Crone will give you a porcelain cup for you to pour Nettle Tea into. She will also request that you add milk to it.
And it's used in the Skippy and the Mogres miniquest, where you need to pour the Nettle Tea on Skippy's head to sober him up.
Browse:
RuneScape
Video Games