OSRS: How Do You Get To Brimhaven? (Best Methods)
This post may contain affiliate links. If you buy something we may get a small commission at no extra cost to you. (Learn more).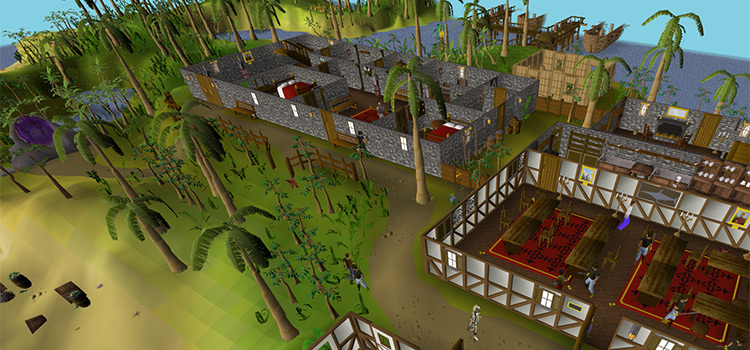 Brimhaven is a pirate town located in the northwest corner of the tropical island of Karamja.
There are no skill or quest requirements for reaching Brimhaven. And most methods of reaching Brimhaven require a small gold expenditure, usually in the form of boat fees or teleportation charges.
Note: Since Brimhaven is members-only content, F2P (Free-to-Play) accounts will be unable to go there.
Teleports & Ships to Brimhaven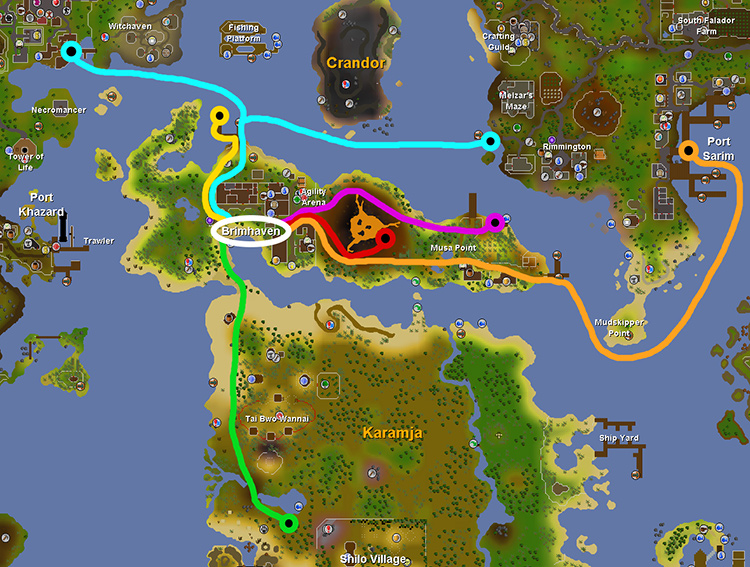 With Karamja's central location in Gielinor, there are many ways to reach Brimhaven. Listed below are our suggested methods, from best to worst:
Karamja teleport using the Amulet of Glory, then walk west (Purple Line)
Grouping Teleport to TzHaar Fight Pits, walk east to cave exit, climb rope, walk west (Red Line)
Fairy Ring teleport (combination CKR), then walk north (Green Line)
Charter Ship from most ports to Brimhaven (Yellow Line)
Captain Barnaby's Ship from Rimmington or Ardougne to Brimhaven (Blue Line)
Captain Tobias' Ship from Port Sarim to Musa Point, then walk west (Orange Line)
The Amulet of Glory, being widely available and easily recharged, is the most recommended way to reach Brimhaven. It puts you a short walk away from Brimhaven.
The user interface has a Grouping Teleport feature that transports you to the TzHaar Fight Pits. You'll have to walk east out of the cave, then climb the nearby rope to the top of the volcano. Then, head west to Brimhaven.
The CKR Fairy Ring teleport takes you to Tai Bwo Wannai Village, which is a short trek away. It requires starting (but not finishing) the Fairy Tale II – Cure a Queen quest.
Most ports have a charter ship that can take you to Brimhaven's port. Charter Ships get more costly the further they are from Brimhaven. The most expensive trip is from Prifddinas at 3,560 gold.
You can cut the price of Charter Ships in half if you complete the Cabin Fever quest. If you wear the Ring of Charos(a) from the Garden of Tranquility quest, charter ship prices will be reduced by half again. These two effects combine to reduce costs by 75% total.
Captain Barnaby has ships at the southeast dock of Ardougne and the west dock of Rimmington. He'll get you to Brimhaven at a much cheaper 30 gold. Talking to the Captain with the Ring of Charos(a) makes it free.
Port Sarim's boat to Musa Point may be the most familiar option for players fresh from F2P worlds.
After taking the boat, it's a straight walk west from Musa Point to Brimhaven.
And once you've reached Brimhaven, there are a few major attractions.
Brimhaven Agility Arena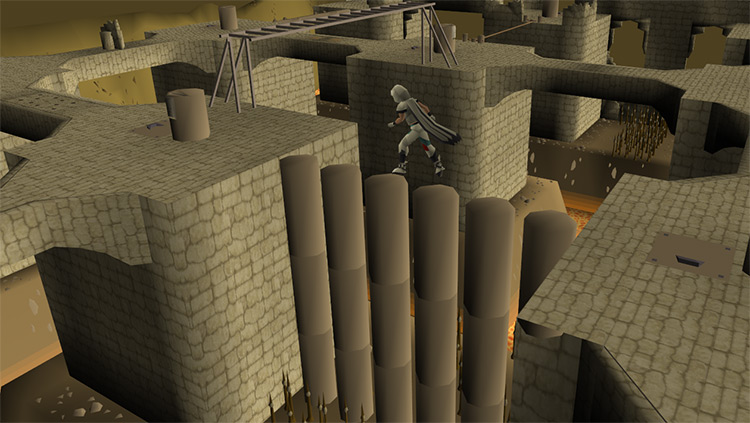 Bored of doing loops on obstacle courses or running on rooftops for Agility experience?
For a small entry fee of 200 gold, the Brimhaven Agility Arena is a minigame offering a more dynamic method.
Within the arena are ticket dispensers separated by agility obstacles. A single dispenser will be active at a time.
Players go through obstacles to reach and tag that dispenser before time runs out and another random dispenser becomes active.
Each dispenser tagged after the first awards a ticket, which can be exchanged for rewards such as valuable herbs, a blue recolor for the graceful outfit, a pirate's hook, or more agility experience.
And everyone can train Agility in this arena, even from level 1!
Brimhaven Dungeon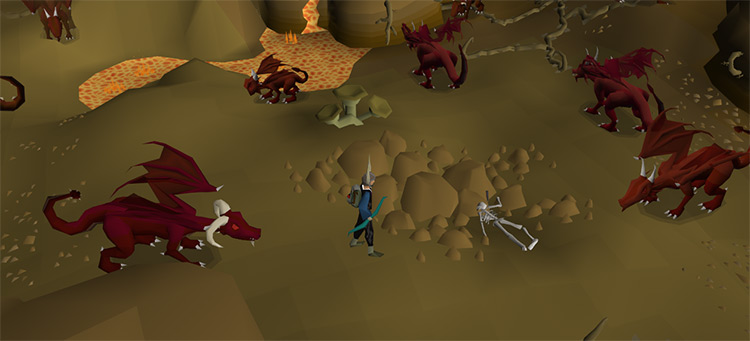 If you're seeking greater challenges, the Brimhaven Dungeon may have what you desire.
Powerful monsters such as greater demons and metal dragons dwell inside. This is a good location for higher-level slayer tasks.
To get here via the northern entrance, you'll need to pay 875 gold each time, or a one-time fee of 1,000,000 gold for unlimited entry.
The southern entrance only requires a one-time fee of 5,000 trading sticks.
You'll also need an axe to cut away the vines blocking the various pathways.
Despite the entry fees, you'll quickly recoup the cost from the valuable monster drops inside.
Mining and Farming Locations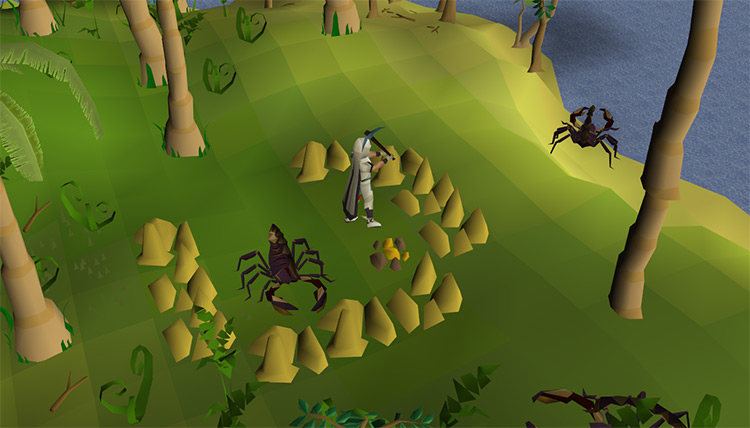 Aside from Agility training in the Arena or combat training in the Dungeon, Brimhaven has some extra miscellaneous opportunities for raising other skills and obtaining materials.
There are 10 gold rocks to mine on the northwest peninsula.
There's also a fruit tree patch and a spirit tree patch for farming near the docks. So if you grow trees here, you'll be coming back to Brimhaven often!
Quests in Brimhaven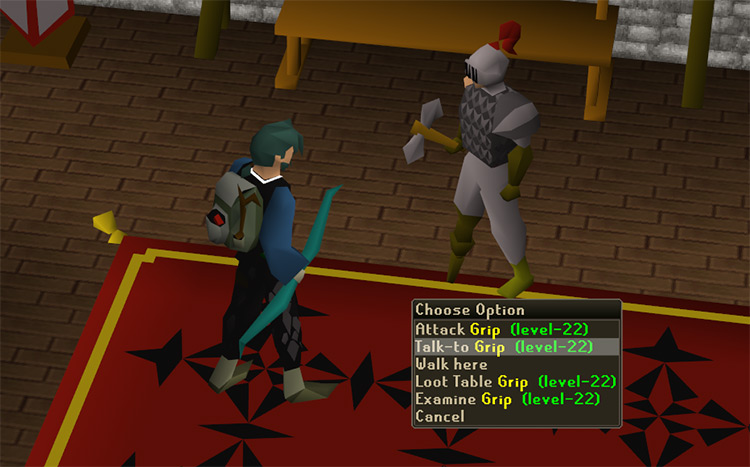 Brimhaven is even featured in quite a few quests in OSRS:
Heroes' Quest – requires you to cooperate with another player to steal candlesticks from the pirates to obtain the Master Thieves' Armband
Holy Grail – will take you to the guard tower near the gold rocks to reach the Fisher King's Realm
Shilo Village – rewards you with a cart service between Shilo Village and Brimhaven
Tai Bwo Wannai Trio – needs you to get information from Lubufu near the player-owned housing portal in Brimhaven
Tribal Totem – where you retrieve a stolen heirloom, starts and ends in Brimhaven
Wanted! – features Brimhaven as a random destination while chasing Solus
These quests and skilling locations ensure that most P2P players will visit Brimhaven time and again.
So you'll become quite familiar with this scenic location over time, and you'll probably learn to optimize the best path to get here pretty quickly.
Browse:
RuneScape
Video Games