How To Get To Motherlode Mine in OSRS
This post may contain affiliate links. If you buy something we may get a small commission at no extra cost to you. (Learn more).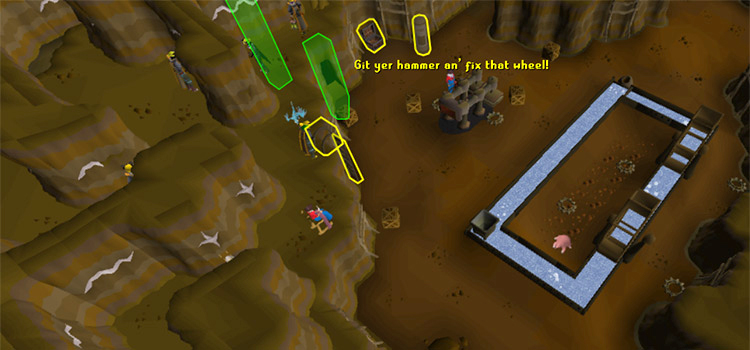 Motherlode Mine (or MLM) is located in the dwarven mines beneath Falador, just outside of the Mining Guild. While there are no hard requirements to get to Motherlode Mine, a minimum of level 30 Mining is required to actually mine anything and take part in the activity.
In this guide we'll share the best ways to reach MLM, ranked from best to worst.
Choose whichever adapts best to what you have unlocked!
Note: while the dwarven mines are available to free-to-play players, entrance to Motherlode Mine is restricted to Members only.
Option 1: Skills Necklace Teleport (Fastest Method)
The quickest and most direct way to Motherlode Mine is to teleport with a Skills Necklace.
This will leave you just outside the minigame's entrance, next to the door to the Mining Guild.
Skills Necklaces are enchanted Dragonstone necklaces, which can be recharged after all charges are depleted. This makes for a highly convenient teleportation method!
On the other hand, they may seem a bit tough to obtain for newer players (around 12k each), or for Ironmen with a low crafting level.
If that's the case, don't worry – there are easier options!
Option 2 – Falador Teleport
Falador has a variety of teleports available, which means it's likely that you have one at your disposal. In this case, we'll mention three:
Standard spellbook teleport (37 Magic) (Green)
Falador respawn point (Recruitment Drive) (Blue)
Ring of Wealth teleport (Red)
Out of these three, the Ring of Wealth (enchanted dragonstone ring) is the only one without requirements, and works just like the Skills Necklace.
On the other hand, 37 Magic and Recruitment Drive are low-level requirements which can be quickly met by most players.
These are usually the options most players choose due to their ease of access, while still being quite close to Motherlode Mine's entrance. We suggest giving it a try!
Option 3: Longer Routes To Falador
If you want to travel to Falador on foot, it can feel rather far away from other teleport locations.
But this is usually the method that most new players choose at first, and it's how they reach Falador for the first time.
If that's the case, we recommend starting from either Varrock or Lumbridge. These towns are generally well-known by newer players, which makes it a nice reference point.
You'll get to Falador (and thus MLM) from Varrock by running west, or from Lumbridge by running west until Rimmington, and then running north.
And finally, you might find it quicker to run south from Burthorpe, if you find a Games Necklace laying around; Despite this, given that you chose to avoid purchasing a Skills Necklace, we recommend saving your Games for a better time.
Whichever option you choose, make sure to pay Motherlode Mine a visit!
Browse:
RuneScape
Video Games