15 Best Old School RuneScape Quests For Beginners (F2P + P2P)
This post may contain affiliate links. If you buy something we may get a small commission at no extra cost to you. (Learn more).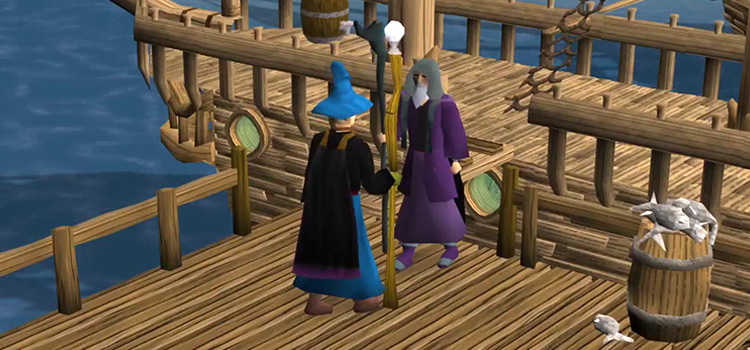 In OSRS there are a ton of novice-level quests that introduce you to the world and game mechanics. The idea is to prepare you with basic info so you're ready for all future adventures!
In total, there are 48 novice level quests, with some just being silly and fun – while others introduce you to skills and brand new areas.
Everyone's got to do theses quests at some point if they wish to further their account. So let's take a look at some of the best novice-level quests in the game.
15.

Cook's Assistant
Probably the first quest you'll run across in OSRS is this one (and I bet most of you remember it).
When you spawn into Lumbridge, this will be one of the first things you see.
This quest is a great introduction to early game cooking, and of course, it's available for F2P players too!
Granted it's very short in length, and won't take you far beyond the borders of Lumbridge to complete.
Who knows, maybe the head chef will have a harder task for you once you're ready for it…
Where to Start: Ground floor of Lumbridge Castle, speak with the head chef in the kitchen.
14.

Demon Slayer
As a very early introduction to combat in OSRS, Demon Slayer will have you face off against a level 27 demon who's threatening the city of Varrock.
Only an adventurer with the fabled weapon Silverlight will stand a chance against this monstrous threat.
This quest requires some basic combat abilities to complete, and will also take you through some slightly more in-depth puzzle solving compared to other quests. Still a great one to play through.
Where to Start: In Varrock square, speak with the gypsy who will tell you about your destiny.
13.

Doric's Quest
Yet another F2P option on this list, Doric's Quest offers you an early introduction to the mining skill.
Doric will need you to collect some low level ores on his behalf.
So you'll need a pickaxe to get started, and you'll need to have roughly level 15 mining (or higher).
Complete this quest and Doric will let you use his anvils whenever you wish!
You'll also snag a small 1.3k mining experience, which might be a few mining levels for a novice player.
Where to Start: Doric is located just south of Goblin Village and North of Falador.
12.

Client of Kourend
Some quests introduce you to skills or equipment, while the Client of Kourend introduces you to the massive island of Zeah!
It's the first quest to do with Zeah, and will have you exploring all of the major houses of Zeah as an introduction to the land and its strange people.
This will also unlock the Kharedst's memoirs, which is a small book that allows you to teleport around the island.
But you'll need to keep it charged if you want to make use of it.
I highly recommend using it though, as there are no early game teleports to the island, and the ones you can use will take effort to unlock.
Where to Start: Speak with the strange Veos at the Port Piscarillius dock to start this novice level quest.
11.

Eagles Peak
This is a fun little quest where you'll be helping Charlie the zoo keeper find a new attraction for the Ardougne Zoo.
Namely, a ferret!
Ultimately the focus is on teaching you about the Hunter skill.
In this quest you'll be exploring Eagles' Peak, near the Gnome Stronghold, solving puzzles, and ultimately catching the ferret.
This is an important one to complete, as it unlocks box traps, which are important for catching Chinchompas.
You'll also gain access to the eagle transportation system too.
The quest involves a lot of running around, so bear that in mind, and is a medium length quest to complete.
Where to Start: Speak with Charlie the zoo keeper at Ardougne Zoo.
10.

Rune Mysteries
Here's a great F2P quest which unlocks the mysteries of runes.
This is designed as an introduction to the Runecrafting skill, and the skill is actually locked behind this quest.
You'll learn how to craft runes from scratch using the Rune Essene mines, as well as how to travel there!
The quest is short, though, and involves running around between a few cities like Lumbridge, Varrock, and the Wizards' Tower.
With some teleports or a stamina potion, you'll have this beat in no time at all.
Where to Start: Speak with Duke Horacio who's located on the 2nd floor of Lumbridge castle just below the bank by the spinning wheel.
9.

X Marks the Spot
Here's one more quest to do with our friend from Kourend Veos.
This one's an introduction to the clue scroll system in OSRS, and will have you solving riddles and clues – as is typical of a clue scroll.
Clues range from riddles to cyphers, so a good knowledge of some of the early locations in OSRS would be very beneficial!
You'll also want a spade and maybe a stamina potion to get through this very short quest quickly.
Where to Start: Speak with Veos in a pub right outside of Lumbridge named the Sheared Ram.
8.

Plague City
This is the start of a very long quest series, the elven quest line, which ends in a Grandmaster Quest.
Plague city will take you into the quarantined West Ardougne, which is currently going through a deadly plague.
You'll need to find a secret way inside, past the massive walls, to find a missing girl.
Completing this quest will unlock the very useful Ardougne Teleport, and some mining experience.
But the primary purpose of the quest is to introduce you to the elven quest line.
Where to Start: Talk to Edmond at the edge of East Ardougne, near the massive wall separating east and west Ardougne are located.
7.

Recruitment Drive
Recruitment Drive introduces you to the Temple Knights of Saradomin, and the quest line which follows it.
This primarily focuses on puzzle solving, as you'll be sent into an arena and tasked with completing various puzzles.
Some of the riddles in this quest are not easy.
I would recommend making use of a quest guide for this one, as honestly it can be difficult for even veteran players.
You can check YouTube for video walkthroughs if you prefer that, or there's a decent written guide here.
Completing this quest unlocks access to the initiate armour, which is some decent armour with prayer bonus. And you get some experience in various skills, plus the ability to change your respawn point to Falador.
Where to Start: Speak to Sir Amik Varze in the White Knights Castle.
6.

Death Plateau
So this is a very useful quest to complete, and is the first in the Troll quest line.
You'll be seeking a way past the dangerous impassable Death Plateau, that way the trolls threating Burthorpe can finally be dealt with.
You'll need to find and secure a secret way up the plateau, which will grant you the ability to explore the troll country further.
Completing this quest also grants a way up the pass, plus the ability to make claws via smithing, and the ability to buy and wear climbing boots.
Climbing boots are also a great pair of boots with decent stats!
Where to Start: Start this quest by talking to Denulth in Burthorpe by the training camp.
5.

The Ascent of Arceuus
Zeah is a very big island with much to do.
And there are five houses there, all of which have their own histories and stories.
The Ascent of Arceuus explores the house of Arceuus, which is a clan of mages who have abandoned their physical bodies to achieve immortality.
A member of their house has died the first in thousands of years. It's up to you to figure out why.
Completing this quest will grant the player 10% Arceuus Favour, some experience, and a page for your Kharedst's Memoirs, helping you teleport to the center of Arceuus.
Where to Start: Speak with Mori in the Arceuus district of Zeah.
4.

Dwarf Cannon
So this is a very easy quest to do, and it has a fantastic reward for a novice quest!
Highly recommend checking this out as soon as you can.
The Dwarf Cannon sees you assisting Captain Lawgof with a variety of tasks, one of which is fixing his Dwarven Multi Cannon.
The multi cannon is a fantastic item, and it purchasable for 750k gp once the quest is completed.
This cannon is used by veteran players often, since it provides excellent range experience, high damage, and is useful for a variety of things like as Slayer Tasks.
Actually, this cannon is arguably the best novice quest reward in OSRS for combat.
Where to Start: Speak with Captain Lawgof who's located near the Fishing Guild. If you wish to purchase the Dwarf Multi Cannon after the quest, you'll need to head to see Nulodion, located at the entrance to the Dwarf Mines just below Ice Mountain.
3.

Elemental Workshop I
This is a rather unique quest in OSRS, as it's entirely done via notes and puzzle solving.
There's almost no one to speak to as you descend down into an ancient workshop capable of crafting the one and only elemental shield.
This shield is necessary to fight Skeletal Wyverns (and other Wyverns) so completion is a must.
Completing the quest grants the shield, as well a nice chunk of smithing and crafting experience.
Where to Start: Starting is a bit tricky since there's no NPC to talk to. You'll need to go to the house southwest of the Seers' Village Bank and search inside a bookcase for a book on the elemental shield. Use a knife on it to receive a battered key, and then you can enter the doorway by the anvils next to the Seers' Village Bank.
2.

Biohazard
So this is the sequel to the Plague City quest we covered above.
And it further explores the plague in West Ardougne.
This time you'll need to smuggle a plague sample out of the quarantine zone for testing – because there may be something pretty strange going on!
The actual quest work involves a few riddles and puzzles, as well as some sneaky behavior.
And completing this quest allows you to access West Ardougne through the main gate! You'll also have access to the combat training camp as well.
Where to Start: Speak with Elena, right where you started Plague City, to begin this long quest.
1.

Druidic Ritual
Topping our list is the Druidic Ritual quest.
And it takes this spot because it unlocks the incredibly useful Herblore skill.
But what you'll be doing is helping a druid with, well. a ritual!
You'll need to take some raw meat and enchant it for the ritual to be completed. After that, you'll learn about Herblore and could start getting into it yourself.
Where to Start: Kaqemeex at the stone circle right outside of Taverley.
Browse:
Lists
RuneScape
Video Games