Best Places To Catch Shrimps & Anchovies in OSRS (F2P + P2P)
This post may contain affiliate links. If you buy something we may get a small commission at no extra cost to you. (Learn more).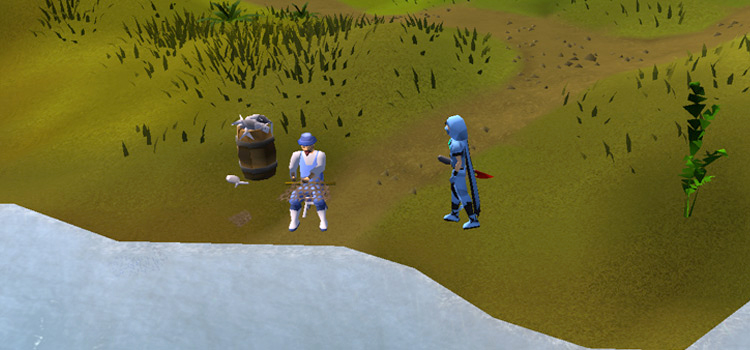 Even though there are quite a number of places where someone can catch shrimps and anchovies (both in F2P and P2P), the only spots worth talking about are:
Draynor Village (F2P, has aggressive Dark Wizards)
Al Kharid (for low level players, very hard to get attacked)
Barbarian Outpost (best P2P)
Shrimps and anchovies are low level fish that require level 1 and 15 Fishing respectively, along with a small fishing net in order to be caught.
Small net fishing is usually not something that a lot of players do because of the unremarkable rates of experience per hour.
Still, the catches themselves can fetch a small price on the G.E. So it's a perfectly fine early-game money-maker for new accounts straight out of Tutorial island!
Best Spots To Consider
1. Draynor Village
Draynor Village is quite the hub for free players.
Thanks to the Willow trees and fishing spots that are located behind the bank, this place is always hustling and bustling and full of life in almost every free to play world (especially 301).
While it's the closest fishing spot to a bank, low level players should avoid it due to the presence of two level 7 Dark Wizards that can easily KO you from 10 hp.
2. Al Kharid
Al Kharid serves as the substitute for free players that don't want to lose their life to Draynor's Dark Wizards.
Just a few steps south of the bank are a couple of fishing spots, full to the brim with juicy shrimps and anchovies for you to catch!
There's a scorpion that patrols the area to the east, but it's very hard for it to reach the fishing spots.
3. Barbarian Outpost
While my calculations test might be off by a few milliseconds, after test-running back and forth from and to the bank at multiple fishing spots, I've come to the conclusion that this is probably the best spot for small net fishing.
The fishing spots here are located west and just outside the Outpost, right besides a few Willow trees (what's with willows and shrimps anyway?).
Reaching the Barbarian Outpost can be done easily through the use of a Game's Necklace, or the Minigame Teleport once every 30 minutes.
Extra Knowledge for Novice Anglers
Before you dip your toes in the literal grand-sea of fishing, here are a couple of tips to get you started on your journey:
Rada's Blessing from the Kourend and Kebos diary has a chance of doubling your catch. It starts off at 2% and maxes out at 8% with the elite diary.
The Dragon Harpoon's special attack can temporarily boost your fishing level by +3.
A 2,5% experience boost can be achieved by wearing all the pieces of the Angler's Outfit.
The Fish Barrel from Tempoross can store a combined total of 28 fish, essentially doubling your inventory and cutting banking trips down by half!
Browse:
RuneScape
Video Games