Best Parkitect Mods & Custom Rides: The Ultimate Collection
This post may contain affiliate links. If you buy something we may get a small commission at no extra cost to you. (Learn more).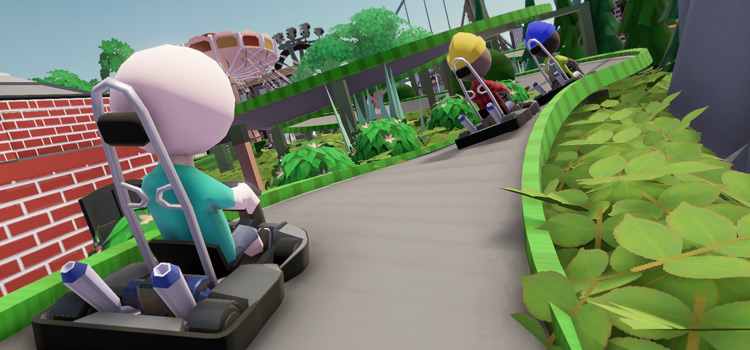 Building and managing your own amusement park was typically best done in Rollercoaster Tycoon.
But Parkitect is a serious contender for theme park sim gaming.
Building amusement parks from the ground up has never been so easy, especially with tons of custom mods, custom rides, and all sorts of add-ons for the game. Not to mention quality-of-life changes.
The Steam Workshop alone has hundreds of mods to enhance your park-building experience, and here are some of the best ones worth trying.
30.

PTE (Park Train Extras)
Parkitect's Steam Workshop can be described as a builder's toy store. It's just littered with custom items and assets for whatever theme park you're building.
As if the game doesn't already have tons of options, the modding community has gone much deeper in terms of detail, and I'm pretty sure you'll find whatever assets you're looking for.
The PTE pack covers train tracks in particular, giving you more flexibility in terms of theme and appearance.
The set has been said to work especially well if you're going for a Wild West park, but I'll leave it to you to find your own creative uses for these rail designs.
29.

RoadWorks
If you have a set for rails, then you must have a set for roads as well.
DanielDerStolle's RoadWorks gives you exactly that, giving you loads of additional road-related decoration items to design your parking and driveway areas with.
This pack includes different sets of road signs, street paint, barriers, and lamp posts to choose from, giving you an unlimited amount of options to customize every inch of your park to the detail.
28.

Cars Pack
You're going to want to get the Cars Pack to go with the RoadWorks set.
Simply enough, the Cars Pack provides 5 custom car models that you can place anywhere you'd like – as the modder himself explains that they can be used to fill your parking lots or even placed on top of a burger store if you wanted.
How you use them is completely up to you, and each car model is recolorable as well.
As an added bonus, headlights for each of the cars can be set on or off as well. So you have complete control of how they appear in your park.
27.

Windoors
Keeping in line with the theme of every little detail matters, the Windoors pack is a great mod to have for customizing buildings within your amusement park.
The pack includes 26 custom deco objects, including 13 windows, 6 doors, 1 roof window, 3 archways, and 3 windows decorations for you to customize any structure with.
What's even better is that all items are modular and can be combined with any kind of wall you might choose, so while you'll be using walls from the base game, you'll be able to add your own personal touch to each to make them your own.
26.

Path Covers and Borders For Your Park
To take your customization capabilities to yet another level, you're going to want to try out [SCAM] Mike Thinks' Path Covers and Borders pack.
It's great for decorating open areas of the park, as it offers one of the most powerful customization tools for the game.
The included borders and curbs can be used to round off square corners to avoid restricting everything you build to the square tiles the game provides.
This adds a whole new depth to building and makes a huge difference as seen in the sample photos.
25.

shyguy's Building Set 1
Modder shyguy has become one of the most popular in the Parkitect scene, as most of his mods are widely considered to be essential custom content for any park builder.
His Building Set 1 alone already gives you 141 new objects to decorate your park with, focused on basic building items like doors, walls, windows, roofs, and floors.
There's more sets on his workshop page, so I'd go there directly if you're looking for something more specific.
24.

Extra Lights
It's great to admire a theme park in all its glory while the sun's out. But they have a way of lighting up at night that somehow always make you wish you could stay.
With Parkitect's night mode, you're going to want to get hitchknocker's Extra Lights pack to match.
Customize how your park glows at night with his spotlights and lamps, allowing you to direct focus to the parts of the park you prefer to highlight during nighttime.
This is made much more convenient by the ability to place spotlights at different angles and in different colors as well, keeping your park alive even when the sun goes down.
23.

Better Shapes
Of course, having the prettiest lights won't make a difference if there isn't anything for your guests to look at.
Park decorations play a huge role in making your guests feel like they've left the real world for a much more fun place as well. So fun little decorations are certainly worth modding into the game.
The Better Shapes pack gives you complete freedom to explore your creativity as it provides 22 blank shapes that can be resized, recolored, and combined to create completely unique pieces of decorations.
22.

Animal Statuen
If you're looking for something a bit more polished, Dekubitus' Animal Statuen pack just might do the trick.
The pack contains 5 ready-made statues including a lion, alligator, horse, bear, and elephant to decorate your park with.
These would go well with any jungle-themed ride or could just as easily be placed randomly by any ride's queue to keep guests busy while waiting for their turn to get on.
21.

Architect toolbox
Up next we have another pack from hitchknocker, this time providing another set of specific decorative items to bring life to your park with.
The pack includes some special roofs as well as some harbor and industrial objects which you might find useful for water or industrial-themed areas of your park.
Also included in the mod are a clock, bollards, and a giant globe statue which would make a great centerpiece for any area within your park.
20.

Letters
Hitchknocker delivers yet again with his Letters pack for Parkitect.
This pack includes placeable letters, numbers, and symbols to place around your park, allowing you to create custom signs for rides or any other areas you'd like your guests to be able to easily make their way to.
All objects can be resized and recolored as well, so you'll have complete freedom in terms of how they look.
19.

Picnic Pack
With your guests spending their entire day at the park, it's important not to forget that they're going to be eating all their meals there as well.
With that, you're going to want to make sure you provide them with enough comfortable spots to sit and eat – and the Picnic Pack lets you do exactly that.
The pack is simple, containing 16 placeable objects to build your own picnic areas with, each being resizable and recolorable as well.
18.

shyguy's Dining Set
Whether picnic tables aren't enough or don't go well with the overall theme of a specific area, shyguy's Dining Set offers some of the best dining area objects you can get for Parkitect.
The pack contains 60 different objects including tables and chairs for your guests to eat on.
Included as well are patio umbrellas so your guests don't have to eat out in the sun, as well as a cabana to comfortably seat groups of four.
17.

Lighthouse
You might have thought up some specific themes you might want to build a new area of your park in, and there are loads of options in the Workshop to cover those as well.
This Lighthouse mod would be a great addition to any ocean or water-related area of your park, or could even make for a great deco if you're building your park next to a beach.
The lighthouse can be recolored and has a working light for the nighttime and included as well are recolorable crows and seagulls for added decoration.
16.

Toys Kit
If you're looking to build a Toy Story-inspired park, Kenney's Toys Kit is the mod to start with.
It contains various toy pieces that can be placed on buildings or on the ground to get that arcade/toy store vibe that you might be looking for.
With the mod installed, you'll have access to giant lego blocks, tetris blocks, joysticks, pacman signs, and even Mario pipes to decorate with.
Some items even light up at night, so keep an eye out!
15.

Asia Pack
You might be looking to recreate something similar to Taiwan's Leo Foo Village Theme Park, in which case, Marnit's Asia Pack would be your best bet.
The pack contains over 100 placeable objects that match the theme, allowing you to create completely custom Asian structures for your park.
I imagine the pack would work great for a Mulan or anime theme park as well, but you'll have the freedom to do whatever you want with the pack really.
14.

Maya
From the pointed Asian roofs, we're taking a look at some of the architectural designs from Central America with this next mod.
Dekubitus' Maya allows you to build Mayan temples, palaces, and pyramids with the set of stone stairs, walls, and decorations to choose from.
Looking to build your very own Indiana Jones ride?
Look no further.
13.

Cyberpunkland
With the highly anticipated upcoming release of CDPR's Cyberpunk 2077, everything cyberpunk is all the hype these days.
Well what's stopping you from building your very own cyberpunk world?
To be able to do so you'll need hitchknocker's Cyberpunkland pack, allowing you to unleash your creativity with the pack's neon lights, robots, and other futuristic assets to build your very own dystopian future.
12.

Castle Kit
When it comes to theme parks, nothing really beats the classic castles of Disneyland.
I'm sure it's the first thing that comes to mind for many of us at the thought of an amusement park. And if you'd like to keep within the classic style in your own custom castles, you're going to want Kenney's Castle Kit.
The pack provides prioritizes ease of use, providing 20 assets you can use to build complete custom castles with.
As with most other mods here, all objects can be resized and recolored to match whatever style you're building.
11.

Distantsics Support Mod!
Rollercoasters are undoubtedly the highlight of any theme park.
And you're probably going to be building a lot of them during your time with Parkitect.
While the default options are already robust on their own, it never hurts to have more options.
You're bound to end up looking for something that isn't there at a certain point, and these next few mods might have what you're looking for.
The Distantsics Support Mod gives you additional support items to use including flanges, beams, and footers for your rollercoasters.
10.

Track Edit
Mike's Track Edit mod is another great tool to get your rollercoasters running exactly the way you want them.
With this mod installed, you'll be able to completely customize tracks to your liking.
If you really want to get into the little details, you'll be able to adjust heights, tilt angles, and rotation angles of each of your tracks to shape them exactly how you want them.
You're sure to come up with some crazy coasters with this one installed.
9.

Catwalks
Of course, having the wildest rollercoaster in your park won't make much sense if your guests couldn't make their way aboard.
DanielDerStolle felt that the base game's options for catwalks were lacking so he went ahead and created his own custom models for that.
This pack gives you access to a host of new catwalk options for your rides, so you'll have more flexibility when building and worry less about how you're going to get your guests seated.
8.

Alien Blasters
For those of you who aren't looking to spend a whole lot of time creating your own rides, there are tons of pre-made rides in the Workshop to choose from as well.
Alien Blasters is a great example of something on the mellower side, and is a relatively cheap option as well coming in at just below $6,000.
Maybe stick it closer to the entrance, it's a nice easy-going way for customers to start their visit.
7.

Headrush
Jumping over to something on the more intense side, Headrush is a thrilling coaster ride with a much higher excitement rating at 57.4.
The intensity and nausea levels aren't very low either, coming in at 64.6 and 28.6 respectively – so you're probably going to want to put an age or height restriction on this one.
What's great about this ride is it's a solid option for the price, as it's only a few hundred dollars more expensive than Alien Blasters.
6.

King of Klondike
Kicking things up a notch is the King of Klondike coaster by modder Brasse.
There's something about wooden coasters that make them that much scarier. Perhaps it's the thought of the wood giving in causing something to snap while you're on it?
Whatever it is, King of Klondike has an excitement rating of 72.7, a medium intensity rating of 42.9, and a 26 for nausea.
It isn't very expensive either, only costs $9,000 to build.
5.

Gears Of Time
If a wooden coaster doesn't exactly fit well with the look and theme you're going for, then maybe something more futuristic is what you need.
Gears Of Time is exactly that, offering almost the same amount of excitement and intensity as the previous option.
The ride is still a great option for the price as well, coming in at just above $9,000.
4.

Adventure On The Nile
If you're looking for a calming option within the same price range, you might want to look into invictus' Adventure On The Nile.
The ride sees your guests through a scenic boat ride around the longest African river, and should make for a great way to relax between the crazier attractions around your park.
Adventure On The Nile has medium excitement, low intensity, and very low nausea ratings to make for a perfect breather after a long stretch of crazy rides at theme park.
It will cost a little over $9,000 for this baby as well.
3.

Helix Hedera
Now if budget isn't an issue, there are crazier options at crazier price points.
While these might cost much more than the previous rides, they're sure to make great highlights in any park – so pick and choose which might work best depending on your theme.
The Helix Hedera is exactly as wild as it looks, with its rails swerving across in seemingly random directions.
Just looking at it makes me queasy. But the ride itself has a nausea rating of 41.8, which is only medium in Parkitect standards.
2.

Dragons Lair
Dragon's Lair is another highlight-worthy coaster. But as with the Helix Hedera, will cost you upwards of $16,000 to build.
It'll be worth it though, as the ride's medieval fantasy theme aims to take guests on a journey as a valiant knight's quest to rescue a princess from an evil dragon.
The ride has one of the highest excitement ratings at 77.5, with intensity and nausea rated at medium and low respectively.
1.

CoasterCam
Owning and designing your very own amusement park without the ability to enjoy your rides… that'd just be sad, don't you think?
Well you won't have to be left out any longer, as the CoasterCam lets you experience all your rides just as the guests do.
With this mod installed, you'll be able to get on any attraction you want to try, switch to a first-person camera view, and use the mouse to look around.
Perks of being the owner includes unlimited rides, too. So enjoy them as much as you want!
Browse:
Lists
Simulation Games
Video Games