25 Handmade Pikachu Crafts & DIY Ideas For All Ages
This post may contain affiliate links. If you buy something we may get a small commission at no extra cost to you. (Learn more).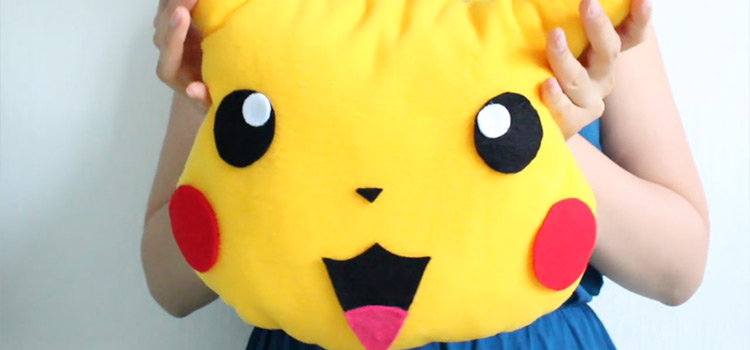 I wanna share a bunch of handmade projects focused on everyone's favorite 1st generation Pokémon: Caterpie! Kidding.
Although I'm sure Caterpie crafts have their place in this world, I'm referring to that OG we all know as Pikachu.
These crafts span the gamut of handmade decorations to ornaments and even a few printables. If you love this yellow rat then you're sure to find a few things in here that you'll absolutely want.
1. Pikachu Clock
What better way to tell time than with this Pikachu clock?
A cute clock which would make the perfect gift for any Pokémon fan, and pretty easy to assemble too.
Made using laser-cutting tech and some typical handyman's tools, this Pikachu clock would look great on the mantelpiece or on anyone's nightstand.
2. No Carve Pikachu Pumpkin
A memorable way to decorate your home for Halloween is with these no-carve Pikachu pumpkins.
This kid-friendly craft removes the need for knives since the pumpkin is made of polystyrene, so yeah pretty safe for all ages.
And it'll add a splash of color and personality to your Halloween festivities. Since most people opt for the traditional pumpkin, go against the grain here and put a Pikachu on your front steps.
3. Electric Hat
Make sure your kid is the coolest in town with these electric Pikachu hats.
An easy craft to make with colored cardstock paper, these electric hats are really going to spark your kids' imagination and be the envy of every other Pokémon fan on the block.
4. Clay Pikachu Ornament
This fun project will have you buzzing with joy as you hang your brand new Pikachu ornament on whatever tree you've got.
A craft that'll surely be entertaining for any age, given the use of clay this ornament is pretty darn easy to make. It's all you'll need to keep busy on a snowy day.
5. Pikachu Fuzzy Craft
An adorable idea for a Pokémon themed gift, these fuzzy Pikachu crafts are great to play with and make cute decorative items too.
Take some Pom Pom's and silly googly eyes, then have them evolve into lovable Pikachu faster than a thunderbolt attack.
6. Easy Origami Tutorial
Origami is one of those things where if you do it right you look like a genius, and if you do it wrong you look like someone who can't even spell their own name.
Luckily practice makes perfect so if you stick with this one you'll be able to pick it up fast.
Made with the beginner in mind, this cute Pokémon origami craft will set you on your way with all the techniques you need to get started in the art of paper folding: Pokémon style.
7. DIY Bookmark Corner
Opening your favorite book for a nice read: priceless.
Opening your favorite book and seeing Pikachu's adorable face staring back at you: even more priceless, somehow.
Make this a reality today; have a go at this simple bookmark craft to check in with Pikachu on a daily basis.
8. Crochet Pikachu Hat
Nothing beats the feeling of having a warm, cozy crocheted hat to keep the biting cold away from your ears.
Except maybe your very own Pikachu crocheted hat that you put together yourself because you deserve it. You would need some background with crocheting here but the pattern itself is very easy to follow.
9. Pikachu Printable
Throwing a Poké Ball out into some tall grass and nervously waiting for the ball to stop wriggling is quite tense, to say the least.
Yet the satisfaction of catching a Pokémon is so sweet as a result.
Give yourself all of the positive experiences there and none of the bad with this cool printable Pikachu/Poké Ball craft, which can be used with any Pokémon you choose if you can find other printables online.
10. DIY Pokémon Pencil Holders
Do you remember the hardest choice of your childhood?
Charmander, Bulbasaur or Squirtle. It's still tough today.
Now with this craft you won't have to choose. These awesome Pokémon pencil holders include all 3 of these gen 1 starter Pokémon along with our favorite, Pikachu.
Absolutely perfect for fans regardless of age. Cause let's be honest, you're never too old for Pokémon.
11. Poke Party Ideas
Mason jars are always useful to have around, so why not decorate them to give a bit of character?
These Pokémon inspired mason jars are great for storing your candy or to hand to your kids for Halloween candy. Also great for birthday party treats.
12. DIY Clay Pencil Topper
Kids use pencils all the time, so it only makes sense to add some personality to them with these clay Pikachu pencil toppers.
Sure to spark your own creativity here, these pencil toppers will add a bit of joy to anyone's day once they recognize the yellow rat on top of your pencil.
13. Polymer Clay Egg Figurine
It's truly amazing what you can do with an egg and some DIY know how.
Take this polymer clay Pikachu egg for example.
Sitting on the edge of a desk, this Pikachu can keep you company and jazz up the room all at once.
14. Pebble Pocket Pal
This craft requires a family adventure to the beach to collect the perfect pebble… or you can head there alone and grab some yourself. No wrong answers here.
But to make the craft extra special bring someone along to help you pick one out.
You can design this as a gift or just to add into your home office or bedroom.
15. Party Ears
A super simple way to fix up a costume to go to a party at the last minute, this dead easy craft will spark up any party.
The ears actually stay up which is a bit surprising since the material(yellow foam) can be heavy. Thankfully Paula knows what she's doing with this awesome DIY.
16. DIY Duct Tape Bracelet
Making jewelry out of household items sounds like a great idea. Because it is!
This Pikachu duct tape bracelet would make a good introduction to the world jewelry for the young ones, and make them the most stylish kids around.
Or you can just goof off with these duct tape bracelets on your own. Live and let live, I say.
17. Kids Pikachu Mask
While some Pokémon masks have the potential to be quite terrifying – Gastly for example – Pikachu has the friendliest of faces and makes for a fun mask.
Practice all of your Ash and Pikachu lines with your new look and get ready for a really fun Halloween.
18. Felt Pikachu Plush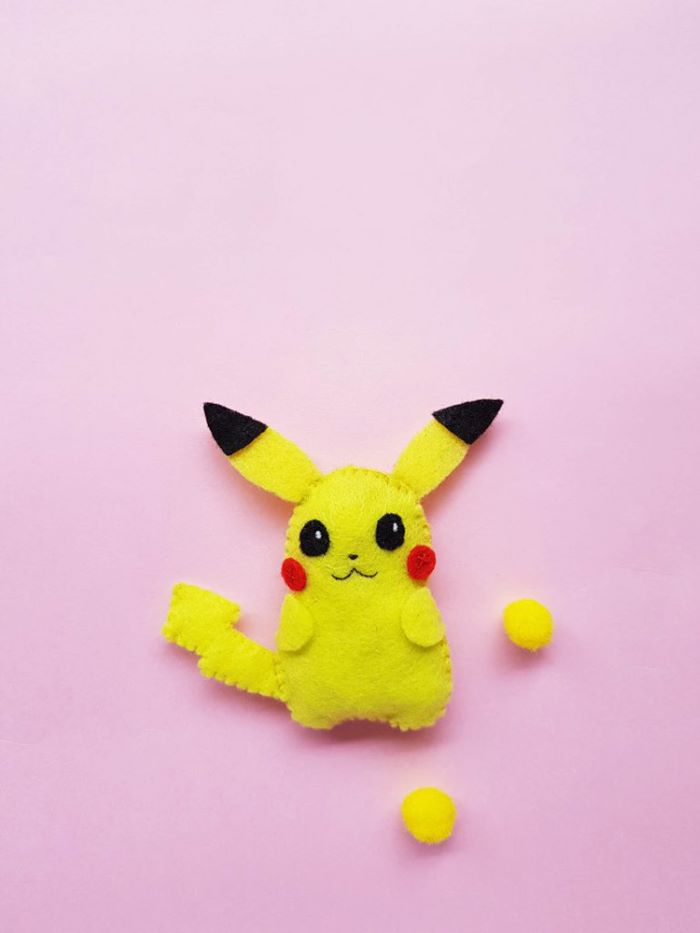 It's hard not to love plush toys.
Being so soft and cuddly and cute all at the same time is often too much to handle, even for the best of us.
That's why every Pikachu fan should have one of these in their bedroom to keep the bad dreams at bay.
19. Easy Pencil Topper
Better still, you or your kid can design a felt Pikachu just to hang out on your pens and pencils.
You'll start to feel like Ash after a while saying "I choose you, Pikachu!" as you grab your pencil and start writing out homework(or paying bills, all that good stuff).
20. Giant Stuffed Pikachu
From small toys to giant ones, this next craft is only for the biggest of Pokémon fans.
Who doesn't want to snuggle up with a massive Pikachu at night?
This huge Pikachu is an example of exactly the kind of self-love you need in your life.
Alternatively, be the best dad/mum/whatever by giving your loved one this oversized electric rat. They'll love it.
21. DIY Pikachu Baseball Cap
Next up on the list is the accessory that ever Pokémon fan needs and deserves in their life: the Pikachu baseball cap.
Show off your love of the yellow creature with this stylish handmade cap.
Note the instructions come in the form of a video but they're still very easy to follow.
22. DIY Pikachu Pillow
"Pikachu! I snooze on you!"
No, you're right, it probably won't catch on.
Whatever the case, this Pikachu pillow guarantees the coziest of naps and snuggle times.
Wonderfully soft, this pillow is the epitome of comfort and just about as fun as pillows get.
23. Tea Bag Holder
Back to our polymer clay, this awesome Pikachu tea bag holder will sit on the edge of your mug and generously hold the teabag as you brew to perfection.
A cute way to liven up teatime, this Pikachu inspired DIY is bound to be a hit with anyone who comes over for a jolly spot of afternoon tea.
24. Kid's Rocking Chair
So you need even more Pikachu in your house, huh? Well I've got just the thing for you.
This kid's rocking chair is everything you hoped for and more.
Get the plywood and put your woodworking skills to good use as you build this cute Pikachu rocking chair tailor-made for kids. Although I guess you could scale it up if you really want an adult-sized one in your home.
Guaranteed to provide hours of fun rocking back and forth, if you've got any woodworking skills this project is worth a try.
25. Pikachu Themed GBA (With a Tail)
I'd be remiss to bring you an article about Pokémon without bringing up the gaming platform crucial to its success: the Gameboy.
One of the best devices to own as a kid, the Gameboy Advance has been home to some of the best games. The Pokémon games definitely qualify.
To celebrate this fact you should honor it by turning your handheld console into a Pikachu themed Gameboy.
The nostalgia will be off the charts as you bring your favorite digital Pokémon into the real world. With a tail.
Browse:
DIY
Lists
Pokémon
Video Games