How To Move Snorlax in Pokémon FRLG
This post may contain affiliate links. If you buy something we may get a small commission at no extra cost to you. (Learn more).
To move the two wild Snorlax sleeping on Route 12 and Route 16, you need to interact with them while you have the Poké Flute in your bag. Then you'll need to catch or defeat the Snorlax to permanently move it off of the Route.
Prerequisites (Getting The Poké Flute)
The only way to move Snorlax is with the Poké Flute, so the only prerequisite is that you have the Poké Flute in your Bag.
There are a few steps to complete in order to get the Poké Flute:
Clear the Rocket Hideout in the Celadon City Game Corner
Clear Pokémon Tower in Lavender Town
Talk to Mr. Fuji and receive the Poké Flute
Pretty much, you get the Silph Scope from the Rocket Hideout, which you can then use to clear the Pokémon Tower and get the Poké Flute.
Make sure that you talk to Mr. Fuji at his place after you beat the Pokémon Tower, otherwise you'll have to back track.
How To Move Snorlax
Once you've grabbed the Poké Flute from Mr. Fuji, you're ready to ruin that sleepy Snorlax's day. Head to Route 12 or Route 16, find your target, and follow these steps:
Step 1: Walk up to the sleeping Snorlax and press A to interact with it.
Step 2: When the game asks if you want to play the Poké Flute, say "Yes".
Step 3: Defeat or catch the wild Snorlax.
After you defeat Snorlax (or catch it), it'll be gone. Unlike trees that will reappear after you leave and return to the Route, Snorlax will be gone forever.
Since there are only two Snorlax in the game, it's a good idea to catch them both. This won't just fill out your dex, but it will allow you to breed them later on in the game.
All Snorlax Locations
There are only two Snorlax in Pokémon FireRed and LeafGreen. There are no wild Snorlax in the game, so the only way to get a Snorlax is to rudely wake it up and put it in a Pokéball.
Route 16
The first Snorlax you'll probably come across is on Route 16, just west of Celadon City. Once you wake up this Snorlax and move it out of the way, you'll be able to cross Cycling Road and reach Fuchsia City (Safari Zone).
Route 12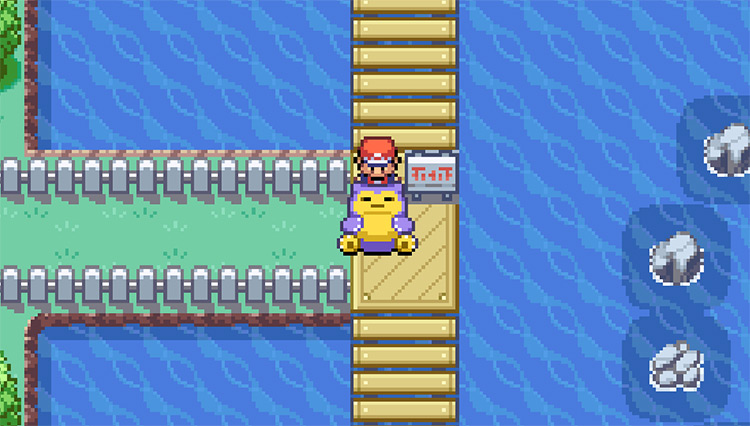 The Route 12 Snorlax is just below Lavender Town. After you clear him, you'll be able to head to Fuchsia or Vermilion City.
Just follow the docks and you'll find the Snorlax chilling peacefully and napping. Now's your chance to wake him up and throw a Pokéball at him!
Browse:
Pokémon
Pokémon FRLG
Video Games