How To Get HM03 Surf in Pokémon X & Y
This post may contain affiliate links. If you buy something we may get a small commission at no extra cost to you. (Learn more).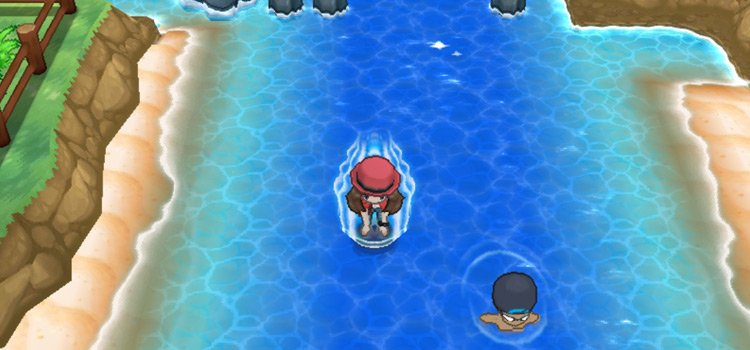 You will get HM03 Surf from your rival (Serena or Calem) just before they leave Shalour City via the eastern exit to Route 12. The cutscene to receive the HM will only trigger if you have earned the Rumble Badge from the Shalour City Gym first, and if you've completed the Tower of Mastery to unlock Mega Evolution.
HM03 Surf is used to travel across waterways and oceans to progress on the map and access secret areas. The Rumble Badge is required to use Surf outside of battle.
How To Get HM03
Step 1: After your Mega Evolution battle tutorial with Korrina, exit the Tower of Mastery and head south until the path splits to leave the beach area. Take the east path up the stairs.
Step 2: Follow the paved path south, then west until it joins with another set of stairs heading south.
Step 3: Go down the stairs and follow the path south to a crossroads.
Step 4: Take the east path from the crossroads, and follow it past the Pokémon Center, and up a small flight of stairs.
Tip: If you plan to continue on to Route 12 after obtaining HM03 Surf, stop in at the Pokémon Center to heal your party and stock up on supplies.
If you do not already have a Pokémon in your team who is capable of learning water type moves, you can also access the PC to withdraw one now. Alternatively, you can speak to the Pokémon breeder at the start of Route 12 to obtain a Lapras.
Step 5: Continue on this path, past a signboard and down some stairs to a section of the path that is bordered by flower beds. At this point your rival will stop you and give you HM03 Surf.
How To Use Surf
Once you have taught HM03 Surf to a Pokémon in your party, you will be able to use it in battle & also to travel over bodies of water on the map. See the table below for move details:
HM03 Surf Move Details
Type
Water
Category
Special
Power
90
Accuracy
100
PP
15
Step 1: Access your bag and teach HM03 Surf to an eligible Pokémon.
Step 2: With the Pokémon in your party who has learned Surf, approach the body of water you want to travel on and interact with it.
Step 3: The game will ask if you want to use Surf, select 'Yes'. You will now be able to surf over the water.
Like moving through tall grass, surfing on waterways can lead to encounters with wild Pokémon.
Benefits of HM03 Surf
This HM is vital in Pokémon X & Y as you cannot progress in the storyline without it. You have to traverse over water on Route 12 to get to Coumarine City for the next gym battle. It also grants you access to important areas in the game such as the Azure Bay and the Sea Spirit's Den (which is home to three legendary Pokémon).
Surf is a powerful move.
And with 100% base accuracy, it can only be avoided if the opponent is off the field when it hits (by flying or digging), or has lowered your Pokémon's accuracy with a move like Sand Attack.
The move is great in wild Pokémon encounters and trainer battles alike, particularly against hordes or dual battles, as it hits all the Pokémon involved. Be careful though, as this means it will also hit your allies.
Having a strong water move like Surf will also be useful when facing the Elite Four near the end of the game due to its accuracy and type advantage against Malva's Fire type team.
Browse:
Pokémon
Pokémon X & Y
Video Games