Where To Get The Old Rod in Pokémon X & Y
This post may contain affiliate links. If you buy something we may get a small commission at no extra cost to you. (Learn more).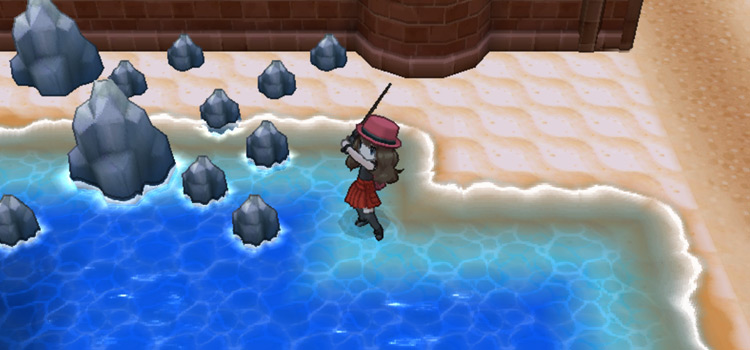 The Old Rod is the first fishing rod available in Pokémon X & Y. It is given to you by a Fisherman NPC standing near the big golden Magikarp statue, which is located on the lower level of the Aquarium in Ambrette Town.
You'll reach Ambrette Town via Route 8 after passing through the southern entrance of Connecting Cave.
Old Rod Location
Step 1: Enter Ambrette Town via the steep staircase leading from Route 8.
Step 2: Head west, past the Pokémon Center, then north to enter the Ambrette Aquarium (the big white and blue building).
Step 3: Once inside, head down the stairs to the west to reach the lower level of the building.
Step 4: You will see a Fisherman standing in front of the giant Magikarp statue.
Step 5: Talk to the Fisherman and he will offer you an Old Rod. Select 'Yeah!' to obtain the item.
How To Use The Old Rod
Step 1: Position yourself facing the water you want to fish in.
Step 2: Access the Key Items section of your bag, and select the Old Rod. Then choose the 'Use' option.
Step 3: When the exclamation mark appears over your head, quickly hit the select button. If your timing is right, you will enter a battle with a wild Pokémon. If not, you will need to try again.
Pokémon That You Can Catch With The Old Rod
Fishing with the Old Rod may lead to an encounter with a wild Pokémon. The table below details which Pokémon are available to you with the Old Rod, and where you can find them.
Tip: Fishing closer to rocks or fishing near the areas of the map that you can't pass through will both increase the chances of catching something.
Pokémon
Location
Luvdisc

Route 8
Ambrette Town
Cyllage City
Shalour City
Route 12
Azure Bay

Magikarp
Poliwag

Laverre City
Couriway Town
Pokémon Village
Route 14
Route 15
Frost Cavern
Route 16
Route 19
Route 21
Victory Road
Browse:
Pokémon
Pokémon X & Y
Video Games