Best Project Hospital Mods To Try Out (All Free)
This post may contain affiliate links. If you buy something we may get a small commission at no extra cost to you. (Learn more).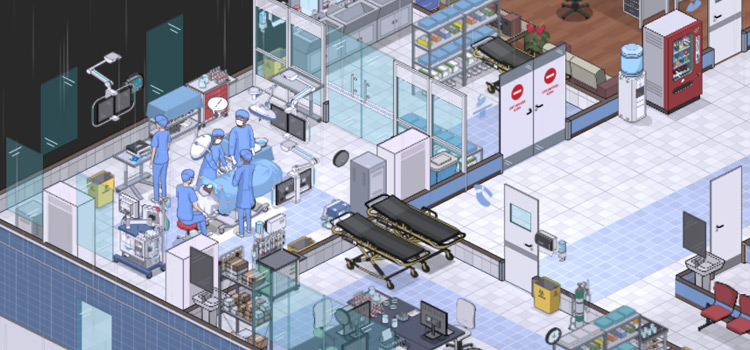 There's really no time like now to learn the ropes of building, owning, and managing your very own hospital.
Especially since it seems the healthcare sector is busier than ever – and while that might not sound appealing to many, Project Hospital actually offers that experience from the comfort of your own home.
That happens to be exactly what we need right now. And if video games can keep us entertained indoors – well then Project Hospital might be worth modding to the moon and back.
The game's mod community is very much alive and well, and there's a whole lot of fan-made custom content out there.
Here's a list of some of the best mods to keep your hospitals fun for hours.
12.

Alphabet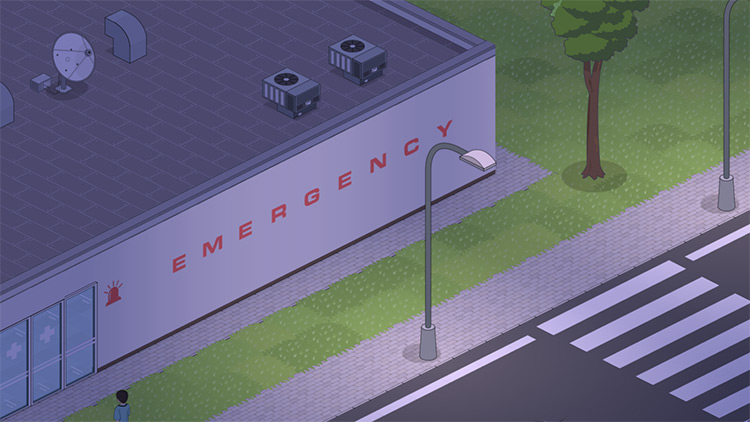 As you start a brand-new game of Project Hospital, the first thing you're going to get around to is putting up the actual hospital building.
Mods can make building much more interesting, adding completely custom item sets that allow you to make your hospital distinctly you.
This Alphabet set from Vlad S is a great place to start, giving you placeable letters which can be used to place custom signs around the hospital.
11.

Objects: Waiting Room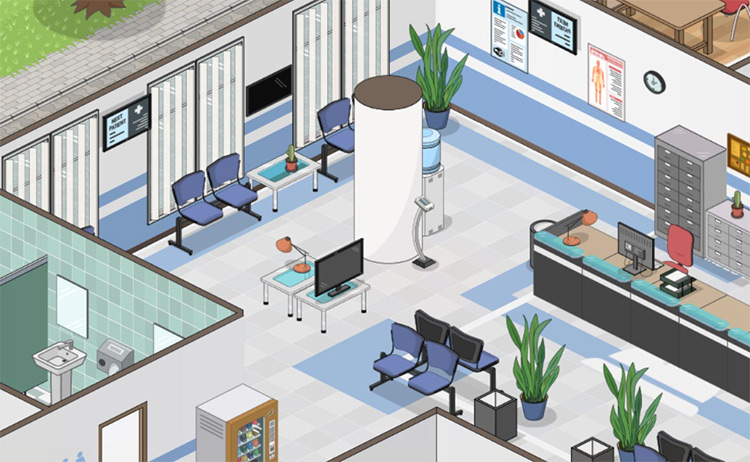 The waiting room can be one of the most stressful areas of any hospital as many patients will be panicked waiting to be entertained.
You can help ease their anxiety by decorating your waiting room and keeping them busy before they're called.
The Objects: Waiting Room pack gives you access to 14 custom objects to decorate with, including coffee tables, magazines, and even a wall-mounted TV so your patients have something to do while waiting.
10.

Objects: Doctor's Office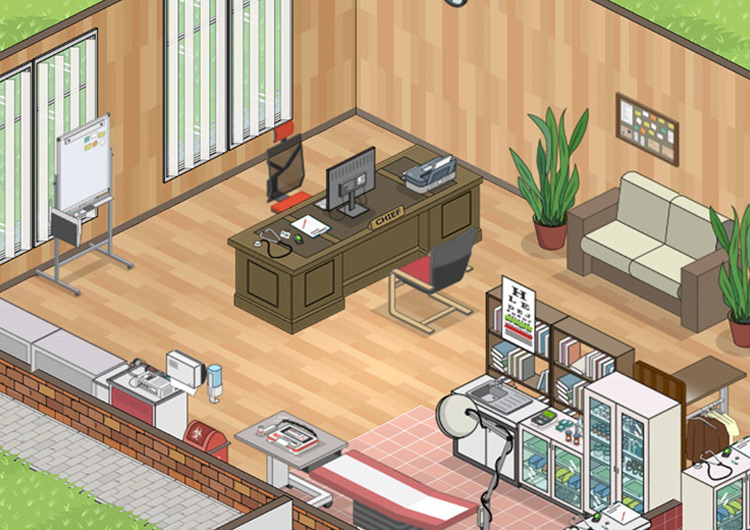 Aside from caring for the patients, managing a hospital also means taking care of the doctors, of course.
Part of being a successful doctor is having a nice office. And the Doctor's Office objects pack lets you take it as far as you'd like in your own hospital.
The mod adds a large wooden desk fit for a Chief doctor, but would make for a great centerpiece in any office.
And the mod creator has mentioned that he plans on slowly adding items to the mod as well, so it's probably a good idea to keep an eye on this one for more office items in the future.
9.

More Levels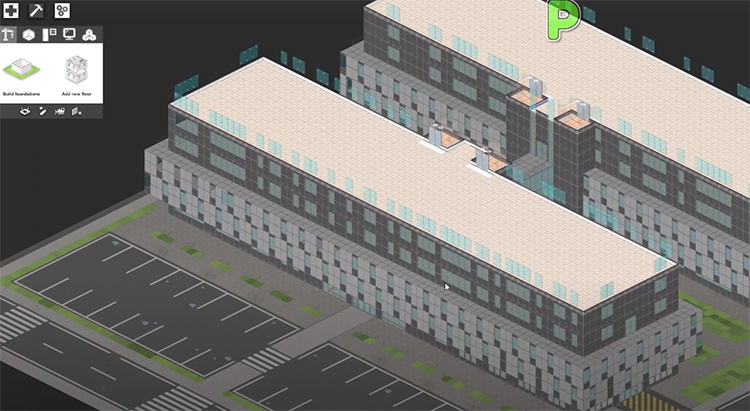 As you play it's inevitable that traffic to your hospital will increase.
If you've reached a point where you're finding it challenging to keep up with the patients' needs, this next mod is a great option for expanding your services.
More Levels lets you add 4 additional floors to your hospital, on top of the original 9 allowed by the base game.
If you've saved up enough money to build a new department, you're going to want to be able to build up to 12 floors as well to accommodate your expansion.
8.

More Occupations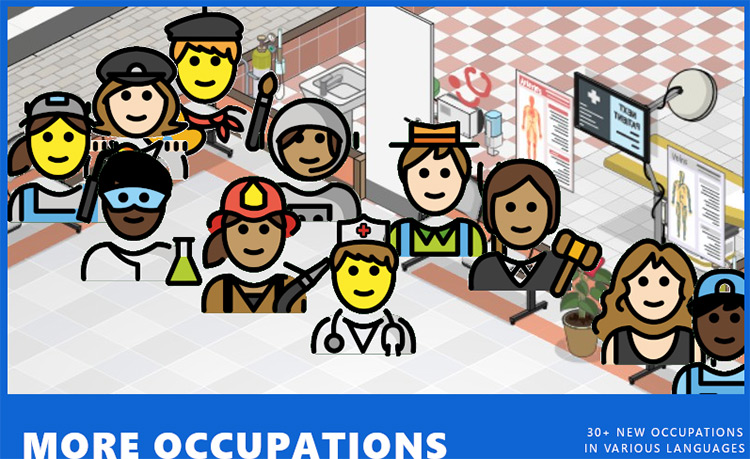 It isn't just the facilities that are getting expansions here, as mods have made it possible to create completely custom content when it comes to patient occupations as well.
More Occupations adds a total of 30 new patient jobs covering everything from mechanic, politician, or even soldiers and priests.
The patients have been matched to specific job-types as well for added realism, so politicians for example will tend to be older patients whereas models will be younger and skinnier in general.
7.

Patients Can Use Cafeteria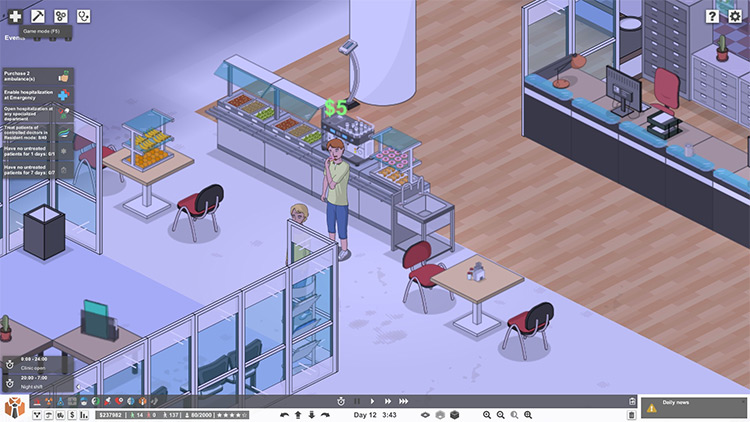 If realism is what you're after, there are loads of mods that can help with that.
~kt's "Patients Can Use Cafeteria" mod is a great example. It allows the patients to autonomously access the cafeteria when they get hungry.
They'll be able to decide on their own when they feel like grabbing some food, head over to the cafeteria counter and order themselves. Maybe some donuts or a sandwich.
It might not seem like much… but there's definitely a huge impact in terms of making your hospital feel more alive with the mod installed.
6.

Bedside Examinations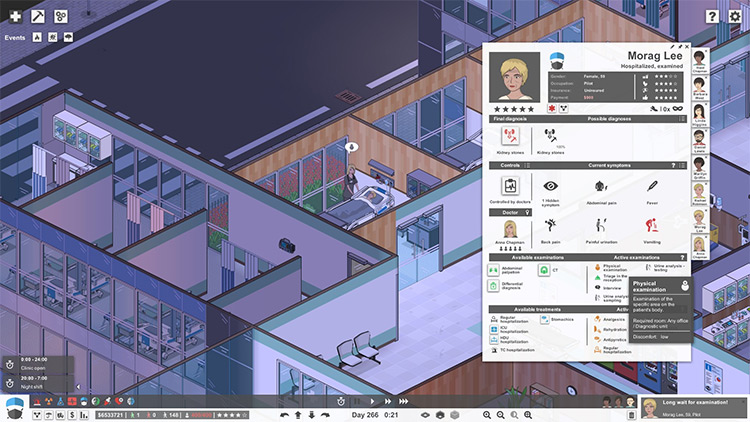 Bedside Examinations takes realism in Project Hospital a step further, taking a much more realistic approach when it comes to patient diagnosis.
The mod enables doctors to perform routine medical examinations at a patient's bedside, as they would in real life.
That's not it though.
The way doctors choose which tests to order has also been overhauled to better match how real doctors do things, just to mimic real life patient workups.
Another positive result is that you'll no longer need hordes of nurses to drag patients to and from exam rooms, as many of the tests can be done right by their bed.
5.

Realistic Collapses and Disease Incidence
This next mod was made by an actual doctor.
So if more immersion is what you're looking for – you can't go wrong here.
Modder Butch felt that the game's default settings made for patients to collapse around the hospital way too frequently.
As he himself puts it, the numbers tend to be ridiculous as most hospitals in the USA rarely see more than 1 or 2 code blues in a day.
The mod changes that, making the game feel a bit more realistic.
He even takes it a step further by lowering the spawn rates of patients carrying rarer diseases as well, like cholera, pulmonary anthrax, and rabies.
4.

Oncology Department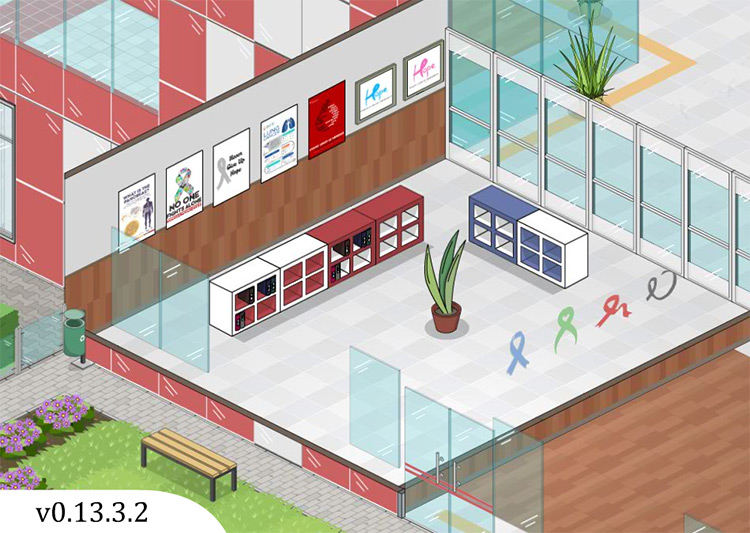 Once you've played Project Hospital enough, you're bound to end up feeling like you've reached the end game.
You'll feel prepared to treat pretty much any disease that walks through the door.
If you've reached the end game and find yourself still wanting more, these next few mods expand the actual game content, giving you more diseases to treat along with the necessary departments and equipment to treat them with.
The Oncology Department mod introduces 18 forms of cancer to the game, along with the ability to build your very own oncology department.
Included as well are 74 new diagnosis possibilities, including cancer in multiple stages as well as different sub-types of specific cancer types.
I'm not sure I'd call this "fun"… but it's worth trying if you want more detail in your hospital.
3.

Sexual Health Department
Sexual diseases can be just as interesting, and Moomin Littlesocks' Sexual Health Department mod has got you covered there.
The mod adds a variety of STI's, STD's, and other sexual health diagnoses to the game.
Of course, the mod comes with staff, rooms, examinations, and treatments to match as well – making sure that you're ready when the cases start coming in.
2.

Department of Gynecology and Obstetrics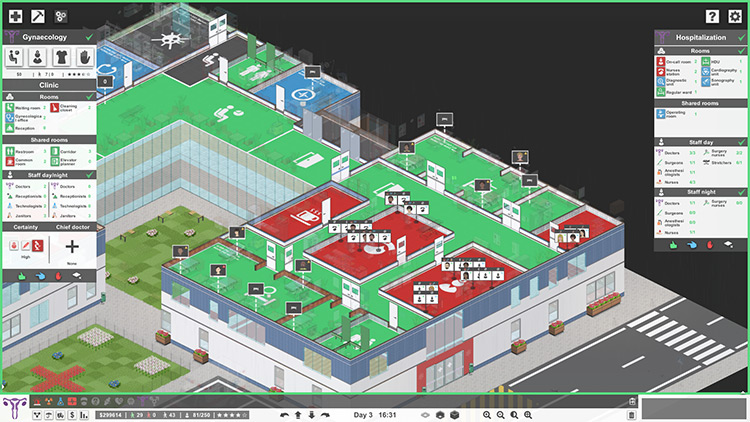 Gynecology and Obstetrics are important departments within any hospital, making sure you're equipped to keep women healthy throughout pregnancy (among other things).
Well this mod introduces 66 new diagnoses, 56 of which being clinical and 10 that are trauma related.
Included as well are a variety of symptoms and treatments to fit the theme, so you'll be set when it comes to these branches of medicine.
As an added bonus, the mod also includes decorative items. So you'll be able to personalize the look and feel of your department.
1.

Ear, Nose & Throat Department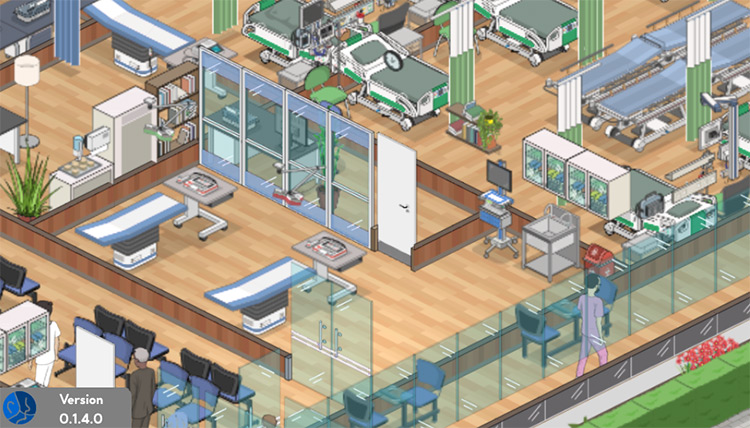 Top of the list here we have the Ear, Nose and Throat department. ENT doctors for short.
This one is particularly relevant nowadays, so if you're trying to ignore reality maybe this won't be the most fun choice.
Regardless, this mod covers anything and everything ENT-related.
The ENT Department mod adds a total of 43 new medical conditions – 38 being diseases and the remaining 5 trauma.
Included as well are 6 new objects, 2 new rooms, and 1 ENT decal to help you build the department with.
Browse:
Lists
Steam
Video Games