Rune Factory 5 Ribbitees: All Locations + How To Tame
This post may contain affiliate links. If you buy something we may get a small commission at no extra cost to you. (Learn more).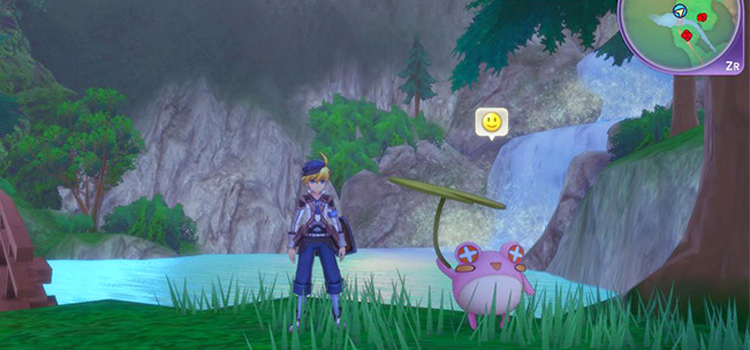 A Ribbitee is one of the first frog-like monsters you will encounter in Rune Factory 5. You can tame one to do any of the following tasks:
Join your adventuring party
Get Viscous Liquid every day
Help you with your farm
You can find these froggy creatures in two main areas: Phoros Woodlands and Whispering Woods. More specifically, they appear in these exact spots:
| Location | Exact Area |
| --- | --- |
| Phoros Woodlands | Northwestern side |
| Whispering Woods | Pond |
Ribbitee Locations
#1: Phoros Woodlands
Starting from the entrance of Phoros Woodlands, follow along the path heading north until you reach the base of a waterfall and a small bridge.
Ribbitees will spawn from the two Water Gates at both ends of the bridge.
#2: Whispering Woods
Ribbitees can be found at the Southernmost section of these woods.
It's the only area with water in Whispering Woods, and you'll see a Water Gate that spawns the Ribbitees upon entering.
Ribbitee Item Drops
The best way to get items from a Ribbitee is by using the Spell Seal. This gives you a better chance of obtaining items than simply defeating the Ribbitee.
Ribbitee Item Drops
Item Name
Best Used As
Viscous Liquid
Ribbitee Taming item,
Also produced by tamed Ribbitee at its barn
Gaia Crystal Fragment
(Spell Seal Only)
Exchange 5 at Crystalabra for a Gaia Crystal
Branch
Chop for lumber material
Ribbitee Taming
Follow these simple steps to quickly tame a Ribbitee:
Step 1: Obtain Viscous Liquid
The best way to get Viscous Liquid is by using the Spell Seal on a Ribbitee. If you don't get one after using the Spell Seal, wait for the seal to wear off and try again.
Note: If the item you get isn't Viscous Liquid, defeat that Ribbitee and wait for a new one to spawn. You can only steal one item with the Spell Seal per monster spawn.
Step 2: Give the Viscous Liquid to a Ribbitee
You can tame a Ribbitee by approaching any wild Ribbitee in the locations mentioned above. Then hold the Viscous Liquid and give it to the Ribbitee.
You can also use the Spell Seal to stop the Ribbitee from moving around before you attempt to give the Viscous Liquid.
Alternatively, you can lock onto the Ribbitee with the R Stick, then throw the Viscous Liquid to it. This works the same way as giving the item directly without having to approach it.
Note: Make sure that you have enough space in your Monster Barn for your new friend. Lack of space will result in a guaranteed failure in taming.
Tamed Ribbitee Uses
| Use | Condition |
| --- | --- |
| Join your adventuring party | Monster party is not full (2 or less monsters in party) |
| Daily Viscous liquid drop | Enough fodder in the fodder bin to feed all tamed monsters |
| Do Farm Chores | Friendship Level 3+ |
Ribbitee Related Requests
There are two requests that are relevant to looking for Ribbitees.
Request Name
Task
Reward
Defeat Monsters
Client: Livia
Defeat 3 Ribbitees
1 Random Consumable Item
Tame an Item-producing Monster
Client: Priscilla
Befriend (tame) a monster that drops or produces items
Hurricane
(Spear Rune Ability)
Browse:
Rune Factory 5
Video Games