Top 20 Best Romance Anime With A Female Lead
This post may contain affiliate links. If you buy something we may get a small commission at no extra cost to you. (Learn more).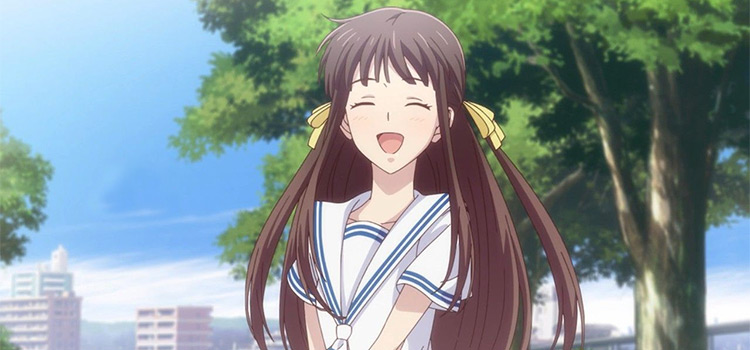 Who says women can't take the lead in love?
If you're tired of seeing another dense male MC in a teen rom-com, then you can have a breather without shifting genres.
Romance titles with girl MCs can offer a different yet insightful perspective, not just in love and heartbreak, but also in life.
Whether they're about children, teens, or adults, these shows are sure to entertain romance fans around the world – all showcasing their best girl MCs at the helm.
20.

School Rumble
This gem from the early 2000s features a big and eccentric cast of high school students.
At the center is Tenma Tsukamoto, a simple and admittedly dense girl yearning to finally confess to the seemingly stoic Ouji Karasuma.
Honestly, how can you not root for her?
Aside from her friendly and enthusiastic demeanor, Tenma has these cute pigtails that do a happy little dance whenever she's ecstatic.
Combine this with her determination to be perceived more as a mature woman despite being (adorably) childish, and it becomes easier to understand how Kenji Harima fell for her.
School Rumble packs so many events and constantly shifts its focus from one character to another across two seasons, but Tenma will always be its face.
19.

Hotarubi no Mori e
In just 45 minutes, The Light of a Firefly Forest beautifully introduces viewers to the extraordinary events that transpire in the younger years of Hotaru Takegawa.
It all starts with Hotaru at just six years old.
She's visiting her uncle for the summer and finds a nearby forest.
Hotaru gets lost inside, but then comes the gentle spirit Gin to the rescue. Unfortunately, the two are prohibited from having physical contact. A single touch (even accidentally) will cause Gin to disappear into the void forever.
And so Hotaru grows up, while Gin doesn't.
Their friendship develops into something more as they meet every summer.
Is there a future for them? Or must Hotaru prepare for the inevitable?
No matter the case, summer will never be the same for her.
18.

Tamako Love Story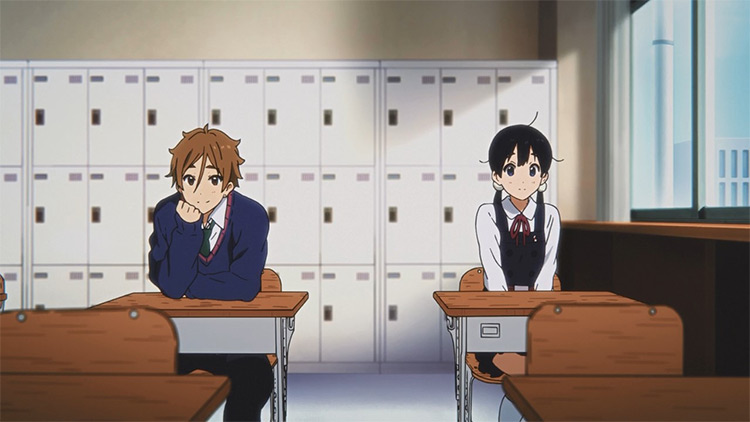 This anime-original TV series captured the lively and distinct folks at the Usagiyama Shopping District.
And this is where you first witness our clumsy titular character: the overweight prince bird Dera Mochimazzi, and Mochizou Ooji's obvious affection for the MC.
Tamako Love Story is the acclaimed film sequel to Tamako Market — and it's what elevates the entire show.
Both have the titular character, but it's in Tamako Market where the romance between Tamako and Mochizou finally unfurls its feathers.
This is where you also witness them at a crossroads in their young lives – and Kyoto Animation did magnificently well animating it all.
17.

Kamisama Kiss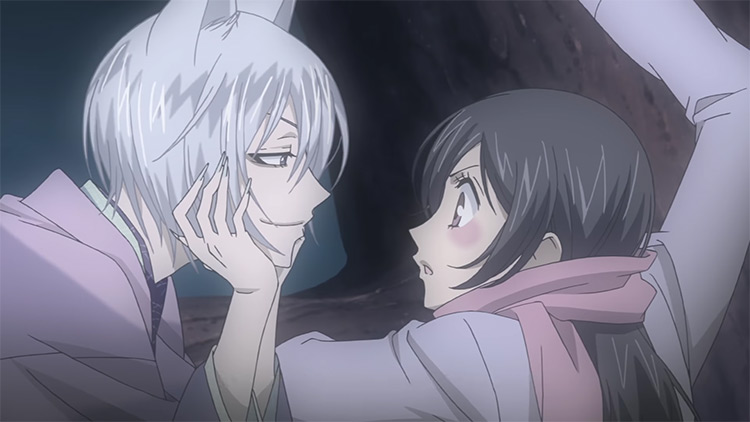 Nanami Momozono is far from your average high school girl in a rom-com series.
For one, her father is a debit-ridden gambling addict. And if that wasn't bad enough, he left her without a house (or anything worth anything.
One day, she finds a dog threatening a bespectacled blonde man and helps him out.
The stranger wants to return the favor, and graciously allows Nanami to reside in his place. But this man is actually a former deity named Mikage — and the 'home' he's provided is a dilapidated shrine.
Thus, Kamisama Kiss follows Nanami as she balances her school duties and her responsibilities as the newly appointed shrine goddess, which the fox spirit (and Nanami's romantic interest) isn't so happy about.
16.

Yona of the Dawn
Akatsuki no Yona surprised viewers in 2014 with its enthralling fantasy adventure led by a red-haired heroine.
Yona was initially a pampered 16-year-old princess.
But a traumatic incident turns her life upside down, forcing her and her bodyguard Hak to flee the palace and seek the Dragon Warriors, four mighty men who complete her reverse harem.
Throughout her perilous journey she becomes a formidable fighter, and realizes that life in the kingdom may not be as idyllic as she thought – especially in the eyes of ordinary citizens.
Yona is one of the fiercest female MCs ever.
Hopefully Studio Pierrot (or any other studio) picks this up for a much-deserved second season.
15.

Kaichou wa Maid-sama!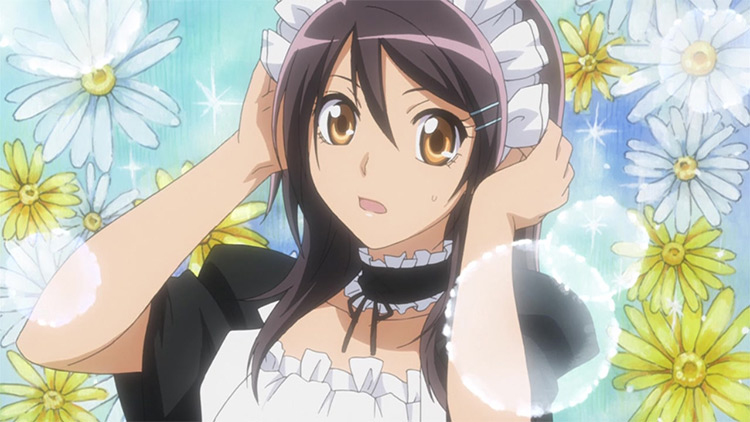 At school, Misaki Ayuzawa exudes an intimidating aura.
Her position of authority as the student council president helps her fellow female students to protect themselves from their pesky male schoolmates.
But at the maid cafe where she works to support her impoverished family, Misaki presents a more moe and submissive side — and school hottie Takumi Usui just discovered her secret.
Class President is a Maid! chronicles the life of Misaki as she struggles to maintain her wildly different public personas, while slowly but surely realizing that Usui may have just fallen deeply in love with her.
14.

Kimi ni Todoke: From Me to You
Sawako Kuronuma is a beautiful girl.
However, she always ends up leaving a bad first impression because of her incredibly meek personality.
She wants to be approachable but hasn't found the courage to be comfortable with others.
Some of her schoolmates feel terrified — and they've given her the infamous nickname "Sadako" based on The Ring.
On the bright side, the uber-popular Shouta Kazehaya is more than willing to help her.
Sawako eventually forms lasting friendships with more people, and Shouta seemingly intends to be more than a great friend of hers.
If you want a darn good school rom-com, watch Kimi ni Todoke.
13.

Wotakoi: Love is Hard for Otaku
Narumi Momose recently became single again because her last boyfriend dumped her.
And partly from this heartbreak, she decides not to let anyone else at her new work know that she's a hardcore otaku.
But life has something else in store for her.
On her first day, she learns that her dear friend (and fellow otaku) Nifuji Hirotaka is working at the same company. Narumi thought her social life was about to crumble, but it turns out there are other otakus in the office.
Wotaku ni Koi wa Muzukashii is a fun workplace rom-com featuring relatable and realistic young adults, who just happen to really love anime and manga as much as you and I do.
12.

Monthly Girls' Nozaki-kun
Chiyo Sakura is a brave girl on the battlefield of love.
Rather than become a stereotypical shy girl waiting for the guy to make the first move, she immediately approaches Umetarou Nozaki to admit her feelings.
Things don't work out as planned, however.
Umetarou doesn't realize that a confession was happening to him. The autograph Chiyo gave made him think that she was just one of the many people who admire his work as a prominent shoujo mangaka.
In other words, Umetarou is a dense love interest.
It's up to Chiyo to navigate this hilarious high school world of misunderstandings if she wants to get her feelings across (again).
11.

The Story of Saiunkoku
The 16-year-old Shuurei Kou has the hime ("princess") title — but it's nothing more than that.
Why?
Eight years ago, her otherwise renowned clan lost nearly all of its riches. So she doesn't have an army of servants to do her bidding. Instead, she grew up doing household chores and taking any type of work to support her poor family.
Then an opportunity arises:
The new 19-year-old emperor, who was only forced by his dying father to become an emperor, needs a concubine for at least half a year.
Given the lack of opportunities for women in her society (and the big pay), Shuurei accepts the offer.
The Story of Saiunkoku is more than a reverse harem set in a fictional historical setting.
It's brimming with compelling politics, romance, drama, and it showcases Shuurei as one of the best female leads in anime history.
10.

Kodomo no Omocha
Released way back in 1996 and boasting 102 episodes, Child's Toy is about bickering sixth-grade kids at school and their undeniable capacity for understanding.
You see, the 11-year-old Sana Kurata has it all.
She's a popular TV actress, and has the characteristics that make her both a dependable leader and an approachable friend.
Everything's going well until her daily school life is thrown into chaos, all because Akito Hayama persuaded the other boys to join him in his foolish antics.
Of course, Sana won't let their shenanigans continue.
But as she soon discovers, Akito's behavior may be a call for help.
Kodomo no Omocha is the second-oldest anime on my list here.
Yet its childlike and childish humor, empathy, and overall sense of humanity still remain as relevant as ever.
9.

Searching for the Full Moon
Mitsuki Kouyama has always dreamed of becoming a professional singer.
After all, she promised this to Eichi Sakurai, her childhood friend (and first love) who pledged in turn that he'll be an astronomer in the US.
But this 12-year-old has throat cancer.
Worse, two supernatural entities have just arrived to personally break the news:
Mitsuki only has a year remaining.
Can she turn things around while she still has time? What about her future life with Eichi?
Occasionally painful and bleak, yet ultimately heartwarming and life-affirming, Full Moon wo Sagashite is the kind of shoujo romance that every anime fan will appreciate – regardless of age or gender.
8.

Snow White with the Red Hair
From this title alone, you can guess that Shirayuki (slightly) subverts the stereotypical Disney princess stereotype.
Prince Taji of Tanbarun demanded her to be his mistress, but that didn't sit well with Shirayuki.
She'd never rescind her freedom and passion as a herbalist.
Thus, the heroine snips her long hair and flees.
Shirayuki eventually meets Zen Wistalia, a non-misogynistic and admirable prince from Clarines.
With a new life in a new country, she pursues her career as an apothecary while building great friendships and perhaps an even greater romance.
As one of the best girls of the past decade, Shirayuki carried Akagami no Shirayuki-hime for two seasons — and everyone's confident she'll do the same if a follow-up is ever announced.
7.

Kaguya-sama: Love is War
Yes, the titular heroine of one of the biggest rom-coms in modern anime is a genius – but the same can be said for Miyuki Shirogane.
Kaguya Shinomiya and Miyuki command the highest positions in the student council. And they're widely acknowledged as the top students in the entire country.
And more importantly, neither of them wants to be seen as inferior to the other.
But love is indeed war.
They've already developed feelings for each other.
It's a matter of psychological (and wacky) battles to see who crumbles.
The first season is phenomenal, and the second is even better. And if you get into this series, then season 3 is certainly worth checking out too.
6.

Bloom Into You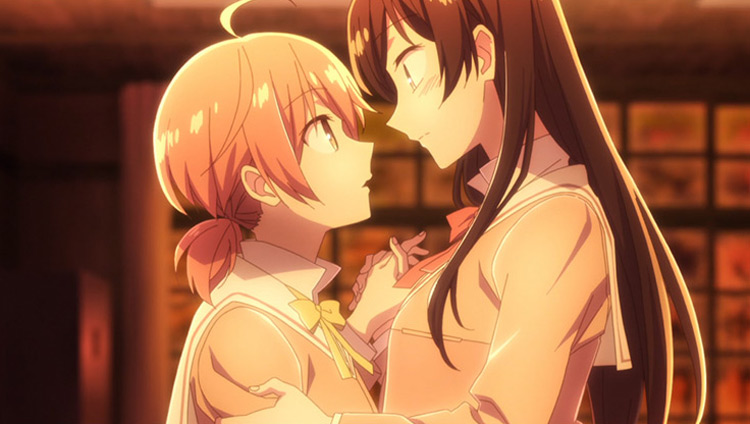 Yagate Kimi ni Naru is one of the few GL (Girls Love) anime of the 2010s – and one of the all-time bests.
Yuu Koito wants to know what it means to be in love.
But not even the most heartfelt confessions have swept her off of her feet.
Then there's Touko Nanami, the student council president who admits her feelings for Yuu but doesn't want her affection to be reciprocated, believing she's not good enough for anyone.
Bloom Into You is a gorgeous portrayal of young love, and the arduous task of discovering one's identity through relationships with others.
It's a coming-of-age romance that excels as a deft character study all the same.
5.

Skip Beat!
Kyouko Mogami has been a people-pleaser all her life.
It finally came back to bite her when she realized that Shoutarou Fuwa was merely exploiting her to make his life more comfortable.
What he did to her was despicable…
But then again, there's nothing better than a disaster to help Kyouko to recalibrate her life.
She opts to enter the entertainment industry to exact revenge against Shoutarou in her own way. Along the way, Kyouko discovers her passion and knack for acting.
Skip Beat! chronicles her exciting and eye-opening journey in showbiz as she (finally) chooses herself for once.
4.

Ouran High School Host Club
This 2000s shoujo classic has six bishounen guys running the super-rich host club of Ouran Academy.
The female lead, Haruhi Fujioka, doesn't have the prestige or money to get into the elite school the normal way.
So her scholarship is a godsend that cannot be taken for granted.
However, bad news quickly rolls in when she accidentally breaks one of the club's uber-expensive vases.
Haruhi can't pay for it, so she has to work for them – and the rest? Well, give this one a watch and find out.
Overall, Ouran Koukou Host Club is a reverse harem that's too funny, ridiculous, and adorable to ignore.
3.

Nana
Similar to Bloom Into You, this legendary Madhouse shoujo project has two complex and realistic female leads — but the significant difference is that Nana Osaki and Nana Komatsu are already in their early 20s.
Nana Osaki is a punk rock vocalist. She was unjustly kicked out of high school and was left by her own mother, but she remains to be a genuinely caring woman who won't stop at anything to reach her goals.
On the other hand, Nana Komatsu is quite childish, too attached to others, and came from a big, loving family.
They somehow end up in the same apartment.
And from there, Nana takes you to the grand emotional rollercoaster that is being in your 20s, complete with one of the best OSTs in anime.
2.

The Rose of Versailles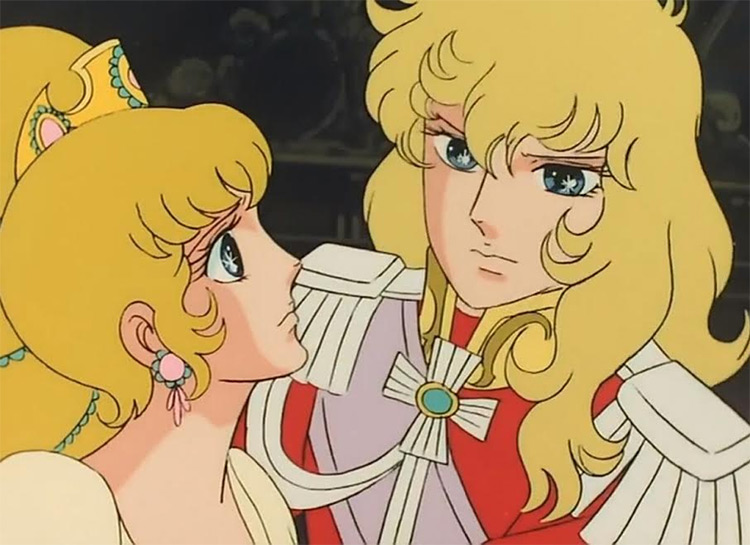 Premiering in October 1979, Versailles no Bara is a historical romance set in France in 1755, just a few decades before the French Revolution.
The first female lead is none other than Marie Antoinette.
The second is Oscar Francois de Jarjayes, a girl raised as a boy by her father who commands the Royal Guards.
As fate would have it, Oscar becomes Marie's bodyguard at the age of 14.
And once Marie reaches 15, she has no choice but to marry the nation's next king.
How will the two shape the future of France?
Versailles no Bara is the oldest anime on this list by far. And it handily stands the test of time with its exceptional character writing and elegant storytelling.
1.

Fruits Basket (2019)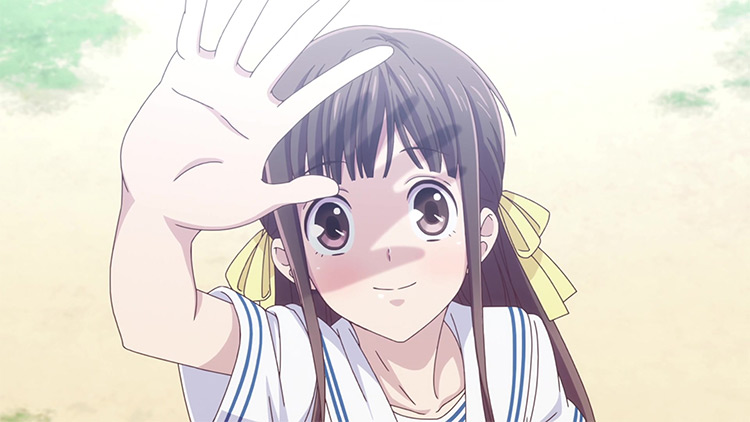 Tohru Honda lost her father when she was only three.
And worse, her mom passed away just as she entered high school.
One day, Yuki and Shigure of the Souma Clan discover her on their property. Tohru has setup camp in the area as she no longer has a home.
The two thankfully persuade her to live with them instead – but Tohru didn't realize that she was with no ordinary family.
In truth, the Soumas bear a curse that temporarily turns them into one of the Chinese Zodiacs — and simply getting a hug from the opposite sex can trigger it.
As she gets to know more about the Soumas and the pain and despair they endure, Tohru decides to help and break the curse, all while discovering and experiencing different kinds of love – be it familial, friendly, or romantic.
The first adaptation of Fruits Basket 21 years ago was good.
And this three-season reboot (plus the Prelude film) faithfully adapts pretty much the entire source material, while also cementing itself as one of the most beloved series in modern times.
Browse:
Japanese Culture
Lists
Anime