20 Saddest Anime Openings With All The Feels
This post may contain affiliate links. If you buy something we may get a small commission at no extra cost to you. (Learn more).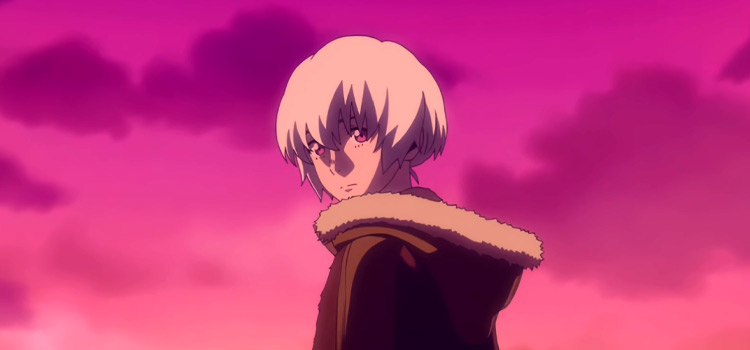 One of the hilarious stereotypes and memes about anime is that the OP and ED are designed to be in sheer contrast with each other. If the opening theme sounds like embarking on a fun-filled adventure with friends, the ending song should be as gloomy and melodramatic as possible.
But while it's harder to find them, there have been many occasions when the OP brings out all the feels.
A lot of my picks here revolve around romantic love and separation.
But there are some gems in this ranking that also address other facets of human life.
20.

Karma – Kokia (Phantom: Requiem for the Phantom)
Kokia's performance of Karma is reminiscent of Yuki Kajuura's works on .hack//Sign, Pandora Hearts, and Puella Magi Madoka Magica, which is great!
Phantom: Requiem for the Phantom isn't a fantasy unlike those titles, but the mystical, harmonic nature of Karma works surprisingly well for this thrilling and action-packed seinen drama.
As the series revolves around assassinations and how the MCs had their memories erased, the opening theme lulls you into a trance-like state.
Karma contemplates Ein's and Zwei's frustrations repetitively by design.
Inevitably, you empathize with their desire to at least be given the agency to end their journeys (and relationship) on their own terms.
19.

Ring of Fortune – Eri Sasaki (Plastic Memories)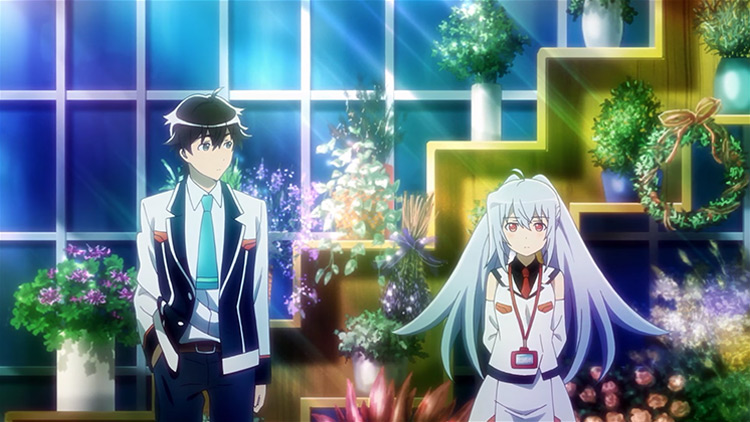 It was only a matter of time before Naotaka Hayashi, one of the creative minds behind games such as Bravely Default and Steins;Gate, came up with Plastic Memories.
Viewers are reminded early on that Isla only has 2,000 hours left to accept and admit her feelings for Tsukasa Mizugaki.
The title alone is a clear indicator that this isn't all about fun and rainbows — and the same goes for the OP. Eri Sasaki's soft delivery in Ring of Fortune complements the track's themes of fleeting memories and the people's lack of control over time.
Furthermore, the first lyrics reflect Isla and Tsukasa in how they immediately understood upon their first meeting that they had to bid each other farewell much sooner than later.
18.

See You – Yuya Matsushita (Natsuyuki Rendezvous)
A Summer Snow Rendezvous is one of the more unusual Doga Kobo titles, if you compare it to their most popular shows.
It's not only a drama, but also a josei that features adult characters in a supernatural love triangle.
Rokka Shimao's late husband Atsushi Shimao is still hanging around as a protective (and clingy) spiritual entity. And somehow, the new guy Hazuki Ryousuke can see his crush's dearly departed partner, which makes things all the more complicated.
Given all this, See You is a gorgeous yet heartbreaking OP that captures the pain of a happily married life that has been cut short.
No spouse wants to leave their significant other behind. But mortality forces many people to continue their journey without the person they treasure the most.
17.

Rain – Sid (Fullmetal Alchemist: Brotherhood)
This is often the No. 1 song that fans of FMA: B will recommend if you ask for the OP that provides the most feels (as opposed to just the best OPs from the series).
As the final opening track of the critically acclaimed shounen, Rain had the colossal task of matching the emotional rollercoaster and high stakes of the finale.
Thankfully, it accomplished this with flying colors.
Sid is immaculate in his singing. He begins with a soothing voice before letting it all out along with the instrumentation. Like its animated sequence, Rain is predominantly gloomy and tragic but nonetheless clings to whatever sliver of hope it can find at the end.
16.

Todokanai Koi – Rena Uehara (White Album 2)
Since White Album 2 is based on the titular VN trilogy that boasts an acclaimed soundtrack, the anime as well features some of the most unforgettable sad songs in history.
Thus, it was fitting how the first scene of EP 01 casually reveals that things won't end well for the three music-loving teens.
And Rena Uehara's Todokanai Koi is the perfect opener for WA 2. It starts with a rousing guitar, bass, and drums that are bright and energetic, just like high school.
Yet her deep voice and the chorus disclose the lingering heartache and longing among the trio.
Haruki Kitahara has to choose between Kazusa Touma and Setsuna Ogiso, and the more somber end of the OP encapsulates the bitter end for one of them.
15.

Kimi Dake wo – Mi (Bokura ga Ita)
Just like White Album 2, Bokura ga Ita features a traditionally rousing shoujo-esque pop opener in the form of Mi's Kimi Dake wo.
If Todokanai Koi is about unrequited love, this OP is more wholesome and innocent in its depiction of teen love. Still, Kimi Dake wo leaves a bigger scar with every listen since We Were There is an all-time favorite of mine.
The more cheerful it is, the more it highlights the romantic dilemma among many of the characters. With each succeeding episode, your emotional response toward Kimi Dake wo becomes bluer, subconsciously preparing you for the final scene.
14.

Aoi Shiori – Galileo Galilei (AnoHana)
It's a bummer that this indie rock band is no longer around.
On the bright side, Galileo Galilei will forever be cherished by anime fans for the OP to AnoHana.
As the starting track for the tearjerker series, Aoi Shiori sounds like an instant inclusion to a summer film OST.
Both the instruments and Yuuki Ozaki's voice are light and youthful. Yet for the chorus, Yuuki delivers a raw and authentic expression with neither a speck of adult cynicism nor over-polished production.
Thus, Aoi Shiori gets to send a clear message about holding onto dear memories while still moving on.
13.

Munou – österreich (Tokyo Ghoul √A)
Setting aside the infamous Ken Kaneki manga panel that became a hit meme, Tokyo Ghoul is a beautiful tragedy.
I'm not the biggest fan of Root A and many of its questionable animation and pacing, but its OP and ED are undoubtedly stunning.
Apart from its painterly animated sequence, Munou is unorthodox in its composition and lyrical content thanks to Kunimitsu Takahashi. Despite its cryptic and poetic writing, there's palpable anger and a sense of loss throughout the song.
Furthermore, Ai Kamano accentuates its unnerving, sorrowful sonic sound with her vocal performance, which is quite similar to how Miku Nakamura sang her band Cö shu Nie's give it back for Jujutsu Kaisen.
12.

Cras numquam scire – Yucca (The Mystic Archives of Dantalian)
The Mystic Archives of Dantalian feels derivative of other supernatural detective anime shows from the 2000s. On the bright side, Cras numquam scire is familiar yet unfailingly brilliant like a classic fairytale in audio form.
Yes, the song has pseudo-Latin phrases (and the complete version adds Japanese lyrics). However, you don't need to decipher every term for your heartstrings to be pushed and pulled.
As Cras numquam scire references and romanticizes the moon, you feel like you're alone at night on top of a castle somewhere in a fantasy realm. It makes you gaze at distant stars and hopelessly wonder about your worth in the grand scheme of the universe and infinite time.
11.

Toki wo Kizamu Uta – Lia (Clannad: After Story)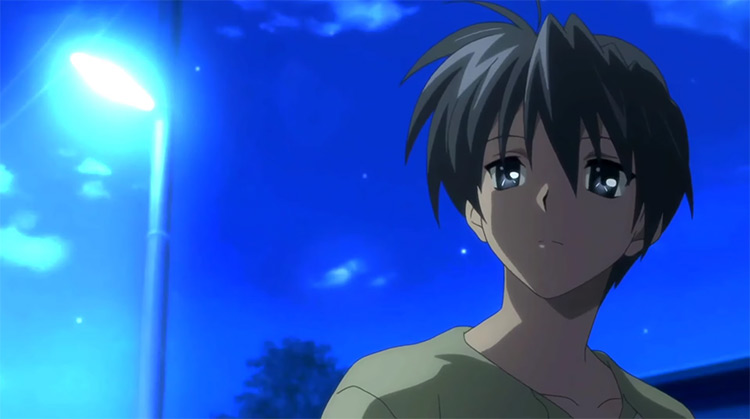 There's probably no song in the entire music catalog for Clannad and After Story that won't hurt viewers.
In particular, Toki o Kizamu Uta sings about Tomoya Okazaki and his depressing life after his wife passed away.
Each line encapsulates his undying love for Nagisa Furukawa, which sadly affects his relationship with their only child, Ushio. Tomoya must accept his wife's untimely death and become a better father, but you can't completely fault him after all that he's been through.
Toki wo Kizamu Uta is filled with him saying that Nagisa's the only one for him, but it all seems pointless when she's not there to hear even a single "I love you".
10.

Stray – Steve Conte (Wolf's Rain)
The late Keiko Nobumoto was crucial to the success of many Shinichiro Watanabe titles such as Cowboy Bebop and Samurai Champloo. However, her lone creation is Wolf's Rain, an anime original that remains underwatched to this day.
Sure, it's odd that Steve Conte — an American singer from New York City — performed the opening song of an animated series from Japan.
But even if Wolf's Rain wasn't directed by Watanabe, its soundtrack was handled by his frequent collaborator Yoko Kanno.
So thanks to the legendary composer, Steve Conte's Stray exists as the quintessential aural companion to the harsh and cold landscapes of Wolf's Rain. It's Kiba's anthem of persevering toward his goal even if he ends up alone and dead.
9.

Tabi no Tochuu – Natsumi Kiyoura (Spice and Wolf)
Moving from one 2000s wolf-starring anime series to another, Spice and Wolf boasts the iconic pairing of Holo and Kraft Lawrence.
To be fair, Tabi no Tochuu isn't inherently sad and lonely. In fact, it details how a forlorn individual finds life worth living again after they meet someone.
However, the OP's moody vibe doesn't change from start to finish. Holo and Kraft have each other now, but the world remains cruel and terrifyingly mysterious in many ways.
Even the OP sequence is fraught with dark imagery and has a closeup of Holo's woeful expression. Love can brighten one's journey, but it cannot rid all of life's ills on its own.
8.

Pink Blood – Hikaru Utada (To Your Eternity)
Wolf's Rain and Spice and Wolf are succeeded by To Your Eternity, another series featuring an MC who can transform into a wolf. Granted, the first season had some iffy compositing, art, and animation, but you cannot go wrong with a Hikaru Utada OP.
For one, Pink Blood showcases the J-Pop icon's unique vocals and storytelling prowess.
Second, the sparse and subdued instrumentation elevates her voice, which appropriately shifts from graceful to pained and indignant.
As Fushi shapeshifts into objects and living entities to experience the world, so too does Pink Blood morph multiple times to foreshadow the different yet equally tragic events in his arduous journey.
7.

Cloud Age Symphony – Shuntaro Okino (Last Exile)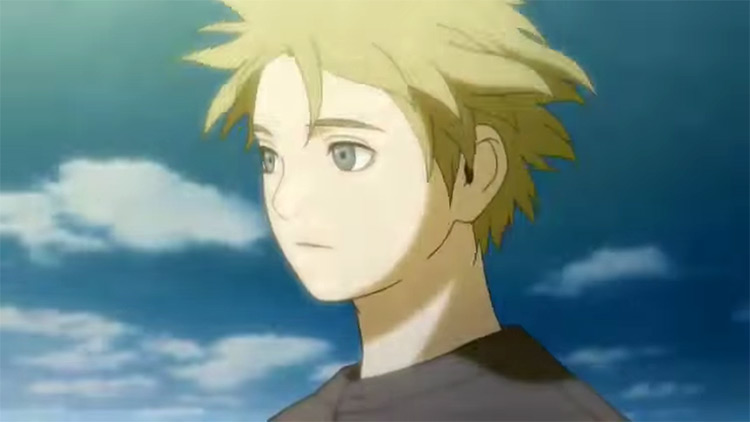 Shuntaro Okino's track for this immersive steampunk (or dieselpunk) wonder is one of a kind. Along with the Darker Than Black S2 soundtrack, Cloud Age Symphony introduced me to Japanese electronic music.
The beat pulsates relentlessly and there are exotic horns to boot — yet it sounds overwhelmingly cold.
From the synths to Shuntaro's distant vocals, Cloud Age Symphony dreams of transcendence and eternity with full awareness of the sacrifices required. Perhaps it's partly due to the character's stoic expressions as well, but this OP has no trouble making me anxious and dispirited.
Evoking scenes of floating high up in the sky during a never-ending industrial war, Cloud Age Symphony delivers exactly what its title suggests.
6.

Kiri – Monoral (Ergo Proxy)
Similar to Steve Conte's Stray, Monoral's Kiri is an English-language opening song for a highly artistic TV series from the 2000s.
Anis Shimada gives Kiri its mature vocal element.
Without his deep and full voice, the chorus—literally "come and save me" sang five times—would have sounded edgy and artificial instead of genuinely epic and desperate for salvation.
Combined with Radiohead's critically acclaimed Paranoid Android as the ED, Ergo Proxy's theme songs are on another level in both artistry and desolation. Kiri can ruin your outlook on love while the ending track messes with your life overall.
5.

Trigger – Yuuki Ozaki (Terror in Resonance)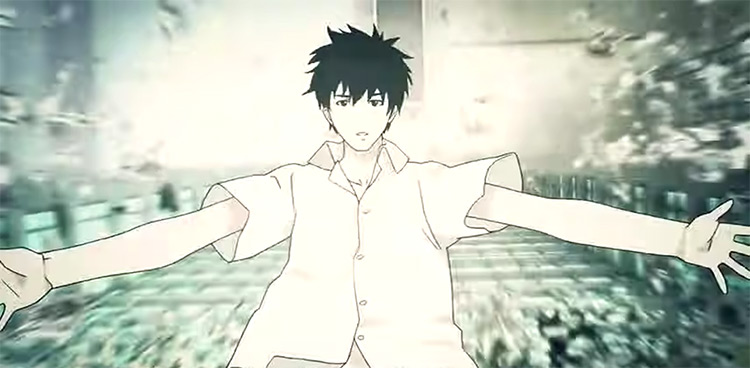 Yuuki Ozaki's opening track for Zankyou no Terror is like a mixture of Aoi Shiori and Cloud Age Symphony modified for Shinichiro Watanabe's psychological thriller (and MAPPA's prestige anime project) in 2011.
Like in AnoHana, Trigger boasts Yuuki's pensive vocals, but the summer sound is replaced by a radically different but apt electronic tone.
Terror in Resonance references Iceland in its character designs, dialogue, and music (Watanabe even said they went there for recordings). So the OP sets the tone with an unyielding and freezing aura, despite packing constant beats and an acoustic guitar in the chorus.
Right from the first listen, Trigger made me think of someone looking far out in the distance, sighing and pleading for a temporary reprieve, to feel like they're in the right place at the right time for at least once.
The last line translates to "winter covers everything" — a statement that perfectly bookends the series.
4.

Shiver – Lucy Rose (Mushishi Zoku Shou)
It was a pleasant surprise to hear a British indie artist performing the OP of the revered iyashikei anime series.
Like her contributions to several Bombay Bicycle Club tracks, Shiver is minimal in its instrumentation — but that's how it should be.
Mushishi provides a simple and wintry animation for the opening track because Lucy's raw storytelling deserves to take the center stage. "And I'll shiver like I used to just for you" is a multi-layered confession that's equally sad and romantic.
In retrospect, Lucy Rose does fit in here. Her soft and endearing voice lulls the senses yet many of her lyrics pierce the heart and mind.
And isn't Mushishi just like that?
It's comforting, but deeply somber in its quiet moments and in its examination of humanity and nature.
3.

Sudachi no Uta – Anemonoria (Wonder Egg Priority)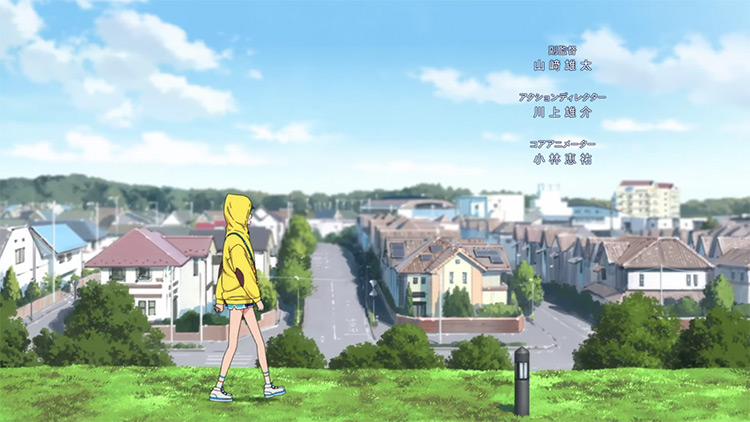 If Sudachi no Uta sounds eerily familiar to you, that's because it's the same song from 1965 that's been used in graduation ceremonies in Japan.
In fact, prior to Anemonoria's rendition, my last recollection of it was in Nichijou.
But this particular version doesn't bring images of attending graduation and hugging your classmates.
In contrast, Wonder Egg Priority turns the classic song on the back of its head.
If you've seen even only EP 01, none of the lines seem innocent anymore.
"I am leaving, I am departing today" and the farewells bring dread and haunting flashbacks, especially when the goal of a "beautiful tomorrow" begins to sound like a euphemism for something much darker.
Make no mistake about it: Anemonoria's Sudachi no Uta has amazing vocals and instrumentation and is actually inspiring on its own. Yet it's this stark contrast to the themes and content of the show that make it impossibly depressing.
2.

We Were Lovers – Jean Jacques Burnel (Gankutsuou: The Count of Monte Cristo)
We Were Lovers is as enthralling as the award-winning anime adaptation of the Alexandre Dumas novel from over 170 years ago.
Sung entirely in English by Jean-Jacques Burnel from the British band The Stranglers, it's simultaneously a recollection of painful memories and also sincere repentance for one's grave errors in friendship and love.
The title alone of the Gankutsuou OP is a certified heartbreaker.
But the worst (or best) part is that each succeeding section dives deep into lies, betrayal, unintended conflict, and the realization that things will never go back to the way they were.
1.

Duvet – Boa (Serial Experiments Lain)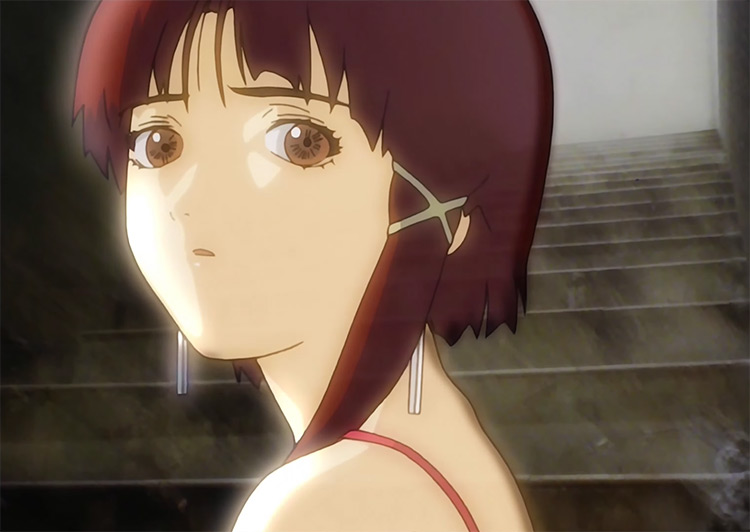 To say that this is the saddest OP in anime history is an understatement. Because "sad" barely scratches the surface.
And the best part is that this really evokes a deep melancholy feeling, whether you've seen this avant-garde anime masterpiece or not.
Boa's classic track for Serial Experiments Lain strikes at the very core of the human soul, forcing listeners to grapple with their identity and burgeoning personal troubles that they can no longer hide under the proverbial rug.
Duvet is like a sip of the finest wine, going down one's throat as smoothly as possible. Yet it's searing in its examination of humanity in the digital modern society of today.
It's an essential listen, especially for those at a major crossroads in life.
Browse:
Japanese Culture
Lists
Anime