Top 10 Songs in Saints Row: The Third
This post may contain affiliate links. If you buy something we may get a small commission at no extra cost to you. (Learn more).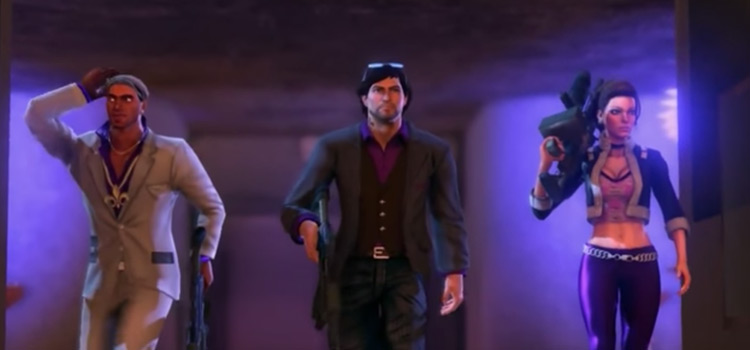 Saints Row as a series has always used licensed music to great effect, and the third iteration of the game arguably does it better than the rest.
Saints Row: The Third has a killer soundtrack consisting of some real big artists of times gone by, not to mention a few recent stars too.
Whether it's driving around in one of the crazy supercars, or chasing down a gangster with the Penetrator dildo in a mission, this game has the perfect music for any situation.
10.

Faith No More – Epic

It would be a travesty to talk about songs in Saints Row 3 without mentioning 'Epic'.

After all, the game endeavors to make sure that your experience in an open-world setting is just that.

A banging track by Faith No More, this is one of those songs that will make you want to stay in your car long enough to hear the entirety of its duration.

Fitting for those times when you feel like going on a rampage around the city, mowing down pedestrians, hurling grenades out the window and generally tearing things up… Epic nicely captures the spirit of the game.
9.

Miike Snow – Animal

Miike Snow's Animal deserves a mention in this list purely on the basis of its merit as a great song.

However, Animal makes the list for more than just its status as a certified banger. It seems to mesh so nicely with Saints Row that you'd almost imagine it was designed just for this game.

With a steady catchy beat, you'll be tapping your toes as you cruise around the city in your latest ride and singing along while wearing your animal onesie for extra effect.

The lyrics seem to go well with the theme of the game and you'll definitely feel like an animal after some of your actions in this fictitious world.
8.

Adam Ant – Stand and Deliver

Proof of how well the developers of the game curated songs for in-game radio, Adam Ant's Stand and Deliver is a slightly comical track which will perfectly match the actions on screen.

Feeling like a boss with tunes blasted, you can drive around the city telling citizens and gang members that they need to stand and deliver their money or their life.

The song of the highway rebel, this track will make you want to get out on the road and wreak some havoc.
7.

G Eazy – My Life is a Party

A thumping track that will accompany your romps throughout the city, G Eazy's "My Life is a Party" is not only a great beat, but a lyrical masterpiece regarding the game's content.

This song seems to match nicely with the irreverence and silly nature of Saints Row. And you will certainly feel like your life is a party when this track comes on.

Another one for the ridiculous onesie and low-riding car, cruise around the city slowly bobbing your head to this track.
6.

Rossini – William Tell Overture

Saints Row: The third goes to show that the contrast between classical music and unadulterated violence in video games can truly be a beautiful thing.

With Rossini's William Tell Overture playing, you'll feel like a conductor of magnificent destruction.

The song to wait for when you're about to pull off something crazy like charge at the military with Mollusk Launcher in hand in an unsuspecting Garbage Truck, William Tell Overture should accompany your craziest moments and will make them so much more memorable. In a strange yet silly kind of way.
5.

Mark Morrison – Return of the Mack

Here we've got a hard-hitting R&B track from Mark Morrison.

Return of the Mack is an undeniable hit which is hard not to love the first time you hear it.

The best comeback song imaginable, Return of the Mack is one for when you failed to take out that deadly gang and are returning to have another crack with the Sonic Boom at your disposal.

Announce your triumphant return to the scene with this awesome song and make sure that even if you fail again, you'll do it in style.
4.

Wagner – Rise of the Valkyries

Wagner's Rise of the Valkyries is indisputably one of the best songs for striking from above and aerial combat.

A song made for attempting a daring jump and getting you suitably pumped up, Rise of the Valkyries is the call to action that you need to do something epic.

Also incredibly apt for using the SA3 Airstrike or Reaper Drone. Try suiting up and raining down fire on your enemies while listening to this one.
3.

Joe Esposito – You're The Best Around

One of the best songs for showing appreciation to a friend who pulled off the epic save, Joe Esposito's "You're The Best Around" is a timeless classic that compliments the game wonderfully.

A fun song to belt out whenever you're in the mood, this one is great for pumping you up and getting you battle-ready.

The most noteworthy use of this song is undoubtedly in the mission where you're charged with slaughtering masked luchador fighters outside a wrestling ring with a chainsaw to save your friend.

I know we've all been there and it's hard to think of a more fitting song.
2.

Bonnie Tyler – Holding Out For a Hero

Implemented in the best way possible, Saints Row: The Third holds this epic song back until the very last mission of the game when you have to save an integral member of the crew – Shaundi.

This is a mission you have to experience to appreciate how well the music builds tension and genuinely enhances the excitement.

You'll be racing across town in an attempt to save one of the main protagonists and take out the main antagonist(which all good final missions should have).

Almost like a scene out of a movie, this mission stands out more than anything for its insanity and just how well this song fits into the atmosphere.
1.

Kanye West – Power

Taking the number one spot with one amazing song, if you've played through the story of Saints Row . you'll know why Kanye West's Power tops the list.

Jumping out of a helicopter and parachuting onto a rooftop party while this song plays in the background will give you chills every time.

The song matches the action like no other and really emphasizes how badass the moment is meant to feel. This is what a great soundtrack should do: elevate the action and help sell what's happening.

When music compliments on-screen action as well as this, the whole experience really captures what digital entertainment was meant to be.
Browse:
Lists
Saints Row
Video Games