Best Mods For Scrap Mechanic: The Ultimate Collection
This post may contain affiliate links. If you buy something we may get a small commission at no extra cost to you. (Learn more).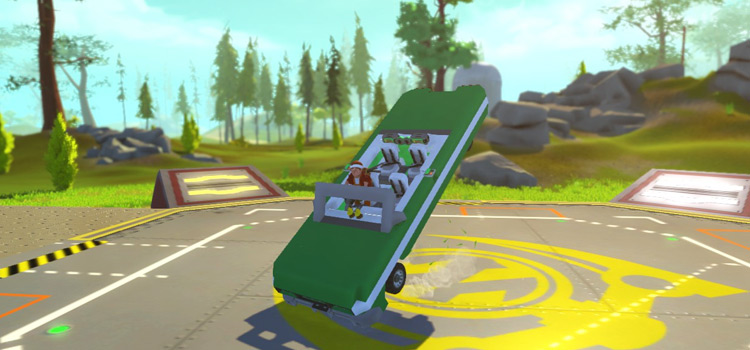 When Scrap Mechanic was released on early access back in 2016, there really wasn't much to it.
But with the release of a survival mode, the game has taken itself in a completely different direction.
The survival genre has become very much saturated in recent years, but Scrap Mechanic easily sets itself apart from the rest of them.
Basically you're able to build anything you want, allowing for more creativity in how the later stages of the game play out. And there's a ton of mods to help add onto that.
So from building vehicles and tools, to making daily tasks much more efficient, or making better weapons to fight off robots with, along with any kind of contraption you want to make… there's mods out there for all of it.
Let's have a look at some of the best worth trying.
15.

Old PokeBall Car
Building in Scrap Mechanic can be quite overwhelming in the beginning.
It's not exactly rocket science, but it's just complex enough that you'll have to actually spend time figuring out which pieces go where.
While I encourage you to just give it a go and learn along the way, not everyone will want to invest the same amount of time into it.
No problem though, here's a little something to get you started.
LuapTheGreat was kind enough to share his prebuilt Pokeball Car for you to use in your own game.
14.

Buttons And Switches Pack
Once you dive into the deep world of building in Scrap Mechanic, you'll soon find that your creativity might sometimes go beyond what the game will allow.
That's where mod blocks come in.
And there's no shortage of options when it comes to additional building items.
The Buttons And Switches Pack gives you access to exactly that: 8 additional buttons and switches to trigger and toggle basically anything you assign them to in your builds.
13.

Wings
As you continue to learn how the game's building mechanics work, you'll find your builds getting more and more advanced.
Soon enough you'll be making all kinds of contraptions, and this next one will be a huge help for your air exploration needs.
This Wings mod pack gives you all new modular wing parts to use when building anything that flies (or you hope will fly at least).
12.

MJM SciFi (and other stuff) Mod
If you wanted to build something even more advanced, you might want to consider giving MJM's SciFi mod a go.
This includes a wide variety of advanced building parts, most of which look like they would come right off a Mars rover.
In the pack you'll find everything from tires, seats, radars, and even claw arms to play around with.
11.

Car Interior Parts by Lord Pain
In case advanced technology isn't what you're looking for, Lord Pain's Car Interior Parts might be a better fit for you.
There's no better mod pack for when you just want to pimp your regular ride, giving you a huge range of options to decorate your vehicle with.
The mod also gives you access to loads of different car seats, steering wheels, speedometers, horns, dashboards, and much more – with everything having custom color options as well.
10.

CoCi Camper v4.0
Now you're looking for a quick way to get around, this mod is perfect for the wanderers out there.
CocoaCoci's CoCi Camper is the perfect way to be able to bring everything you need along with you.
The camper is 100% working with all its moving parts, including your very own dining area, bedroom, and bathroom inside the vehicle.
9.

Interactive Parts Mod by Lord Pain
As your builds get more complex, you'll find yourself needing more moving parts as well.
Lord Pain has been one of the best providers of modded parts in the community, and his Interactive Parts Mod is perfect for your more complex contraptions.
The pack includes a long list of moving parts like fan blades for planes, sawblades, pistons, pumps, lights, and loads of other stuff you can use to add in those little details.
8.

Fawx's Garments 4.8
While building is a huge part of Scrap Mechanic, it's not all there is to it.
Self-care is equally as important.
And that doesn't only mean keeping yourself healthy and fed.
Fawx's Garments mod doesn't just offer a host of different outfits to customize your characters with, but it also gives a chance to dress yourself up every now and then.
Who doesn't love a little dress-up?
Well now you can gear up for whatever new task you're about to tackle, with all the different options included in the mod.
7.

Modular Engine Parts by Lord Pain
So this next mod only proves that Lord Pain has got the answers to all your Scrap Mechanic needs.
He's got everything down to the detail, and that includes the ability to customize engines for your vehicles.
The Modular Engine Parts gives you access to a whole new list of pipes, filters, fans, and everything else you'll need to build completely customized engines.
6.

Ferris Wheel
It's always interesting to just look through what random builders have come up with in Scrap Mechanic.
And that's why it's awesome to see this game have Steam Workshop support: it's easy to just grab anything you want and get it installed fast.
That's what I did as soon as I came across this prebuilt Ferris Wheel by Stamsite.
Now I have my very own Ferris wheel in my backyard.
A childhood dream, finally realized. Kinda.
5.

"The Dragonfly" Transforming Flying Truck!
Stamsite's Ferris wheel is just the tip of the iceberg when it comes to custom Scrap Mechanic builds.
Adahop's "The Dragonfly" looks like something that came straight out of Transformers, as he shares a 100% working build of a truck that actually transforms into a plane.
What's even more remarkable about this build is that no mod parts were used.
So you won't need any other mods installed either to get this working in your own game.
4.

[OSITHUS] EXO-MD300
With crazed robots being your main enemies in Scrap Mechanic, it's only fitting that you'd have your own mech suit to help you survive.
That's exactly what modders The Evil Sith and saint built here, with their exo-mech EXO-MD300.
This particular mech isn't a battle mech.
But it is useful to make mining much more efficient.
The build looks great as well, fitting right into the Scrap Mechanic aesthetic.
3.

Bombs Mod
Many would argue that part of the fun of building is actually being able to see your creations get destroyed.
Not everyone would agree.
But for those who do, I highly recommend giving LuFt Hamza's Bombs Mod a go.
The mod includes several historical bombs including mines, mortars, and even nukes to blow things up with.
Yes, nukes. I can imagine the fun already.
2.

AT-AT
Other than video games, Star Wars is another thing I can't get enough of.
You can imagine my excitement anytime the two meet, and that's exactly what this next mod offers.
This AT-AT built in Scrap Mechanic is especially impressive given how complex the game's building mechanics are.
But in the world of crossovers, everything is better with a little Star Wars.
1.

LowRider Ver2
Now this next one might not be nearly as complex as any of the previous mods on my list, but it takes the #1 spot for a simple reason:
It looks like something CJ would drive in GTA: San Andreas.
I mean, look at how good this thing looks.
It even has working hydraulics and everything.
Fans of GTA are definitely gonna enjoy this one.
Browse:
Lists
Steam
Video Games