Top 10 Best Cats in Sea Of Thieves (All Species)
This post may contain affiliate links. If you buy something we may get a small commission at no extra cost to you. (Learn more).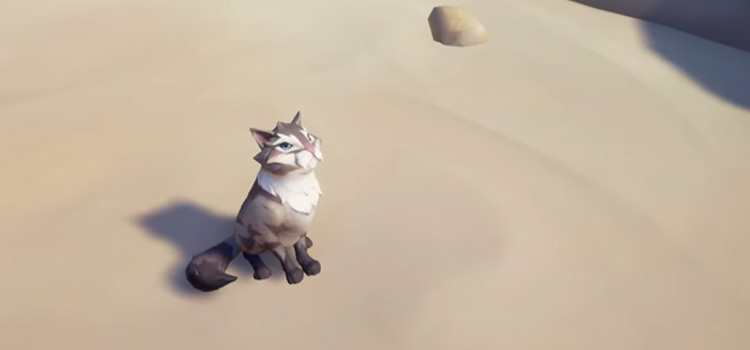 The big difference between cats and any other pet in Sea of Thieves is that just like in real life, cats do what they want, when they want.
And we all know you don't really own the cat, the cat owns you.
With all that in mind, cats in Sea of Thieves are usually found living their best lives sleeping below deck. And they're quite partial to a bit of fish.
I mean seriously, they will eat any fish you dangle in front of them… so keep your trophy catches hidden away!
But if you want a companion aboard with 9 lives to spare, let's check out the best cat cosmetic styles in the game.
10.

Ratcatcher Wildcat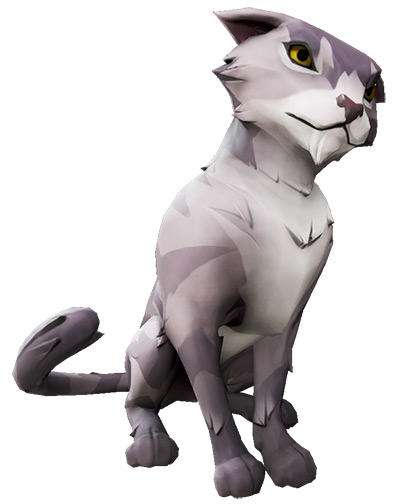 Cost: 499 Ancient Coins
Shop Location: Pirate Emporium
This cat looks impossibly cute in just about any outfit – and is perfect to start this list off.
The Ratcatcher Wildcat has a wonderful rugged pale grey and white coat. And as its name suggests, it is a perfect pet to deal with your ships rat problem.
If you think you don't have one then maybe it's just doing its job well.
9.

Ivory Mau
Cost: 499 Ancient Coins
Shop Location: Pirate Emporium
For the most part, I'd say ships, weapons, and even the classiest of pirates are tatty and grimy in Sea of Thieves.
The Ivory Mau makes this list because it's completely the opposite with a perfect spotless white coat.
Unless the Merchant Alliance are moving into the pet grooming business, or if there's something in the water, it's a mystery how this cat has stayed so clean.
8.

Gold Curse Wildcat
Cost: 649 Ancient Coins
Shop Location: Pirate Emporium
Cats are agile and always land on their feet.
But I imagine that's tough if you're made out of gold!
And that's exactly what we have with the Gold Curse Wildcat.
This pet looks less like a cat, and more like a pile of treasure that's been brought to life.
It still acts like a cat though. It sleeps all the time, and is a big fan of belly scratches.
Just don't hurt your fingers if you're going to do that.
7.

Tawny Ragamuffin
Cost: 499 Ancient Coins
Shop Location: Pirate Emporium
Sometimes you can't beat a good ol' fashioned tabby cat.
And this is the best of the bunch.
The Tawny Ragamuffin is as close to your usual "house cat" as you're going to get on the Sea of Thieves. But sometimes that's all you want in a world inhabited by cursed pets, or pets that'll give you frostbite if you touch them.
Because let's be honest: if you want classic and traditional then your choices are limited.
But if it's a cat you're after, then you're in luck.
6.

Ashen Curse Ragamuffin
Cost: 649 Ancient Coins
Shop Location: Pirate Emporium
You can get an Ashen Curse version of all the pets in the game – but the cat version might be the best of the bunch.
The Ashen Curse Ragamuffin is a beautiful black cat with a fiery glowing nose and face fluff.
The tail looks especially cool, as all the scruffy fur at the end lights up. Fortunately, the fire is just for show – as we all know how flammable ships are in this game!
Oh, and while it's true that all the cats in the game like belly rubs –you might not want to with this one because, well… it doesn't have one.
5.

Twilight Mau
Cost: 499 Ancient Coins
Shop Location: Pirate Emporium
It's almost a shame there are no witch outfits.
Because a black cat would be a purrfect fit.
We don't have witches, but if you're a proud supporter of the Order of Souls, you're probably not far off.
And no pet goes better with that than the Twilight Mau.
This cat is silky black from head to tail, and is quite happy minding its own business while you're decorating your ship with glowing skulls, you weirdo.
4.

Glacial Curse Ragamuffin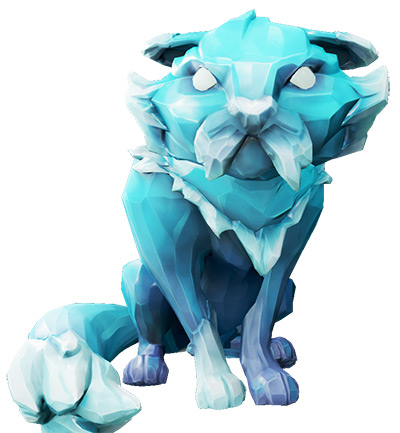 Cost: 649 Ancient Coins
Shop Location: Pirate Emporium
It must be pretty miserable getting cold and wet jumping into the sea over and over…
And sadly this icy feline won't make that any better.
The Glacial Curse Ragamuffin is a stunning icy blue and white color that's so bright, the cat actually glows. Really!
You may want to keep the petting to a minimum here unless you want frostbite.
And I'll add that this cat looks like an ice sculpture, so it's perfect with Frozen Horizon Ship set where it comes from.
3.

Skeleton Mau
Cost: 649 Ancient Coins
Shop Location: Pirate Emporium
They say cats have 9 lives.
But sadly, this one lost count and made it all the way to 10.
The Skeleton Mau, as the name suggests, is a scary skeleton cat. And it looks menacing with its sharp teeth and claws.
If anything, the pointy bits look so much worse when they aren't attached to a cute fluffy cat.
On the plus side, you can't have a cat allergy if there isn't any fur. And you won't find its hair all over the Captain's Quarters!
2.

Order Of Souls Possessed Cat
Cost: 649 Ancient Coins
Shop Location: Pirate Emporium
Here's one more spooky cat that's perfect on a ghost-themed ship, or even as something special for Halloween.
The Order of Souls have sure outdone themselves here!
It's a mystery what this cat looks like underneath the black and purple outfit. But if the designers wanted it to look creepy, they succeeded.
I'm still not sure if the jewels are eyes or part of the mask… but I'm not going to check. Cat scratches suck.
1.

Alabaster Wildcat
Cost: N/A
Shop Location: N/A
At first glance, this cat may not look like much.
But I'm almost certain you've never seen one.
It's also the only cat that you can technically get for free!
The Alabaster Wildcat is a pristine white-colored pet that's awarded for playing on the Insider build for at least an hour a week, for 111 weeks. Unfortunately, that's not a typo.
This fluff ball will take over 2 years to unlock.
And that probably makes it rarer than that giant white fish we don't talk about.
Browse:
Lists
Sea of Thieves
Video Games