Sea Of Thieves: The Best Figureheads For Your Ship
This post may contain affiliate links. If you buy something we may get a small commission at no extra cost to you. (Learn more).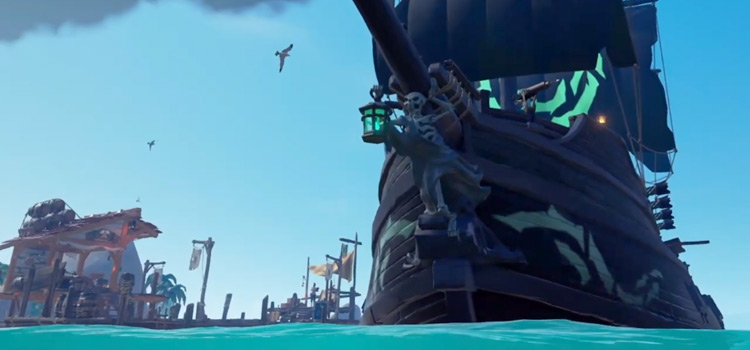 The Figurehead on a ship can tell you a lot about the crew onboard.
It can show you feats they've accomplished, maybe their sense of style, or maybe it just shows that they're lazy because they didn't put one on at all.
Whatever story you want to tell, there's one to suit every crew.
And with so many to choose from it can be a tough choice to make – but let me make that easier for you with this ranking.
10.

Shark Hunter Figurehead
Sharks can be some of the most annoying creatures in the game. Especially if you're trying to explore a shipwreck in peace.
If you want to make them think twice before attacking you, this Figurehead is worth a try.
The Shark Hunter Figurehead looks exactly how you would imagine:
It's a shark that has been strapped to the front of your ship, and is a warning to any terrors of the deep that there are consequences for attacking your crew. At least, it would be, but I think the sharks in this game see it as a challenge.
9.

Dark Warsmith Figurehead
The Dark Warsmith Figurehead is the only figurehead on this list that costs Ancient Coins (Sea Of Thieves' premium currency).
This puts a prisoner's cage at the front of your ship, complete with the skeleton of an unfortunate scallywag inside of it.
You could argue that this is a sign that your crew has no chill. I prefer to see it as a warning to any pirate who dares to tuck aboard your ship.
8.

Killer Whale Figurehead
This is one for you master anglers out there!
Nothing shows off your prowess with a fishing rod better than an enormous Swordfish strapped to the front of your ship.
To unlock this figurehead you need to get all the way to Level 50 with The Hunter's Call.
This is a unique and instantly recognizable ship cosmetic, and is a grand reward for what requires hours and hours of fishing.
I just wish they went all out and made it an actual killer whale instead.
7.

Legendary Reaper Figurehead
Inexperienced crews tell tales of the Reaper boogeyman sinking ships and stealing their plunder.
If that boogeyman is you, then this belongs on the front of your ship.
The Legendary Reaper Figurehead is only available to those who have achieved level 50 in the Reapers Bones faction. So if you see a ship with it, chances are they're seasoned in combat.
It's a pretty unique figurehead too, sporting a skeleton holding a Reaper mask.
If you're prowling the seas for combat, this is a fitting addition to your vessel.
6.

Merchant Alliance Figurehead
You're rewarded with a figurehead for reaching Level 75 with any of the 3 main factions – and the Merchant Alliance one is hands-down the best of the bunch.
Whereas the Gold Hoarders will give you a silly gold pot, the Merchant Alliance will give you this awesome eagle figurehead. And it looks beautiful on any ship.
Honestly, the entire Merchant Alliance set looks great, with its unique blue and gold color scheme.
And if that tickles your fancy, the Merchant Alliance Figurehead is the perfect icing on top.
5.

Legendary Figurehead
What can I say?
You can't get more legendary than a unicorn!
The Legendary Figurehead is exactly that: a statue of a unicorn complete with a gold mane, bright glowing eyes, and a glowing horn.
Before you rush out to buy this, though, you will need to be a Legend of sorts to purchase it – a Pirate Legend in fact.
You'll earn this title eventually through leveling up the factions. But also make sure you're saving up along the way, as this figurehead costs a cool 300,000 Gold.
4.

Gilded Phoenix Figurehead
If you're a fan of mythical beasts, how would you like a Phoenix nesting beneath your bowsprit?
Well even though it's an awesome look, sadly this figurehead was a Twitch drop. And at the time of writing there's no other way to obtain it.
Fingers crossed the Shipwright will sell it someday.
This Gilded Phoenix Figurehead adorns the front of your ship with a beautiful majestic Phoenix, and is right at home alongside just about any ship decorations.
There was also a fiery glowing version of this figurehead as a Plunder Pass reward in Season 2, which is nice. But I'd rather not have a beacon you can see from space on the front of my ship.
3.

Ghost Figurehead
You probably shouldn't spend more time on the Ferry of the Damned than you need to.
But there's no denying it's a pretty awesome ship.
If you want to bring a piece of that back from the afterlife, you could do a lot worse than the Ghost Figurehead, which comes complete with a dark skeleton and a lantern with an eerie green flame.
The only downside is you need to be a Pirate Legend and Level 10 with Athena's Fortune first, which will take the average crew hundreds of hours to accomplish.
This can be a long term goal, so no worries about getting it right away.
Just don't work yourself into a watery grave!
2.

Glorious Sea Dog Figurehead
If you wanted a medal on the front of your ship, constantly reminding you of how awesome you are… well believe it or not, you can get one!
Brace yourselves for this one though, as the cost is high.
The Glorious Sea Dog Figurehead serves as a reminder to any onlookers that you managed to achieve Level 50 in the Sea Dog faction.
This means you've seen more combat than most crews on the server put together.
This figurehead is ridiculous – but the crew that uses it has the skills to back it up.
1.

Dark Adventurers Figurehead
The Dark Adventurers set is infamous for being incredibly expensive, and is locked behind the rank of Pirate Legend.
And the Dark Adventurers Figurehead is no exception, as it's one of the most expensive items in the entire game at over 8 MILLION Gold.
It takes one dedicated pirate to get that kind of gold together – so expect any crews with this on their ship to put up a real fight!
The Figurehead itself is dark and menacing like the rest of the set, and should strike fear into any crew.
Even if you aren't out for blood, even just having this on your ship says you're going to be a nightmare to deal with.
So you can explore the seas uncontested – and 8,000,000 Gold poorer!
Browse:
Lists
Sea of Thieves
Video Games