The Best-Looking Hulls in Sea Of Thieves (Ranked)
This post may contain affiliate links. If you buy something we may get a small commission at no extra cost to you. (Learn more).
How you decorate your ship tells other crews more about you than you may realize.
You can get a good idea how experienced a crew is (or even their intentions) based on what paint is splashed across the sides of their ship.
This is a pirate game though. So these are more guidelines than actual rules…
But you should probably be on edge if you spot a ship rocking a full black and gold reaper paint job!
But if you're thinking about what insane messages you've been sending across the seas, don't worry! That was then, this is now, and these are the best-looking hulls worth using in Sea of Thieves.
15.

Sailor Hull
Cost: N/A
Shop Location: N/A
You may think it's a cop-out opening the list with the starting hull… but hear me out!
The Sailor Hull is the unpainted hull that every ship loads with. And it tells other players you've just turned up and have nothing worth stealing – or you're a new player and it's all you have… but there's a catch.
Some experienced players simply don't care what their ship looks like anymore. And some will even go the extra mile and masquerade as a novice.
It is a pirate game after all!
So word to the wise: exercise caution when any ship approaches you, 'basic' or not.
14.

Mayhem Hull
Cost: N/A
Shop Location: N/A
This hull (along with the entire ship set) was awarded as part of a collab between Borderlands and Sea of Thieves, something nobody saw coming.
The set is awesome, but is low on the list because it's no longer available (as of this writing).
Arguably, the Mayhem Hull doesn't fit the theme of the game too well. But there's no denying how much the vibrant red and yellow stand out.
There's nothing subtle about Borderlands – and the same goes for the cosmetics too, with the iconic 'Vault' symbol proudly displayed on each side of the hull.
13.

Shackled Phantom Hull
Cost: N/A
Shop Location: N/A
This hull looks incredible, but like the Mayhem set, it's low on the list because it was a time-limited cosmetic – with no word on when/if it will return.
The Shackled Phantom Hull deserves a mention despite that, with its ghostly green glow which stands out against what is otherwise a bland paint job.
This was a Pirate Legend exclusive reward during Season 2. So fingers crossed those that want it can still obtain it in the future.
Because let's be honest, who doesn't want a glowing green ship?
12.

Duke Hull
Cost: N/A
Shop Location: N/A
An Xbox-themed ship just shouldn't work…
But here we are.
The Duke Hull (and the ship set) is console exclusive, if you were lucky enough to get an Xbox Series S/X before November 2021.
The hull pays homage to the original Xbox console with the iconic green and jet black color scheme, and the green marks towards the front that make a smart 'X' shape when you view it from the right angle!
11.

Eternal Freedom Hull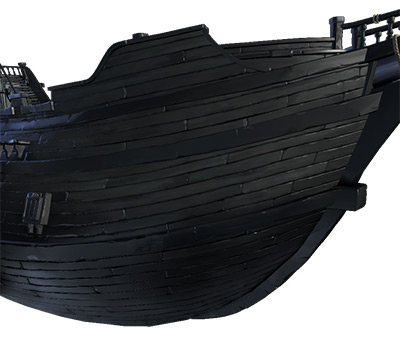 Cost: 349 Ancient Coins
Shop Location: Pirate Emporium
If you're simply trying to make the darkest ship you can in the hopes of making a stealthy murder boat, you can't do much better than this.
The Eternal Freedom Hull is part of the Pirates Of The Caribbean themed ship set. And while there are plenty of dark hulls in the game, this is probably the darkest.
So it's perfect if you want to make Reaper's Hideout your hunting grounds at night – or be a menace from the shadows.
10.

Wild Rose Hull
Cost: 100 Doubloons
Shop Location: Shipwright Shop
The Wild Rose set is something you'll see a lot if you spend time in Sea of Thieves – and with good reason.
This is available from day 1, as long as you can part with the Doubloons.
And along with the rest of the set, this can make your ship one of the most stylish on the server.
This entire set is popular for its beautiful deep red and gold color scheme. And even though roses aren't on the hull, your ship will be covered with roses if you decide to use all the parts.
A fantastic set to grind for no matter how long you've been playing.
9.

Merchant Alliance Hull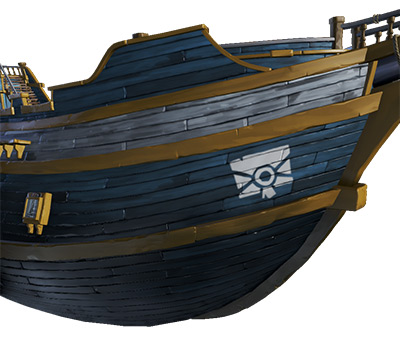 Cost: 69,550 Gold
Shop Location: Merchant Alliance
The 3 main factions in Sea of Thieves all have a hull that you can unlock upon reaching level 70 in each faction.
But I think the Merchant Alliance one looks the best.
Simply named the "Merchant Alliance Hull", this trademark blue and gold design is only available to those that have worked themselves to the bone to make sure deliveries are done on time!
No matter how you go about it, getting to level 70 with the Merchant Alliance will take many hours.
And chances are good that you'll be a Pirate Legend long before getting this as well.
8.

The Killer Whale Hull
Cost: 2100 Gold
Shop Location: The Hunter's Call
Oftentimes it's not how expensive a cosmetic is, but rather it's the grind you have to go through to get it… that's what makes it valuable.
And the Killer Whale Hull is a perfect example of that in action.
Because to get your hands on this, you need to reach Level 25 with the Hunter's Call. This will take a while, as the Hunter's Call will only accept Fish and Mermaid Gems.
I know this isn't the flashiest choice on our list.
But this hull (along with the rest of the Killer Whale set) commands respect across the seas.
Seriously, everyone who's fished around a shipwreck in a storm alone knows true pain.
7.

Glorious Sea Dog Hull
Cost: 69,550 Gold
Shop Location: Shipwright Shop
If you love the thrill of combat, but don't feel like dressing your ship up 'Reaper Style', this is a more colorful alternative.
The Glorious Sea Dog Hull is awarded upon reaching Level 10 with the Sea Dogs.
Even for a novice, Level 10 shouldn't take too long. And for your troubles, you get a fantastic red and blue hull that shows you're hungry for combat.
A great reward for getting your feet wet in the Arena.
6.

Thriving Wild Rose Hull
Cost: 330,750 Gold
Shop Location: Shipwright Shop
If you're in the market for something unique but classy, you could do a lot worse than this little thing.
The Thriving Rose Hull is painted a wonderful dark pink and purple, and isn't too hard to unlock either – provided you can afford its hefty price!
This hull & the set it belongs to is available to purchase upon completing every commendation in the Wild Rose Tall Tale.
So you'll need to complete the Tale at least 5 times! I hope you don't mind listening to Sea of Thieves' tragic love story.
5.

Hull of Sunken Sorrow
Cost: N/A
Shop Location: N/A
The Pirates of the Caribbean content brought some awesome Tall Tales with it – and an exceptionally cool ship set too, if you're prepared to grind for it.
The Hull of Sunken Sorrow is bold, vibrant, multicolored, and stands out like few others in the game.
But the best part is that it's completely free, provided you're willing to put the time in.
To unlock this hull you'll need to complete every commendation in the Lords of the Sea Tall Tale.
4.

Tribute Peak Hull
Cost: N/A
Shop Location: N/A
If you've yet to check out the Emissary Ledger rewards, you really should.
Because with a bit of work you can unlock some fantastic cosmetics – like this one!
The Tribute Peak Hull is a wonderful choice for your ship, coming in a unique dark green and shiny gold.
It looks like the paint is peeling away revealing glowing gold underneath… or maybe they're trying to paint over the gold, I'm not sure. You don't want to ask these questions in Sea of Thieves.
But for those of you tracking this down, the hull is awarded for reaching 'Marauder Tier' with the Gold Hoarders.
3.

Masked Renegade Hull
Cost: N/A
Shop Location: N/A
If you liked the Tribute Peak Hull, just know that the Gold Hoarders aren't the only faction with a fancy hull up for grabs.
Another one is the Masked Renegade, which is awarded for working on your Reaper Emissary value.
And if you do well enough you get this terrifying black and gold monstrosity that looks bloodstained from a distance.
That may be a little too violent for Sea of Thieves. So maybe upon closer inspection, the red is actually red smears and symbols… or is it?
2.

Dark Adventurer's Hull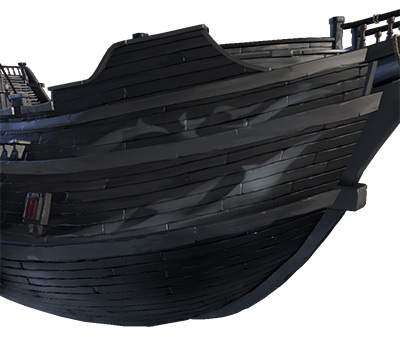 Cost: 8,268,750 Gold
Shop Location: Athena's Fortune Shipwright
Want to see the most expensive cosmetic in the game?
Let me show you.
The Dark Adventurer's Hull is tied with sails from this same set as the most expensive item in Sea of Thieves (as of this writing).
If you're a fan of dark cosmetics, you'll probably fall in love with it all. Just bear in mind your wallet won't be too happy about it!
The entire set costs an eye-watering 75 Million Gold – and no matter how good you are, that's hundreds of hours of saving up.
You can't buy this hull until you reach Pirate Legend, and beware: you will be hunted if you put this on.
And your aggressors will be good players looking for a tough battle.

1.

Hull of the Ashen Dragon
Cost: N/A
Shop Location: N/A
This is probably the most popular glowing hull in the game – and it's not hard to see why.
The Hull of the Ashen Dragon emits a fiery glow at a glance. And all of the gaps between the planks look like they're straining to keep an inferno from bursting out.
Needless to say, this hull is absolutely stunning at night. And good news, it's pretty easy to unlock too!
All you need to do is beat the Heart of Fire Tall Tale, no special commendations. Just get to the end and you can be the proud owner of your very own glowing ship.
Browse:
Lists
Sea of Thieves
Video Games