Sims 4 Perfume CC & Clutter Packs
This post may contain affiliate links. If you buy something we may get a small commission at no extra cost to you. (Learn more).
Sometimes, cosmetics can decorate more than just our faces.
Makeup brands make their packaging as aesthetic or as visually pleasing as possible in order to boost their marketability. Some prefer bright, vibrant packaging while those who see too much detail as "gawdy" tend to look for cleaner, more minimalist boxes.
Whichever side you're on, you've probably kept a perfume bottle (or two) on your your desk, counter, or dresser because you liked how it looked up there.
Don't worry; I do that a lot (much to the dismay of my roommate).
Whether you want to add a pop of color to your Sim's personal belongings or you just want to clutter up their vanity mirror, here are some custom bottles to add into your next build.
1.

Vintage Glamour Perfume Set Recolors by Mari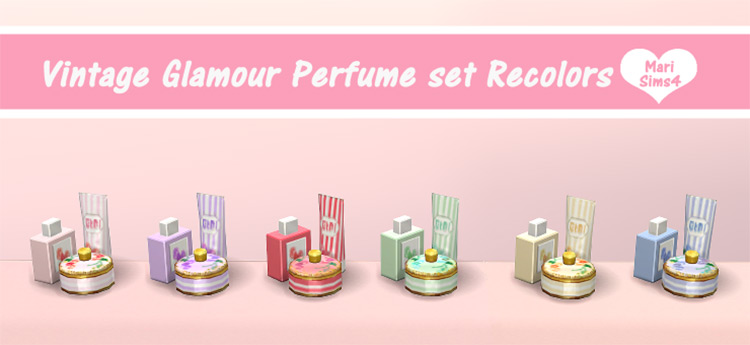 As much as I love minimalist makeup packaging, the over-the-top packaging of vintage cosmetics will never not be charming.
The golden embellishments, the ornate designs, the overwhelming use of florals and feminine prints… there's nothing quite like it.
So it makes sense for this candy-colored set of vintage perfumes to remain purely decorative. Their only job is to sit there and look pretty, and they're doing it flawlessly.
2.

Chanel Luxury Perfumes & Perfume Tray by PlatinumLuxeSims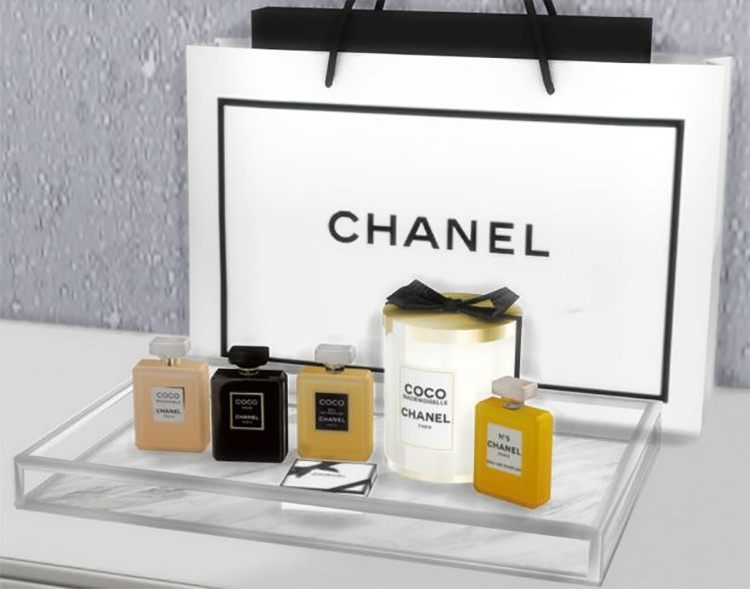 PlatinumLuxeSims gives Simmers a set of luxury brand scents in the form of four gorgeous matte glass bottles on an expensive-looking tray.
I see Chanel Number 5 referenced often enough in fictitious literature and media to know that it's the olfactory equivalent of wearing designer.
But if your Sim prefers their perfumes subtle and unidentifiable, there are at least three other scent options in the pack that they can try.
3.

Perfume Gift Sets by PlatinumLuxeSims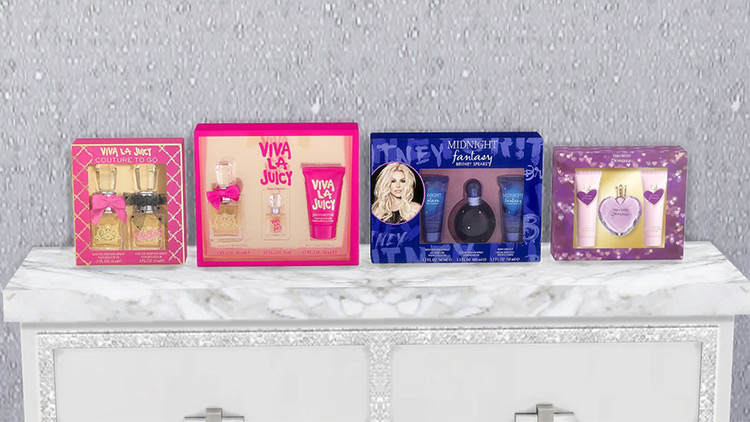 These look exactly like the 3-in-1 perfume and cosmetic gift sets you'd get someone when you aren't sure what they'd like.
You know; those people you may not be all that close to but you still want to gift them something to make their day special?
Yeah.
PlatinumLuxeSims' meshes are scarily accurate. They also make for pretty clutter!
4.

New Perfumes by Around the Sims 4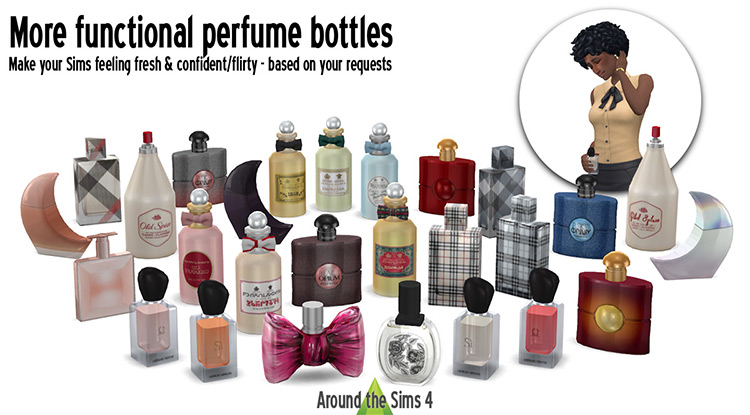 These custom perfume bottles are gorgeous. Like I said; big fan of minimal packaging.
But when the bottle is oddly or interestingly shaped, I can forego preferences.
Seriously; look at the geodesic Lady Million ones! Or the Lancome one that looks like it has a tiny neckscarf.
These are the kind of perfume bottles that could utterly clutter your dressing table and you wouldn't mind looking at the mess.
5.

Functional Perfume and Cologne by Ilex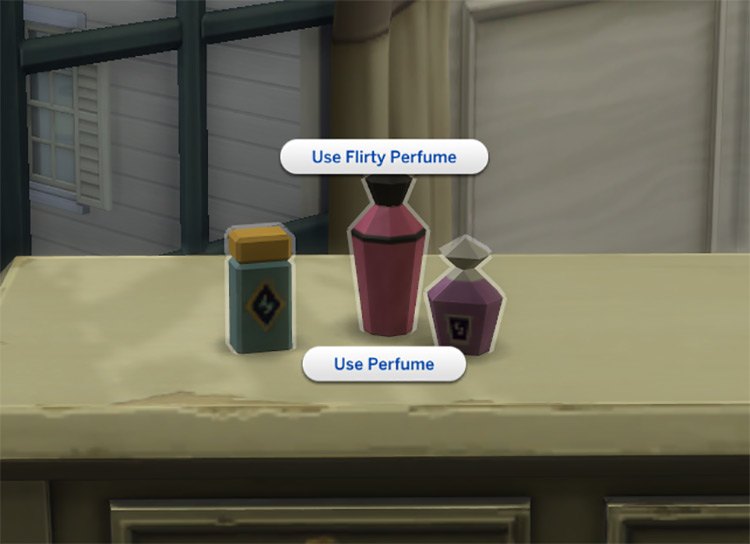 This is a genius concept that adds to both building and gameplay in The Sims 4.
It's sort of like those décor items in TS4 that have auras you can enable and disable, only it's distinctly perfume-shaped. And perfume-themed.
This mod by Ilex overrides the existing perfume and cologne clutter sets so that they're interactive.
Using them will add certain buffs and moodlets to your Sim, including a cute "Too Much" moodlet that happens when your Sim gets a little too spritz-happy.
The mod is base game compatible, but it can also be used for the cologne and perfume trays in The Sims 4: Vintage Glamour stuff.
6.

The Perfumery Sweet Store (Just Deco Objects) by jomsims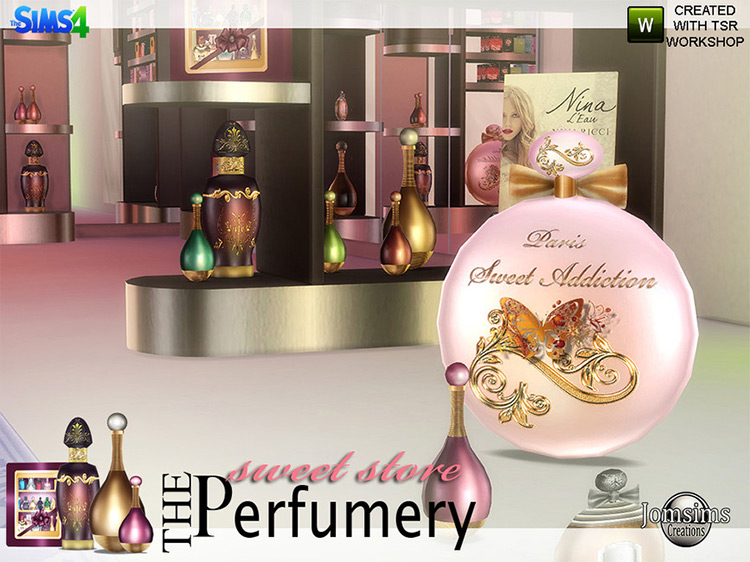 If you're after perfume deco sets, this is literally a one-stop shop with numerous designs.
Seven, to be exact. All ranging from single decorative bottles to bunches of containers from the same brand.
The set is, after all, meant to decorate a perfume store.
So the amount of options makes sense. But I wasn't expecting all of them to look this good.
I personally love the Perfume 1 mesh. It looks like a magic potion bottle.
7.

Jo Malone Set by minc + Morgan Moss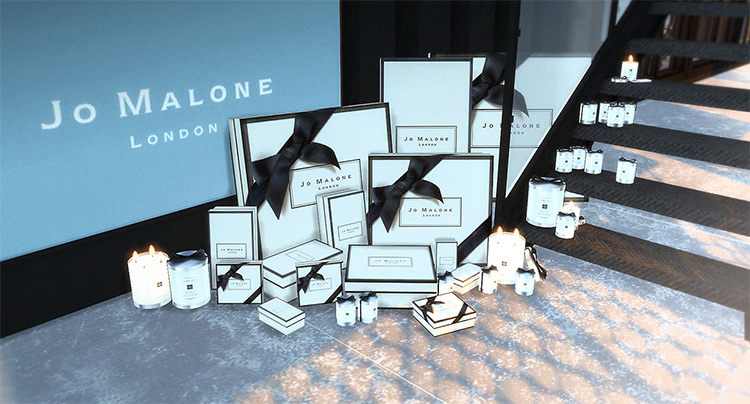 For Sims who love luxury and a unique fragrance portfolio, how about some good ol' Jo Malone?
This CC set is a mixed bag of scented goodies from the popular London brand, and there just happens to be cologne in here.
One mesh is for the 3.4oz bottle and the second is the much smaller single-ounce container.
8.

Functional Perfume Bottles by Around the Sims 4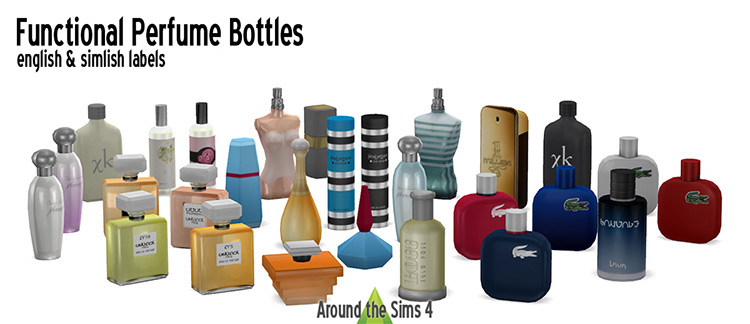 These bottles are like Ilex's Décor with a Purpose override.
Only difference is that it's a mod and a bunch of decorative CC.
If you just want to download the CC perfume bottles as purely décor (understandable; they're all gorgeous) you can just click the download links on the page.
But if you want to make them functional, you can download Around the Sims 4 Perfume Mod.
Or if you want more beautifully-designed perfume bottles, check out part 2 (aptly named More Functional Perfume Bottles) here.
9.

Fashion Style Décor – Perfume by Severinka_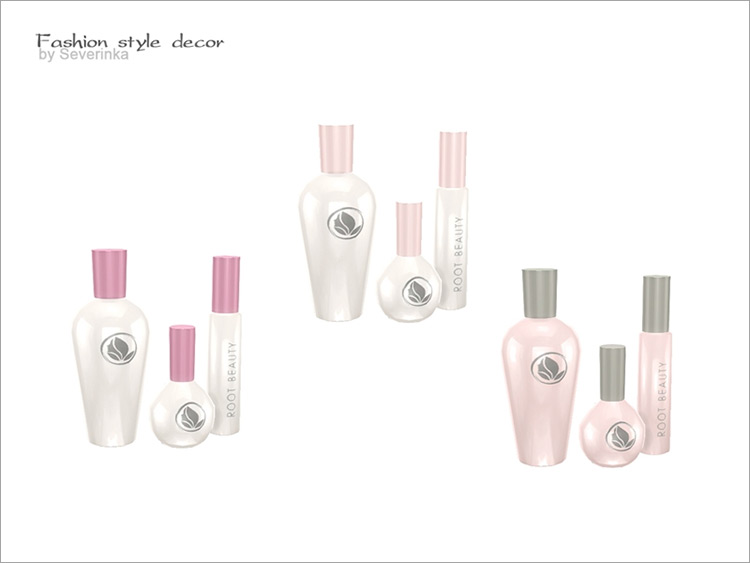 From Severinka_'s Fashion Style Décor set, here are three dainty bottles of sweet, smooth, subtle, and/or sensual scents.
The creator doesn't specify the perfume profile, but that's the vibe I get when I look at them.
They look too sweet and pretty to have anything but a delicate fragrance.
10.

Makeup Clutter by One Billion Pixels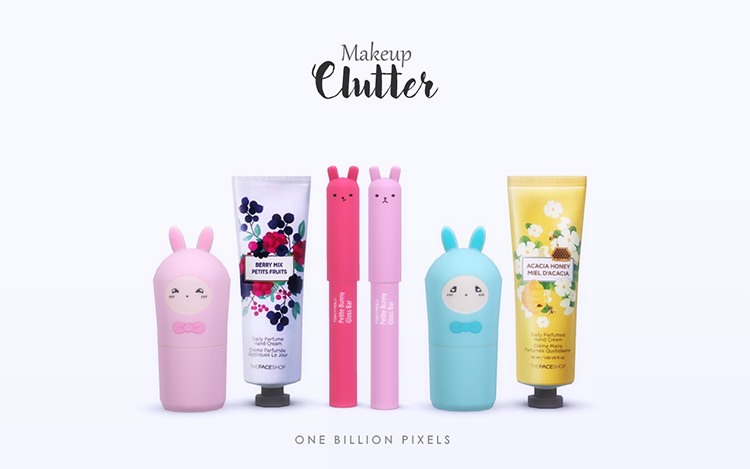 This is hands-down my favorite perfume set on this list. And I think it's easy to see why.
If my local drugstore or department store sold perfume bottles this cute, I'd literally buy the set and never use them.
The perfume bottles are named "Hello Bunny" and they actually look like bunnies. With bowties. And different expressions.
Words cannot describe how fond and gooey they make me.
This custom makeup clutter set also comes with bunny-themed lip glosses, and the different faces make me want to throw something. Especially the yellow bunny.
As with the bunny perfume bottles, I would probably buy them all and never use them IRL.
Browse:
Lists
The Sims 4
Video Games