Best Sims 3 Worlds & Towns To Live In (From All Expansion Packs)
This post may contain affiliate links. If you buy something we may get a small commission at no extra cost to you. (Learn more).
The Sims 3 is the go-to game for open-world simulation enthusiasts.
This is the one title in the entire franchise that didn't make you go through loading screens every time you decide to move lots. This is why many people still prefer to play The Sims 3 over The Sims 4, even though the latest installment of the series has a lot of improvements.
In any case, it'll be interesting to dig into Sims 3 worlds given that you can move around freely, and there aren't any rabbit hole areas that you can't visit.
So in this post I've organized my picks of the 15 the best worlds/areas/towns that you and your sims can inhabit. Sims 3 enthusiasts, get ready to pack your bags cause you might be ready for a move!
15. Barnacle Bay
Are you a fan of island worlds?
Well this one comes with a twist! Your world will have a pirate theme to help you and your sims go on adventures like you've never experienced before in the franchise.
You can purchase this amazing map or simply get it as part of the Island Paradise DLC if you happened to have pre-ordered it.
In any case, if you love to see the sunset on the coast and experience the life of an island dweller, this is probably one of the best towns to download.
14. Twinbrook
Twinbrook is a town that comes with the Ambitions expansion pack, which has two twin rivers that cross and divide the town with a lake in the middle.
It's a beautiful little area that reminds one of the swampy regions of North America.
And with a grey climate to set the mood, Twinbrook is an amazing town for people who enjoy the simple things in life.
13. Appaloosa Plains
Not every sim is built for the country life. But the Appaloosa Plains have the best homes for sims that want to spend their life with country music relaxing on their porches.
If you love having your sim explore meadows and live a simple life then the Appaloosa Plains is the right town to inhabit.
Let nature take over and build a simple ranch. Or have your dream mansion built on the beautiful lands that make up the country of Appaloosa Plains.
You'll be loving how it feels to live under a Texan-like sun.
12. Sunset Valley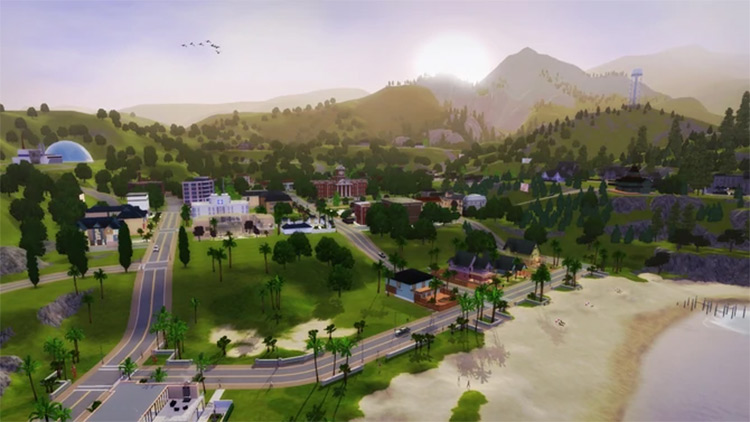 Sunset Valley is a trend-setter in the world of The Sims.
This is arguably one of the largest maps that have ever come out in the franchise, and given that it was the first map in The Sims 3 it surely made an impact on the community.
Not only does it have a massive number of lots but it's also got a large number of playable sims.
This cozy town has everything a sim needs to have the life that they want with peace and civility.
11. Lunar Lakes
Playing The Sims in outer space? Yes, it can be done!
Lunar Lakes is a map which is set on another world that needs to be purchased in the Sims 3 store.
According to the story, sims traveled to this world many generations ago and it has now become a colony far from Earth where people live happy lives on an alien planet.
Lunar Lakes takes a spot on my list because it offers a unique twist that no other map in Sims history has managed to give – alien gameplay!
10. Moonlight Falls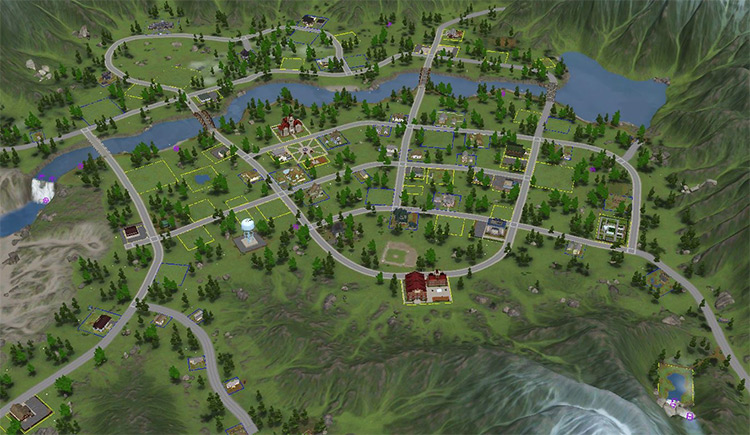 Now I think Moonlight Falls is the best town to play if you love mystery and exploring.
One of the things that makes this northwestern-style town look so good is that it really resembles what a village would look like in a misty mountain environment.
The creators of the map also weren't too keen on discussing its story, as they like the shrouded mystery that covers this beautiful homeland.
9. Aurora Skies
Hiking? Tall trees? Fresh air?
This map was almost tailor-made for fans of The Sims that love the outdoors.
It is based on traditional Nordic towns and you can tell that by simply looking up at the night sky – the aurora borealis is right there for all to see.
8. Riverview
Riverview is a fantastic little town well worth checking out.
In fact, it has one of the best town designs in the entire Sims 3 game (including expansion packs!)
It's an amazing area for lovers of the outdoors, much like the Aurora Skies map, but with a twist.
In Riverview you'll be playing in the countryside and you'll be able to visit the many different little rivers that traverse the plains around you.
Bridges, water, and many places to camp.
Riverview is, by far, one of the most iconic maps of The Sims 3 and oozes with the energy that made us fall in love with the open-world nature of the game in the first place.
It's completely free as well so you can grab this any time you like.
7. Starlight Shores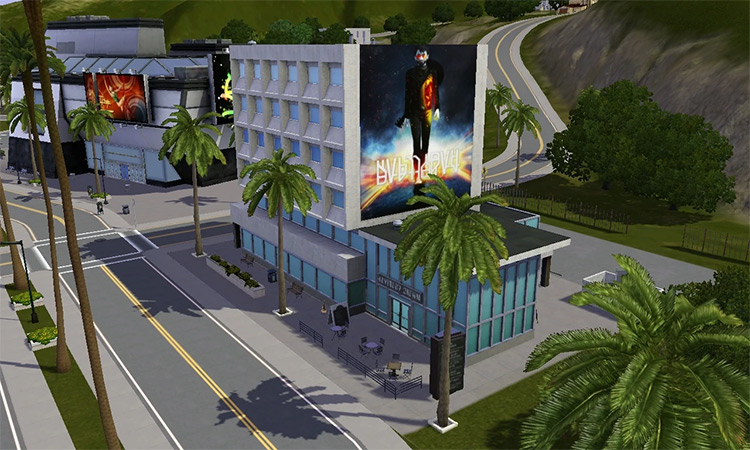 Starlight Shores comes with the Showtime Expansion Pack and it's basically a scaled-down representation of Hollywood.
You'll be able to feel like a true star living in an apartment complex or simply inhabiting the walls that make up the mansion that you've bought with your rise to fame.
In any case, this city changes the shape of traditional Sims 3 gameplay. It makes you move around crowded neighborhoods, vibrant plazas, and lets you get to know the brightest city that the SimNation has to offer.
6. Hidden Springs
Hidden Springs is the best map for players who love to move around the mountainous environments.
It adds an alpine vibe to the Sims 3 games that honestly you wouldn't know that you wanted until you come across this map to begin with.
The area has some very cozy homes that you and your sim can move into, and you can live a quiet and modest life or build your dream mansion on top of a mountain. Probably not for everyone but definitely worth looking into if you like the serene sense of nature.
5. Dragon Valley
Have you ever dreamed of playing The Sims 3 in an open world environment that took place hundreds of years ago?
Well with the Dragon Valley map you can feel what our ancestors felt like while walking on the stone streets of Medieval Europe.
Technology has made its way to this town, of course.
But hey –I wouldn't really like to live in medieval times without my phone and laptop. So why not get the best of both worlds?
4. Lucky Palms
Lucky Palms feels like the greener ancestor of The Sims 4' map Oasis Springs.
In fact it's very similar apart from the mountainous setting that you can see in the Lucky Palms map.
This awesome map also comes with a few betting items, including blackjack tables and slot machines. Cool! Your sim might be able to hit it rich if they get enough luck coming their way.
3. Isla Paradiso
This paradisiacal island is one of the most beautiful maps ever created for a Sims game.
It truly makes you feel like you're on a magnificent island paradise with crystal clear waters, boathouses, and a beach theme that is only matched by one of the latest Sims 4 worlds, Sulani.
In any case, the open-world theme of Isla Paradiso makes it a much more enjoyable map than its Sims 4 counterpart.
With hundreds of things to do and waters to explore, you'll absolutely love your time on Isla Paradiso.
Live your days on the island or join the world once your sim is ready to retire – employment options aren't short here, but it does seem like a place where only those who have accomplished everything in life would want to move to.
2. Sunlit Tides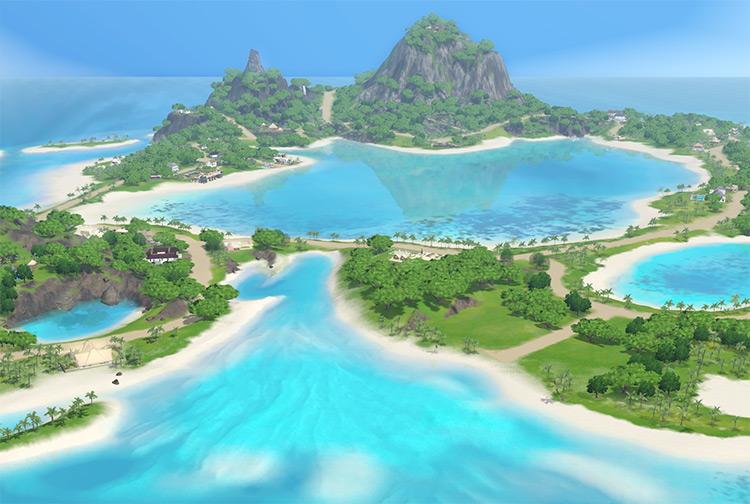 Now Sunlit Tides is another paradisiacal map that aims to take you to an island in the Caribbean with the most beautiful beaches and traditional palm trees.
The island, even though it encourages the life of a beach dweller, also comes with everything you need to live a long life with plenty of work opportunities.
You can visit the cinemas or bars with your friends, or you can simply stay at home and leave to the beach on weekends.
Feel what it's like to live the real tropical life by calling Sunlit Tides your new home.
1. Roaring Heights
Roaring Heights takes the first spot on my list because it's the most beautiful yet complex city in the Sims 3 game.
It truly makes you feel what it's like to have a sim living in a big city, in an even better way than Starlight Shores.
The city is massive, the colors are vibrant, and things to do are aplenty. This is one of the best maps ever released in a Sims game and I highly recommend you check it out, even just for a bit of fun. I promise you won't regret it!
Browse:
Lists
The Sims 3
Video Games