Best Sims 3 Eyelashes CC: The Ultimate Collection
This post may contain affiliate links. If you buy something we may get a small commission at no extra cost to you. (Learn more).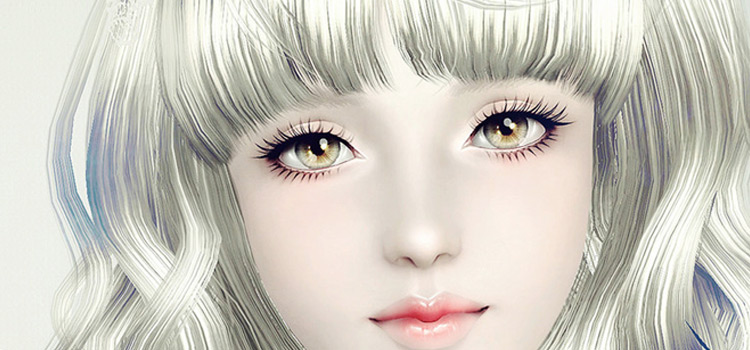 Let's talk eyelashes.
Of course, everyone has eyelashes. But what about when we're looking to change up your style? Some people look towards strip lashes, some find their go-to bottle of mascara, and others find a trust lash tech that can give them extensions so they wake up every day with the perfect set.
Unfortunately, our Sims have been given the short end of the stick here.
Sims lashes look dull, boring, and honestly… if we're not right up close they look like they don't have eyelashes at all.
We've already covered a gorgeous list of custom eyelashes for Sims 4 players, but I know some of you are still toying around in The Sims 3, too.
And new eyelash options may be just what your need to have your Sim look their best.
20.

Fashion Idol Eyelashes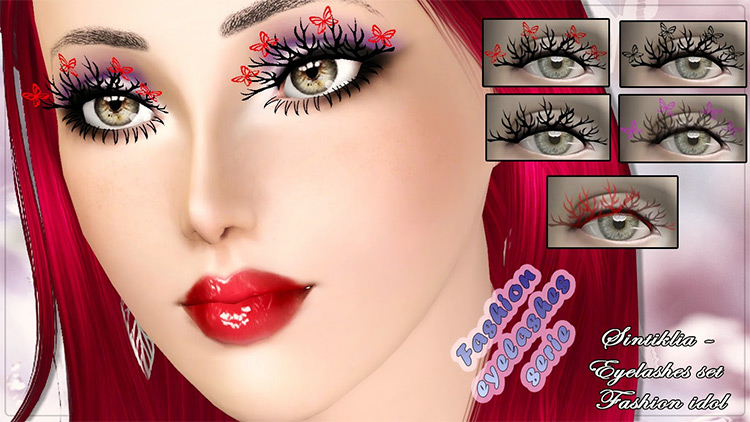 Eyelashes are a great way to express your Sim's personality.
There's no need to have natural-looking lashes if that's not their thing!
And with these Fashion Idol Eyelashes, your gal can achieve the most mystical of looks with lashes that look like branches.
Your Sim lady can even have little butterflies on the ends. These are a great option for any Sim that likes to think outside the box, or even for your fairy Sims!
19.

Eyelashes Fairytale
Another great set of CC for unconventional makeup looks – these truly go above and beyond.
In this set, the lashes almost look like butterflies. And the colors are so vibrant your Sim is sure to stand out from the rest.
Don't be afraid to be bold! Be a little daring and have fun trying out all the quirky things you can do when your Sim has eyelashes like a goddess.
18.

Eyelashes Set TS3
This set is perfect for any and all Sims, but specifically the crazy ones.
You can wear both the top and bottom sets, just the top, just the bottom – whatever you like!
Better yet is just how thick and full these lashes are. Especially if you're the type that prefers more of a dramatic lash look vs. conserved and subtle.
If you're feeling a little bit creative, the set includes different color options to boot. Naturally this include traditional black, but also as blue, yellow, and red (yes, in one look!)
17.

Minimal Lashes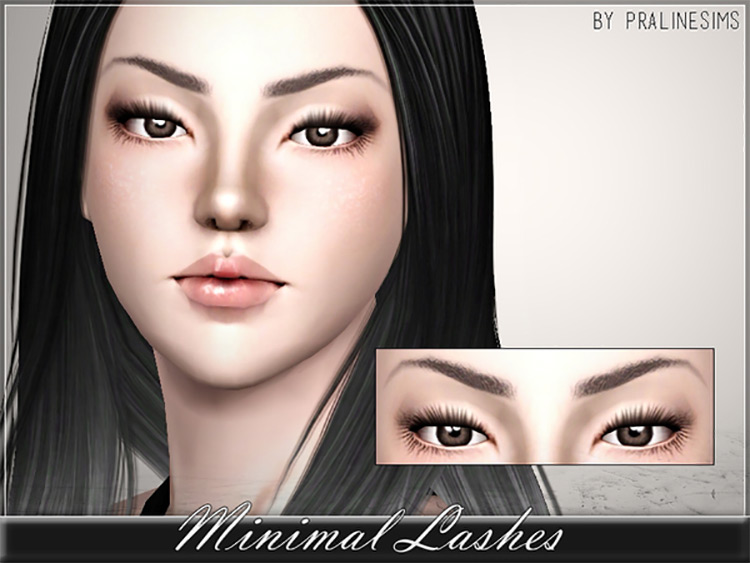 Not everyone wants a super in-your-face look when it comes to their makeup.
Whether they're the type to use a simple BB cream and some lipgloss, or maybe wear no makeup at all, these Minimal Lashes are a sleek option for Sims that don't need to have their faces all done up.
Yet they still need a little something to give their eyes definition, y'know?
16.

Subtle Lashes
These Subtle Lashes CC have the ultimate look when it comes to out all-natural Sims.
Especially for Sims who don't wear makeup much at all. Maybe some of our male Sims, younger Sims, or even athletic Sims. They need a good option for their lashes, too.
These keep it simple. They don't give off feelings of having one coat of mascara on, or even coming back from their lash tech.
Plus this CC set even has 3 different swatches to choose how long (or short) you want your Sims natural lashes to be, and it still makes everything on their face blend together.
15.

Feather Lashes Mascara
This feathered lash look has been a beloved style for a long time. They look wispy and airy, they're not too loud, but they're not too subtle either.
Actually they're the perfect balance between glam and a casual lash look.
For thicker full lashes, the Feather Lashes Mascara CC is definitely the way to go. And you can have fun choosing between black, purple, and red-colored mascara, depending on how your Sim's feeling that day!
Try pairing these with your Sim's every day looks and see how they can pull together any outfit – whether it's your everyday makeup, or something a bit more for a special occasion.
14.

Smokey Lashes Mascara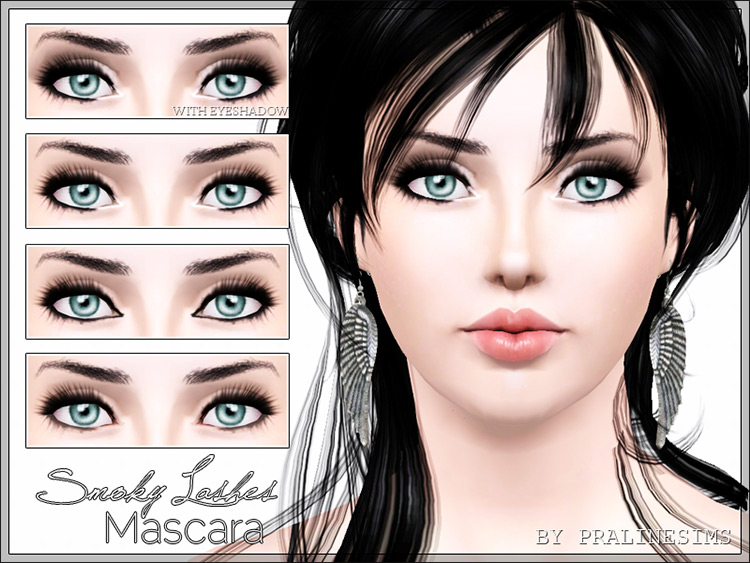 For anyone that loves the drama of a smokey eyes, these lashes are the ones to try.
They give off that night-life vibe that every smokey eye lover simply longs for, all without having to look for a bunch of different eyeliners, eyeshadows, and lashes.
You can find all 3 in the same spot here!
Even if you're not usually one to go for so many dark colors, this could be a great option for planning out what your Sim's going to wear to a party, the bar, or any nightlife events coming their way.
13.

FM Eyelashes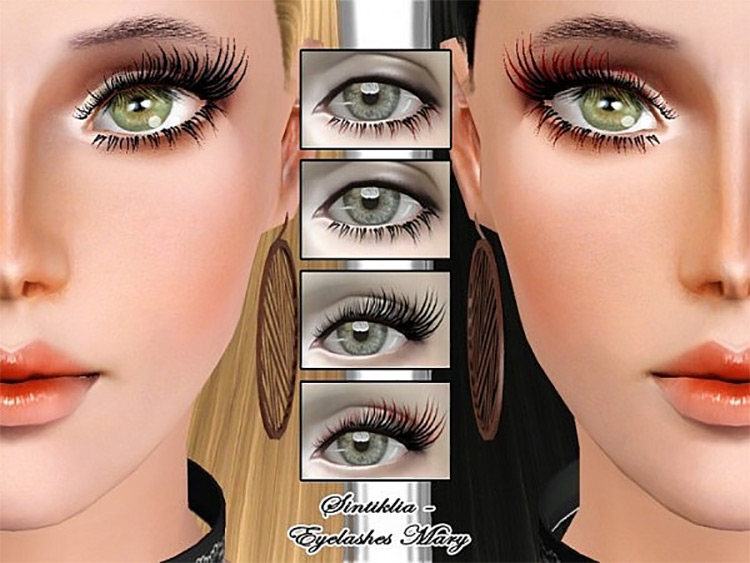 These FM Eyelashes have a fanning-out effect that gives them all the right amount of glam.
They're wearable enough that they can work for more than occasion, but they're definitely not your "I'm going to the grocery store" lashes.
These are also the perfect length to make your Sim girl feel extra sexy when she needs to. And the CC comes in 6 swatches for plenty of ways to get even more out of your lashes.
The best part?
They work on male eyes, too! Not everything is just for girls here.
12.

Pandelabs Eyelash Set 1
Why go through all the trouble of finding a bunch of different downloads for single sets of lashes, when you can find one set that has everything you need?
Well, usually the answer is because it's really hard to find big sets… but that's why I'm here!
Sets of any CC are great to find. But the Pandelabs Eyelash Set has all the benefits of a big pack, yet still feels light enough to install & be ony our way.
And with 5 styles of lashes of different intensities, there's a lot here to love.
11.

Doll Lashes Mascara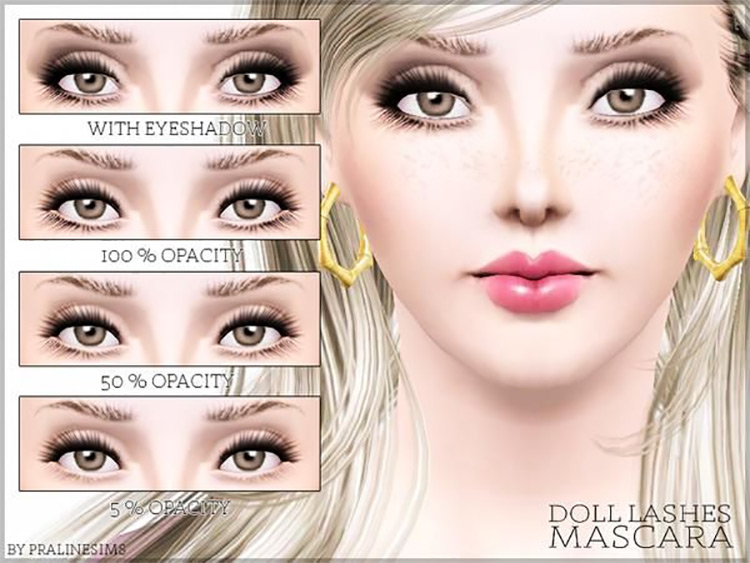 Doll Lashes are just the thing your Sim needs if they're trying to achieve that airbrushed cutesy Barbie look.
These make for an adorable "girl next door" style. Cute, charming, and sweet.
Dare I even say, they're just what you're looking for if you want a Sim who has a true kawaii sense of style?
For a more dramatic style, try pairing these lashes with a nude eyeshadow look. Or even play around with the opacity to find the perfect option for the occasion. No rules here!
10.

Delicate Eyelashes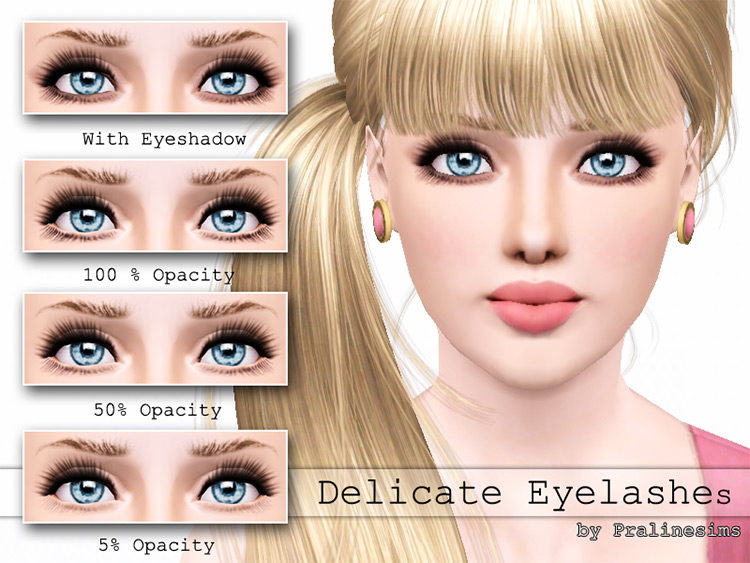 This CC set has the same mood as the Doll Lashes Mascara above… but if it were a bit more dramatic.
If you're looking for volume and thickness, but you don't want the extra attitude that usually comes with it, these lashes are the way to go.
They're practical enough for your Sim to wear on an everyday basis and not feel like they're too done up for the occasion. In fact, they might just have everyone convinced that your girl has an amazing lash tech!
Not to mention, they keep the bottom lashes just as full as the ones on top. So your Sim's eyes look nice and balanced out.
9.

Tender Eyelashes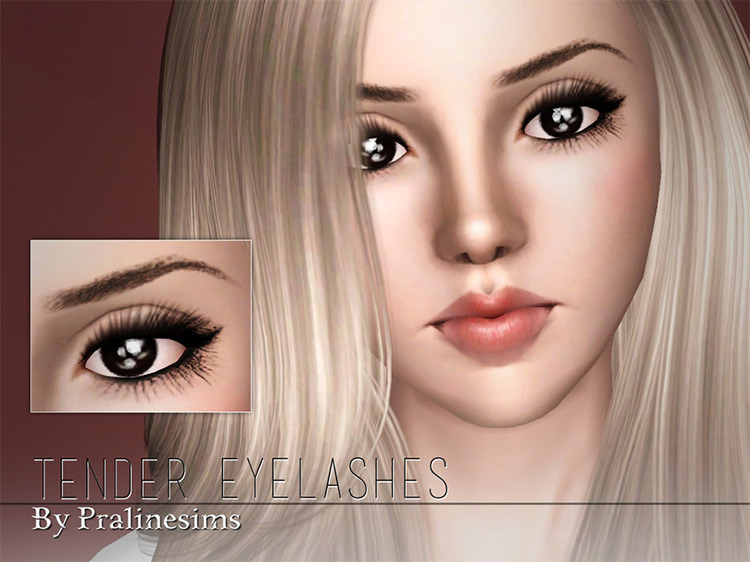 For fuller bottom lashes compared to a lot of what we've seen so far, you might want to give the Tender Eyelashes CC a try.
It's important to remember your bottom lashes. Without them, your eyes look incomplete and awkward.
I mean, where the heck did they go?
But what's great about this pack is that they're not too in your face either. Just remember, you want to keep your lashes mimicking how they'd look naturally.
This means longer on the top, shorter on the bottom. Try this CC out and see what you think, it might be your new best friend.
8.

Romantic Eyelashes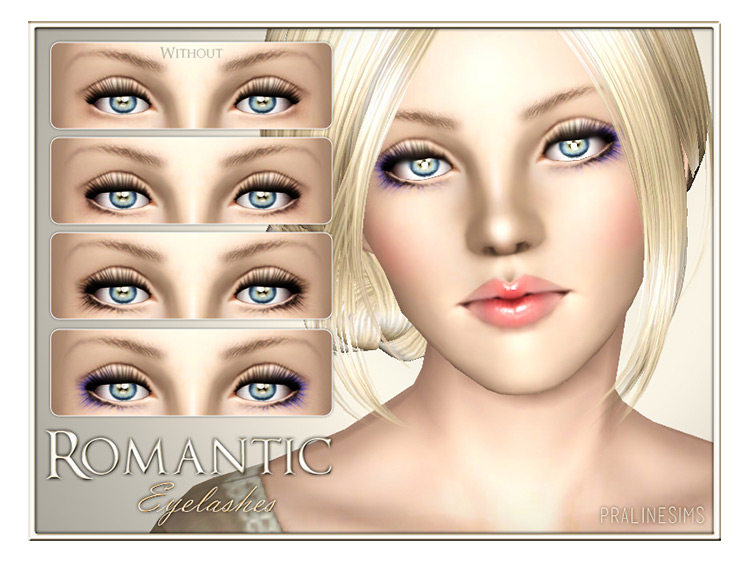 Personally, I've always been a fan of playing with color when it comes to my lashes.
If my eyelids can have fun with color, why can't my lashes?
And don't get me wrong, black lashes are great. But sometimes you need a little extra something to make one specific look stand out.
This CC set not only gives the perfect length and volume for an already glam look, but these also come in unique colors that will have you using them over and over again.
Plus the color is just at the tips of these lashes, giving them a halo effect and keeps your Sim's eyes glowing all night long. Did somebody say rave?
7.

3-D Lace Eyelashes
What better way to capture a girly eye look than with lace lashes?
A little unconventional, I know. But they're so unique, they had to be included.
These lashes are so intricate and detailed, they're like little pieces of artwork hanging off your Sim's face!
For majestic butterfly wing as eyelashes, these are a must-try.
6.

Bleeding Mascara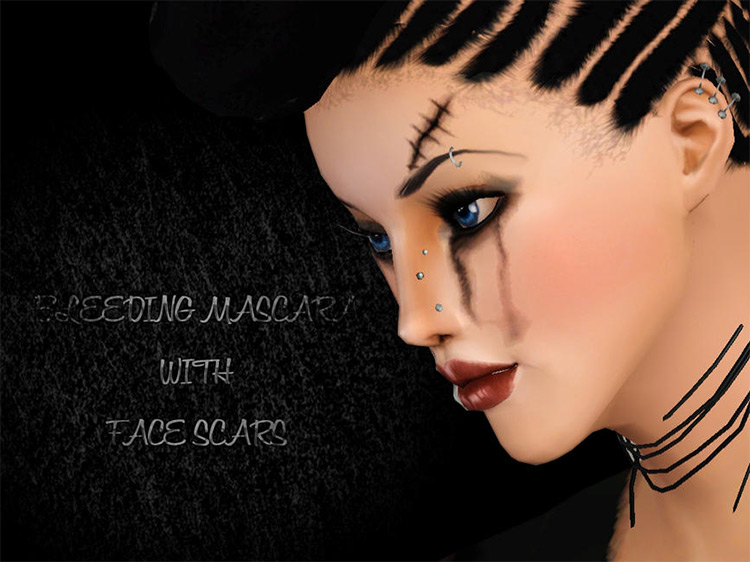 There are plenty of times where a look like this comes in handy.
Picture this: your Sim's going to a costume party for Halloween. They need a makeup look that's going to serve both as spooky and sexy, what are your options?
The answer: this CC!
Even if you have an alternative Sim, a goth Sim, or whatever other style they may have adopted, the bleeding mascara with scars can set them apart.
Instead of looking sweet and natural, your girl wants to look fierce and dark. And we're here to support that.
5.

Eyelash Slider
While we're on the topic of eyelashes, don't you hate it when your Sim's lashes get hidden by their hair?
It feels a little discouraging. But thanks to the eyelash slider, you can have both!
If you need to adjust where your Sim's eyelashes lay on their eyes to match that new hairstyle you just downloaded, well you can be sure they're always going to work together as long as you have this amazing tool equipped.
Just remember this is a TS3 exclusive, although I'm sure there must be a similar tool for TS4…
4.

Heatwave Eyelashes and Eyeliner
This is a great makeup look to wear when your Sim's on vacation.
Taking that trip to the beach was much needed after working that tedious job all day. They want to make sure they look just as good (probably even better!) when they're relaxing in a place far away.
Choose from either natural or enhanced, depending on how dramatic you want to go. With this CC you've got yourself a perfect vacation face.
3.

Eyelash Set N2
The N2 Eyelash Set are some of the most beautiful lashes you can find as far as custom content for The Sims 3 goes.
They're long, they're luscious, and they're so lifelike!
If I could somehow achieve these lashes on my own eyes, it would be a complete game-changer.
Let your Sim's eyes shine in the light with some doll-like lashes to match.
2.

Miss Manga Mascara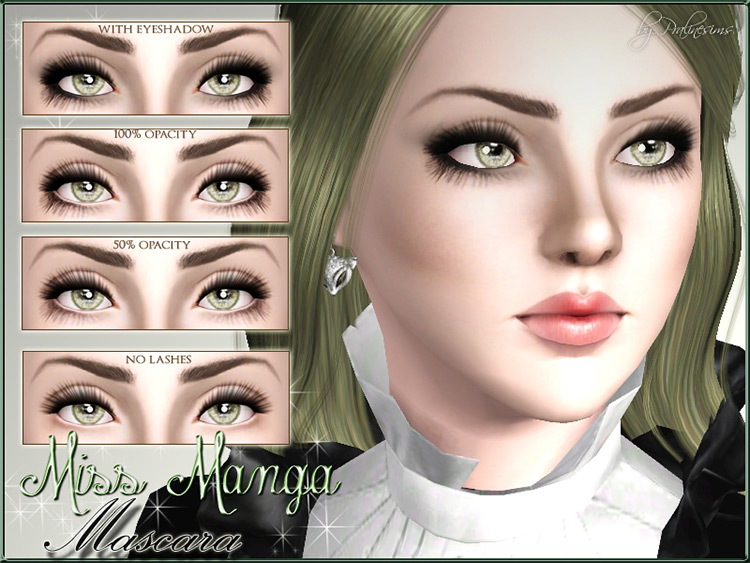 If you like anime as much as me, then you know just how desirable those anime eyes can be.
I think all of us would do just about anything to have our eyes look as big and shiny as girls in anime.
We can't do it ourselves, but thankfully we can grant our Sims that luxury!
The Miss Manga Mascara CC set gives your Sim's lashes wild length and volume, for what seems like an infinite amount of lashes and eyes.
All of these designs should look just as beautiful as your best girl.
1.

S-Club Eyelash Set N3A
S-Club has been a popular name in modding The Sims 4, and naturally for The Sims 3 too. But especially for their eyelashes.
They bring the game to a whole new level with their lifelike 3D lashes coming in with all sorts of lengths, for all different occasions ranging from the most dramatic to the most subtle.
Many of their sets also feel like Maxis Match too, so there's a lot of variety. But their N3A pack is really worth checking out.
By far one of the most eye-catching lashes sets for all your Sims 3 girls.
Browse:
Lists
The Sims 3
Video Games