Sims 4 CC: Best 1960s Clothes, Hair & More
This post may contain affiliate links. If you buy something we may get a small commission at no extra cost to you. (Learn more).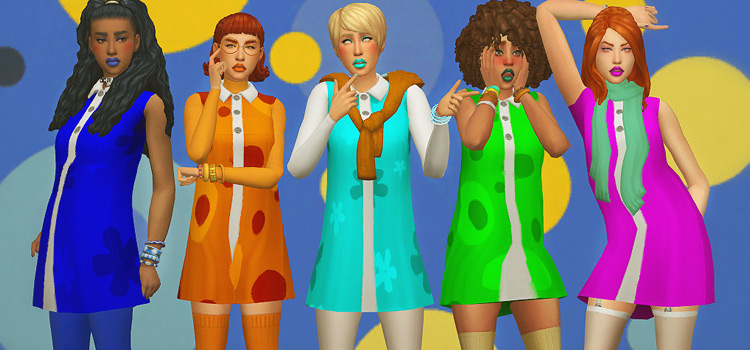 The 1960s are remembered fondly by not only those who actually lived through them, but by people born way after, too.
It was a time full of change, and the beginning, middle, and end of the 60s all look very different.
But no matter what, the looks that were created throughout that decade have become iconic.
The designs and colors are so different from what we have today, that there's a whole new generation falling in love with these looks. They've become aesthetics in their own right, sought after by people both young and old.
So, of course, custom content creators have bought some of those looks into The Sims 4.
And this list has the best of the best, from dresses and tops to custom hairstyles, and even some great accessories.
1.

Hippie Skirts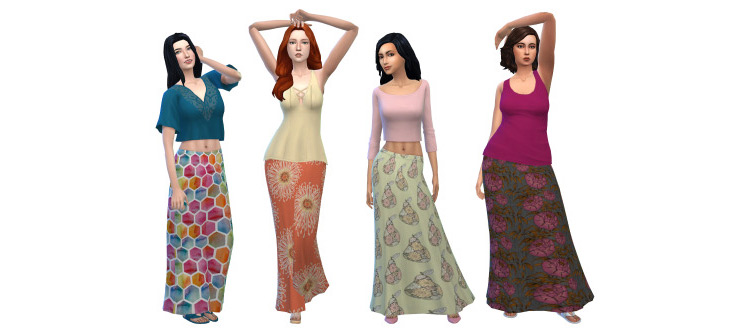 One thing that you may have noticed through old pictures of movies is that the '60s sure had some interesting clothing patterns.
And you'll find throughout this list, that those patterns have not slipped past custom content creators.
These hippie skirts from deelitefulsimmer have 20 amazing swatches of perfectly retro designs.
From quilt-inspired to floral, and even an abundance of color abstract patterns, these will be a great, authentic addition to your hippie Sim's wardrobe.
2.

Dixie Hair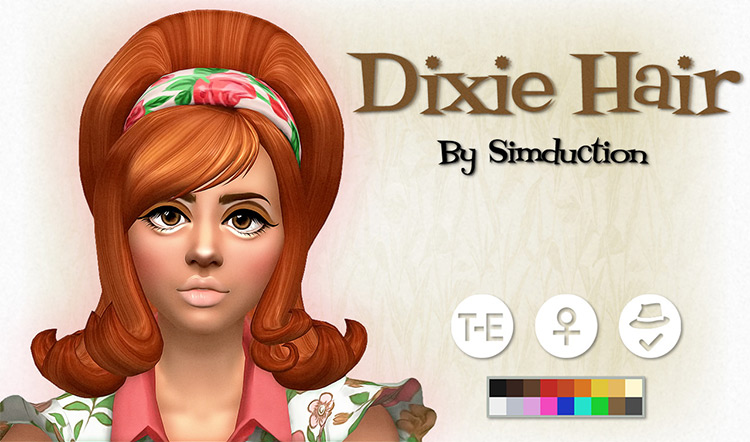 Every decade has unique and iconic hairstyles.
But the ones of the 60s are really identifiable.
You can easily date old photos just by looking at the hairstyles.
Super swoopy? Big and voluminous? Definitely '60s!
This hair CC from Simduction, who may just be the best of the best when it comes to '60s hair, is beautiful in all the right ways.
It combines a couple of notably retro things, like shoulder-length locks ending in subtle curls, and a raised crown.
3.

Ronda Hair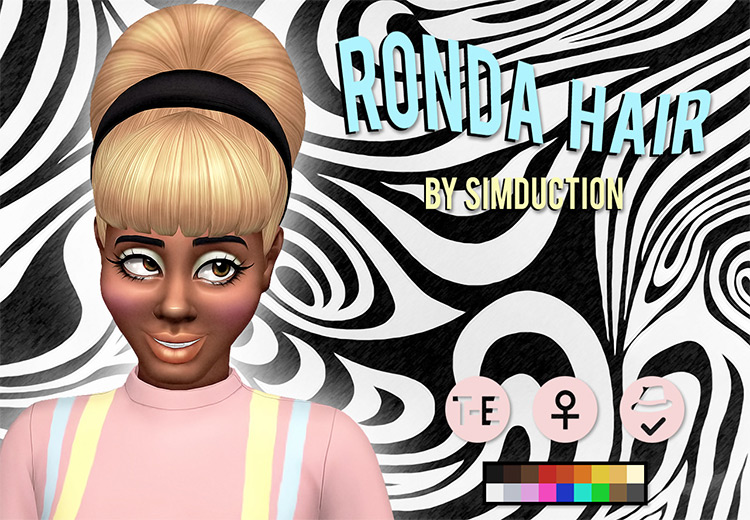 From the same creator as the Dixie Hair above, we have the Ronda Hair!
This elegant updo is another iconic look worn throughout the decade.
Pairing a headband with a tall bun makes for a really smart look, as ladies back in the day clearly figured out.
Everything about this hair is smooth, sleek, and gorgeous.
If only my own hair – or most other Sim hairs – could look this clean!
Especially for a bun, you've really got to admire this.
4.

EA Pixie Revamped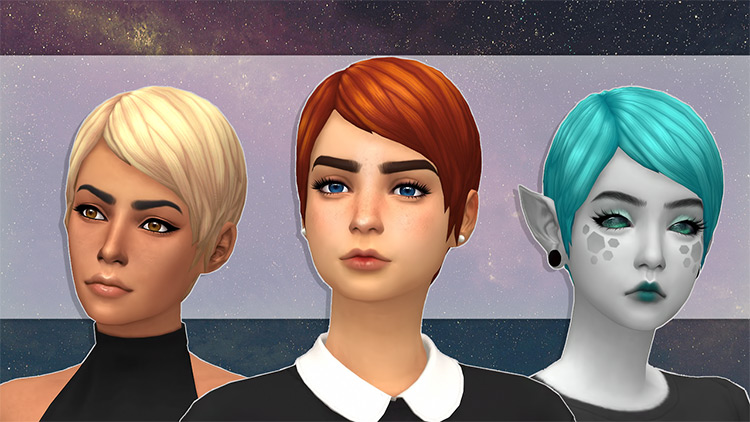 While there may have been plenty of 'big' hair, there were also plenty of women who opted for short 'dos.
Simmer Subtlestubble's revamping of the base game pixie cut is actually a perfect short option for your '60s Sims.
It's still pretty and feminine, while being cool and choppy.
Your young and hip retro Sims will always look beautiful with this.
Best of all is that this is one of those styles that's 'all the time', meaning there isn't a lot you can do to it, so it'll work for every single outfit category.
5.

60's Dress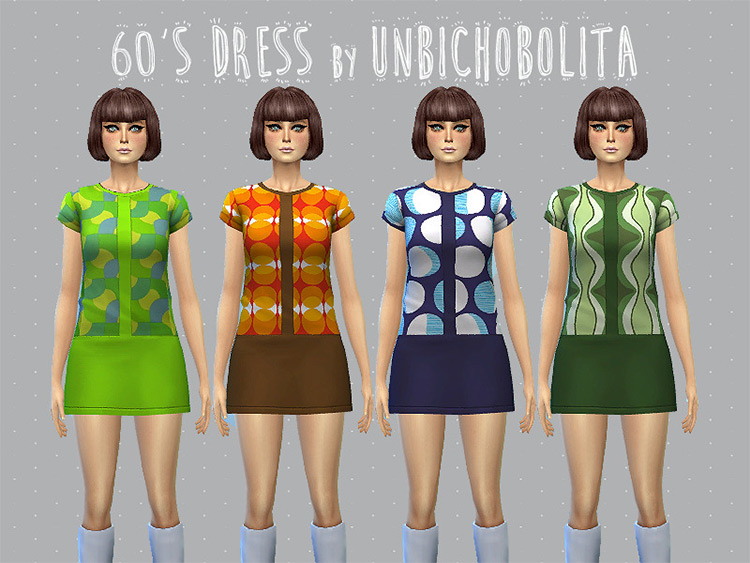 See what I mean about the patterns?
Even though a person or Sim wearing something like this in 202X would stick out, I've got to admit: I love it.
And you've got to admit these dresses are unique – I'll never tone down colors that pop.
I think this CC qualifies as a mini dress, which is always a fun item to have in your wardrobe.
Each of these swatches is unique enough to stand out in a way that even if you use another swatch for a different outfit or Sim, you'll never feel like you're just reusing the same thing.
6.

Trillyke GogoBebe Flare Pants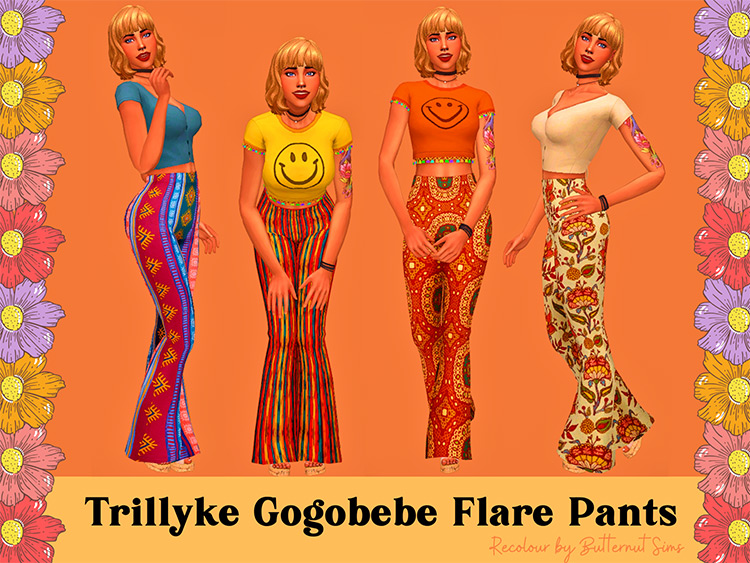 No matter your age, when you see flare pants (AKA bell bottoms), you probably think '60s or 70s.
That distinct shape definitely created its own legacy.
But hey, they're comfortable, they look good, and that wide stretchy fabric allows for some really funky – you guessed it – patterns!
These 22 recolors from Butternutsims include designs that will be right up your alley if you're seeking a typical '60s style.
From stripes to flowers, to psychedelic-inspired mashups of color and even more, these pants will be hard to beat.
7.

Aslaug Hairstyle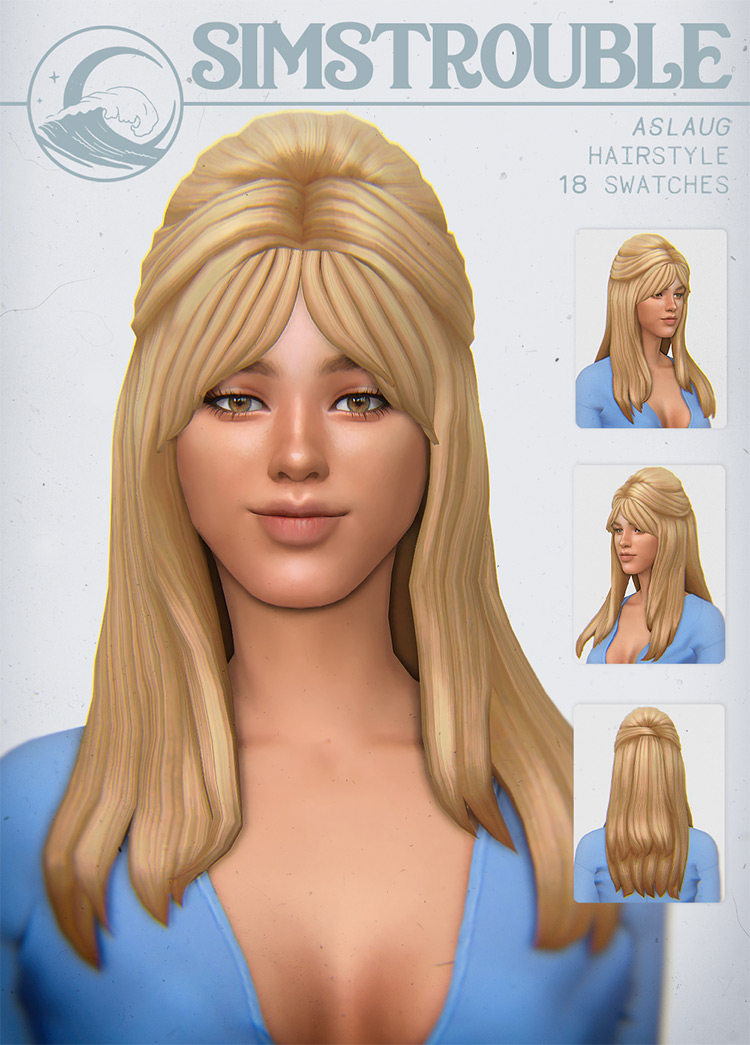 This hair features that classic 'bump style', as well as beautiful feathery hair worn down.
It's a half-updo style, or in other words, one with a definite 1960s flair.
I'm not sure if that's what the creator's intentions were. But it's just too cute and fitting to leave out.
Especially when paired with the previous dress and any retro accessories, this style won't leave a hair out of place.
See what I did there?
My forced play on words aside, this CC is just really well made. You can always count on simstrouble for awesome creations, and this is no exception.
Just look at those bangs!
8.

Wish Me Luck Hair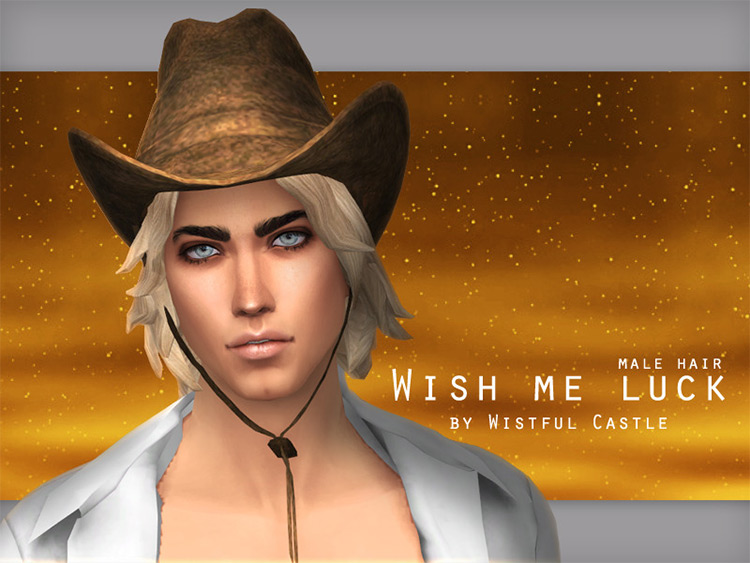 Things sure were changing in the '60s.
I've heard the term 'tumultuous' used a few times.
For example, all of a sudden guys were growing their hair out and wearing it long. That would've been unthinkable even ten years earlier. Heck, maybe even less.
The movement of freedom, peace, and love was a fast-moving cultural phenomenon that reached every corner of society.
So by the latter half of the decade, it wasn't uncommon for guys to sport shaggy styles that probably really ticked off their parents.
This is a great example of just that.
Your guy Sims will look super handsome, and a peace sign won't be out of place, but fifty-some years ago it would've been frowned upon by the older folks.
9.

Beatle Boy's Hair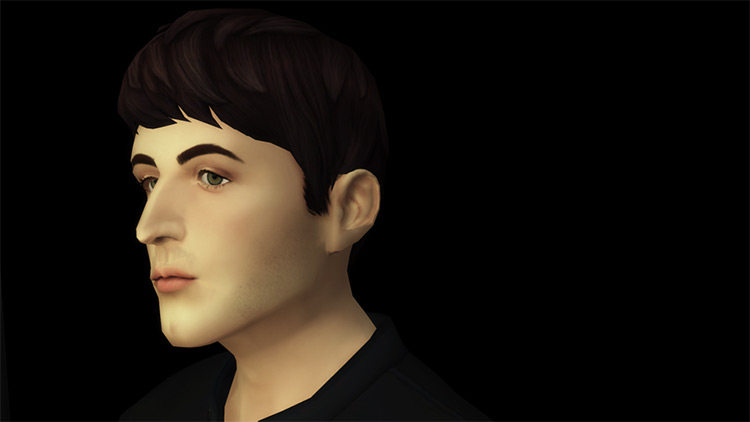 The Beatles influenced many facets of the world, and not just musically.
A lot of guys adopted their signature hair and fashion choices, too.
Believe it or not, guys having hair even this 'long' was controversial in the early '60s.
In some countries, men could even get arrested for a style like this.
Crazy, right?
But it looks so darn good, how could anyone be offended? Even today, this is a neat, stylish cut that works for all ages.
10.

Joe's Pants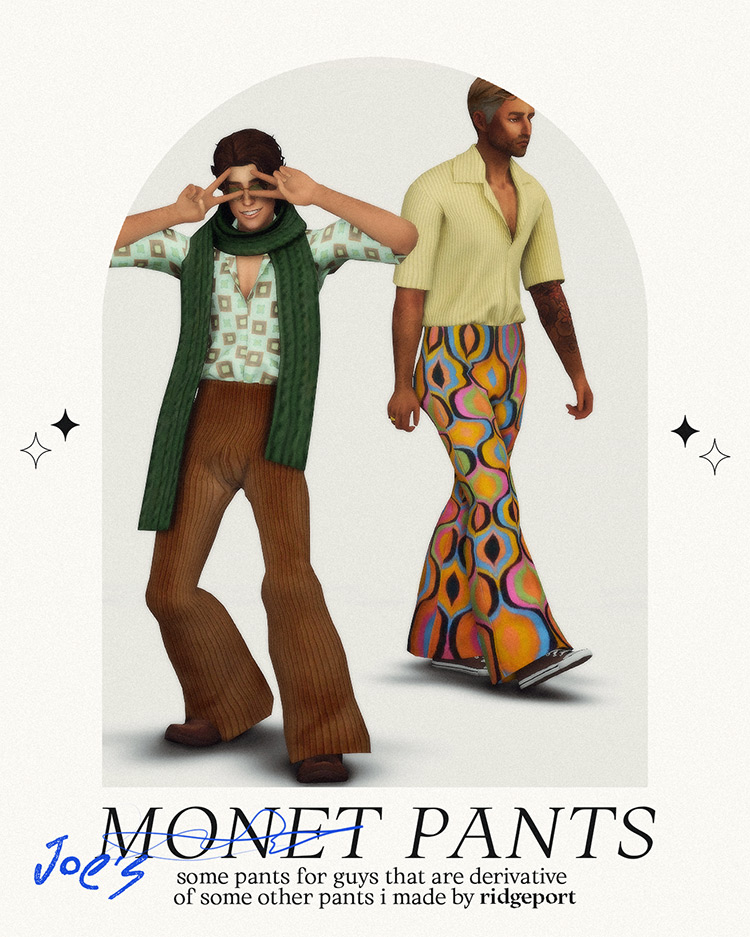 At last, we've circled back around to flare pants – this time for guys!
This CC offers one style that may be dated, but nevertheless can be worn by anyone.
There are 36 swatches here in a few different styles to flip through. The colors and patterns are all perfectly groovy.
And I mean that in the most literal sense – that's exactly what you want out of a '60s look!
Then there are some corduroy swatches as well, which make for a more subtle & casual choice.
11.

Sweater Weather Sweaters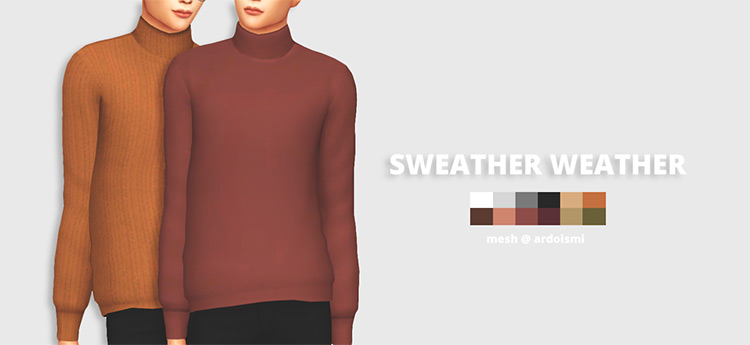 No matter the year, no matter the season, everyone loves a good sweater.
They're comfy, casual, and can be used for pretty much any outfit category.
Everyday? Absolutely.
Guys always look super handsome when they pair a sweater with jeans or khakis.
Formal? Sure! Pretty much the same 'rules' apply as everyday outfits, just the color of the sweater really matters. And you wouldn't want to wear sneakers.
Most of them will work for Cold Weather outfits, too.
And these will easily fit a retro style, especially since the colors are perfect. There are two versions, one with a knit texture and one without.
12.

Bookworm Pants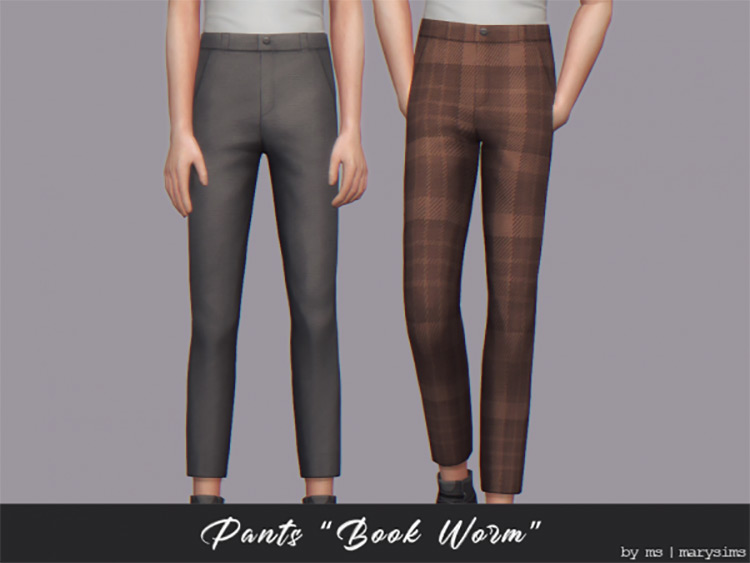 The 1960s certainly didn't lack variety.
Even if the standards were pretty rigid compared to today, there were still plenty of socially acceptable styles to fall back on.
Pants especially came in all sorts of shapes and designs. These ones from MsMarySims are a slightly cropped look, and come in an abundance of swatches.
The plaid designs are especially fitting, and compliment the colors very well.
13.

Cuffed Shirts Hippie Pattern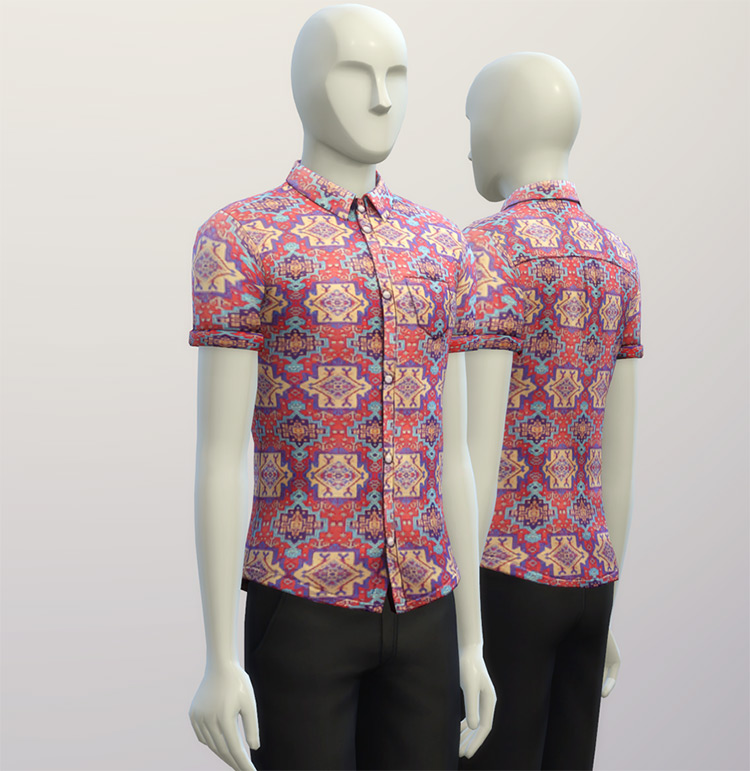 Another thing that has stood the test of time?
Button-ups.
This shirt style has a collar and cuffed sleeves, as well as a button-up front, of course.
Guys love them, both then and now, and for good reason.
They're a durable design, and like many of the dresses from the time, very customizable.
And these can be found in any color or pattern you want – including hippie patterns!
So this CC really has the perfect look and color scheme to fit perfectly into your 1960s-inspired save or lookbook.
14.

Elisa Glasses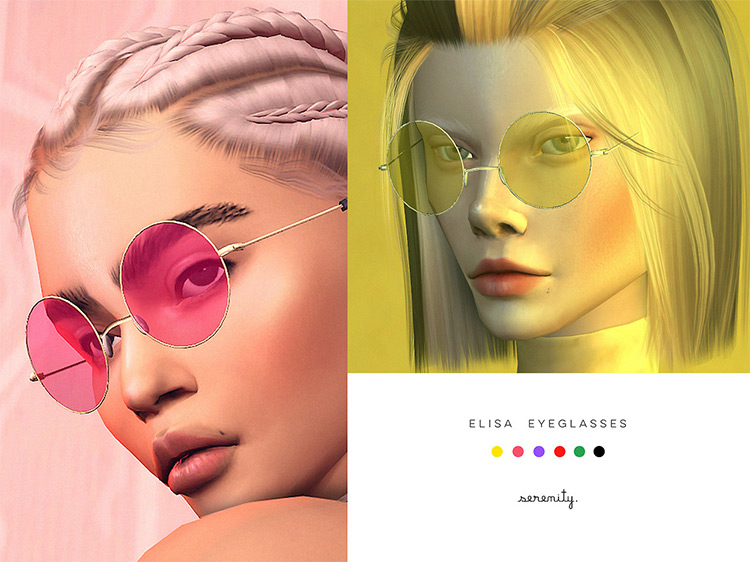 You've got to love the way accessories took off during this era.
Glasses, headbands, earrings, and more were all being worn and created in all-new ways.
Especially glasses.
Not only were the frames everchanging and available in many variations, but the lenses as well.
Tinted lenses and round frames are perfect for a hippie aesthetic. Pair these with middle-parted long hair and a boho dress for best results!
15.

60's Hoop Earrings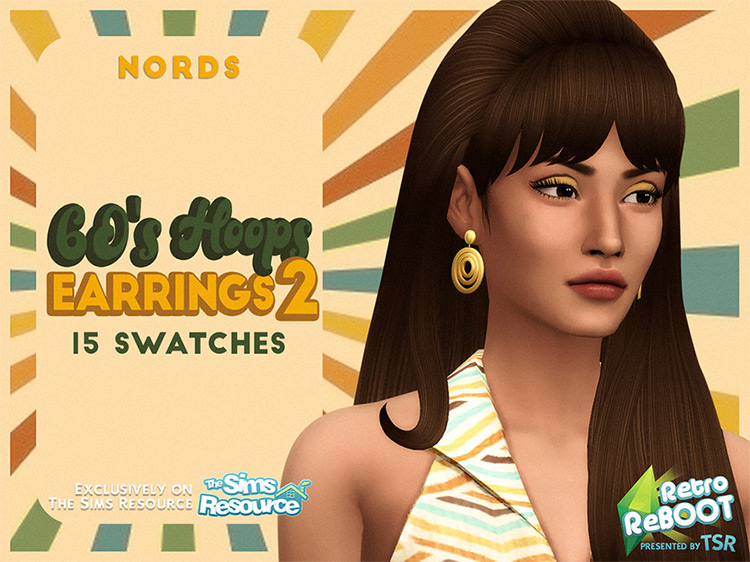 Personally, I'm always wishing we had more earrings in the game.
Cycling through the same few types we have over and over can get rather boring.
These lovely retro designs, however, will never get old.
You could even say they're timeless.
Your Sim will look fantastic in them, and only them – they're actually disabled from random, so you don't have to worry about townies stealing their look.
There are also 18 swatches in total, so it should be quite a while before you try them all out!
16.

Peace Sign Earrings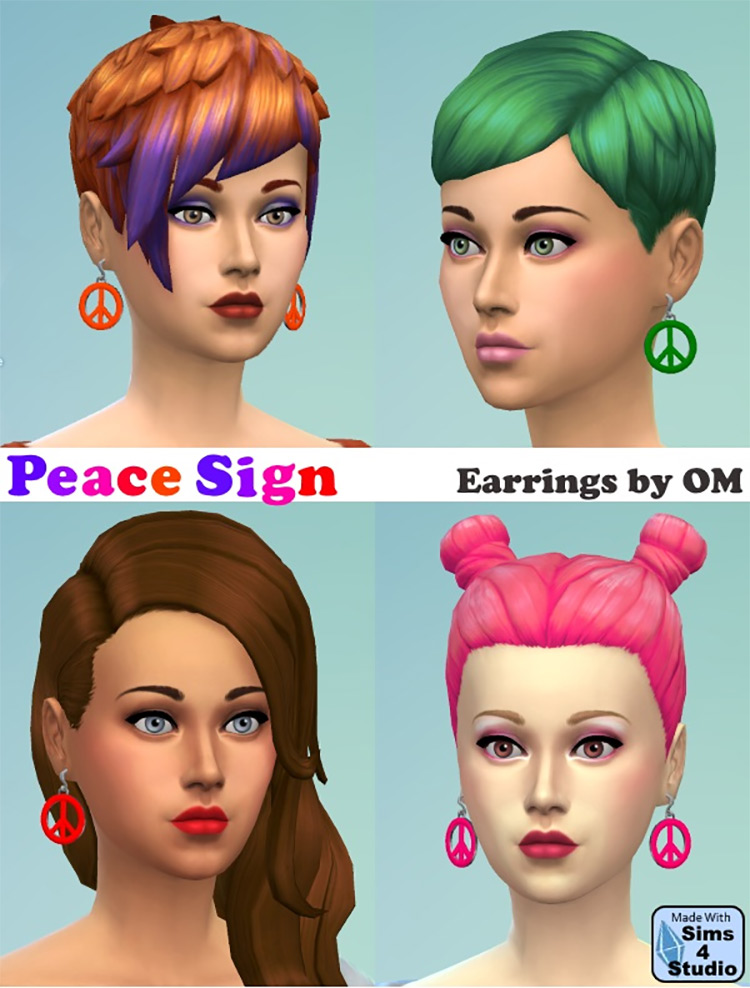 It makes sense that the one symbol that basically sums up an entire culture and movement quickly became an accessory.
Everybody just wanted to spread peace and love.
And what better way to effectively do so than with a simple emblem?
By the late '60s, peace signs were everywhere.
They'd even take the form as earrings, just like these ones created by orangemittens.
They come in four beautifully bright colors, and the design itself is very clear and distinct.
17.

Amanda Top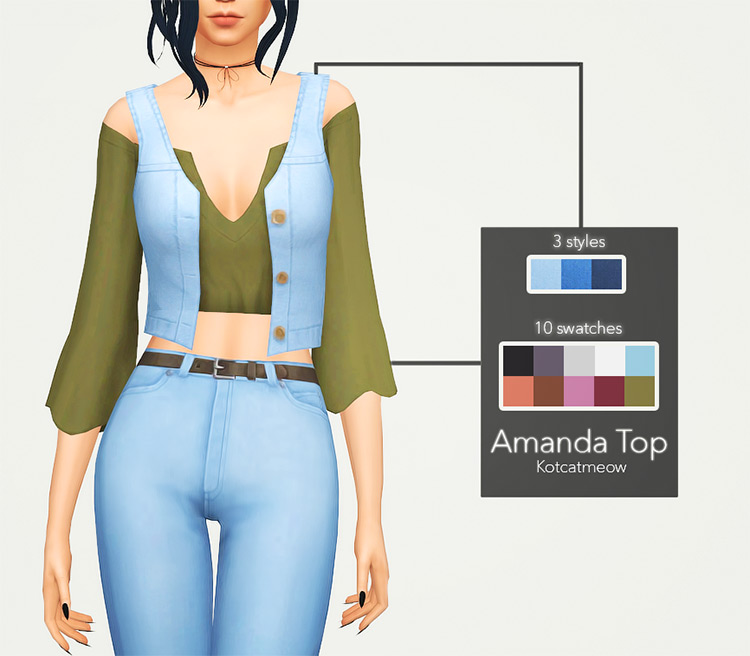 Nothing says you're feeling free like denim vests or a bell sleeve top.
And this creator has combined the two!
If it's a hippie aesthetic you're looking for, well, look no further. This CC is a fantastic option for your boho Sims. And as a very versatile top, it can be worn with many things.
It stops just at your Sim's belly button, which means you can either go with showing some skin, or go with some high-waisted bottoms.
Skirts and shorts will look great, too. And with ten swatches, you can really optimize the mixing and matching!
18.

Dish Towel Dress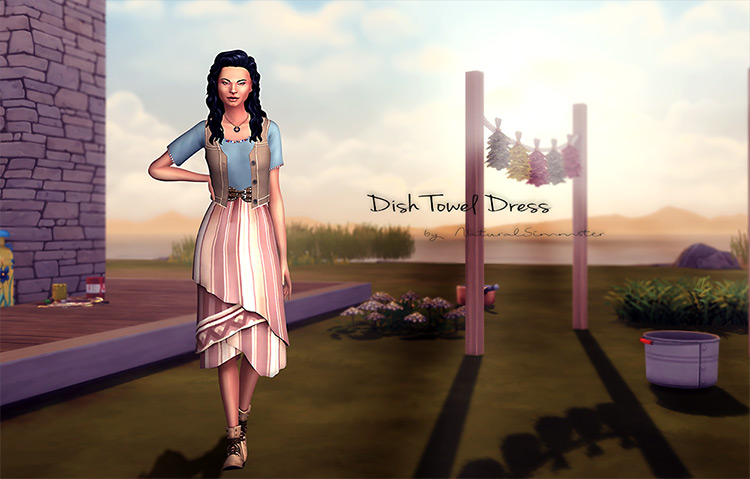 While plenty of clothes from the '60s may have been a lot less modest than those of the decade before, a lot of people still opted for layers.
Lots of layers.
More as a fashion choice than anything else, though.
This dress CC from NaturalSimmster combines several trends of the late 1960s.
The overlapping layers look great and have a beautiful boho design. The middle is cinched with a thick belt, and of course the vest really brings the whole look together.
19.

Mod Dress + Gogo Boots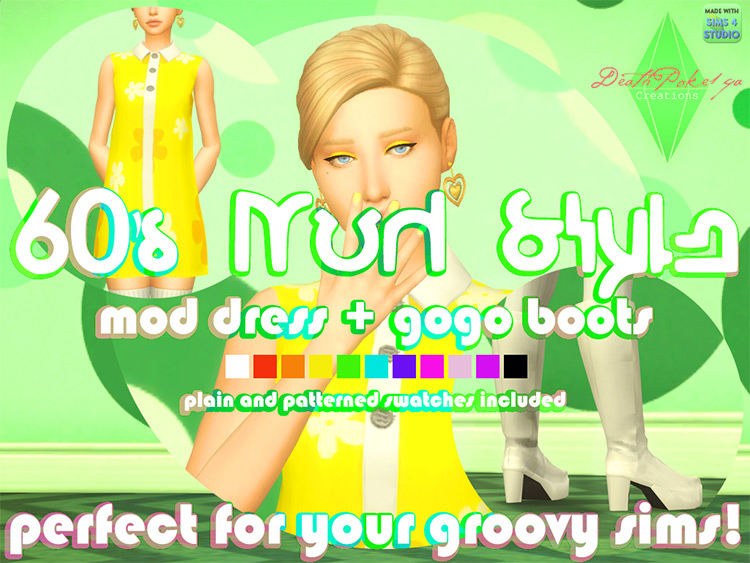 Mod dresses were very popular back in the 1960s, lauded for their smart design as well as the versatility.
They were worn by all kinds of women, all for different reasons.
Casual, partying, dinner dates – it all just depends on the color or pattern of the dress and accessories, not the dress itself.
This CC offers a gorgeous, neutral choice for your Sims.
It's available in 31 plain and patterned swatches, all of which you'll just be crazy for. They're so on point for this era, especially the florals!
But this is a "two for one" thing, because this dress CC also comes with gogo boots.
These heeled boots are pretty much meant to be paired with a dress like this. And they even come in swatches to match.
20.

Custom 60's Corduroy Suits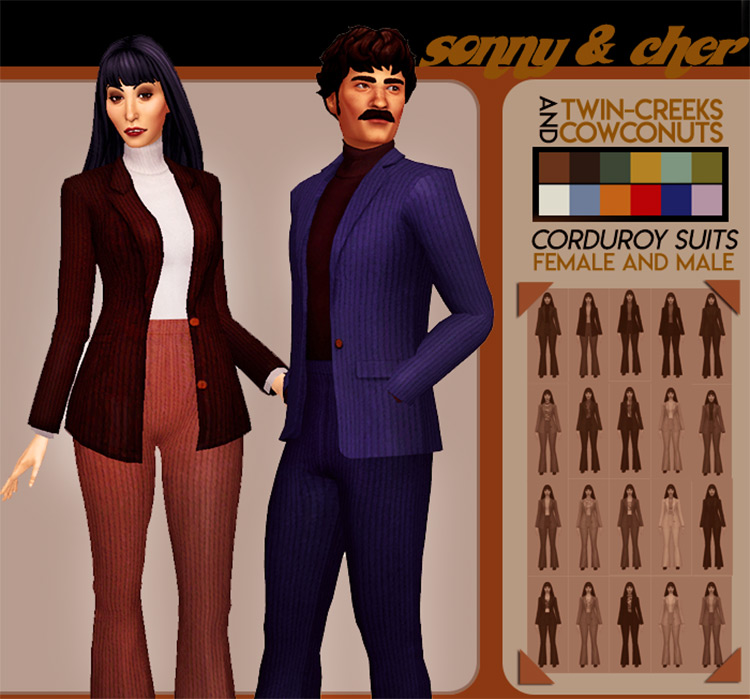 It makes sense that some of Sonny and Cher's fashion has come to The Sims 4, since they were huge icons of the '60s.
But unless you've ever seen this fabric in person, you might not know what corduroy is (aside from the bear).
It's a very distinct material that can be summed up in a single word: texture.
Yes, the one thing we can all agree our Sim's clothes need more of.
The creators here did a great job of capturing the thick fabric's appearance.
And the really cool thing about these suits is that they're available for both genders.
That's right, your guys and gals both can rock them! And they're even available in a whopping 28 swatches.
Browse:
Lists
The Sims 4
Video Games