Sims 4 CC: Best 70s Era Mods & Fashion (All Free)
This post may contain affiliate links. If you buy something we may get a small commission at no extra cost to you. (Learn more).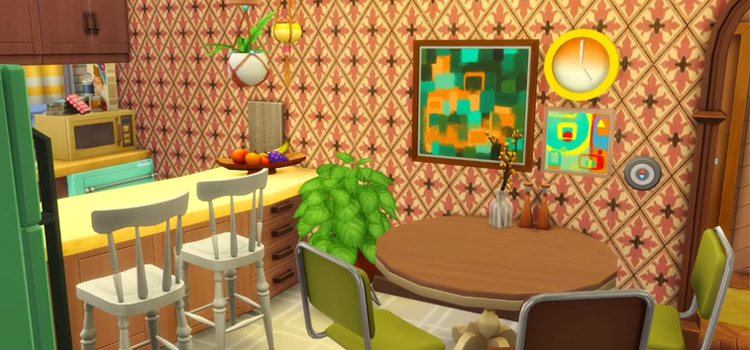 Every decade has its defining moments.
But I think the 1970s were pretty iconic from start to finish.
There are fairly distinct styles from the early, mid, and later years, but overall when you see something '70s, you usually know.
There's no mistaking those clothes and fads.
It was so iconic, in fact, that many CC makers have now brought much of the era's fashion and pop culture into the game. Yes, forty-some odd years later, and the '70s have endured!
For you retro CC lovers, it really doesn't get much better than this.
1.

Farrah Flip Hair
If you have a female relative who was an adult in the '70s, chances are there's a picture of them somewhere with this exact hairdo.
As one of the biggest stars back then, Farrah Fawcett's signature swoopy coiffed locks became a huge hit with women across the world.
Like, a lot of them.
And the great thing is (or was) that since the texture and capabilities of hair can vary so much from person to person, the 'do got a lot of mileage, without being cookie-cutter copied.
In this case, the same cannot be said for your Sims.
The Farrah Flip will forever remain the same.
And luckily for us, it looks fantastic. Wavy hair is never easy to manage, whether it's your real hair or just something designed for a video game.
But what ice-creamforbreakfast has created here is basically perfection.
2.

Megan Tied Top + Jeans
It just wouldn't be the seventies without big ol' flare-legged jeans.
This CC offers a great denim texture, with little worn spots and tears throughout. The tattered part at the bottom is especially accurate, since any jean that's not a skinny-fit tends to drag the ground.
Or maybe that only applies to short folks… nah, there's no way anyone can wear flare jeans without some tears!
There's a really lovely top with this CC as well. It's knotted at the center and features long sleeves, which makes for an incredibly unique (but distinctly retro) look.
3.

Animated Disco Ball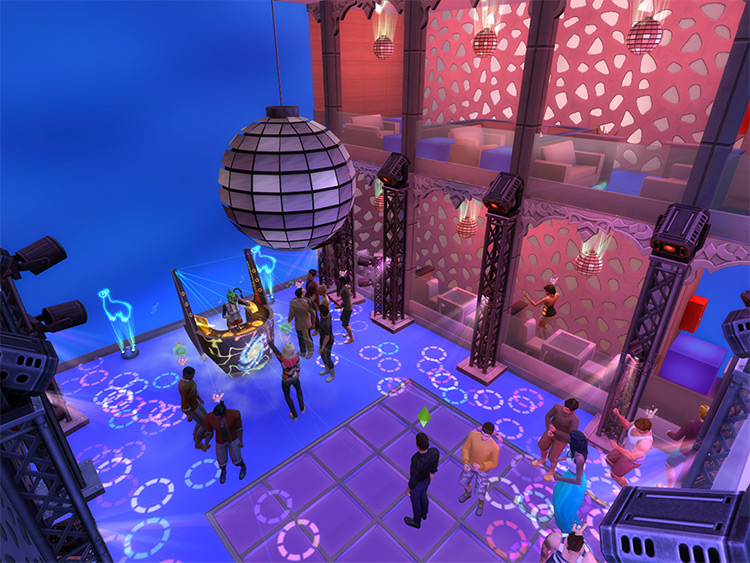 People tend to have very strong feelings about disco, whether they experienced it firsthand or not.
The funky music, flashy clothes, and crazy dance moves became their own culture for a while, reaching a peak in the '70s.
This disco ball CC may not be an exact replica of the kinds they had in the clubs back then.
But it's the closest you'll get in The Sims 4. And best of all, it's functional!
Simply place, turn it on, and send it spinning some lights across the room.
You realize what this means, right?
We can actually build a disco now. Eve28 is really making my '70s dreams come true.
4.

Male Medium Textured Hair Edits
If you've got the disco, you'll need to look the part.
Afros were as big and beautiful as ever then… maybe a little bigger than most folks opt for now.
Well you have a few options here for different sizes, but each one has a thick curly texture.
The larger hair is still puffy, but it's quite a step up from the basegame afro that it's based on. That overly rounded shape is gone, replaced by a much more realistic form.
The second edit is a smaller, more compact afro that's also gorgeously textured.
Both will be perfect for any '70s Sim!
5.

Sims 1 Disco Jacket
Ah, now we're really getting into the nitty-gritty.
You just don't see insanely pointy collars like this anymore.
This item was first brought to the franchise way back in The Sims 1.
And thanks to Philosimy, it's now available in The Sims 4.
The shiny colorful design really drives the 'disco' theme home. As does the fact any Sim who wears this will be going bare-chested.
It was a time of freedom and liberation, after all.
6.

Summer Jumpsuit Collection
Women's fashion saw just as much of a revolution as men's fashion back in the '70s.
Jumpsuits were huge around this time, and depending on the color or pattern, they could make quite the statement.
There's really no blending into the crowd when you're wearing a neck-to-ankle garment made entirely of denim or covered in sequins.
But CC hasn't gone that far yet. And honestly, I think that's something to be thankful for.
Instead, Saurus created these much more sensible jumpsuits. You can still get that '70s vibe, but in bright summery colors and stripes, using the best the decade had to offer rather than (arguably) the worst.
Plus, there are so many swatches here that you'll probably never grow tired of them.
I actually have had these jumpsuits in my game for so long, I can no longer remember when I first found them. I don't know if Saurus intended them to have a retro feel, but they totally do, and I'm living for it.
7.

Isabis Boots
After your Sim puts her flare jeans or jumpsuit on, she'll need a pair of gigantic, chunky heels.
I think it was the law in the '70s.
These Isabis boots from MJ95 are absolutely perfect.
The extreme contours of that heel will be perfect for nights spent dancing beneath the disco ball.
Real talk… I have no idea how people actually dance in shoes like these. I'm pretty sure I'd break an ankle if I tried to even walk in them.
But they sure look cool, don't they? Er, I mean groovy!
8.

Soul Train Poses
Um, this might be the most pleasantly surprised I have ever been in my life. I seriously can't believe there are Soul Train poses available to our Sims.
This is it. My Sims 4 experience has peaked.
Let me explain the magnificence that was '70s Soul Train, for those of you unaware.
It was an entire television show dedicated to music and dancing, largely focused on the soul, disco, and R&B hits of the time.
Of course, it also showcased the popular fashion and dance trends as well. Soul Train was truly a cultural phenomenon like no other.
Now you can place your Sims in the same funky dance poses that the smooth and talented participants of the show used.
And there are a ton of mix and match options here as well, so your Soul Train can go on forever!
9.

Copacetic Sideburns
Hair was a big deal in the '70s, and not just on your head.
Facial hair was pretty popular as well.
At least I think sideburns fall into the 'facial hair' category.
The point is, the societal expectations regarding what was appropriate in terms of grooming had shifted radically by this point.
Gone were the days of every guy having super neat hair, a cleanly shaven face, and little-to-no sideburns.
And these CC sideburns have a really nice texture. They stop a couple inches above your Sim's jaw, so they're not nearly as extreme as they could be for a '70s look.
But you don't really want mutton chops, do you?
I don't know why these ever lost their popularity – I think it's a very handsome style.
10.

Curly Mop Hair for Men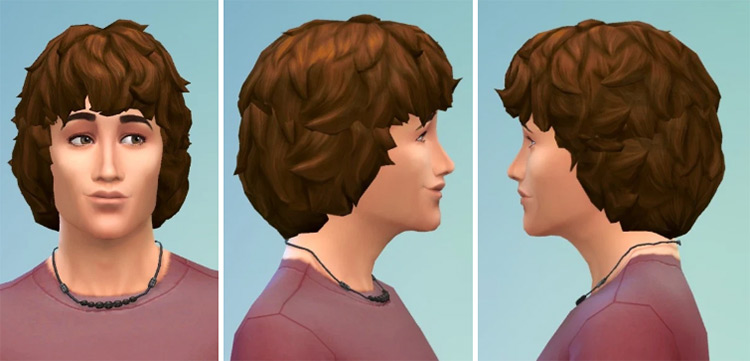 A shaggy style like this is pretty typical for a '70s guy.
Did I mention big hair was the 'in' thing?
When you think about it, the popular haircuts, especially when it came to men, just progressively got longer throughout the 20th century.
At this time things were still pretty manageable.
Most guys wouldn't be getting too crazy with their hair yet, and kept things just long enough to freak out older generations.
This Curly Mop Hair CC from Birksche is a perfect example of that.
Sensible, stylish, and voluminous wavy locks, kept cropped fairly close.
11.

Skate Everywhere Mod
Roller-skating really took off in the '70s, especially in the disco scene.
It was still a very popular pastime and even a mode of transportation outside of clubs.
Everyone from kids to young adults took to the streets with wheels on their feet.
Your Sims themselves can live this fad now, thanks to LittleMsSam.
They can skate everywhere just like our fun-loving '70s ancestors. This add-on acts in the same way as when your Sim goes for a walk or jog, so just think of all the sights they'll see!
Rolling through Brindleton Bay will be a dream come true.
And for period accuracy, make sure they wear really short shorts while they do it.
12.

Swimsuit Recolors
All of the swimsuits currently available in the game are quite modern.
Considering The Sims is set in modern times, I suppose that makes sense.
But if you're doing a decades save, or simply like a retro style, I'm sure you'll want something more fitting for your Sims when they go swimming.
These swimsuit recolors from simminginchi are perfect for just that kind of thing.
I truly love the '70s style of florals and stripes, not to mention the awesome color palettes. And there's such a great variety of those designs in here.
13.

Vintage Tees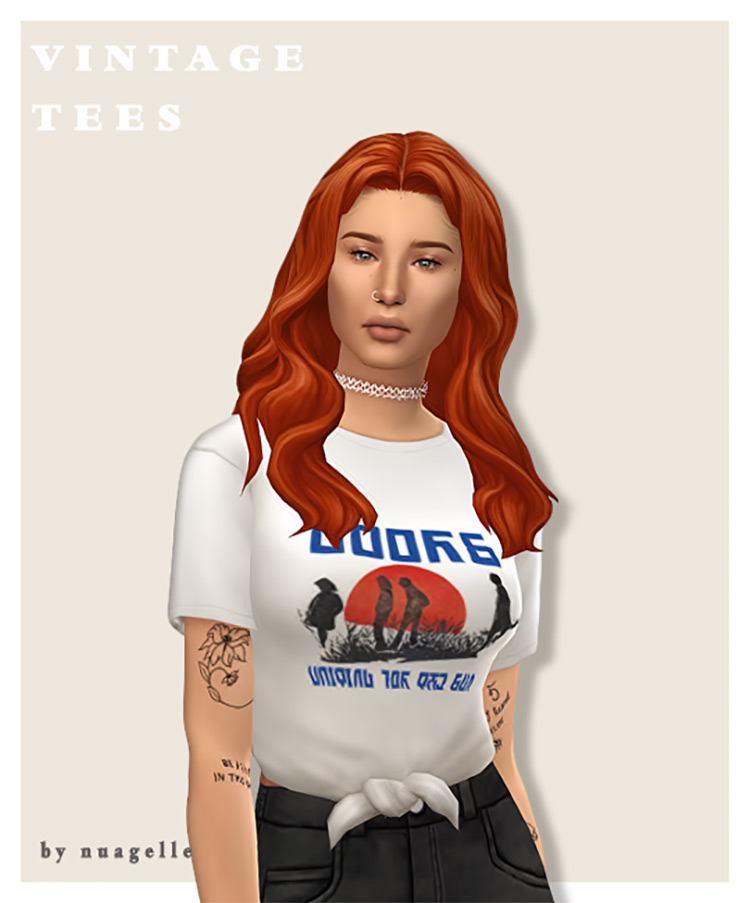 Starting towards the end of the '60s, the rigid standards of dressing were quickly going by the wayside.
T-shirts were skyrocketing in popularity, and by the '70s, they were a staple in most people's wardrobes.
Eventually they were available with some graphic designs, and band tees were born as well.
I'm super pleased that there's swatch for The Doors included here. Even if it's in Simlish, I know that image, as will any other '70s music fan!
This shirt is stylishly tied in a knot at the bottom, perfect to pair with those flare jeans.
14.

Giselle Hair
A lot of '70s ladies opted for a simple look of long hair parted down the middle.
And if you're going for this same hair in TS4, Greenllamas is to thank for this beautifully dynamic & layered style.
It's always nice when hair CC can be partially over the shoulder without being too chunky.
I'm pretty sure everyone looked like they had just walked out of a shampoo commercial back then, whether they went with the Farrah Flip, long and silky, or another typical style.
Well now your Sims get to be just as effortlessly beautiful, and slightly wavy.
Middle-parted hair will never disappoint.
15.

Hippie Jeans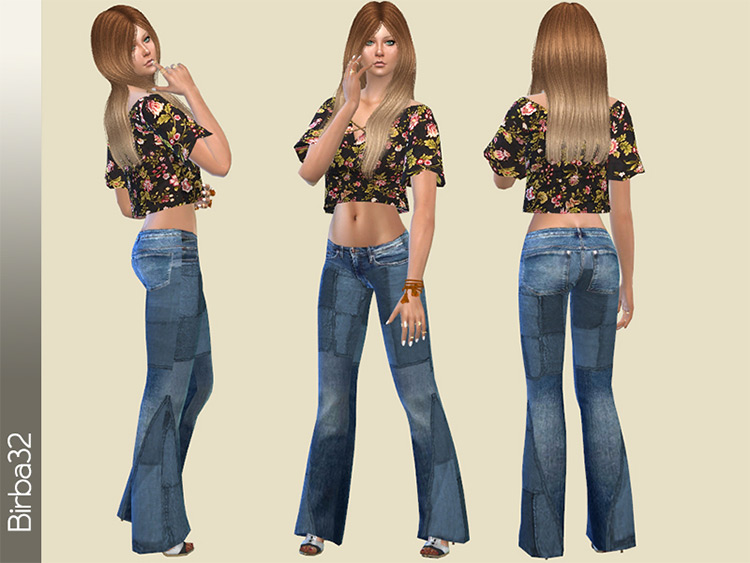 Hippies didn't just vanish into the mist after Woodstock, ya know.
They were still alive and well, and living the same lifestyle for much of the '70s.
Clothing was as expensive then as it is now. Well, kind of – inflation and all, but you know what I mean.
Denim was all the rage, and you wanted it to last. Especially if it was a more unique style like in this CC.
Patches were a simple way to make your jeans pop and add a little extra to your outfit. Still with that flared leg, of course.s
Browse:
Lists
The Sims 4
Video Games