Sims 4 CC: 90s Aesthetic Clothes, Hair, Furniture & More
This post may contain affiliate links. If you buy something we may get a small commission at no extra cost to you. (Learn more).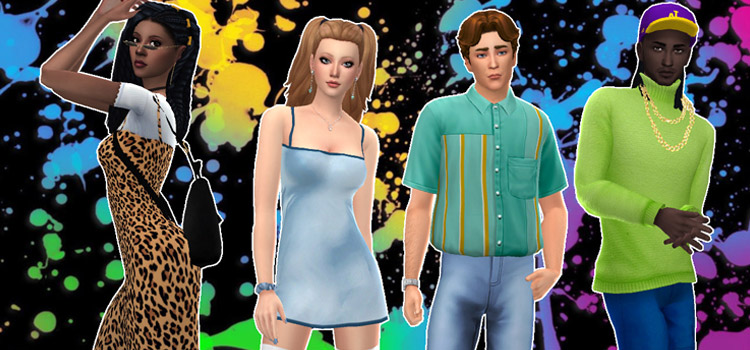 While every decade has trends and fashions that make a resurgence, nothing is as big right now as the 90s.
The generation that grew up in this time is now old enough to really be feeling the nostalgia. Yet it was long enough ago that to today's teens, the '90s culture is new and cool.
That equals a lot of fun for everyone, even your Sims.
Even beyond nostalgia and fads, the '90s was a time of huge innovations in clothing, entertainment, music, and… well, pretty much everything.
And now you can bring some of the best things this era had to offer into your TS4 game, thanks as always to some lovely custom content.
1.

90's Acid Jacket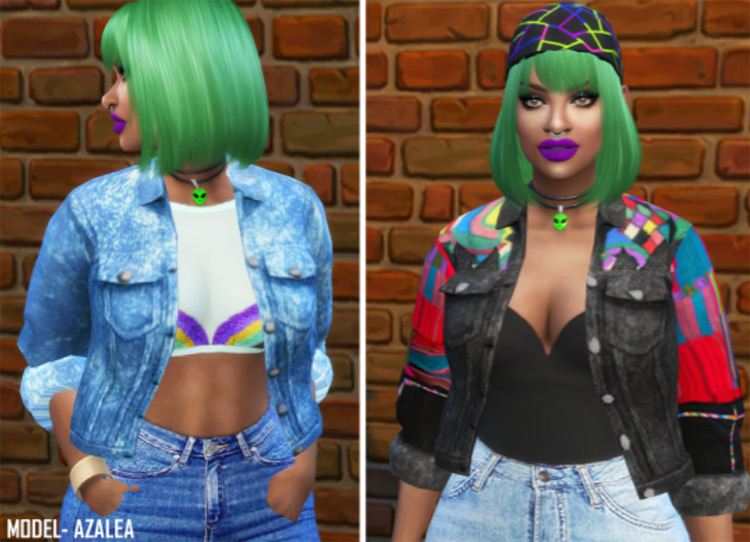 I may not have been around in the nineties.
But even I know grunge fashion was a big deal.
Some of the staples found in a wardrobe back then included plaid, boots, and of course, denim.
Not just any denim, but pants and jackets that were 'acid wash', giving them the appearance that they were well-worn rather than brand new.
These jackets will be perfect if that's what you're looking to have for your Sims.
As an extra little bit of awesomeness, there are designs on the back of some of the jackets that really drive the 90's theme home.
2.

Men's Shirt 1999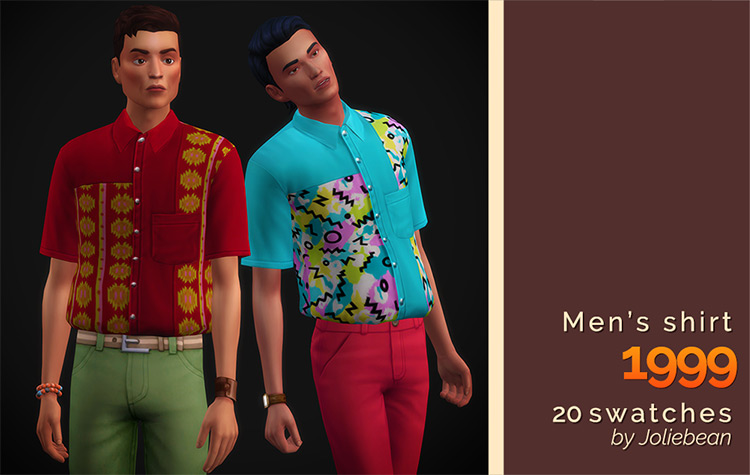 It may have been at the very end of the decade, but '99 was still carrying on the fashion that had shaped the culture in years before.
I've heard people say before that the nineties didn't really end until the mid-2000s.
And judging by the pictures I've seen in my family's photo albums, that definitely rings true.
Personally, I'm always down to add more button-ups with cool designs to my game.
Guy Sims really don't have a lot going for them in their wardrobes.
Well these certainly will aid in bringing a 90's vibe to your game, and there are twenty swatches to choose from!
3.

90's Wall Posters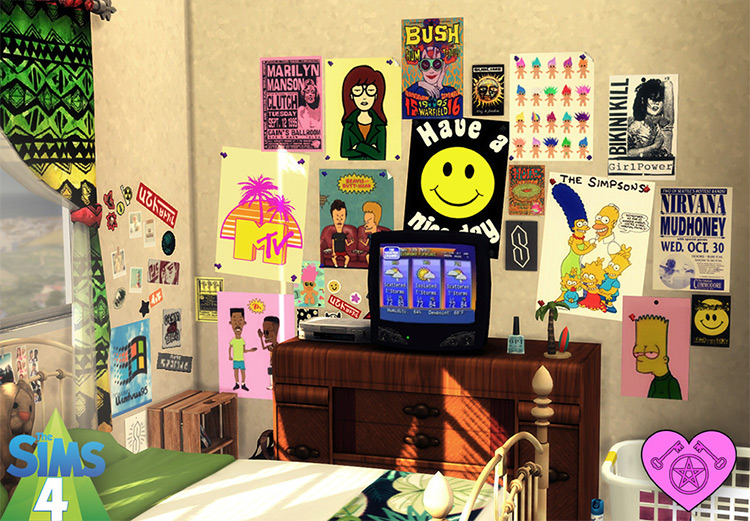 We're talking about a time where expressing yourself was everything, and there were more ways than ever to do so.
So it's no surprise that posters were at the height of popularity back then.
This CC set includes many of the most beloved shows, brands, and phrases of the 1990s.
What household didn't have a Beavis and Butthead loving teen?
And even if no one in the family was a fan of that, there definitely was someone around who loved MTV and The Simpsons.
Really, I'm almost surprised The Sims hasn't collaborated with The Simpsons yet.
It's high time that two of the longest-lasting pop culture icons finally came together for an epic crossover.
4.

90s Throwback Pendant Necklace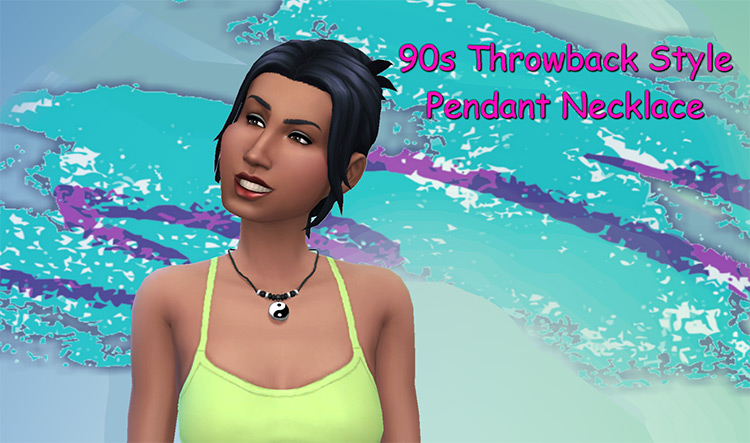 The '90s had many fads that drifted in and out of fashion.
And one of the most popular fads were yin and yang necklaces, like this one from CC maker Jujugamer.
This ancient symbol is actually more an ancient philosophy. It's something that will always ring true, no matter the era or generation: the world is all totally connected, even things that are seemingly separate.
You know, opposites attract.
Or at least I think it's something like that.
Even though I myself had one of these necklaces, I'm not completely educated on the true meaning and history – just as I doubt the majority of people were in the '90s.
Most of the time, fads come along because people think something looks good. And that's definitely the purpose this necklace serves.
5.

Butterfly Clips & Velvet Dress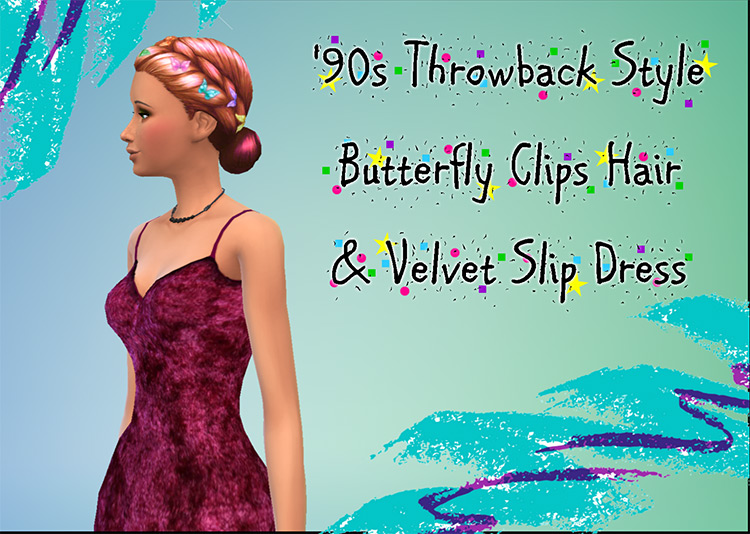 I think if there's one thing that absolutely exploded during this decade, it had to be accessories.
There were little ways to show who you were and what you liked, literally from head to toe.
Toe rings, ankle bracelets, pins for your clothes, and of course, a whole bunch of stuff to put in your hair.
Even though I only came along at the very end of the '90s, I still have some experience with this.
From funky barrettes to every type of hair clip you could imagine, my mom made sure little me had plenty of things to stick in my hair – besides gum.
These butterfly clips are exactly the sort of thing I miss. Kids today just don't know all the cute stuff they could have in their hair.
Another thing the '90s explored was all the different materials you could make clothes with. Velvet was pretty popular for a time, and creator Jujugaming really did a fantastic job creating a dress with that same look.
6.

Fanny Pack Accessory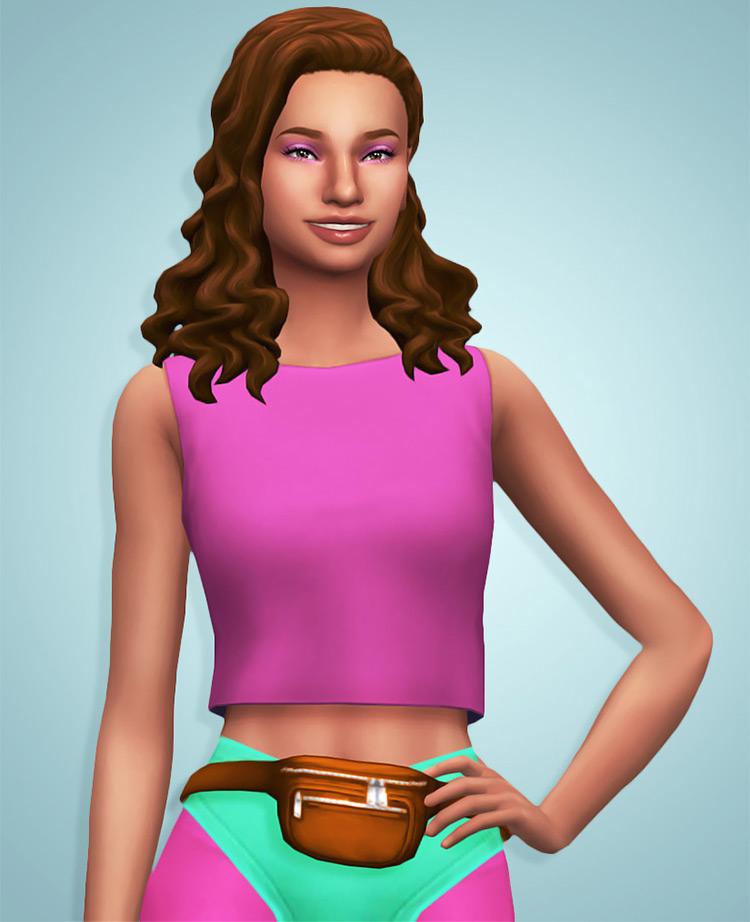 Why use a purse or pockets when you can just tote stuff around in a pouch like a kangaroo, right?
While fanny packs have surged back into style, the origin of their popularity stretches back to the '90s.
And up until recently, they were pretty firmly tied to that era.
Adults and kids alike used them all the time, be it for school field trips, jogging, or simply for the heck of it.
I will say, you can't get much more practical than just strapping a bag around your hips. Which is essentially the only thing that sets a fanny pack aside from a crossbody bag.
Well, that and the bulbous appearance they have.
7.

90s Babe Braids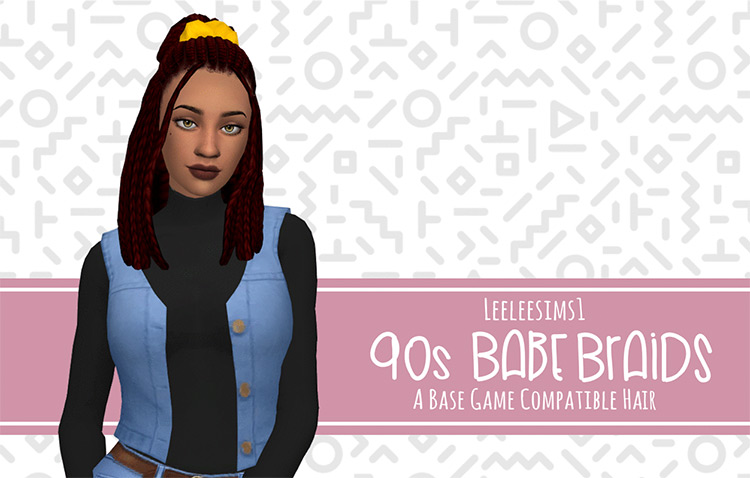 Braids have always been a popular hairstyle.
But it seems they were especially popular in the '90s.
There are few hairstyles that are as customizable (or practical) for those with active lives.
Well this straightforward and stylish braided hair CC embodies both of those things pretty well. And you, the Simmer, can decide which route to take for your own Sims.
Will you go with metal beads, a simple hair tie, or the iconic and beloved scrunchie?
Whatever you decide, the hair itself will always be the focus.
This is one of the most textured custom hairs I've ever seen, and that's definitely a plus. I think most of us can agree real braids are anything but perfectly smooth.
The great thing about braids is that they're a rather neutral choice.
They'll go right with any outfit and are usually deemed appropriate for pretty much any setting, too.
8.

90's Male Hair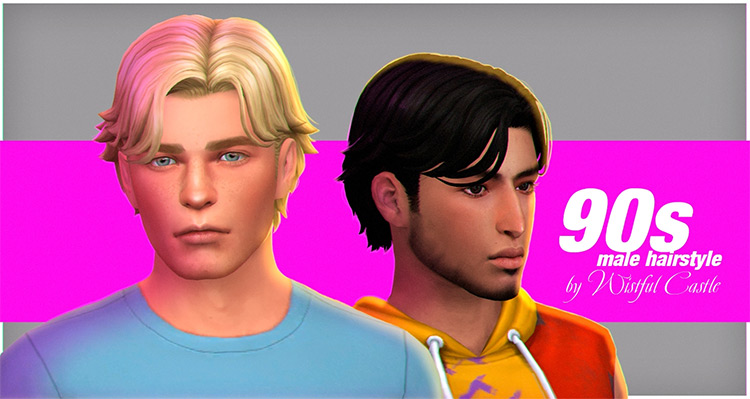 There were some amazing things going on in this time in terms of hair, for both guys and girls.
I think this decade may have actually had the least amount of horrific styles in the 20th century.
This style from Wistful Castle is definitely a little bit dated. But it's still a really nice, neat, slightly shaggy cut.
That pretty much sums up the '90s, doesn't it?
Back then, the more preppy and slicked back styles of past generations were well on their way out, giving way to messier and significantly more casual looks like this.
Just as it did for real people, this haircut is sure to bump any guy's 'handsome factor' up a few notches.
9.

90s Babe Hair + Choker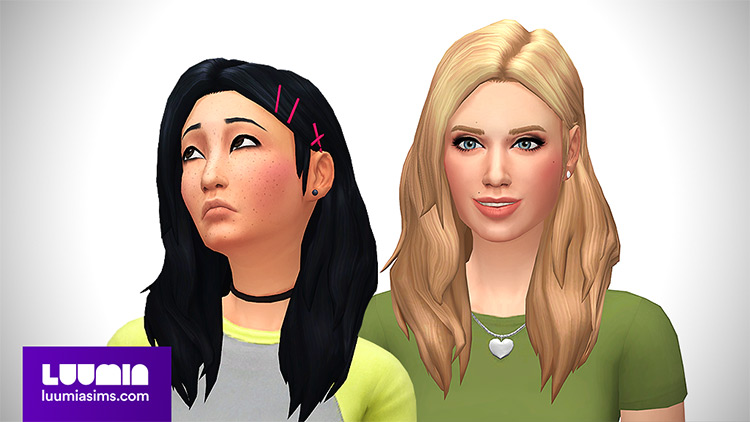 Look at that, more accessories!
This time from creator Luumia, we have a great layered haircut with some bobby pins.
Your Sims are lucky that these pins will never fall out of their hair, or disappear forever in their house, never to be seen again.
In true '90s fashion, there are eight swatches in total. So you can have all the crazy colors in your hair you want.
Also included is a simple choker necklace, which is definitely a must-have for those grunge gals in your game!
10.

Fila Disruptor Shoes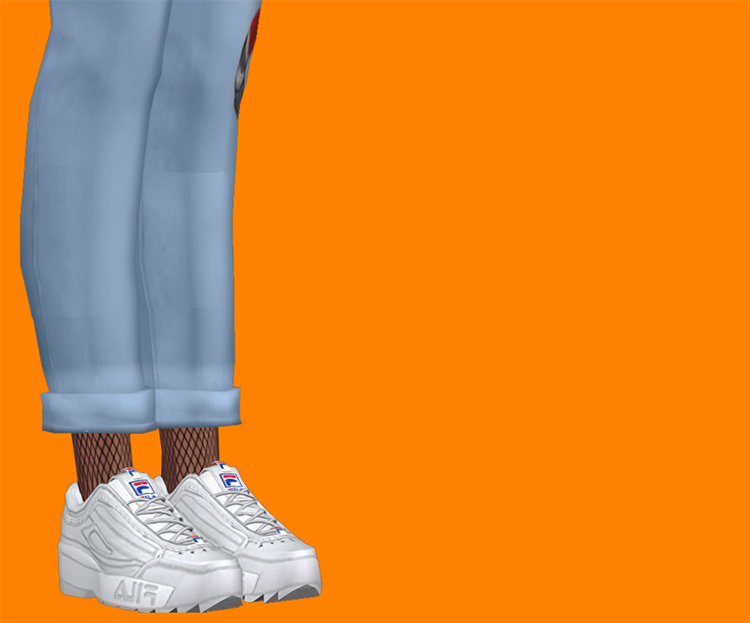 I may not know all of the big name shoe brands of the past.
But I know chunky white sneakers were all the rage – and are again.
Also known as 'dad shoes', teens through the ages keep turning to these as their go-to footwear.
When it comes to casual everyday footwear, I think simple is best.
You don't want something that will clash with a lot of your wardrobe, or stick out too much.
If that sounds like just what you've been looking for, look no longer! Plumboby's Fila Disruptor shoes are exactly what all the cool kids are wearing, both now and thirty years ago.
11.

Jelly Sandals (For Toddlers)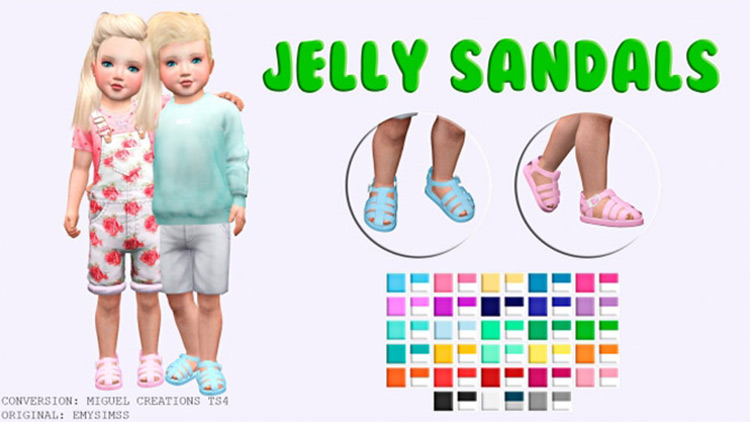 People seem to have very strong opinions on the iconic jelly sandal.
You either love them or hate them.
I guess there are also some people that have no idea what they are…
They're pretty, alright. But looks can be deceiving. These will blister your feet so quick.
So why not give some to your toddler, right?
Maybe I'm being unfair to these sandals. I suppose they're pretty cute… until the bleeding starts.
Well, your Sims don't have to worry about that kind of thing anyway. If you'd like to include these as part of your 90s aesthetic, there will be no adverse effects.
12.

Nirvana T-Shirt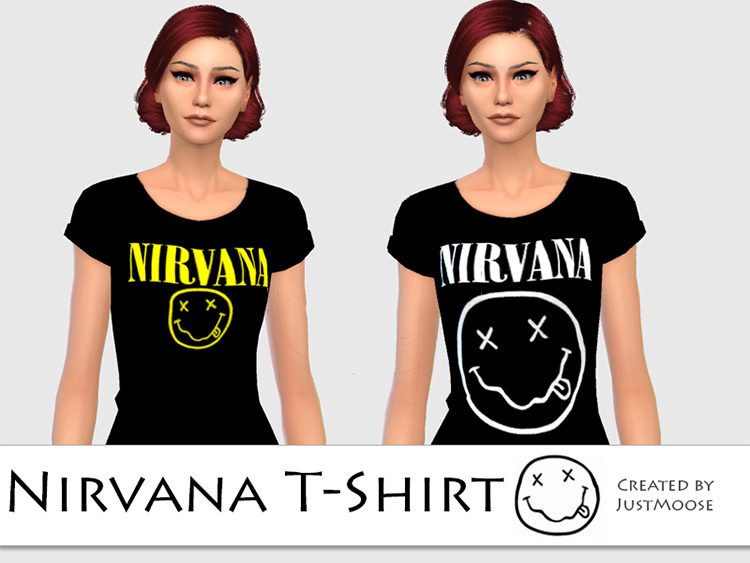 Nirvana is basically as synonymous with the '90s as The Beatles are with the '60s.
The band became the face of a generation, shaping the culture through rebellion and awesome music.
They also pretty much started the whole 'grunge' thing.
Like all the greats, Nirvana has endured the test of time.
Young people today love Nirvana just as much as the young people did thirty years ago.
And your Sim can be a fan now too, at least as far as shirts go. This CC features the iconic Nirvana name and smiley logo.
13.

Remember the 90s Carpet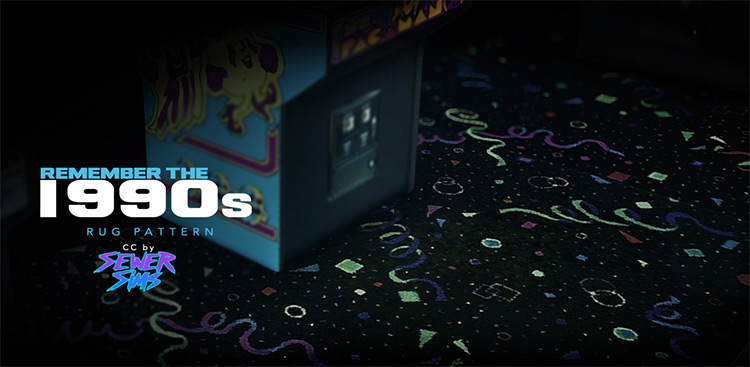 The 80s may have started the trend of bizarre designs and clashing colors. But it was the decade that followed that really ran with it.
This carpet is a perfect example.
It's super familiar and just seems right.
I think it's because this exact carpet has remained in every bowling alley in the midwest since it was installed.
It may be held together by spilled nacho cheese and soda, but you know you're in for a good time when you see swirling confetti carpet.
14.

Corduroy Suit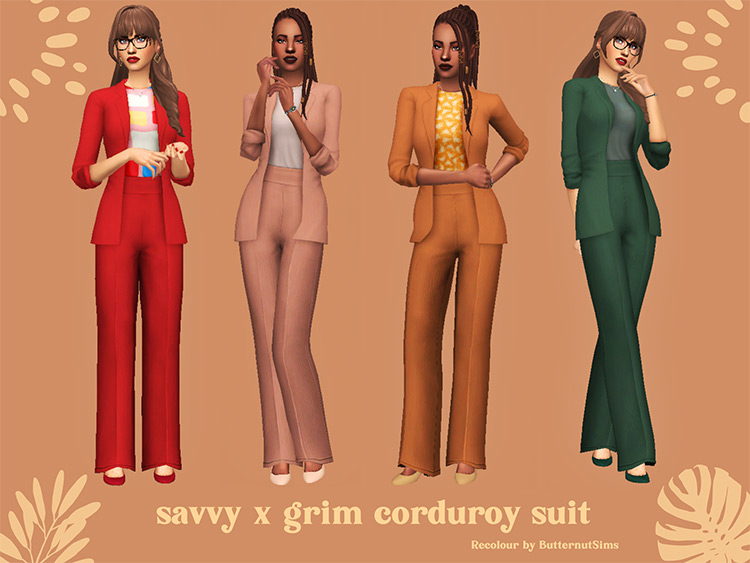 The '90s business woman didn't have a ton of wardrobe attire options.
The rules and expectations were still pretty rigid.
Did you know women couldn't wear pants on the Senate floor until 1993?
That's right, through the early nineties, a lot of working women were expected to still wear skirts or dresses. And not just those in government.
We all know that just because something officially changes, that doesn't mean the general populous agrees with it.
Every time change is brought about, it is a long and hard road.
A suit like this might have been slightly controversial for a working woman back then, depending on her job. But it's so darn stylish and practical, she might've just risked it.
This will be great for your Sim businesswomen. Especially if you're going for a 90s aesthetic. The colors and patterns here would've fit right in back then.
15.

It's Playtime Hairs
Up until now, this list has had a serious lack of scrunchies.
But after this little pack of hairs, your Sim kiddos will be set for life (or at least life phase) on that front.
These hairs are just super cute, capturing the '90s love of updos, bangs, and of course accessories.
Sisselin is to thank for the meshes, and layneebloom recolored the scrunchies. A worthwhile collab if there ever was one, right?
Now you can coordinate the scrunchies to more outfits, and there are few things more '90s than that.
16.

Antique Wicker Set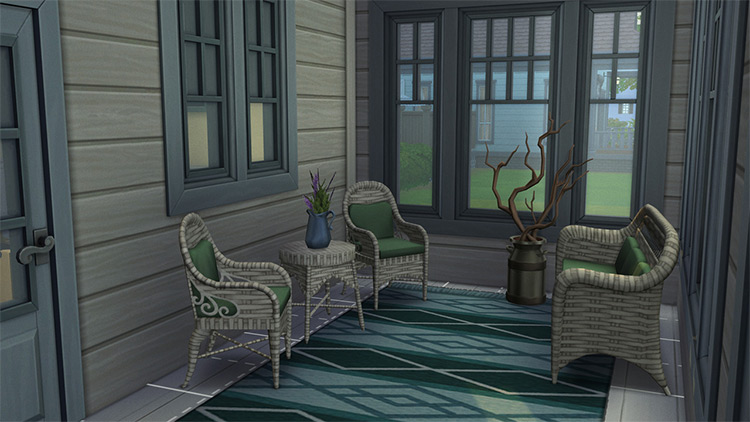 As many trendsetters there were in the '90s, a lot of popular things were just carried over from the '80s.
Wicker furniture is one of those things.
Everyone loves a couch that can be used both indoors and outdoors.
This five piece set from Linzlu, a conversion from The Sims 3, will surely fill all your wicker needs in The Sims 4.
It includes not only a sofa, but also two chairs, a coffee table, and nightstand as well.
I especially love the wicker coffee table with a glass top – that's definitely retro.
17.

TS2 to TS4 TV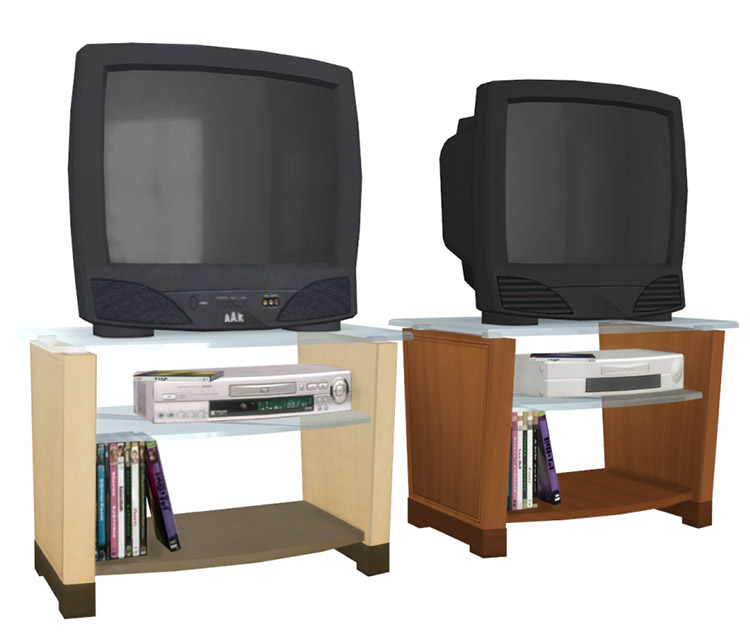 Alright, since this CC is a conversion from The Sims 2, it may not be exactly like the televisions that were around in the '90s.
But it's close enough if you squint.
Much better than a flatscreen, anyway.
Back in the height of TGIF television and Blockbuster, families gathered around something much bulkier than what we have today.
So you'll definitely need to replace those base game TVs if you want a '90s house, and this conversion makes that possible.
18.

Telephones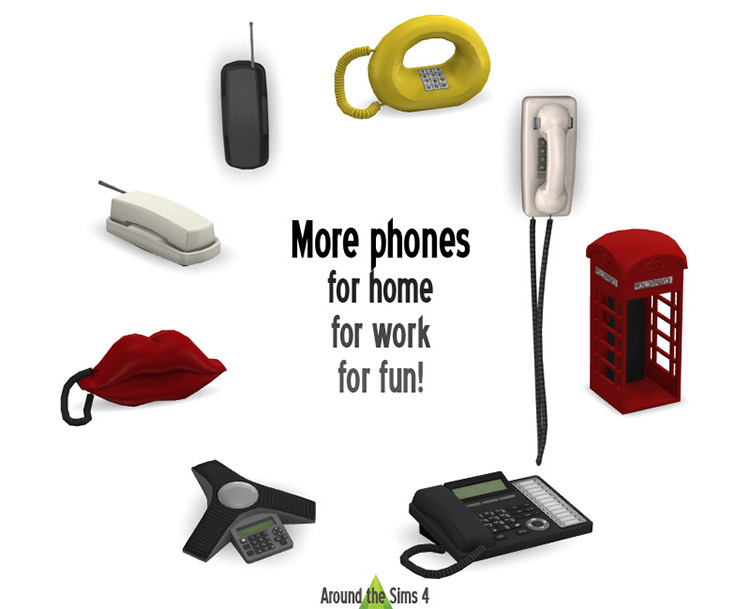 Phones are an aesthetic all their own.
Most of us can't imagine not having one within arm's reach at all times.
It seems especially crazy that back in the '90s, most people just had a single house phone, with the exception of some lucky teens that might've had a line in their bedroom.
Well this CC set covers the entire range of phones available back then.
Everything is here: brick phones, wall phones, and those corded ones with a number pad. Plus there's even some fun designs too, like a telephone shaped into a pair of lips (very 90s!)
Your Sims will be the coolest folks on the block with these phones ringing off the hook.
19.

Baggy Sweats
In the days when skinny jeans weren't even a thought yet, bigger was better.
That even goes for sweats.
So I'd say your Sim will look very comfy and stylish in these baggy pants. And what more could a 90s babe want?
The way these are so tapered and expand downward, it actually makes the legs look longer. So that's a plus for them too!
These come in ten swatches, so you can mix and match with whatever shirts, sweaters, or jackets you want.
20.

Dr. Martens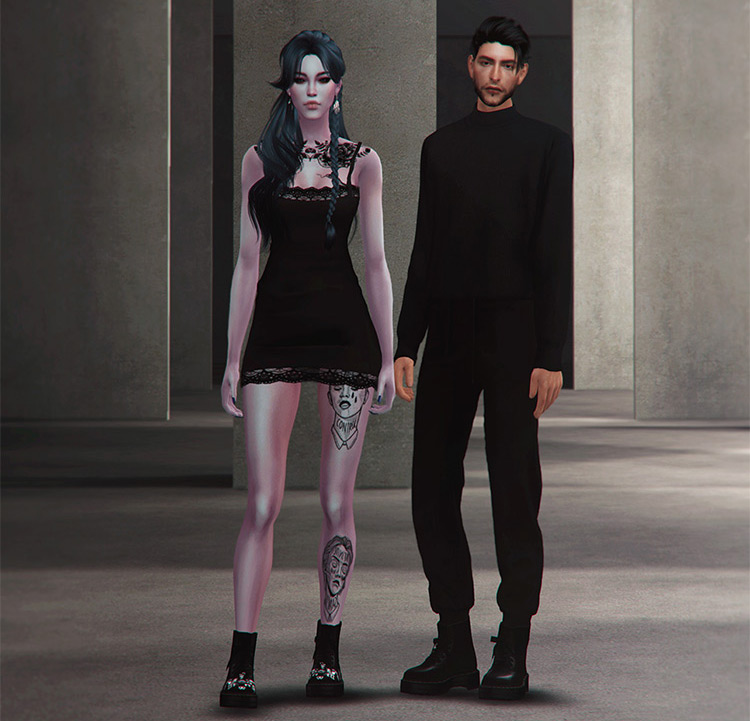 Of course I have to end this list with an absolute classic.
Doc Martens might just be the biggest part of '90s footwear.
I don't have a chart on hand or anything. But I swear every cool kid in a movie from that time had a pair of these.
And it's not hard to see why.
Nothing says you mean business like wearing boots that, originally, were intended for soldiers.
Through the years they went from work boots to punk and grunge staples, to simply a casual pair of boots beloved by people from every subset.
And you can have your Sims throw on these Dr. Martens with anything: preppy sweaters, ratty denim, halter tops, and everything in between.
You just can't go wrong.
Browse:
1990s
Lists
The Sims 4
Video Games