Sims 4 CC: Best Activewear & Exercise Clothes (Male + Female)
This post may contain affiliate links. If you buy something we may get a small commission at no extra cost to you. (Learn more).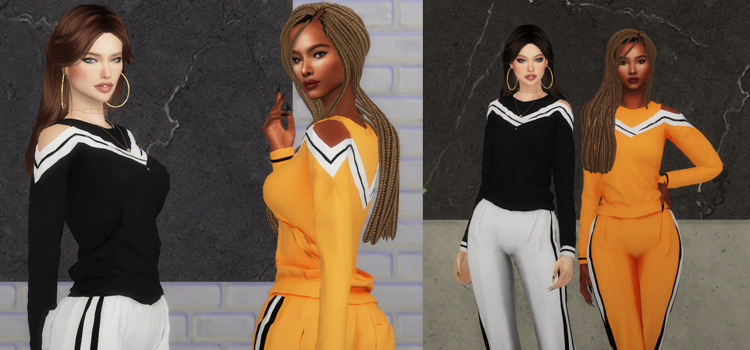 Everybody loves some good activewear.
There's such an overlap with casual fashion now, it's no wonder why exercise clothes are so comfortable and look so good.
The same applies to our Sims. 'Athletic' is even its own fashion category in CAS, and you may have found what's available lacking at times. After all, the same sweatpants and t-shirt gets old after a while!
But after this list you'll never be unsatisfied with your Sim's workout gear again. There's an endless supply of everything out there from shorts and sweatpants to hoodies, tank tops, and even some really great tees.
It may have been hard to decide on, but I've gathered the best of the best workout CC right here, all from our fellow Simmers.
Female Nike Sportswear
As one of the go-to brands for stylish & durable workout wear, Nike has created plenty of outfit options for when you're ready to hit the gym.
This tank and shorts set will get your Sims ready for whatever way they exercise, be it the treadmill, weight machine, or punching bag.
Like real clothing, the tight design will prevent any bagginess that may get in your Sim's way, and it'll keep them cool.
There are 14 swatches of bold color combos available here, and the knit texture really looks great.
Dope Fitness Set
This set provides endless mixing and matching of fashionable tank tops, leggings, and vests.
The tank top comes in a short sports-bra like design, and has dozens of swatches for both solids and patterns that'll match the leggings.
Ah, the leggings!
Who could forget these high-waisted beauties?
Pairing them with the tank will really create a cute, polished look.
But you can always use the accessory vest as well for a little extra, whether your Sim would be the type to opt for a little more modesty, or attempt to stay warm in the winter without going fully over to sweaters.
Men's Athletic Running & Track Shorts
There are, surprisingly, a lot of ways you can go when it comes to shorts.
You might think they're just, well…. shorts.
But actually, there are more variations out there than meets the eye. Especially when it comes to men's apparel.
We have some shorts in the game for guys already, sure, but none quite like this CC.
These are short and have a very soft, smooth appearance, just like real quality workout shorts.
They come with a zipper design on the side and have a distinct textured waistband.
Biker Shorts & Yoga Bras
Two piece activewear has become increasingly popular, loved for its stylish potential and practicality.
These biker shorts and yoga bras include 48 and 42 swatches each, making them massively useful.
Most clothes in The Sims 4 only come with five swatches or less. Which makes them not only difficult to match with other items, but pretty old to look at after a while, too.
You'll probably never have that problem with this CC set.
These clothes look great paired together with matching patterns or mixed with other clothes.
I mean, those shorts could work with a hoodie, or the bra with pants – truly, the possibilities are endless!
Athletic Outfit
With the overlap between streetwear and exercise clothes, it comes as no surprise that athletic apparel has become more fashionable than ever.
Nowadays you can walk out the gym and carry on with your day, and no one will bat an eye because of how nice you look.
Fortunately, the same can be said for your Sims with outfits like this.
We all know it can be an annoyance if your Sim isn't wearing the right outfit at the right time. But these will work well for athletic and everyday wear.
This set comes in 11 awesome trendy swatches including checker print, the Netflix Logo, Harry Potter emblems, and many more!
Ayumi Athletic Wear
Here we have another chic sweatsuit option.
This one has some chevron stripes as well as vertical stripes on the leg. They're black and white, which creates a smooth contrast against the main color of the outfit.
Whether you go with black, orange, white or any of the 7 other swatches available, your Sim can workout in style.
These also have cutouts on the shoulders for an extra unique flair.
Evan Men's Shorts
If there's one thing everyone loves, it's a good pair of stretchy gym shorts.
This simple design features a triple white stripe around one leg, while the rest of the item is a solid color.
They're sure to really get the exercise vibes flowing. And your Sim will look the part no matter what they're doing.
Unless they're jogging in winter. You just can't seem to tell an Athletic Sim no!
But for everything else, these will look great with any top. Hoodies, tank tops, even shirtless. Nothing beats good old gym shorts!
Hey, Summer! Male Top
The top for when your Sim really wants to go shirtless, but has to follow 'no shirt, no service' rules.
I'm kidding, of course.
These tank tops are really nice on their own merit. The swoop neck design and large arm holes give this a truly 'cool and free' look. Plus there's plenty of room to wear a necklace without it getting covered up.
There are 25 swatches here covering a very wide range of styles, from solids to rainbow designs, skulls, and even florals.
NFL Tops & Bottoms
Repping your favorite team and exercising at the same time? What could be better?!
These NFL tops and bottoms will be a great choice for your sporty Sims.
They feature the colors and logos of real teams – all 32 of them!
And we all know comfort is a plus when you're in for pushing yourself with some physical activity, so a sweater and leggings is always a safe choice.
Dessy Sport Set
Hoodies and sweatpants are always comfortable.
But making them look good can be a chore.
Sometimes you might not care, but other times it's nice to know you do look great.
This tailored CC set from Lumy-Sims will leave no question that your Sim has it together.
With 45 incredible swatches of patterns ranging from fun to quirky and even some that are a bit regal, there are all very impressive looks.
There are some solids as well like the classic black with white stripe, for a more toned down vibe.
Gym Shorts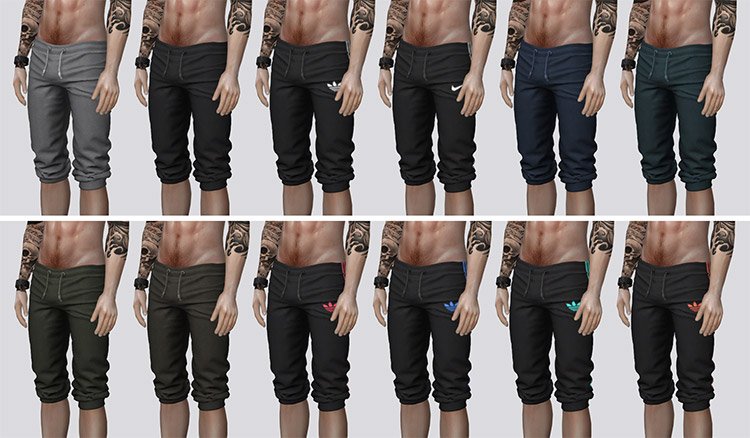 These cropped shorts are a good alternative to the typical baggy ones.
They have a very stretchy appearance and gather at your Sim's knee, so if you've ever thought some of their workout clothes look a little too restrictive, these are perfect.
And the coolest part is that they come in so many styles.
From plain black and gray, to ones with the Adidas or Nike logos, there's not a single swatch here that doesn't look smooth and cool.
The wrinkles in the pants really give them a nice look as well.
We've all seen clothes for our Sims that look a little too flawless – because all clothes will have shadows depending on the light or wrinkled material in certain places.
Men's Tank Tops
With these tank tops, you can give your guys a little personalization.
Are they the sort to opt for fun graphic designs with phrases and patterns, or simple solid swatches?
In any case, this creator made an abundance of both!
These will be a fun way to switch things up if you've always gone for the same ones we already have in the game.
With a bit of a different cut and plenty of swatches unlike what we've ever had available to us before, your Sims can always hit the gym in style.
Sportswear Pack
This unique sportswear CC pack for men is a must-have for your athletic Sims.
The form fitting, long sleeve tee will definitely give your Sims the look of a guy who means business.
There's nothing flashy or fancy here, either. Just a well-made tee for working out.
Next up are the leggings – an overlooked item for males if there ever was one.
These can be worn either alone or as an accessory beneath shorts, and they look great, available in 14 swatches.
But the shorts might just be my favorite item. They're slightly cuffed at the bottom, have distinct pockets, and a good texture on the waistband.
And finally, we have the skinny leg sweatpants. These are another great idea that looks equally good, with the large pockets and form fit.
Sim Stretch Leggings
Now that we're back to leggings for the ladies, we're seeing some brighter swatches again.
And these have color in many different ways.
Contrasting against the black main color, each leg has a strip of different color, and the Simlish writing is in white.
It makes for a very sporty look, but still casual.
Your Sims can wear these paired with any hoodie, sweater, or tee, and stay comfy throughout the day.
Basic Racerback Crop Tank Top
And to wrap things up here, we have another awesome tank top CC option.
This racerback cropped design stops just at your Sim's waist, which makes it perfect for wearing with leggings, sweats, shorts – heck, anything you've got!
Maybe not a skirt, if your Sim's gonna be working out… but anything and everything else will make a great match.
It's available in 20 different colors, including 3 florals, which makes for plenty of outfit options.
Browse:
Lists
The Sims 4
Video Games