Sims 4 Adventure Time CC & Mods: The Ultimate List
This post may contain affiliate links. If you buy something we may get a small commission at no extra cost to you. (Learn more).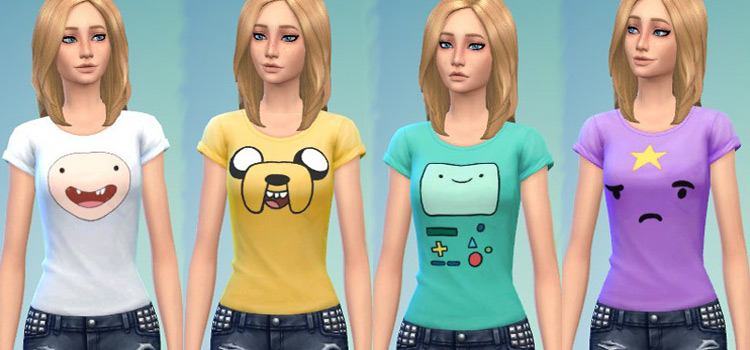 One of the most iconic shows in Cartoon Network history has to be Adventure Time.
From its whimsical characters and bold bright color scheme, to the intricate post-apocalyptic plotline that kept audiences craving more.
Ever since this show aired, I've been hooked on it.
I can't think of a show I've loved more than Adventure Time. After all these years, I find myself rewatching the series, looking for merch, and yes, even incorporating my life-long love into my Sims 4 game.
And one of the best things about The Sims franchise is that it allows you to mix all of your loves into the same space, whether that's custom clothing, or finding a great mod that makes you feel like they've come to life in your own little world.
So come along with me! Today we'll be exploring some of the best Adventure Time custom content and mods that the land of Ooo has to offer.
10.

Adventure Time Posters
I know the struggle of wanting to decorate using some of your favorite fandoms.
What's great about this set of posters is if you find yourself with the same decorating struggle, you can have the best of both worlds!
The Adventure Time Poster CC comes in 7 different designs, all beautifully made with intricate detail and bold colors.
So you can add one of these in your Sims home as a statement art piece as you subtly declare your love for Adventure Time.
9.

Adventure Time Hoodie
On any normal day, I would argue that Adventure Time isn't only for kids.
However, this hoodie says otherwise.
Now your younger Sims can look adorable with these bright colored, character themed hoodies. With everything from Ice King to Lemongrab, you're sure to find your favorites here.
8.

Adventure Time T-Shirt
Don't worry, I wasn't going to leave the older folks out on all of this apparel fun!
If you like the idea of getting your Sim dressed up in some of the coolest AT graphic tees, then getting this CC is just what you need.
And the beauty of it all is just like a regular graphic tee, this can be paired with just about anything for a look that says comfy, laid back, and casual, but still lets everyone in your neighborhood know what your favorite cartoon is.
The best part of it all?
This comes in 20 swatches, so you'll be sure to find all your favorite characters and colors to match any outfit.
7.

Finn And Jake Plushies
What's the best way to add some extra personalization to a room in your Sim's house?
By adding adorable plushies of your favorite characters!
I personally love the design of these, they're a unique Funko Pop-looking shape with facial expressions that make me want to reach through the screen and give them a big squeeze.
Perfect for making a bedroom look cozy, spicing up a dull or boring office space, or even for a child's room.
I mean, it is a kid's cartoon, yeah?
6.

Cartoon Backpack For Kids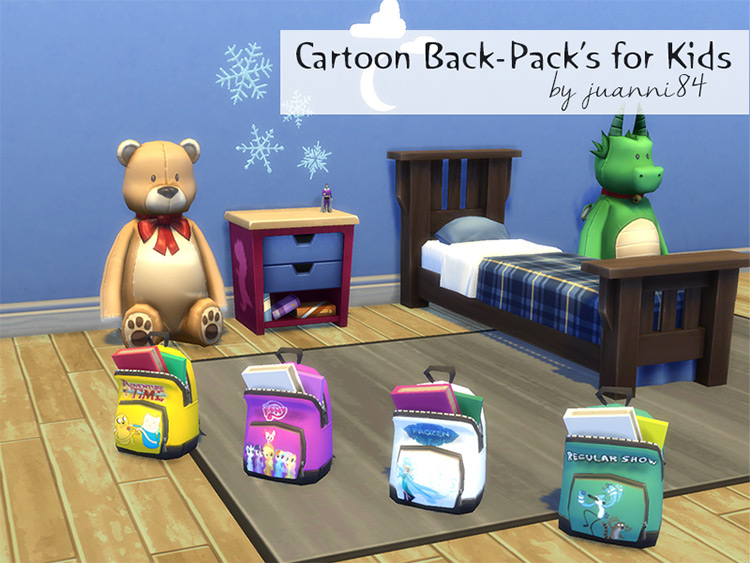 The Sims 4 doesn't really capture the excitement of back to school.
There's no back to school shopping, there's no convincing your parents for the cutest clothes… and let's be honest, that was the best part of having to go back to the classroom.
But with some new backpack styles, you can have a little taste of that fun of being a kid again.
Not only is there an Adventure Time option for these awesome backpacks, but if you wanted to switch it up for the other kids in the house, there are other different cartoon-themed designs too, such as Regular Show.
5.

BMO
Who wouldn't want one of the cutest, most wholesome characters to keep them company while they're home?
This is a BMO toy, and that's all we need to say really.
Perfect for sprucing up your Sim's space as they hang out or do whatever.
Fun to play with, too.
4.

Jake The Dog Pocket Shirt
Here we have a classic shirt for all Adventure Time fans.
I'm sure we've seen this at one point or another in real life.
What makes this shirt such a classic, though?
It's reminiscent of all of our favorite aspects of the show. From the color of Finn's shirt, to having his magic brother shrunken down in the pocket.
If your Sim is caught wearing this, they might just meet a few other big-time AT fans.
3.

Adventure Time Overalls
Yellow overalls? Check.
Blue shirt underneath? Check.
Bright pink pockets? Check.
All our favorite Adventure Time characters? Check.
Looks like these overalls have everything on our checklist! Designed for any kid with loads of imagination, this outfit is a must-have for anyone's collection of Adventure Time custom content.
2.

Candy Kingdom
The best part about finding unique mods for The Sims 4 is that you can find just about anything that your heart desires.
One of my biggest dreams is to feel like I'm in the Candy Kingdom.
I mean, what's not to love?
Princess Bubblegum, the Gumball Guardians, all of the adorable candy citizens, everything about it is so whimsical and magical. I can't get enough!
This lot replicates the Candy Kingdom.
And it's everything I could have wanted and more. Whether I want to act out a superhero fantasy and play as Finn, or do a 180 and pretend to be a princess for a day, it's all here.
1.

Finn And Jake's Treehouse
Finding its way to the top of our list is the iconic treehouse from Adventure Time.
If you've ever wanted to live out your treehouse fantasy, but aren't really into the traditional aesthetic of making it all yourself, this is a perfect option to pick.
And it's great for anyone who's always wanted Finn & Jake's house in The Sims.
Or even for someone that loves the unique design of the treehouse, but has no freakin' clue what this cartoon is all about.
Complete with a treasure room to boot, your Sim will feel truly transformed into the hero that your neighborhood needs. I have this lot equipped in my game, and let me tell you, if you love Adventure Time then you won't be disappointed.
Browse:
Adventure Time
Cartoon Network
Lists
The Sims 4
Video Games