Best Sims 4 Afro CC & Mods: The Ultimate List
This post may contain affiliate links. If you buy something we may get a small commission at no extra cost to you. (Learn more).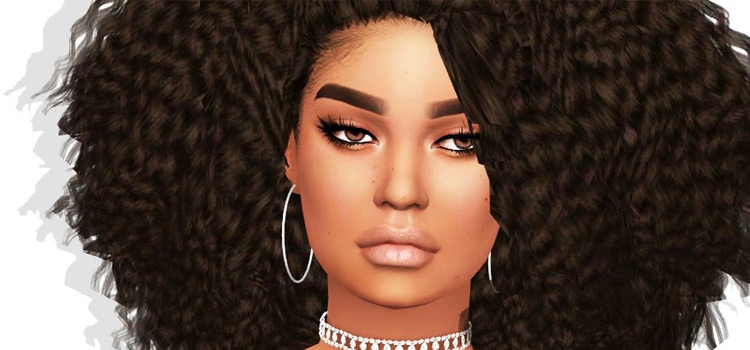 The afro look used to be my favorite look in my first Sims experience, which was Sims Bustin' Out.
The afro included some snazzy stripes and was just the most unique hairstyle included in-game at that time.
That was 2004. And many years later I still think the 'fro stands the test of time as one of the coolest hairstyles not only virtually, but in real life too.
If you want some more 'fro in your Sims 4 gameplay then you've come to the right place.
Let's take a look as we break dance, walk runways, and boogie down to reveal the coolest afro custom content for The Sims 4.
10.

Dee Hair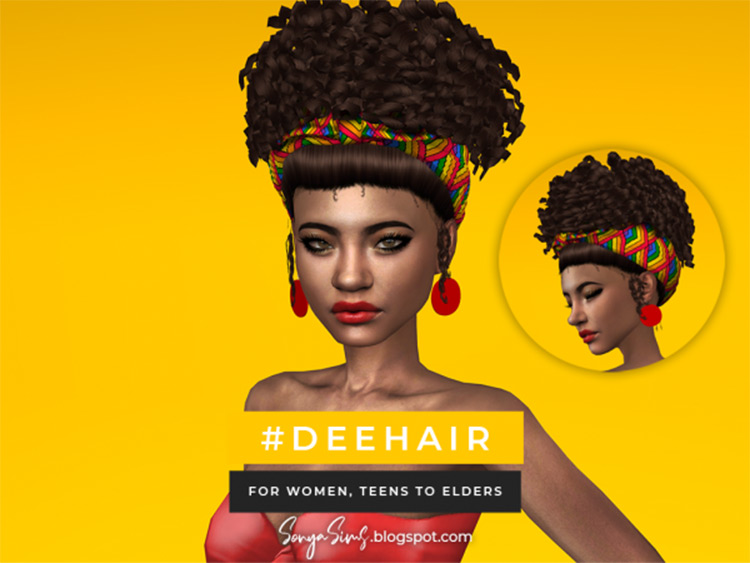 Let's kick off our list with the Dee hairstyle by sonyasims.
This hairstyle is beautifully long and comes in two unique color schemes. One being a single tone, while the other features the tips dyed.
This look features a great cultural presence to boot.
9.

Female Flat Top Conversion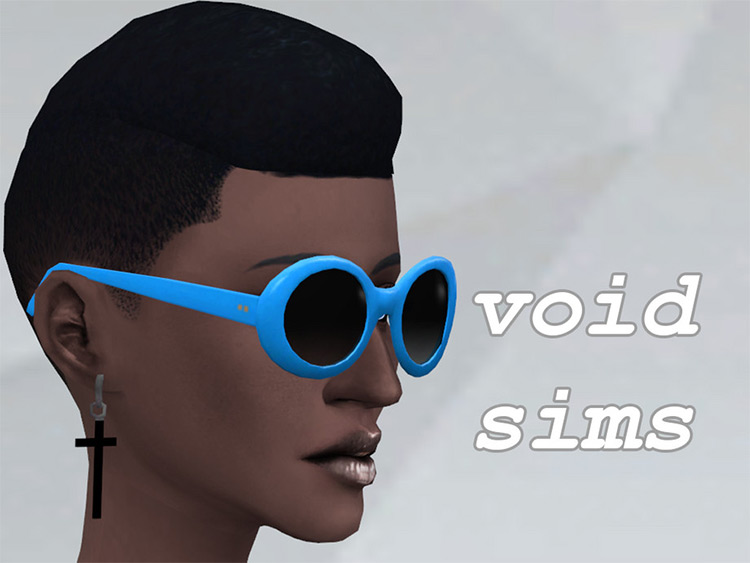 Next up we have a convert of the male flat top found in the base game.
This version by Chanicle makes the hairstyle more fitting for your female sims as well.
The look is bold and stunning. And definitely works for the fashionistas of the Sims universe. I know you're out there!
8.

Afro Bomb Hair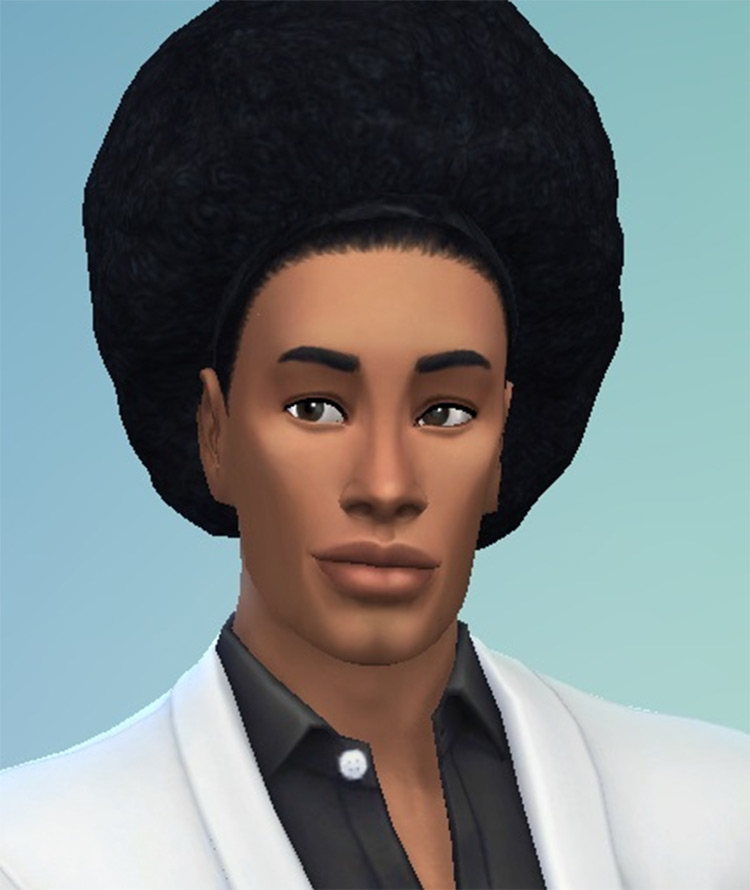 Moving on from base game conversions, here we have a style that works for both guys and girls alike.
Birksches' afro bob is a great take on the throwback afro style of the 70's and 80's.
The bob features a downward slick rather than an afro that poofs straight up. Very unique these days.
If you want to get down and boogie, this 'fro is the one for you!
7.

Puffy Curls Afro – Toddlers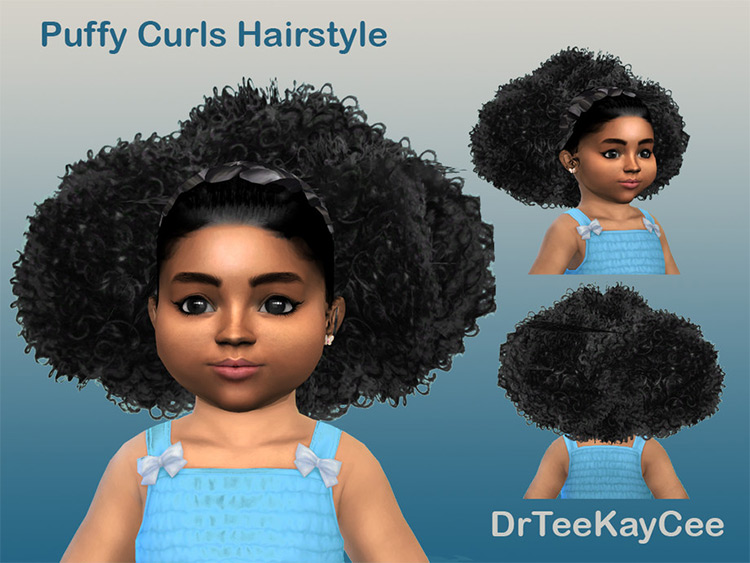 Sometimes even the little ones want in on the fun.
These puffy curls are perfect for toddlers looking to add some sass to their first steps. The CC features a large braid which is pretty cute too, and it comes in 8 unique colors.
This style comes from creator Drteekaycee, who makes a lot of appearances on this list.
6.

Afro Wrap Hats
Drteekaycee follows up with wrap hats for the adult version of the puffy curls hairstyle.
This is a sweet hair accessory to add substance to your luscious afro. The wrap comes in 3 color sets and 4 wrap patterns for a total of 12 swatches.
My personal favorite is the red, yellow, and green wrap pattern. It feels reminiscent of traditional African culture in many ways.
5.

Gold and Black Afro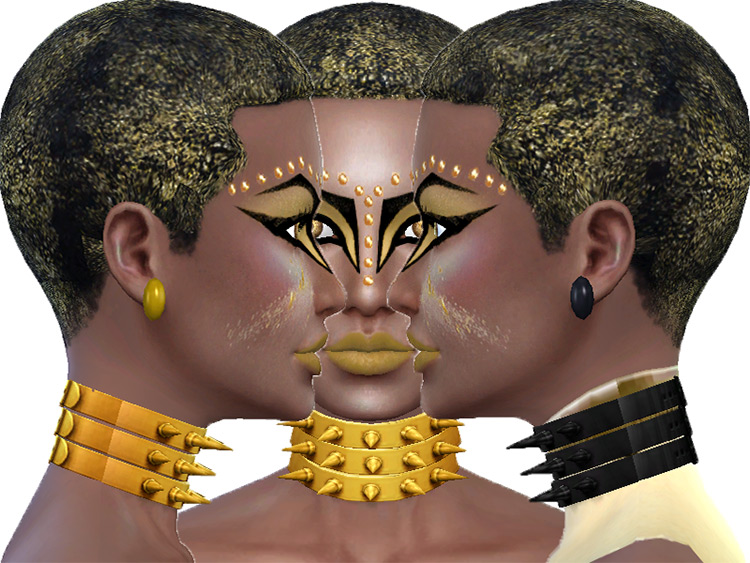 This look just screams America's Top Model and Project Runway.
The short afro is mixed with glittering gold to give that fierce look that suits any strong female (that don't need no man!)
TrudieOpp does a great job here. And shows us that afros can still be extremely stylish, even with a shorter length.
Tyra Banks would definitely notice this head-turning hairstyle.
4.

Puffy Curls Afro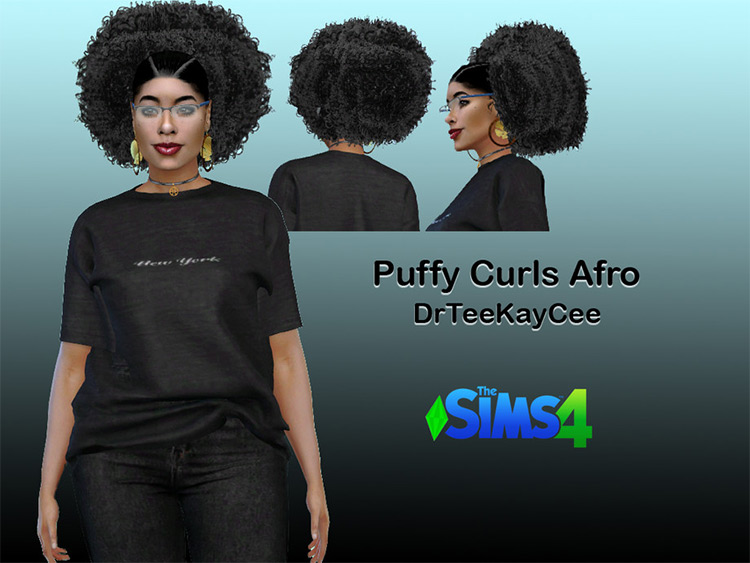 Our top creator is back! And now we get the adult version of the already-stunning puffy curls afro.
The look is beautifully filling on any head. And it's the perfect mix of stylish and business savvy.
This natural pull back hair is a great look that's just another solid design by Drteekaycee.
Now you can have your kids and parental Sims matching with hairstyles. Very chic!
3.

Braided Curly Afro with Flower Band
Before getting into our top 3, I just want to note that all of these next looks are by Drteekaycee.
Kudos to this brilliant creator for having some deep sets of variations of a singular hairstyle.
But here we've got yet another toddler hairstyle. This is a braided curly afro that features a flower band that keeps all the hair neatly wrapped. You could even try accessorizing with a hair bow too.
While only designed for black hair, there are 12 unique flower band swatches included.
This is a perfect look for any toddler who's a flower girl at a family wedding, or a sweet look for the first week of daycare.
2.

Short Parted Afro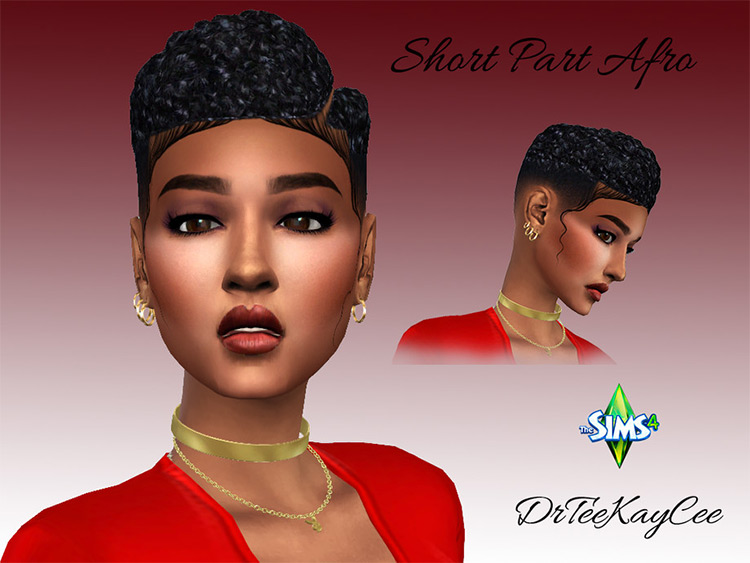 Another shorter 'do that just screams fierce.
Coming in 12 colors, this hairstyle CC is perfectly placed, well designed, and includes a dangling hair strand which is a lovely attention to detail.
This CC is the red wine of this list – enriching, elegant, and absolutely filling.
The look is great for a bunch of situations, whether it'd be a top business women or someone looking for a new hairstyle for that senior high school party. Maybe even prom.
This short-parted afro just has that "it" factor, y'know?
1.

Teeny Weenie Afro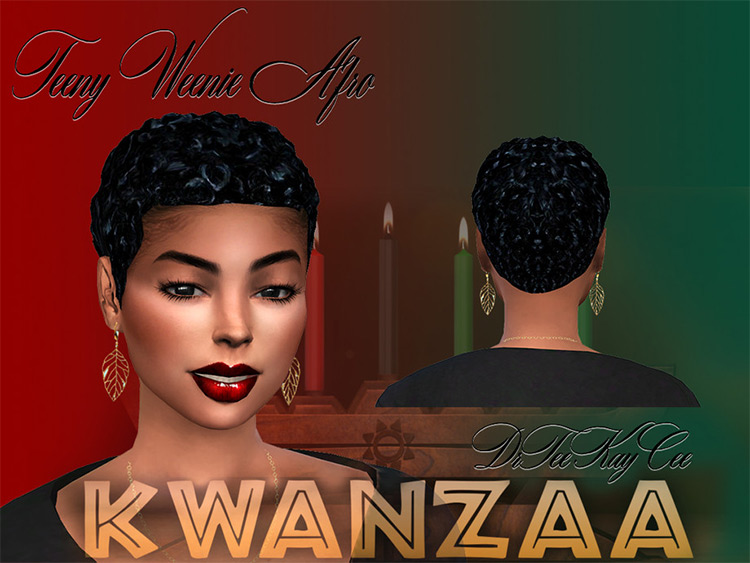 This medium-sized afro has to be the best-looking CC for any afro based hairstyle in TS4.
Basically this takes the base game look and tidies it up for a neater, bolder, and overall sleeker version of the 'fro.
It features 6 unique swatches, and is overall the afro of all afros.
And just like the majority of this list, DrteeKaycee knocks it out of the park with this one.
Browse:
Lists
The Sims 4
Video Games