Sims 4 Air Jordans Sneakers CC: The Ultimate Collection
This post may contain affiliate links. If you buy something we may get a small commission at no extra cost to you. (Learn more).
In the world of casual fashion, Air Jordans are like the holy grail of footwear.
Nothing tops those sleek designs when it comes to true style.
As many variations as there are for people, there are almost as many for Sims. That's no surprise, right?
What Simmers love is often brought to the game, so we can all play with the content we really want.
For a Sim of good taste, some cool sneakers are what they need, and not just any sneakers will do. You'll want what's beloved in real life – and that's without Air Jordans.
There's a ton of variety even from the same style of shoe. And honestly, Jordans are like potato chips… you can't have just one.
So get ready to totally reinvent your Sim's wardrobe with these amazing sneakers.
1.

Retro Air Jordans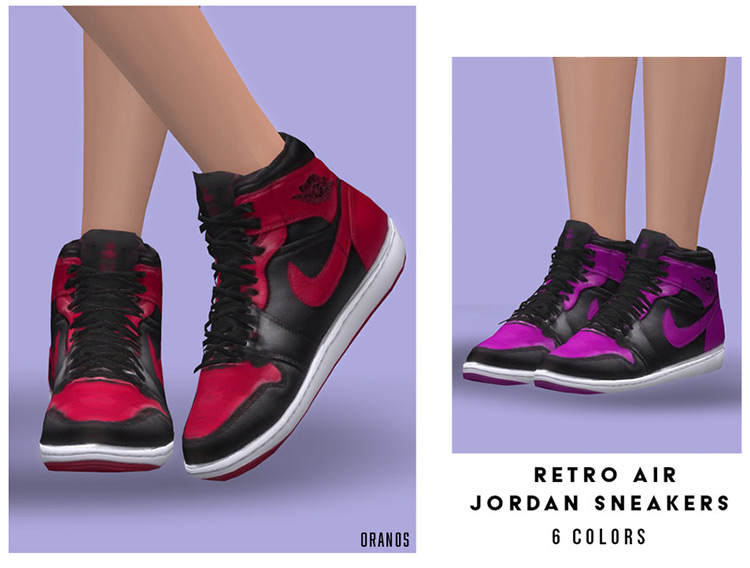 Just because something is old doesn't mean it's good.
Just think about cheese or milk… some things definitely are not meant to be appreciated after they age.
Sneakers, however, are not among those things. Retro Jordans pack just as much of a punch as new ones. They're what started the love for many lifelong fans of this brand.
This design from OranosTR has a classic look and great texture. You can see the shininess of the rubber, which isn't something you usually get to enjoy for long with real shoes.
In The Sims, there are no scuffs or dirt stains.
Just flawless, glorious Air Jordans forever.
These are available in six colors, but there are only five slots for everyday outfits in CAS, so… I regret to inform you, you'll have to do some picking and choosing.
2.

Nike Air Jordan IV's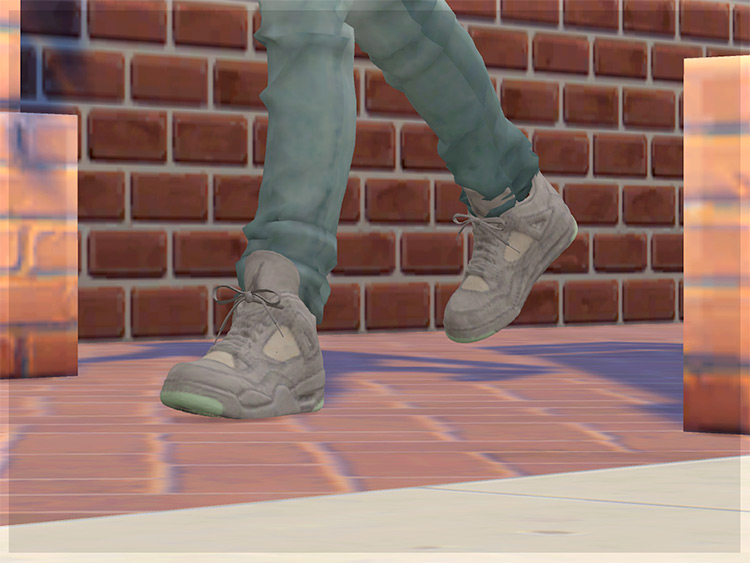 Aside from just having a really cool name, the Air Jordan IV's have a fresh, modern look.
These have some realistic detailing, right down to the logo on the tongue. Even the laces are perfect, tied in a bow.
Depending on the swatch, you can even see the subtle stitching marks sometimes.
Just like the real thing, these also go well with just about clothes. Shorts, jeans, sweatpants – nothing can bring down a pair of Air Jordans.
There are 11 swatches here covering a wide range of styles, too. You'll have the typical, highly sought-after white ones, bold black and red, olive green, and many more.
Several designs are even based on the real-life collaborations between Travis Scott and Nike, so you can't get much cooler than that.
3.

Nike Air Jordan Sneakers
This simple design offers the timeless design of Air Jordans to male Sims aged teen and up.
A nice touch here is that the creator made them available for cold and hot weather, as well as the everyday and athletic categories.
At long last, Sims can still dress normally through the seasons.
Seriously, in what world do people overheat from wearing sneakers in the summer? It's madness, I tell you, madness!
But thanks to the categorization, your Sim could very well be the best dressed guy year round.
Each of these swatches has a tri-color design. The yellow, gold, and white look very distinct, while the red, white, and black is a very classic look.
And who could forget gray, white, and black?
That has to be the most popular shoe color scheme ever.
4.

Toddler Jordan Retro 1's
The days where kids were subjected to unflattering, or downright ugly, clothes are long gone.
Now more than ever, the very same styles adults know and love are available in much smaller proportions.
These tiny hightops pack impeccable detail.
This is the kind of thing your Sim's tots deserve, with five beautiful swatches.
That iconic swoosh will automatically make them the coolest toddler at the playdate or park.
While all those other kids are running around in random vague sneakers or sandals, your Sim's kid will be fashionable beyond their years.
But not in a bad way. They'll still look like a kid, just a stylish one!
5.

Air Jordan 10 Retro
Here we have some more kicks for the youngsters in your household.
This time, they're for both toddlers and children alike, whether they're boys or girls.
These are modeled after the distinct Air Jordan 10's, with a thick, vivid sole and bold colors.
Speaking of colors, there are 36 of them here.
Any swatch you choose will be packed with character!
And honestly, don't Sim kids need some wardrobe upgrades? They need all the help they can get, the poor things. The randomized outfits they age up with can be rather scary.
When it's time to actually make them presentable, these won't let you down. I'm sure Air Jordan 10's are just the kind of thing any kid today would love to wear to school and show off.
6.

Air Jordan 12s Child Conversion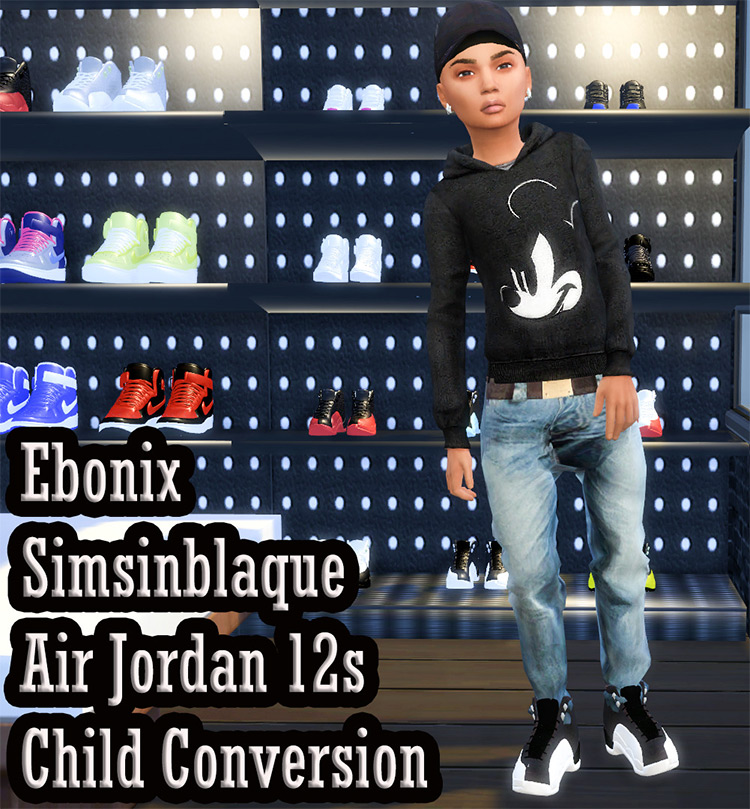 As I've already established, child CAS needs all the help it can get.
Desperately.
I don't mean to knock the content we've gotten, some of it is pretty great, no doubt.
But there are kids out there who are equally if not more conscious of fashion than adults.
They won't be pleased to wear generic run of the mill sneakers.
Only name brand beauties like these will do for the trendy kids. They were first converted from the Sims 3 for adults, so that really illustrates the longevity of such a great style.
These have vivid colors and both boys and girls can rock them.
7.

Nike x Virgil Abloh Air Jordan 1 "UNC"
It's the little things that count.
And there are an abundance of them in these unique custom sneakers.
Everything you'd see on real shoes is here, from that little loop on the back nobody knows the purpose of, to detailed treads and strings.
Like all of the other creations on this list, these are based on real life merchandise. But these are a bit of an uncommon design, since they're a replica of the shoes made when designer Virgil Abloh and Nike teamed up.
While this look would run you close to $200, for your Sims it won't cost a penny.
Those lucky buggers, enjoying high fashion and designer clothes without having to drop a Simoleon.
I suppose it's a fair trade off since a single roll of toilet paper costs them about the same as ordering a pizza.
8.

Air Dior Jordan
Jordan's are already among the best, but paired with Dior… whew!
This is legit peak fashion.
What we see here is where real life inspired art, and that's exactly what these sneakers are.
They're based on the real Dior & Jordan collab from 2020.
These have been described as the most luxurious Jordans to date, and the price reflects that.
Just one pair costs over a thousand dollars.
But such an expensive look doesn't have to be out of reach, you can just live out your dreams with your Sims.
That's what we're in the game for anyway, right?
If you've ever heard the saying "a little bit goes a long way" then you know that can be true with quality sneakers and that's the case here. You get just one swatch, but it is so perfectly recreated from the real deal, you won't want anything else.
Browse:
Lists
The Sims 4
Video Games