The Sims 4: Best Alcohol, Liquor & Beer CC (All Free)
This post may contain affiliate links. If you buy something we may get a small commission at no extra cost to you. (Learn more).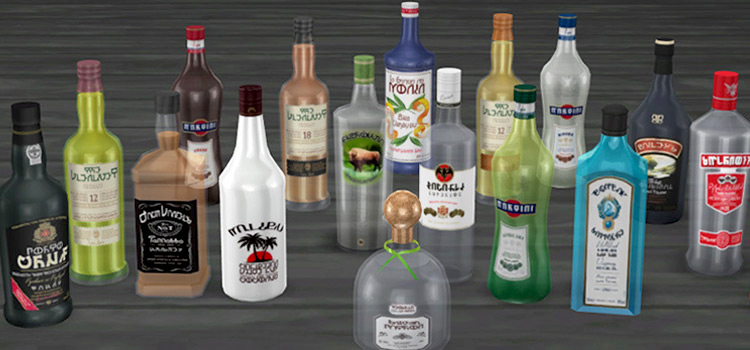 As a relatively family-friendly game, The Sims 4 has avoided the addition of liquor. Even the Get Together expansion pack, which has a heavy emphasis on nightclubs, bars, and partying, doesn't have any actual alcohol.
Instead they have non-alcoholic juices stored in alcohol display cases and poured into glasses.
Real smooth, EA. I'm sure no parents will notice that.
For those of us who are of legal drinking age (or who just want a more realistic life for our adult sims), there aren't any in-game options that allow the existence of alcohol.
Luckily, CC doesn't have those limitations. Alcohol clutter packs, drinking mods, champagne glasses, and plenty more can all be used to fill in the gaps EA has left.
Drink responsibly, Simmers!
1.

"Let Me Buy You a Drink" Liquor Bottle Deco Set
A deco set is by far the easiest way to add alcohol to your Sims 4 game.
Although this set doesn't let your sims actually drink, it does let them fill their liquor cabinets with actual liquor.
With these bottles lining the shelves, there's no way an offer to pour your sim lover a drink would be turned down!
There are 9 types of alcohol brands split amongst 6 meshes, but don't let the low mesh count fool you. Because they all look uniquely delicious!
2.

CAS Canned Beer Set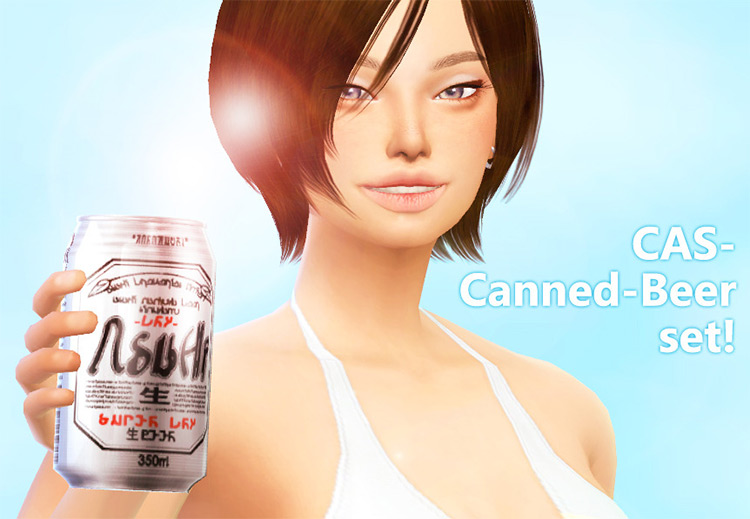 Beer cans are a partying staple, earning themselves a place in parties for their convenience and easy drinking.
Frankly, it's hard to imagine a college party that doesn't have a cooler or two full of canned beer.
This CAS canned beer set is a posepack and an accessory combined.
The poses are all made to complement the can of beer. Your sim can equip it as a ring accessory to use with the poses, but it isn't functional beyond that.
The 14 poses are an imitation of Japanese beer commercials, and it shows. They make beer cans look glamorous!
3.

Beer Made Drinkable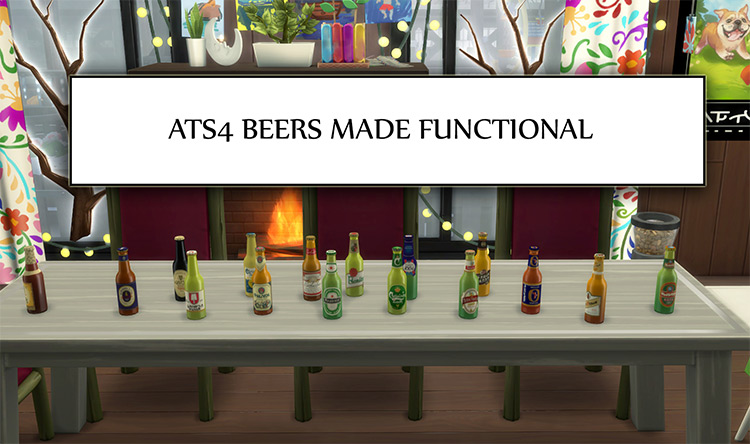 Enough with the poses and alcohol accessories.
What about actually getting drunk?
As nice as it is to have alcohol to give your sims, it just doesn't hit the same if they can't feel a buzz. There's not much point in drinking if your alcohol tolerance is infinite, is there?
This mod adds 16 real-world beers to the game, each one originating from a different country. You might not have the funds to experience beers from around the world, but your sim probably does!
The best part, of course, is that they're actually drinkable.
There are two (mostly positive) buffs that your sims can experience from drinking: Cold Beer and Beer Buzz.
4.

New Year's Alcoholic Drinks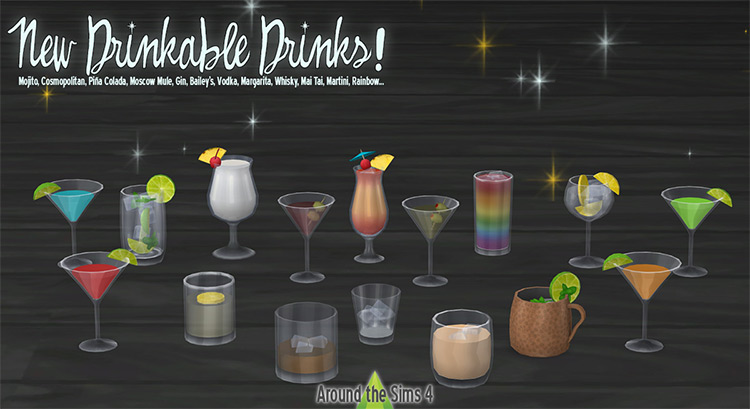 Unless your sim is an alcoholic, wine mom, party crawler, bartender or the like, alcohol isn't all that important.
Don't get me wrong, it's loads of fun. But it just doesn't come up very often in daily life.
The one time it's a necessity, though, is during the holidays – especially New Years!
This set of 12 drinks is exactly what your sims need to unwind at a New Year's bash.
Just one sip, and the drinks will start to do their magic.
In case you weren't already sold, their bright and fun maxis-match designs fit perfectly with the style of The Sims 4. So even though they're alcoholic beverages, they fit right in!
5.

Flavie Bar CC Set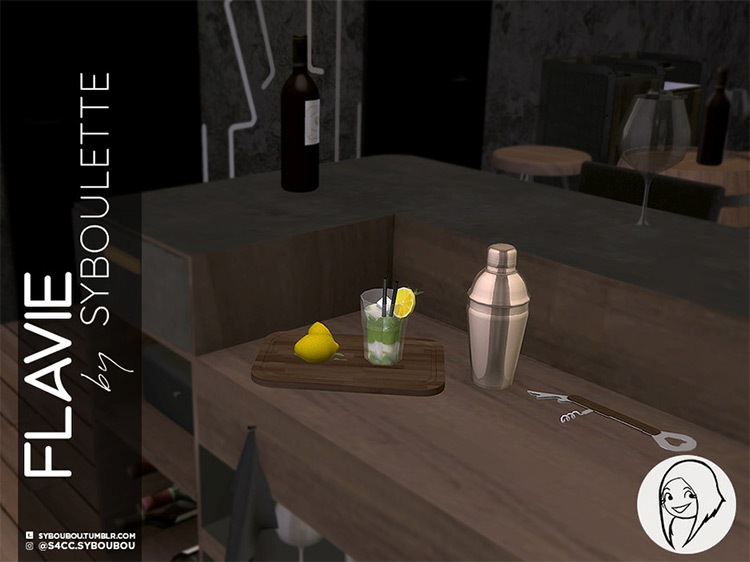 A drink is only as good as the glass it's served in.
Although I don't think anyone in their right mind would say that, the glass actually does have an impact on the way we taste. Look it up!
This set of lounge bar clutter offers 5 types of liquor glasses, all conveniently labeled and recolorable.
Even better, the set includes bottle openers, shakers, and more – that way your bartender sims can show off their moves.
6.

Bottles: Alcohol and Syrup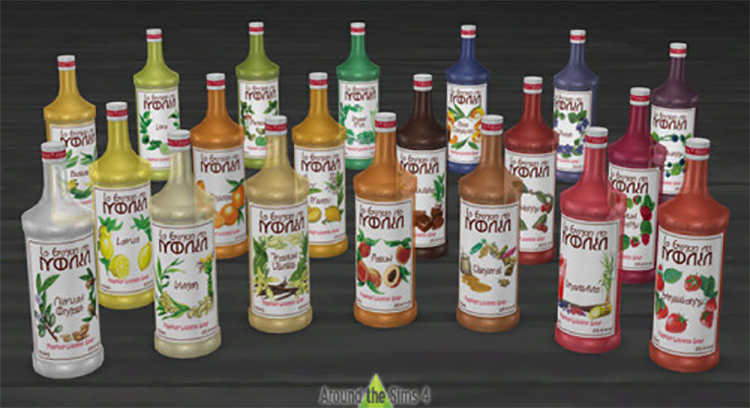 Before you rush off to make your dream bar build, you'll need plenty of ingredients to make the beverages that will be served.
This clutter pack doesn't just come with 17 bottles of alcohol (although that's a huge plus).
It also comes with 20 bottles of drink-making syrups, so you can make those sweet, sweet alcoholic cocktails.
No generic "juices" to see here!
All the labels are in Simlish and the bottles themselves, both for the alcohol and the syrups, are Maxis-match.
7.

On Cloud Wine Bottle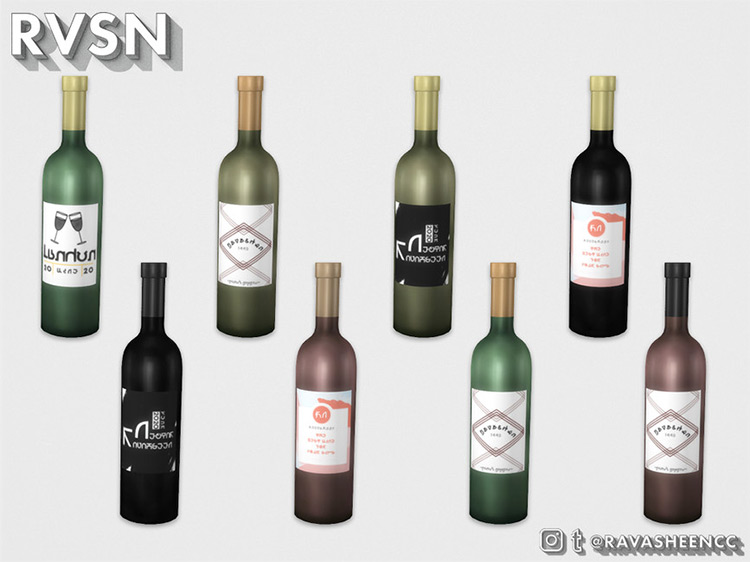 Wine has many devoted fans around the world.
Compared to other alcoholic beverages, it's romantic, unique, and full of depth.
But your sim doesn't have to be a wine connoisseur or understand the wine brewing process to enjoy this fine CC.
After all, wine is for everyone!
So long as they're of legal drinking age, anyway.
One mesh and 8 recolors are all you need for your sim to taste a coherent range of wines.
No matter which you choose, these bottles will be sure to put your sim on "cloud wine"!
8.

Sip it UP Mod & Deco Set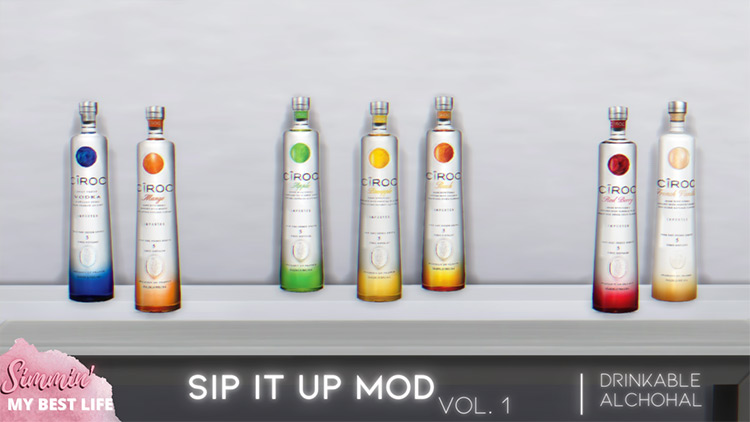 Sims don't always drink alcohol. But when they do, they want variety!
The highlight of this CC is the sheer range of Alpha alcohol it includes.
Out of an impressive 60 meshes, 15 of them are drinkable.
These lucky few don't just give your sim a "drunk" status effect and call it a night – different drinks give different results too.
Does your painter sim need creative inspiration?
Do you have a sim that needs to drown their feelings?
What about drinking some liquid courage to flirt with that cute sim at the bar?
There are status effects for all of those and many more.
Browse:
Lists
The Sims 4
Video Games