Sims 4: Best Anklets & Ankle Bracelets CC To Download
This post may contain affiliate links. If you buy something we may get a small commission at no extra cost to you. (Learn more).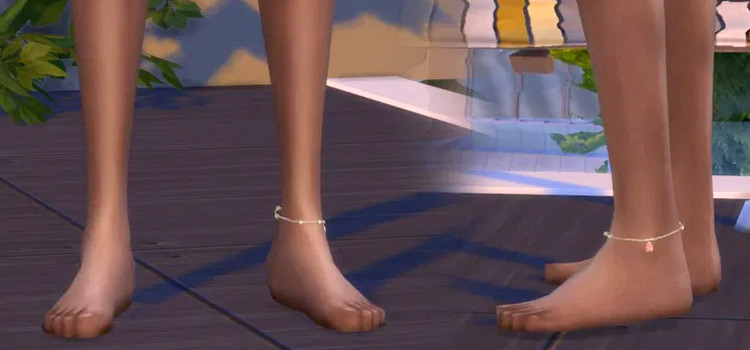 Like with most jewelry, anklets have a back story. In India they were worn with many charms to make noise before a married woman entered a room. In Egypt, the material they were made of designated the social class you belonged to.
Today that's no longer the reality.
Much like different types of earrings and bracelets, anklets have simply evolved into a creative way to accessorize your outfit!
More often than not they're worn barefoot to accessorize summer. Sadly, Sims 4 does not have any type of anklets by default.
Except for the awesome people actually making them! Our dear CC artists have taken it into their own hands to create whatever we don't have in the Sims 4, and that includes some adorable anklets.
And while there aren't many, they sure are eye catching, so let's get on Simming!
9.

Madlen Fiola Feet
Have you ever wanted your Sim to look as enchanting as a fairy princess from head to toe?
Well with at least an anklet to start, you're in luck!
These Madlen Fiola by MJ95 will make your Sim look like a fairy out of the woods.
The vibrant green of the leaves combined with a white flower brings out a true love of nature in any Sim.
Another amazing detail is that, while you can't change the color of the flower in the anklet, it allows you to change the nail texture of your Sim's feet. With five different swatches!
The beauty of Fiola is a great choice for those who want a different style above their toes.
8.

Anklet Collection
Looking for a more casual approach to anklets? Maybe you can't decide which is one is the "one" for your Sim.
Well you won't have to go far because the Anklet Collection by stephanie-sims is a great choice. She offers five different anklets all in one package!
Ranging from red to blue, yellow, and a creamy color, every anklet is a unique swatch that's sure to bring attention to your Sim's feet.
And they look gosh darn adorable on everyone.
You can find more details on the Tumblr link above, or if you want to directly grab the files visit this Simfileshare link here.
7.

Boho Elephant Anklet
Is your Sim all about that Boho style? All about that beach life?
If the answer is yes to both, boy are you gonna love this.
The Boho Elephant Anklet by DarkNighTt is a perfect combination of both, with its turquoise starfishes, sand like color combination, and an elephant charm that brings the Bohemian style to the sea.
The attention to detail in this anklet fits best with a kinda hippie(but not-so-hippie) Sim.
Yet it can be mixed and matched for any style, if you know how to wear 'em!
And if you don't like turquoise, no need to panic. The anklet is available in five different swatches too.
6.

Madlen Adriana Feet
What about the classic sandal look, without the sandal?
Sounds weird, I know. But it's exactly what the Madlen Adriana anklet CC is trying to achieve.
And it looks so cute!
The look is made through connecting the anklet to a toe ring by a chain. You've probably seen something like this in real life too.
It results in a beautiful accessory for your Sim's feet, while still giving the freedom to really go barefoot when it makes sense.
This accessory has turquoise stones, but the gold chain can be switched with five other textures too. Turquoise does seem to be a favorite in anklets!
5.

Ankle Bracelet
When in doubt, less is more.
This basic Ankle Bracelet by KiaraZurk proves just that.
It's composed of a single chain connected by pearls and a single charm. Easy, yet efficient.
This makes it perfect for those occasions when you want your Sim to have a few accessories, but don't want to overdress. Can anyone say music festival?
Available in 10 different colors, this is a brilliant choice if you want your Sim to sport something delicate, almost unnoticeable… but strikingly beautiful once noticed.
4.

Pretty Feet
We've seen one anklet, but what about two?
It may seem a bit too much, but really you can pull it off. This Pretty Feet CC is beaming with love, so you can tell that the creator "renorasims" designed this mod with passion.
It comes with its own package of clothing, being a collaboration between Renorasims x Vikai (you can read more on the CC page).
Available in 10 different swatches, you can match these anklets with any kind of outfit and make your Sim feel amazing any time of the day!
Basically if you want a summery, breezy feel to your Sim all in one package, this CC is a great option.
3.

Star Charm Anklet
Jingle jangle jingle, can you hear that? Stars.
You know when you're at a party, and your feet hurt from wearing heels, but you just don't want to ruin your outfit(or the party) by taking off your shoes?
Well, this anklet can help you keep it dressed up.
While previous anklets have been on the casual side, this Star Charm Anklet by DarkNighTt offers an astonishingly detailed star themed anklet, worthy of wearing with the perfect pair of stilettos.
It shines, it dazzles, it sparkles!
No, it isn't a shooting star, but it's close enough.
Available in four different colors including gold, this anklet is a must-have for the nightlife of any party goer.
2.

Diamond Heart Anklet
Maybe your Sim isn't a party goer. But perhaps wearing skirts and sandals is just their vibe.
For those Sims that don't want to put themselves out there too much, the Diamond Heart Anklet by DarkNighTt does not disappoint.
It is stylish, simple, with a nice attention to detail. Something that's quite characteristic of DarkNighTt's anklets.
This CC offers a different kind of anklet, though, thanks to its beaded style instead of the straight & sleek style commonly associated with anklets.
1.

Snaklet
Snakes + Anklets, what can be sexier than that?
Again, a big thanks to the master Sims 4 anklets: DarkNighTt.
This 'Snaklet' is perfect for any kind of outfit. But like the Star Charm Anklet it looks best as part of a stylish combination of stilettos, a short dress, and some smoky makeup.
Available in 10 different colors, this Snaklet is sexy. It's unique. And sure to prove astonishing for anyone who catches a glimpse.
On the other hand, it's also the perfect anklet for any Sim with a dark, exotic style.
Give this a try and see how you can dress it up. I guarantee your Sim will be getting sneaky looks left and right.
Browse:
Lists
The Sims 4
Video Games