Sims 4 Apron CC For Guys + Girls
This post may contain affiliate links. If you buy something we may get a small commission at no extra cost to you. (Learn more).
Aprons are the first line of defense whenever you're handling messy materials and don't want to ruin your clothes.
They're meant to handle splashes of tomato sauce, grease, paint, and anything else you can throw at them.
Everyone from cooks to hobby artists can benefit from having an apron on hand. And fortunately, there are several styles that are cute, personalized, and fun – even for your Sims!
They can be worn a few different ways in this game. In many creations, they're part of an outfit, but most are accessories that you can use as you please.
That's always the fun of custom content, though. There's something for everyone, and you're bound to find the perfect apron for your Sims right here.
1.

"Honey, I'm Cooking" Male Apron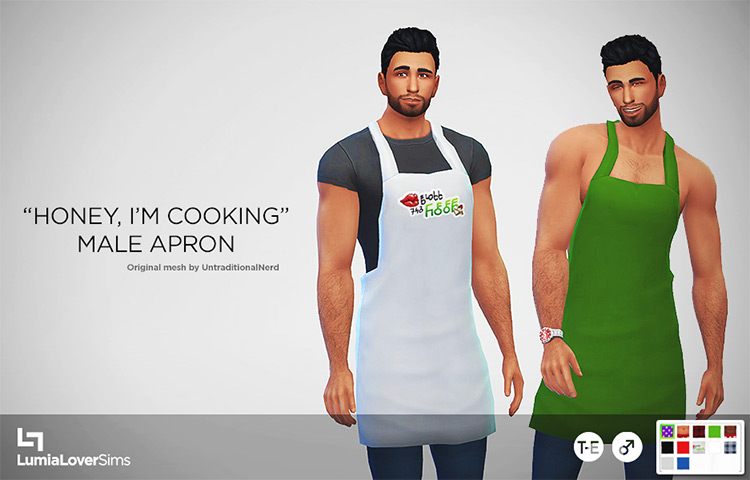 Luumia has become quite a prominent creator in The Sims 4 community. For several years now, he's been making top-notch stuff that never looks a bit out of place in your game.
He was among the nine CC creators to be included in the game's anniversary update earlier this year, and for good reason.
And Luumia was killing it even years ago with awesome releases like this apron CC.
This is impressive in a few ways, honestly. First of all, two of the swatches will make it look like your Sim is just in their boxers and it even gives them abs, which is hilarious enough.
But these aprons are one of several options that are accessories, so you can layer them with any outfit you put on your Sim. They aren't tied to any one thing.
And the fit? Whew.
An apron will give any guy a boost of handsomeness, but these are particularly nice.
Somehow, they'll really accent all the right places on your Sim. You might not have expected that out of an apron but I guess that's an added perk.
2.

XO Apron
While men's appearances are only improved by an apron, it's not exactly the most flattering thing for ladies who want to retain their feminine figure.
In real life, there are seemingly endless flavors of potato chips.
And t-shirts come in a billion different colors and designs.
That is all due to the creativity of humans – and there's no bigger proof of just how far that will go than The Sims 4.
This XO apron from NitroPanic is a truly adorable design.
The back is fastened with a big bow and a tiny heart emblem adorns the front.
Even the swatches are great, including very vivid, bright colors. And as much as all of that already sets it apart, there are two pockets as well.
3.

Grandma Accessory Apron
Grandmas come from a time where aprons were commonplace. They were very necessary since back in the day, women were expected to dress up all of the time.
That meant even wearing a nice dress to cook and bake.
Imagine that, not being able to roll out of bed after a nap and cook dinner in your jammies. What a harrowing thought.
Well, the point is, lots of grandmas got accustomed to that kind of thing.
As such, aprons have become a rather central part of the "nurturing elderly woman" look everyone knows and loves.
This one is really pretty, with many of the swatches incorporating floral designs. It's cinched around the middle with a thin fabric belt, and this is another accessory too, which means you can use it with any clothes you wish.
Elders are neglected enough in TS4. This will really give off the "grandma vibe" that can be so hard to achieve.
But it's also not a crime if you use it on a younger Sim… as far as I know.
4.

Bake It! Aprons For Women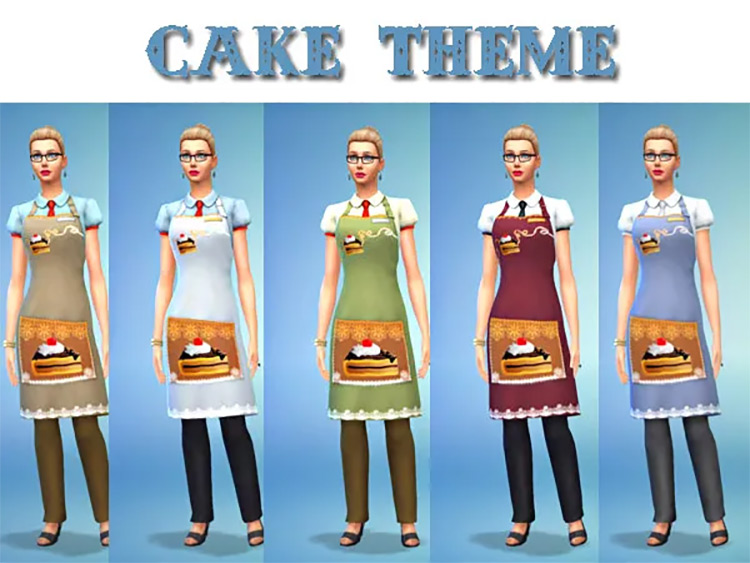 I have always found that baking is when an apron really comes in handy.
Flour has no right to be so messy.
And the results of baking not only taste amazing, but look great.
This is all assuming it goes well, of course. In The Sims 4, it rarely goes well unless the baker has a decent cooking skill – but that's not the point here.
When they inevitably catch the house on fire, you'll want them looking their best.
This apron CC comes as a snazzy outfit that'll make your Sim look like a pro. There are 25 different swatches to choose from with all sorts of color combos, and each one has images of cupcakes, croissants, donuts, cakes, or macarons.
They look good enough to eat, but don't try, they're not real!
5.

Men's Blacksmith Apron
There are those that tie on an apron to cook dinner, and then there are those who tie on an apron to forge metal and make weapons.
One's not better than the other, but one is certainly cooler, I must admit.
Imagine if instead of homemade fruitcake, the welcome wagon brought over freshly forged swords and armor. Maybe then I'd actually let them in the house.
Well, I don't really know what all blacksmiths today get up to.
But whether we're talking medieval times or the present, they've got to have an apron.
This isn't just a matter of staining your clothes with a splash of cake batter, because an apron can mean the difference between the smith getting burnt with sparks.
So you can download either a t-shirt or accessory version to suit your needs. These have an authentic leather texture that's appropriately flame retardant!
6.

The Apron Skirt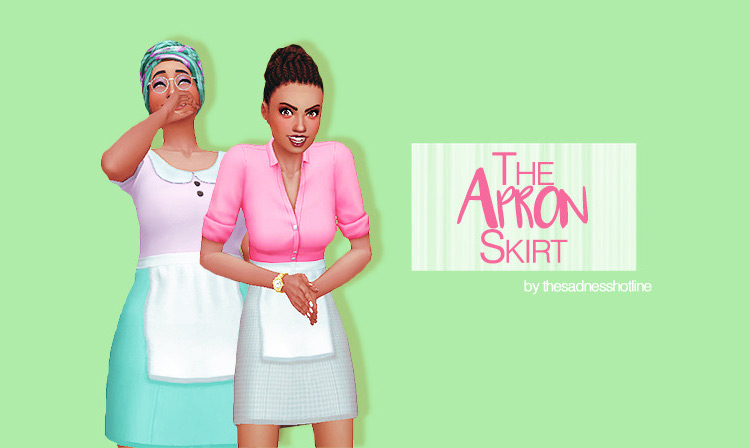 As great as all these inventive & cute creations are, sometimes what you really need is to go old school.
Whether that's because you're playing a family set in a bygone era, or just because you just like that classic look, an apron skirt will really be useful.
These skirts come in a feminine cut that stops a bit above the knee, ideal for keeping your Sim cool as she goes about her business.
Cooking, cleaning, child rearing, all the dirty jobs that don't benefit from nice clothes, contrary to what the 1950s tried to say.
You can pair the skirt with whatever top you want – so it's completely up to you whether you want to go for a professional look, a casual one, or something in-between.
But a Sim will always look put-together thanks to such a chic skirt.
7.

Thanksgiving Aprons
For most people, no day in the kitchen is more intense than Thanksgiving.
It's a battlefield, especially for people who may not cook many elaborate meals the rest of the year.
That Grand Meal that takes a Sim one dish to prepare usually takes upwards of a dozen in the real world, plus seven or eight pots and pans. The kitchen is a wreck at the end of the day – but that delicious meal & getting all your loved ones in one room to enjoy the fruits of your labor makes it all worthwhile.
In some cases, anyway.
Those who don't appreciate your efforts shall eat catered food next year, and that goes for Sims too!
Seasons brings some amazing content, but HarvestFest sure doesn't have much going on in CAS. We've shared some Thanksgiving CC but there's really not a lot there either…
Now American players can show what the holiday really means to us with these familiar phrases and concepts.
This includes the beautiful autumn palette of brown, orange, red, and gold. Plaid and delicious turkey.
They all make the holiday recognizable and special – and now even your Sim's apron can bring that familiar fuzzy feeling into their home.
8.

Male Accessory Frill Apron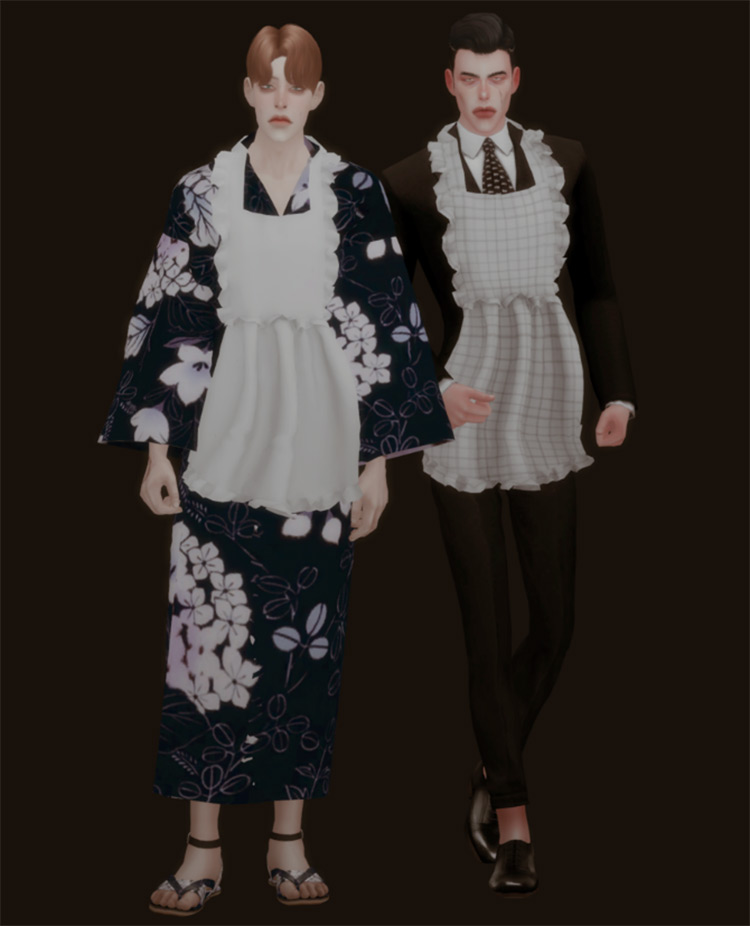 Frills and ruffles aren't just for girls.
Guys are welcome to enjoy any all typically feminine grab, in reality or pixels.
This fun apron will give your Sim a unique look with its big ruffled edges that line the realistic draping fabric.
You can find this CC in the left ring tab of CAS, and then make all sorts of suave outfits, even if that includes nothing but the apron itself…
Ooh la la, that'll be a fine way to say good morning when he's cooking breakfast.
These aprons come in some neutral solid colors, as well as patterns like gingham and plaid.
9.

Linzlu's Grandma Apron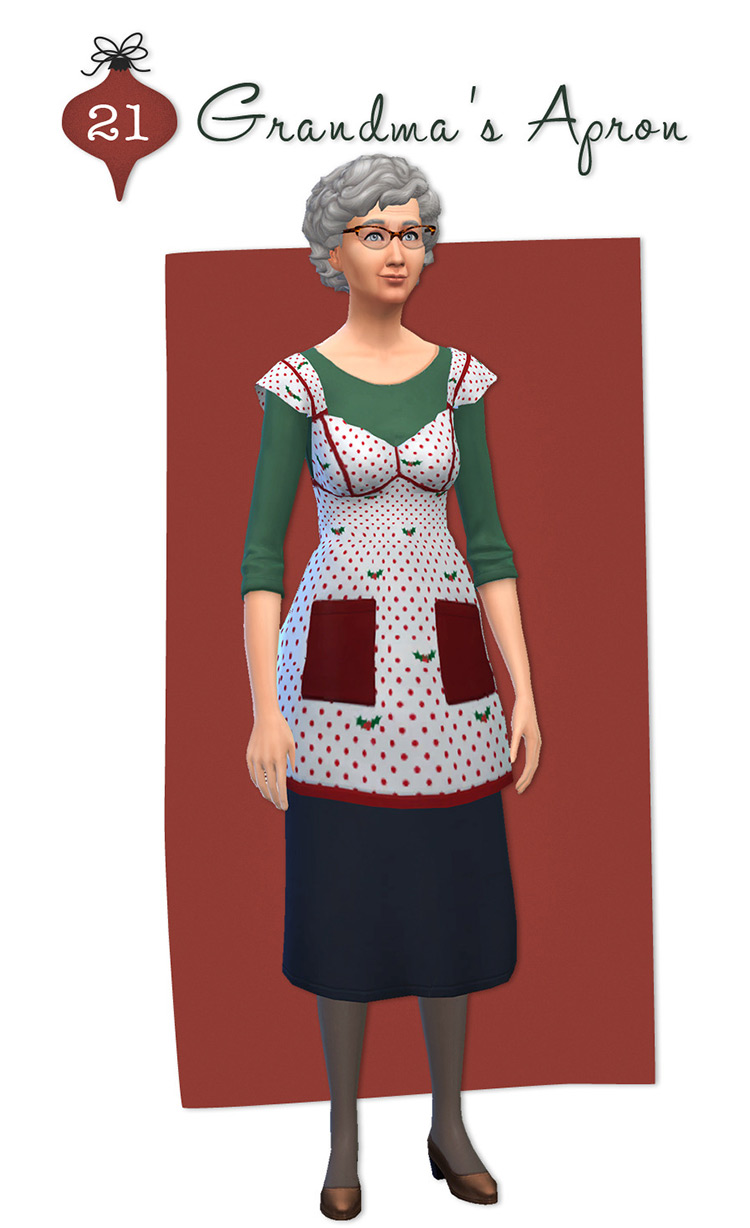 While Thanksgiving is generally known for its main meal over deserts, Christmas seems to be the opposite.
I assume this is the same around the world.
Everyone has got a grandma with an incredible knack for making delicious desserts, and the recipes to back it up. Christmas puddings, stollen, and cookies are just some of the things that make the holiday season so special.
Luckily, WinterFest comes a lot more frequently for your Sims than Christmas does for us.
But most of the décor is the same.
Your Sim's family can create beautiful holiday memories when Grandma's in the kitchen with this lovely apron.
The print features little green sprigs of garland and red berries that definitely carry a festive feeling. And there are a few swatches designed to be more vague, in case recreating Christmas isn't your cup of tea.
10.

Painter's Apron Accessory
No one in their right mind will ever claim painting is a neat pursuit.
You have to at least be able to tolerate messes to enjoy it.
But the end product, much like that holiday meal you slave over, is worth the blood, sweat, tears, and spills.
Okay, so hopefully you don't bleed and cry when you paint… But if you do, an apron will help!
Normal splashes of paint will also be less of a concern.
It takes just one mistake and your pants/shirt could be permanently ruined. An apron with paint splatters becomes like its own work of art, holding the proof of your previous endeavors.
That's just how this CC from Ivka looks.
The white apron acts like a blank canvas, and all of the bright splotches seem fun and fitting.
And the pockets even have paint brushes, which will really complete any artist's look. Your Sims can wear this apron over any clothing, too, and then get right back to work on the easel.
Browse:
Lists
The Sims 4
Video Games