Sims 4 Ariana Grande CC (Hair, Outfits & Accessories)
This post may contain affiliate links. If you buy something we may get a small commission at no extra cost to you. (Learn more).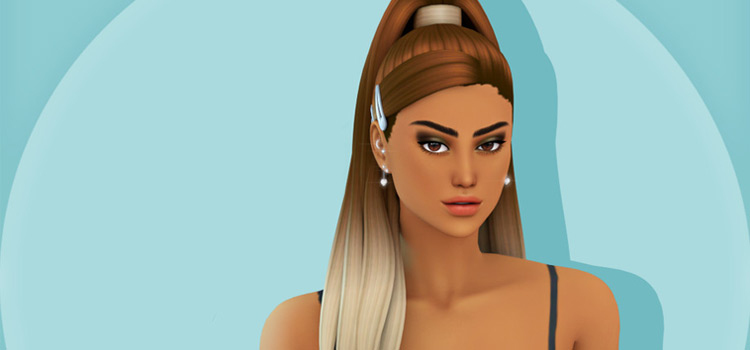 Ever since Ariana Grande debuted her eargasmic four-octave vocal range and whistle register back in the twenty teens, the world of pop music has been filled with high ponytails and iconic hits from the small songstress.
Who could've predicted the ditzy and bubbly Cat Valentine from Nickelodeon's Victorious would be one of pop's mainstay artists?
Since then, Arianators have boosted Grande's career to the stratosphere, making her one of the most streamed artists on Spotify as well as being the most followed woman on Instagram – a 21st-century feat.
And if you want more Ari in your Sims 4 game, we've compiled the best CCs that capture Grande's essence, character, and famous looks.
From the signature hairstyle to music video ensembles, this list has all the CC you'll need to create an Ariana Grande-inspired persona in The Sims 4.
15.

Ariana Grande Skin
When you're as famous as Ariana Grande, people are bound to notice when you start changing your skin tones.
Back when the pop artist's main gig was Cat Valentine in Victorious, fans were introduced to a character with pale skin and fiery red hair.
Fast forward to 2014, that pale skin became completely tanned and got 50 shades darker.
Grande, naturally, received backlash for her love of dark tans, but the reality is that pale Ari is now dead and gone.
Get this Ariana Grande tanned skin palette for your copycat Sim and have that controversial bronze glow painted all over her body.
14.

Kourtney Sweater Dress
Lucky for you, it's not so hard to steal Ari's casual style.
The singer has a deep love for oversized sweatshirts, which is an easy find at any H&M or Forever 21 store near you.
Similarly, a quick visit to The Sims Resource would give your Sim this Kourtney Sweater Dress as a perfect match.
Take your pick from 8 colors and have your Sim chilling out in comfort like a real-life pop star!
And if you want some more sweater dress ideas for your Ari build, have a look at our CC list here.
13.

Over Knee High Heel Boots
Next to oversized sweaters, thigh-high or knee boots are sacrosanct to Grande's casual style.
It's not exactly the most comfortable footwear to put on when taking out the trash.
But it's a sacrifice we have to make in dedication to Ari.
Feel like a sexy siren with these Over Knee High Heel Boots from DarkNighTt and stomp over the whole neighborhood in precariously thin stiletto heels.
12.

Ari Jacket
Remember when Ed Sheeran exposed Ariana Grande's love for big, black balls?
It seems she also has the same level of affection for big, bulky jackets.
Puffer jackets are staples to Ari's casual wardrobe. And even though it's a space-consuming monster of clothing, it does have its perks in keeping anyone fashionably warm in any season.
Put on a hulking mass of satin on your Sim with this Ari Jacket that could keep even the arctic chill at bay.
11.

Ariana Grande Poses
I'm not a diehard Arianator. Or is it an Arianiac?
But it would still be difficult for me to rank Ari's albums from worst to best.
I mean, how do you even begin to compare music masterpieces, amirite?
Although many critics consider the thank u, next album as Grande's magnum opus, her sophomore album, My Everything, still has me banging to hits such as "Break Free," "Problem," and "Love Me Harder."
Give the 2014 album the love it deserves by downloading this CC from Meanwhile Simming, which makes you wonder how the hell someone can sit like this on a small stool.
10.

Control Hair
Thanks to her killer vocals and chart-topping songs, Ariana Grande's claim to fame was swift and decisive.
However, if there's one thing that's more iconic than her high notes, it's her trademark high ponytail.
Skip the 30-minute long YouTube tutorials and get your Sims an instant Ari makeover with Ade_Darma's Control CC!
Style ridiculously long locks in a tight ponytail and be almost like the pop powerhouse minus the amazing vocal chops.
9.

Boyfriend Music Video Look
The collaboration between Social House and Ariana Grande was godsent, and no one can convince me otherwise.
Their 2019 single, "Boyfriend" is criminally underrated, especially when promotions included a music video filled with WTF moments.
From shooting an arrow at a girl's hand to ripping a guy's heart out, the "Boyfriend" music video was a silly portrayal of a relationship without labels.
However, it did provide us with a swipe-worthy ensemble and a steamy encounter.
Copy the look from top to bottom with the Boyfriend Hair from Leah Lillith and the Boyfriend Look # 1 from Candyfornia's Moonlight!
8.

Knew Better
A quick Google search on Ariana Grande-inspired lookbooks will show you that two of her go-to looks are crop tops and bralettes.
Whether it's for a show, concert, or an Instagram selfie, Ari's midriff is a common sight for fans and non-fans.
Her fashion choices haven't changed much throughout the years. But when you have toned abs like Ari, there's little room for improvement.
Spruce up your Sim's ordinary wardrobe with popstar quality and get this Knew Better CC that also comes with Ari's famous fringed hairstyle during the Side To Side era.
7.

Rain On Me Look
There are a lot of perks that come with becoming a global megastar.
Like collaborating with Lady Gaga and reviving dance-pop with just one single.
"Rain On Me" deserved the love it got, including its music video which heavily featured a bouncy choreography under the rain and a PVC clothed Ari.
Break free from your fashion comfort zone and dress your Sims up with a chromatic ensemble that includes butterfly wings, a PVC dress, and thigh-high leggings.
It wouldn't be my first choice when a storm's about to hit. But at least your Sims would look pretty damn cool when it does.
6.

Positions Outfits
The devil works hard, but Ariana Grande works harder.
Her newest album, Positions, was released just one year after the critically acclaimed thank u, next.
But if you think her latest effort would be fueled by post-breakup feels, then you'd be shocked to hear some of the raunchiest lyrics from a former star of a kid's network.
The unabashedly risqué record isn't her best. But it does give us a sexy green two-piece that more or less looks like a formal bikini.
5.

Atsuko Kudo Collection Part 1
If I could reach notes higher than the Burj Khalifa, I could probably win any singing competition by performing Ari's "Dangerous Woman."
Hearing that song for the first time was mind-blowing. And what followed was a series of attempts that could get any tenant evicted for public disturbance.
Not only was this lead single an instant classic, but the whole Dangerous Woman album has the makings to become Ari's legacy for years to come.
And at the forefront of that legacy is the familiar bunny mask and latex clothing that only a true performer can pull off.
4.

Sweetener Fan Pack
God is a woman, and she has a voice that every little girl would dream of having.
Sweetener is by far my favorite Ariana Grande album that solidified her status as heir apparent to the title of Queen of Pop.
Many would argue, of course, but I don't really care – this album is her masterpiece and had the most compelling self-portrait/album cover.
If you agree, then this CC pack from Candyfornia's Moonlight would be all the more sweeter to have.
3.

Angel Hair
When you have over 200 million followers on Instagram, having an impeccable style is a must.
This means having an army of stylists and makeup artists on speed dial, all scrambling to produce perfection for the cameras.
For Ari, it must be twice as difficult with that signature hairstyle of hers.
For Sims, though, they would only need one click of a download button in contrast to the thousands of hair extensions used by the real-life pop star.
Have gorgeous Ari-inspired locks on-the-go with this Angel Hairstyle CC from Leah Lillith that comes with 50 ombré colors!
2.

Ari Hairstyle
It's quite hard to imagine Ari with anything other than 3 feet of hair and a ponytail.
But lately, she's been displaying a more mature style in increasing volumes.
Whether she's inspired by Hairspray or not, no one can deny that Ari's hair is getting bigger and more glamorous with every music video release.
Get the ultimate Ari Hairstyle here, courtesy of EnriquesS4!
1.

Ariana Grande CAS
Getting frustrated in nailing down the likeness of Ariana Grande? Well my fellow Sims fans, I hear you!
Ditch the attempt, throw it in the trash, and burn it, all in favor of this CC pack from golyhawhaw.
Get everything you'll need to give birth to an Ari look-a-like in The Sims 4, without having to waste precious time with different CC packs.
From the hair and long lashes, to the pouty lips, this massive CC pack is Ariana Grande herself, in Sim form.
Browse:
Lists
The Sims 4
Video Games