Sims 4 Asian Food CC & Clutter (All Free)
This post may contain affiliate links. If you buy something we may get a small commission at no extra cost to you. (Learn more).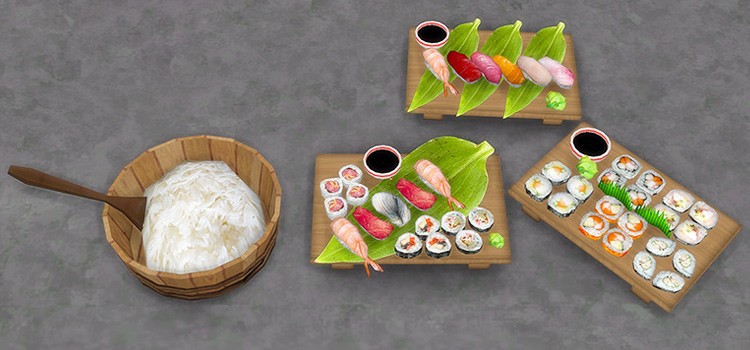 For some reason, Sims 4 CC creators love creating sushi meshes.
Yeah; I don't get it either.
Asian cuisine is so much more than Japanese, Chinese, and Korean dishes. Pho, for instance, is a popular dish (that also happens to be a takeout favorite!) from Thailand. Chicken tikka masala and samosas are widely-loved Indian dishes, which fully classifies them as Asian food.
The lesser known roti canai from Malaysia and chicken adobo from the Philippines are beautiful traditional dishes that both look and taste good.
So I am adamant about not starting this article with sushi. There'll be several decorative sushi dishes in this article, but I'm squishing them in the middle.
Let's start with Japanese fried food and desserts.
1.

Shibuya Honey Toast (& Other Japanese food) by Around the Sims 4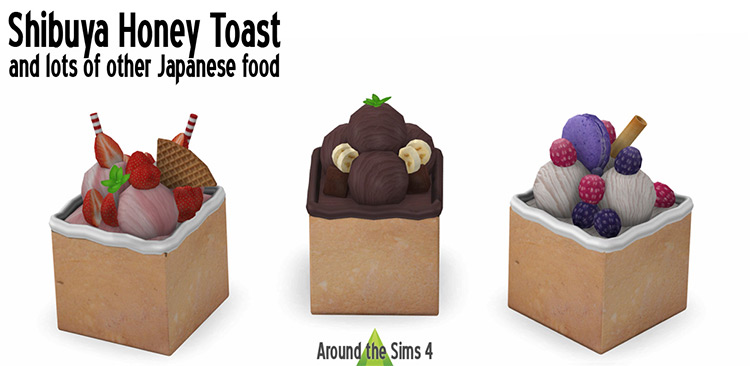 Individual pieces of karaage and korokke will leave your Sims' savory cravings satisfied. To soothe the sweet tooth, they can try Shibuy honey toast or a simple Japanese konbini cake roll.
2.

Josie Spicy Korean Chicken Dish by josiesimblr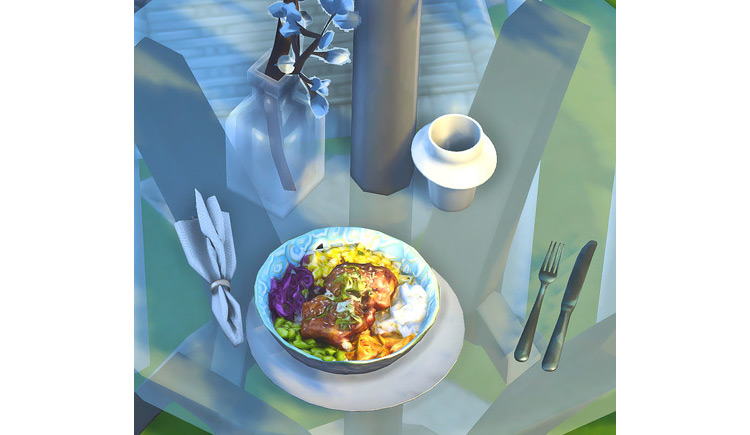 If your Sims can handle a little heat, treat them to a spicy Korean chicken bowl by josiesimblr.
It's a cute, colorful package that looks so appetizing in-game! Not sure if it's bibimbap or dak galbi with a lot of extra garnish, but I do know that it photographs oh-so well.
3.

TS4 Kawaii Stuff by hydrangeachainsaw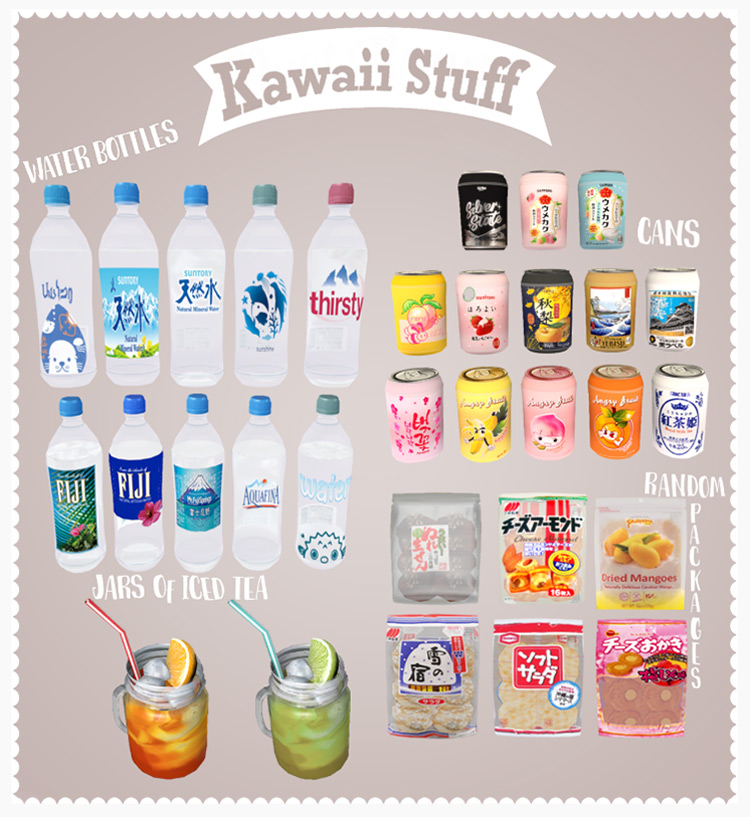 Still not sushi, but your Sims can munch on some cute Japanese snacks and drinks while waiting.
These food clutter items are less about the taste and more about the aesthetic, which explains why the creator titled the pack this way.
4.

Japanese Breakfast Décor Set by anlamveg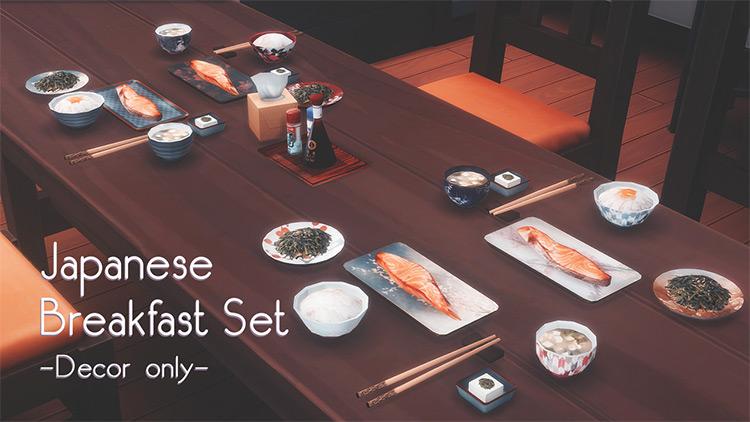 Tuck in to a traditional – and nutritious! – Japanese breakfast with anlamveg's Japanese Breakfast Décor Set.
It's got grilled salmon, warm miso soup, tofu, some spinach, and warm tamagohan, which I believe is a type of egg dish (like omelet).
Each dish is served on separate plates, and each plate comes in several beautiful design options.
But what if you want even more breakfast options?
We've got you covered there too.
5.

Simple Elegance Décor Sushi by Lulu265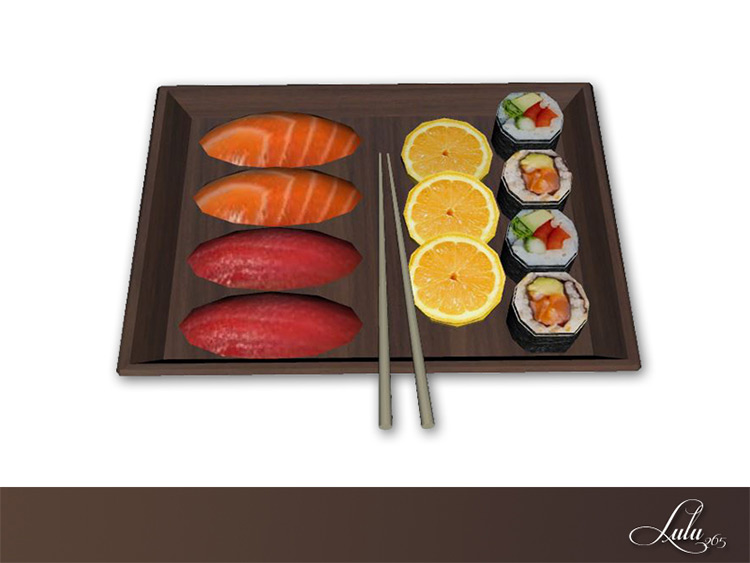 Guys, gals, and non-binary pals, here you go.
The sushi you've all been waiting for. As I mentioned, there are a ton of decorative sushi platters out there to clutter up your Asian-inspired eating area.
I like this one by Lulu265 because of how simple and straightforward it is.
6.

Edible Sushi by One Billion Pixels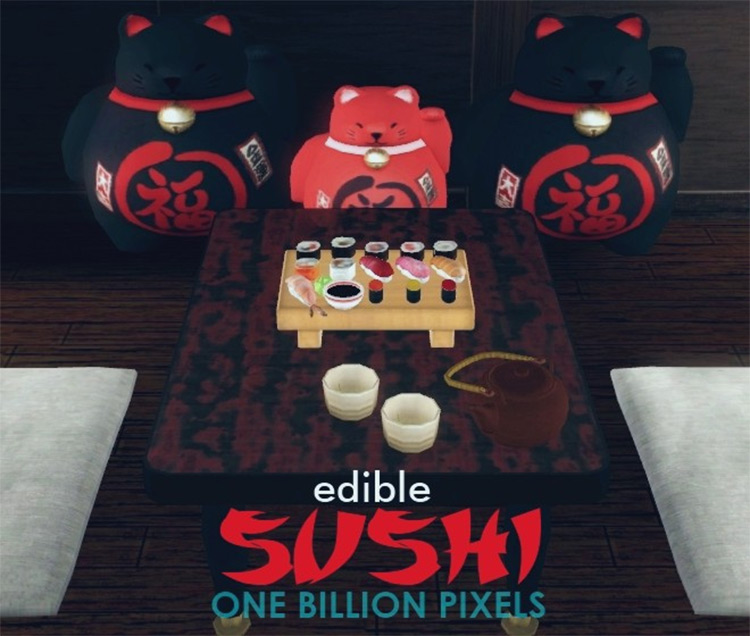 Here's another decorative sushi set that I really like.
Aside from it being edible (which is such a cool bonus), I love the obvious variation in the different designs.
A more experienced Asian food connoisseur would probably be able to tell the flavors just by looking at the colors. I just think all the sushi and sashimi pieces are looking a bit too tasty to be décor.
7.

Takoyaki + Okonomiyaki Set by mochachiii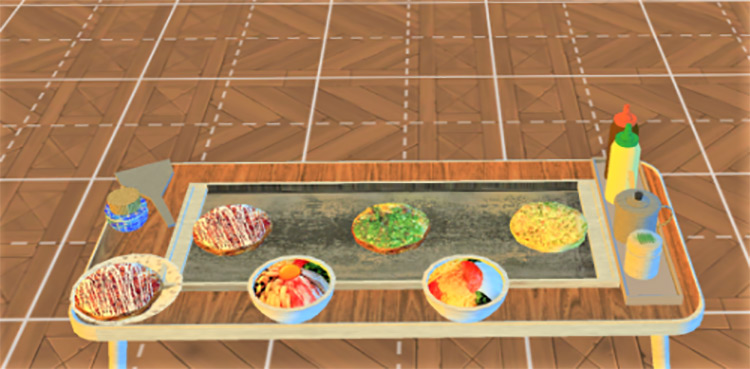 I personally prefer takoyaki over okonomiyaki, but don't fret if you're on the opposing team. Mochachiii's custom set contains both options!
There's a twelve-piece okonomiyaki set here – complete with sauce, bowl, and flavoring – and a two-piece takoyaki set. That one contains the actual octopus-filled dumplings on a plate and the machine you use to cook them.
8.

Chinese Food CC Set by Kouukie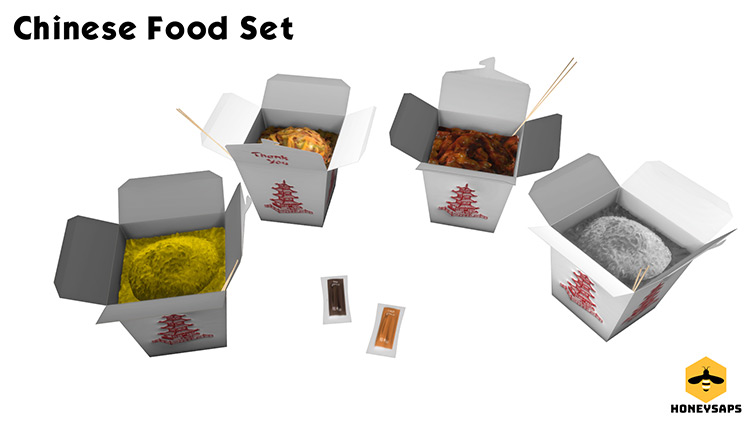 These yummy rice dishes may not be the most aesthetic of the bunch, but they definitely look just as tasty (if not more so).
Besides, even if white paper takeout boxes (complete with chopsticks!) is a Western stereotype of Asian cuisine, it's still visually iconic.
9.

Empty Chinese Food Clutter by josiesimblr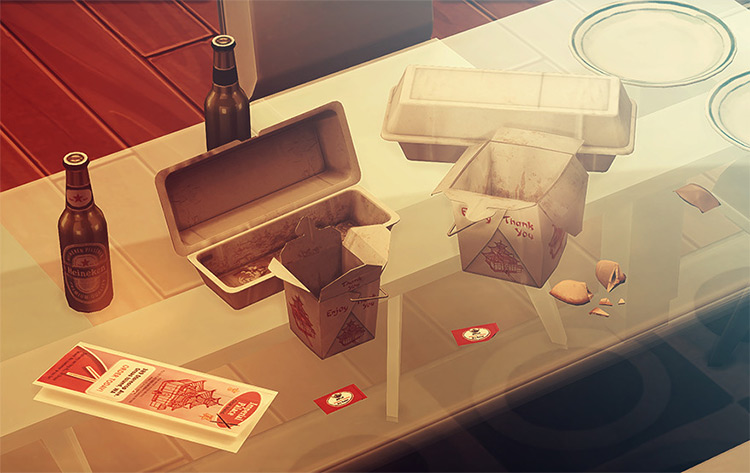 Once your Sim is done eating Kouukie's Chinese takeout, joseisimblr's food clutter set is all that remains.
Empty paper cartons, stained Styrofoam boxes, an opened fortune cookie, and some soy sauce packets.
Fun fact: these are actually TS4 conversions of background items from the game What Remains of Edith Finch, which is why they look sort of grungy.
10.

Japanese Souffle Pancakes by Mel Bennett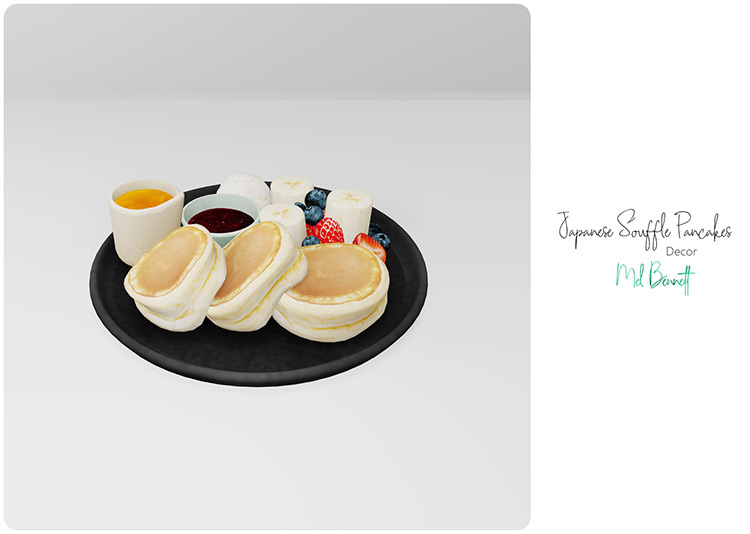 If you've never tried Japanese soufflé pancakes, I strongly suggest you hunt down the most authentic version near you.
Biting into one of these soft airy treats is like biting into subtly sweet cloud.
These may be decorative, but they can give your Sims the illusion of a one-of-a-kind experience!
11.

Dumplings for Chinese Spring Festival by sai-sims-4-cc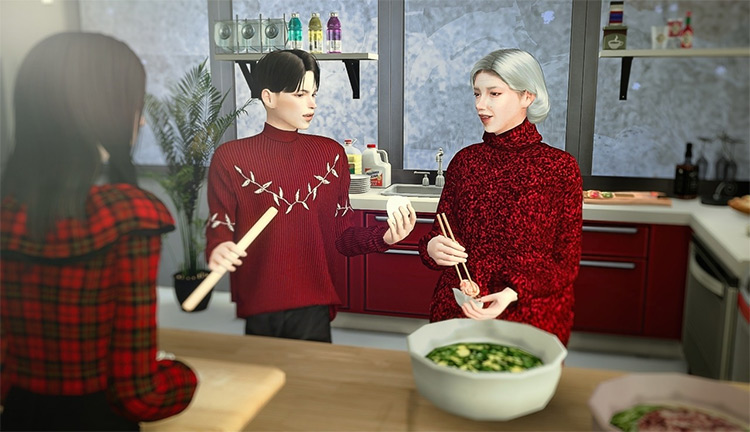 This Tumblr may be a little confusing at first, but it's easy once you know where the CC is.
Just click the heart at the bottom to download a bunch of decorative dumpling dishes!
There are also a couple veggie n' rice bowls, two smaller dishes of dipping sauce, and bottles of Eastern sauce. The compressed file contains a .png of the decorative items included, so you can always check to see what you're missing.
12.

Dying for Some Dimsum by xldkx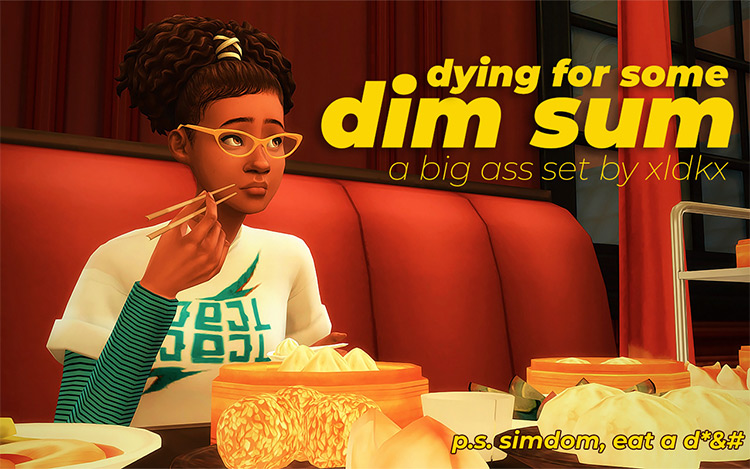 This is marketed as a pose set rather than a décor set, but I think the 25 new CC items included in the package more than qualifies it for this list.
There are plates of meat dumplings, steamed buns, spring rolls, xiaolongbao (soup dumplings), sesame balls, shark's fin soup, and more.
It's pretty extensive and pretty darn impressive.
13.

Japanese Dish by HOODSIMZ4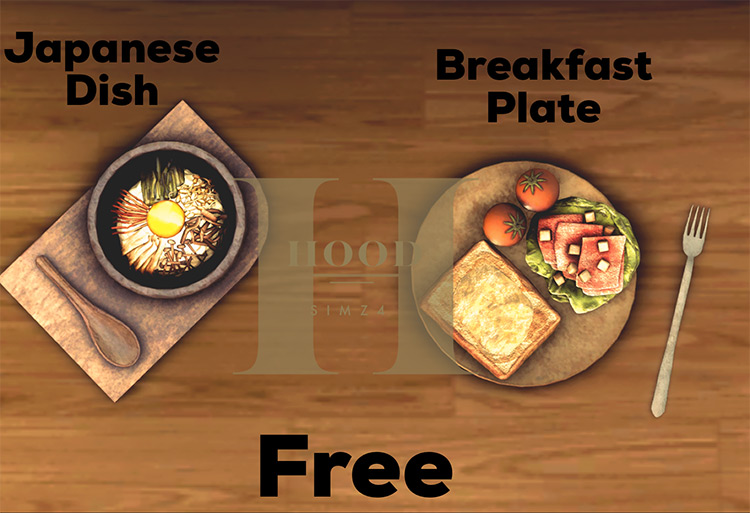 It's a fairly tame East versus West situation wherein you can choose between HOODSIMZ4's typical breakfast plate of sliced ham, grilled cheese, and full tomatoes or a typical Japanese rice dish.
Again, I'm no Asian cuisine connoisseur, but it looks like it could donburi, gyudon, or katsudon.
14.

Korean Street Food Collaboration by Algu x SSIAT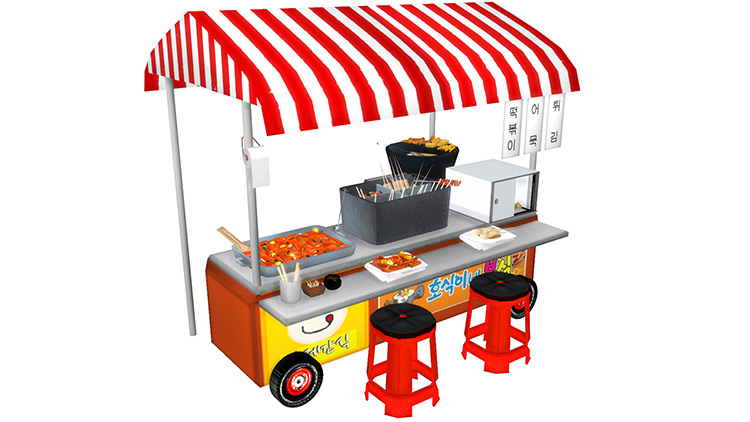 Want your Sims to try yummy Korean treats like bung-eo bread, hotteok, or sweet n' spicy tteokbokki?
This collab between Algu and SSIAT definitely delivers. They have meshes for just the food alone and the food in their respective cooking apparatus.
Now that's dedication!
15.

Sushi Set (Sims 4 CC) by soloriya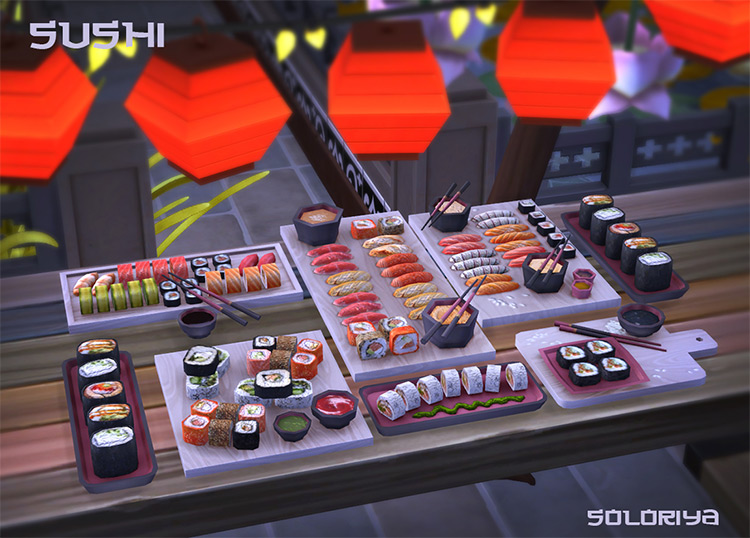 Not up for some Korean?
Head on over to soloriya's Sushi Set for some vibrant, candy-colored rice wraps and raw fish.
The custom sushi and sashimi pieces here are actually quite detailed, making it easy to use in any build.
And the selection? Quite extensive.
Heck, even the serving dishes have variations.
16.

Bibimbap Bowls by Hydrangea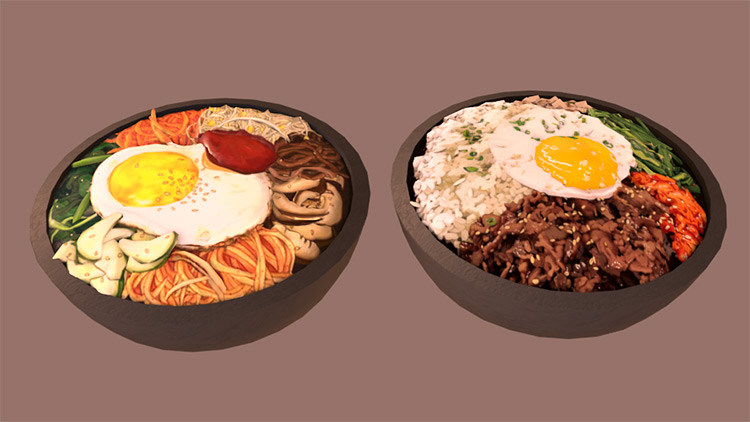 The level of detail in this mesh is amazing. Seriously can't sing enough of its praises. I can literally see the sprinkles of ginger, sliced radish, and chives.
Sure, the preview photo's been edited for aesthetics.
But I promise you can see the seasoning in-game—even with Laptop Mode turned on!
17.

Around Asia Fried Rice #3 by jomsims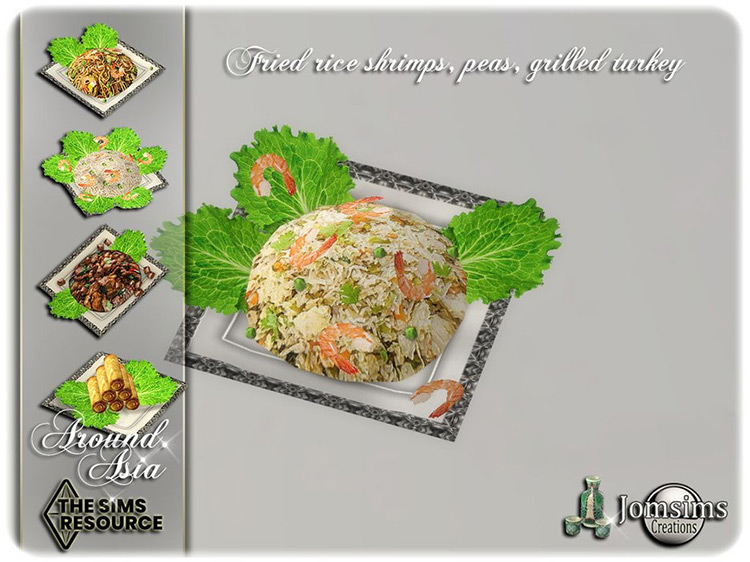 This is one of the décor items included in jomsims' Around Asia CC set.
It's a dining room decorated with huge wall paintings and plenty of delicious-looking Asian rice dishes.
This is the third version, with shrimps, peas, and grilled turkey, but you can check the set for other Eastern cuisine clutter options. For instance, jomsims also included decorative caramel pork and nems (which reminds me of spring rolls).
18.

Zongi/Sticky Rice Dumpling Deco Set by The Bleeding Woodland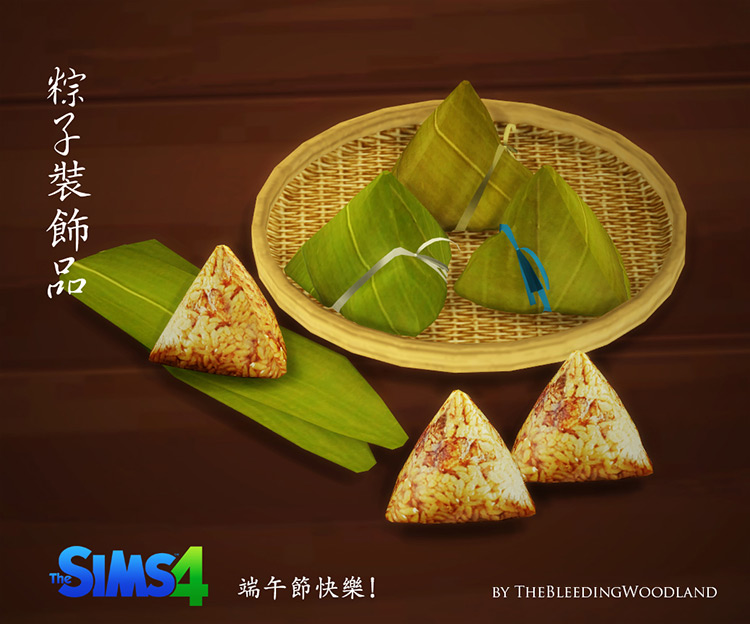 As a big fan of onigiri myself, Chinese sticky rice dumplings sound divine.
Though I can't tell what sort of meat or filling is inside them, these banana-leaf-wrapped wedges look like a tasty, portable meal rich with Eastern flavor!
19.

Bibimbap with a Side of Soju by mochachiii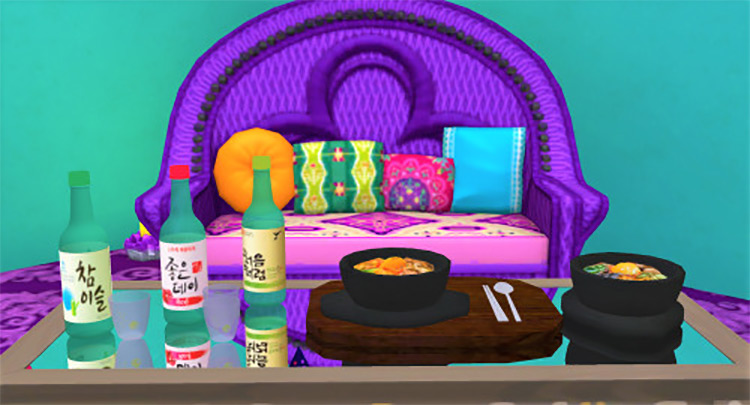 I know Koreans prefer pairing soju with spicy fried chicken, but a savory bowl of bibimbap sounds like the perfect substitute.
It's full of meat, rice, veggies, and is topped with a lightly-fried egg—plus plenty of zesty Asian seasoning. Talk about nutritious and delicious!
20.

Indonesian Food Deco CC Pack by The Bleeding Woodland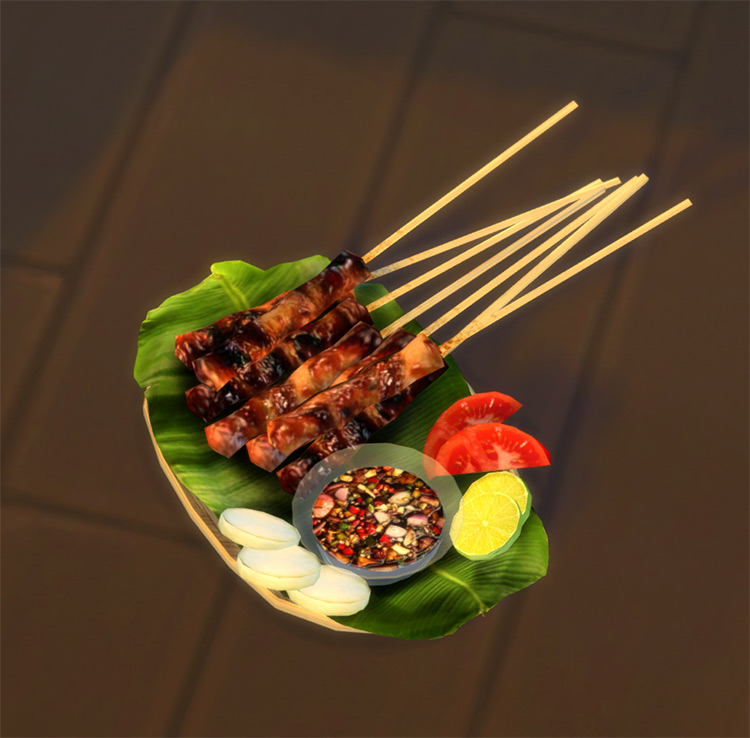 So apparently, CNN rated Nasi Goreng, Rendang, and Sate as part of the world's 50 best foods in 2017.
With this custom clutter pack of Indonesian dishes, your Sim can be the judge.
Each dish only comes with one variation, but they're already so vibrant and colorful, you don't really need to play around with the visuals.
Browse:
Lists
The Sims 4
Video Games