Sims 4 Assassin's Creed CC & Mods (All Free)
This post may contain affiliate links. If you buy something we may get a small commission at no extra cost to you. (Learn more).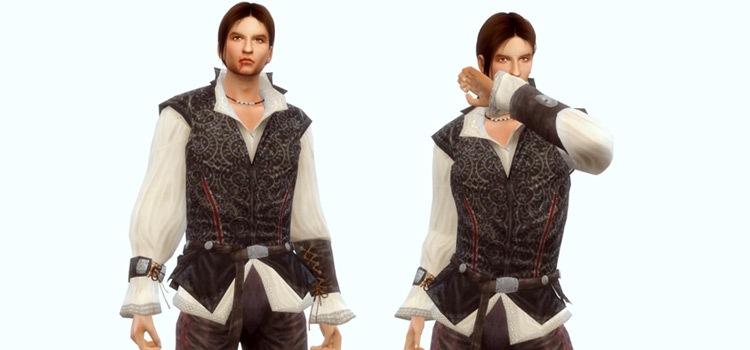 Many PC and console games come and go, forgotten and never saved. But there are a few that stand the test of time.
With twelve main games in a little over a decade (as of this writing), Assassin's Creed has become a household name in the gaming world.
Sure, it hasn't always churned out the best gameplay. Often, it flops (I'm looking at you, Assassin's Creed Unity).
But no one can deny that the franchise packs a punch when it comes to visuals.
From touring Renaissance Italy, to scouring the lands of Ancient Egypt, to raiding England, Assassin's Creed has introduced lush worlds to players – much like The Sims 4.
So let's usher the aesthetic of the Assassin Brotherhood into The Sims 4 with all of these awesome mods & CC sets.
1.

Assassin Hood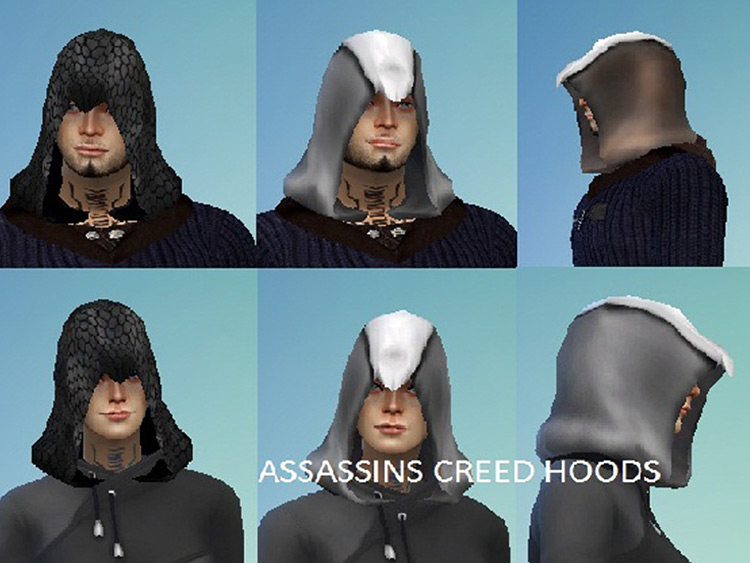 Modern-day assassins can never compare to the looks served by the Assassin Brotherhood back in the day.
With stealth being their primary weapon of choice, the Assassins naturally hide behind heavy hoods and blend in with monks.
It's not the best disguise – but plot armor is so thick in games like these that enemies are programmed to overlook you until the last possible second.
Initiate your Sims into the Brotherhood by bestowing them with this iconic Assassin Hood CC. Easy to install and (should) work for all ages.
2.

Assassin's Creed – Altaïr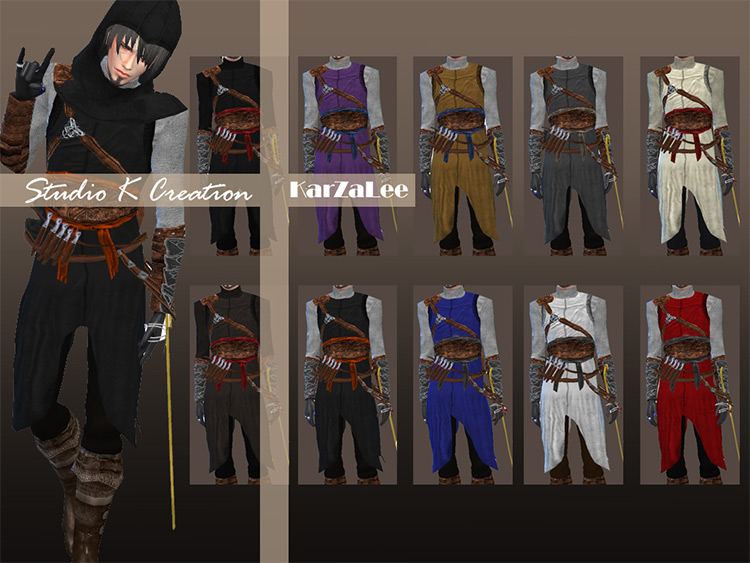 We owe a lot to Altaïr Ibn-La'Ahad for launching the Assassin's Creed franchise to global popularity.
He was the first Assassin we got to meet, and he wasted no time slashing and hacking at enemies – even in broad daylight.
Most notably, through playing Altaïr, we first saw the hidden blade in action. And it has hooked fans in stabbing people in the back ever since.
Now your Sims can look like a master assassin by fitting into Altaïr's classic ensemble.
3.

Ezio Auditore de Firenze Scars and Outfit #1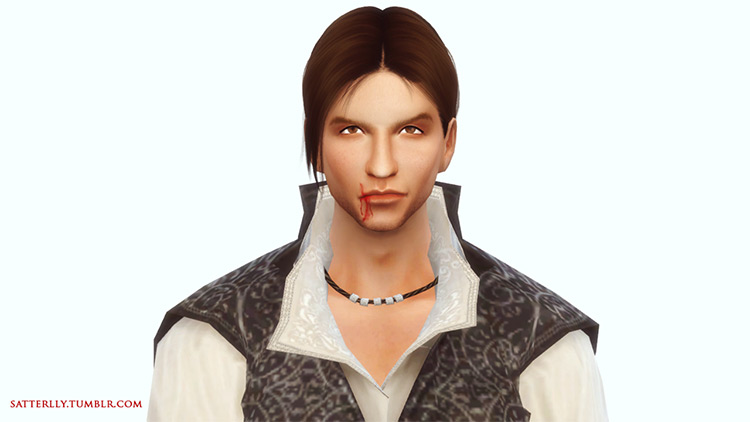 A lot of players grew up adoring Ezio Auditore da Firenze, the Florentine nobleman who arguably had the best character intro in the whole franchise.
Before donning his father's Assassin robes, Ezio looked like a stereotypical Casanova who had a knack for breaking the rules.
Ezio abided by that habit throughout his trilogy, making him stand out from other lead characters.
Maybe it's his Italian heritage, his simulated good looks, or just good character development.
Whatever it is, you can't change my mind about Ezio being one of the best Assassins.
So go get nostalgic by copying Ezio's look from Assassin's Creed II, courtesy of this CC!
4.

Assassin's Creed Back Tattoos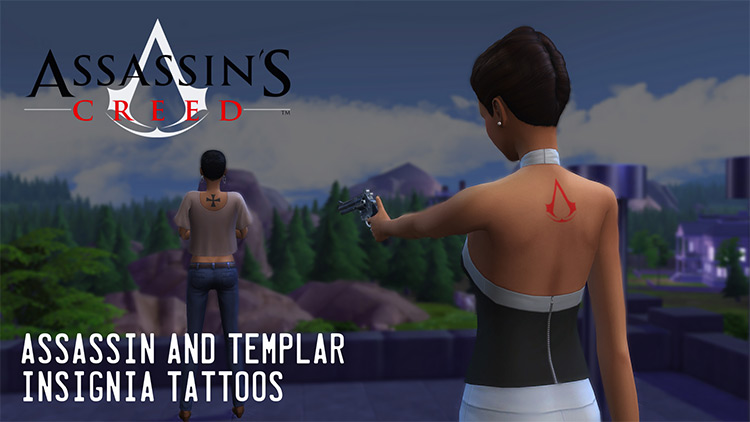 I won't lie:
I was close to having an AC logo tattoo on my forearm, and the thought still lingers in my mind.
Getting the Assassin's Creed logo permanently inked on one's skin might sound geeky. But it sure looks better than any one of these botched art.
Your Sim might never be part of the Assassin Order – but no rules say you can't fake it, right?
And these tattoos should hit the mark.
5.

Softerhaze's Eivor Hair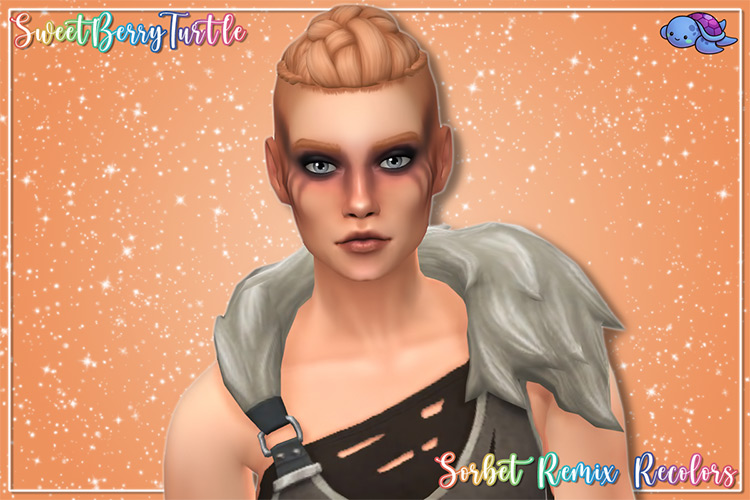 The majority of fans didn't like Assassin's Creed Valhalla.
Why?
Because it didn't really offer anything new – except for a hot protagonist.
Kassandra was stunning, and Alexios was obviously modeled after a Greek god.
But female Eivor just hits differently with that "I-vape-seven-days-a-week" voice.
Plus, dual-wielding axes and being able to wield Mjolnir? I'm simping, 100%.
Get your Sims to look the part of a feared Viking with Eivor's custom hair CC.
Browse:
Lists
The Sims 4
Video Games