Best Sims 4 Athletic Shorts CC (Male + Female)
This post may contain affiliate links. If you buy something we may get a small commission at no extra cost to you. (Learn more).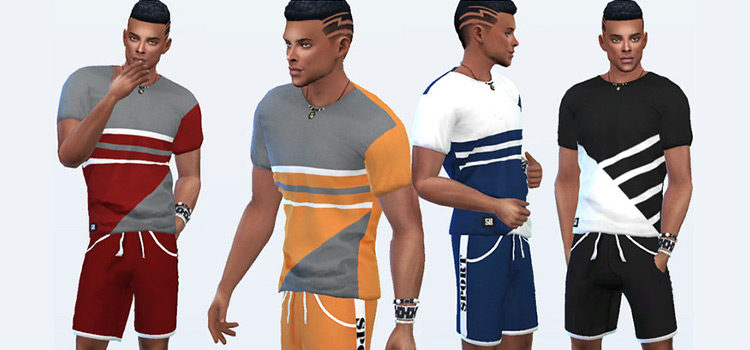 Athletic outfits and sportswear is a frequently overlooked area of custom content.
Despite the abundance of gyms and parks for workouts and jogging, EA provides surprisingly few options for our more lean and muscly Sims.
Gym buffs and track stars alike are always in constant need of new exciting clothing to show off – and what better way to show off your Sims' assets than in fetching athletic shorts!
We've found our favorite CCs for both male and female Sims, with lots to choose from.
You'll be turning the neighborhood's heads in no time with this selection.
1.

Tracking Athletic Shorts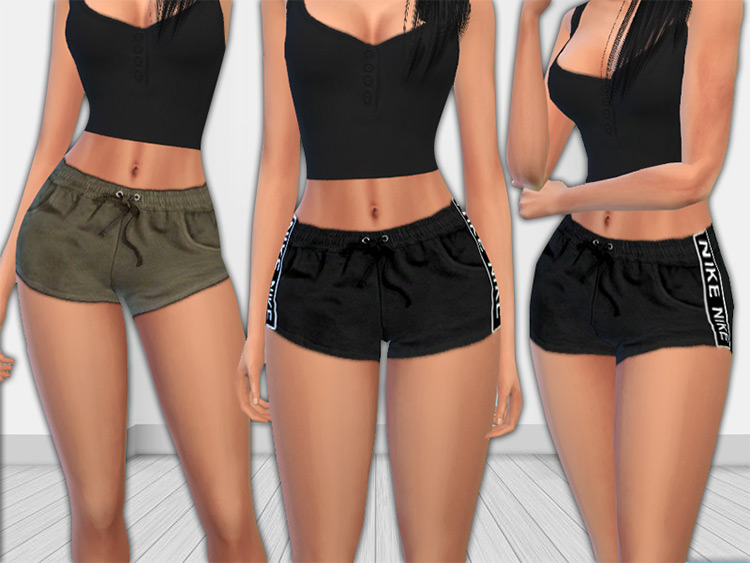 These sleek tracking shorts for female Sims offer a beautiful & functional design from creator Saliwa.
Ideal for jogging, ventures out on the bicycle, and gym workouts alike.
The look isn't just reserved for athletic wear either. These shorts can also makes a fantastic option for warm weather outerwear too, so you can mix and match your lady Sims' outfits depending on the season and climate.
2.

Athletic Shorts For Dudes
These casual-looking board shorts from LumiaLoverSims are a great addition to every male Sims' wardrobe.
And there's plenty of different color options here, from solid all-over colors to snazzier designs with a double racing stripe down the side.
Your guy Sims will look gym-ready in no time.
3.

Adidas Athletic Shorts 9010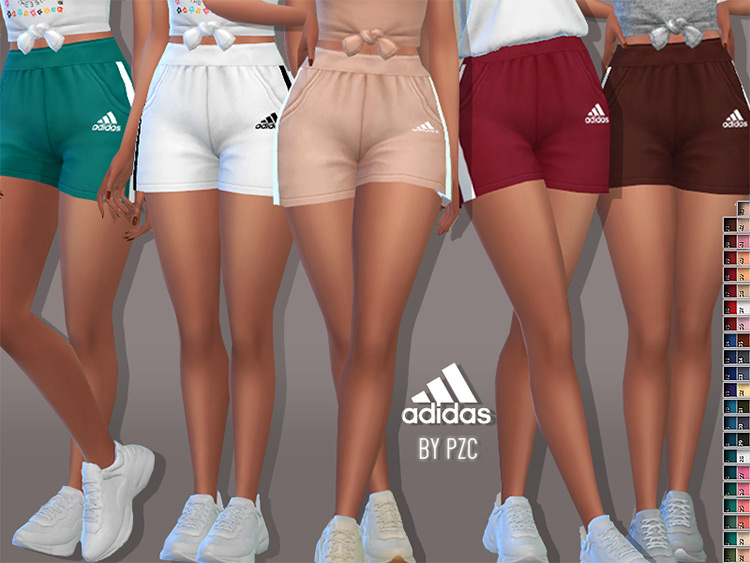 For Simmers who enjoy real-life branded looks, you'll be delighted with these Adidas shorts.
They're tailor-made for ladies with a custom design from Pinkzombiecupcakes.
Available in a staggering 43 different color swatches, they're suited to female Sims of all ages from teens to elders.
And along with being athletic gear, you could choose to use these in hot or cold climates, or in your Everyday, Party, and Career outfit designs.
Not to mention we've got a bunch of other Adidas-style CC worth checking out as well.
4.

Sport Shorts (Male)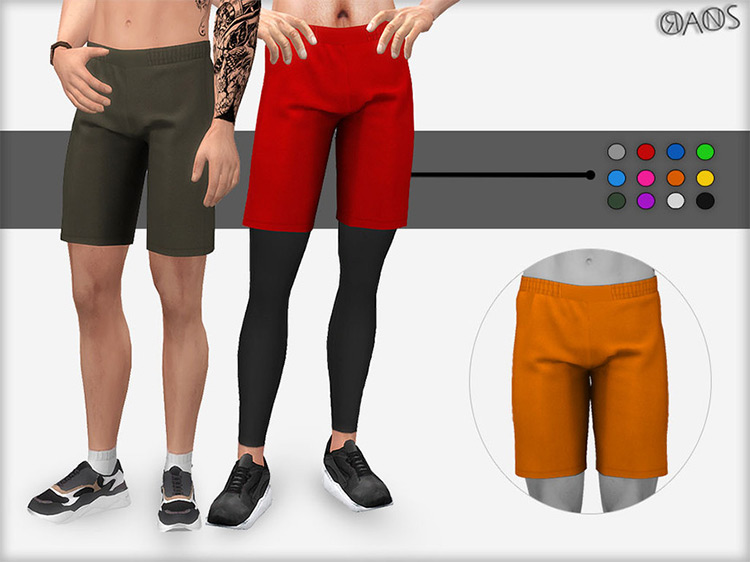 This new sport short mesh from OranosTR is available in 12 solid color swatches, and is a great basic option for any fuss-free athletic Sims.
This CC is also totally compatible with any HQ mods you may have installed.
So these shorts can also be layered with any leggings or athletic under armor for use in all weathers.
5.

Puma Bottoms
This hyperrealistic design from Puresim is a great choice for your female Sim's yoga outfit.
With a cute khaki-and-pink flowery pattern along the side of the leg, these short leggings are just too cute – and they're available to use from teens to elders.
They can even be paired with a baggy tee in Everyday & Sleepwear categories too. Just in case you want to branch out beyond your workouts.
Let's be honest: these are too cute not to reuse!
6.

Shorts Sport Set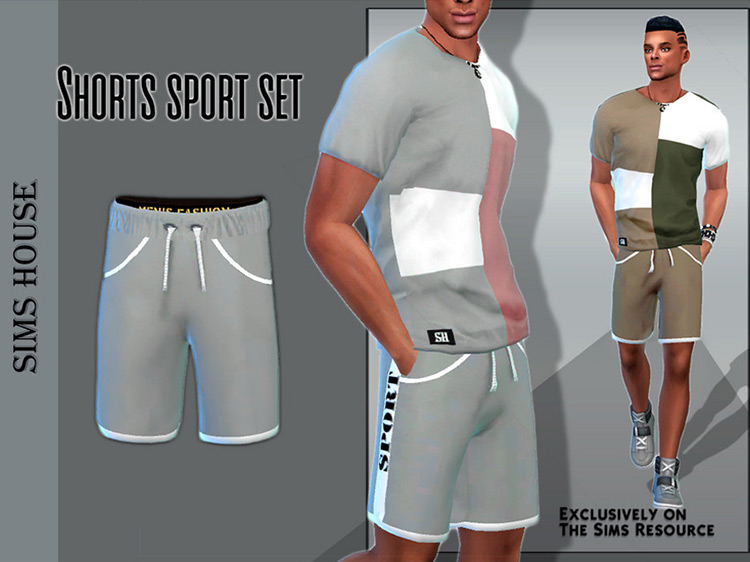 Here's a pair of funky sport shorts with white trim and drawstring detail – and they look fantastic for sporty male Sims.
This design from Sims House comes with a selection of 6 color swatches, and is available for male teens and older.
I'd say these would look great when paired with a relaxed tee, or even without a shirt for more intense workouts.
7.

High Rise Sports Shorts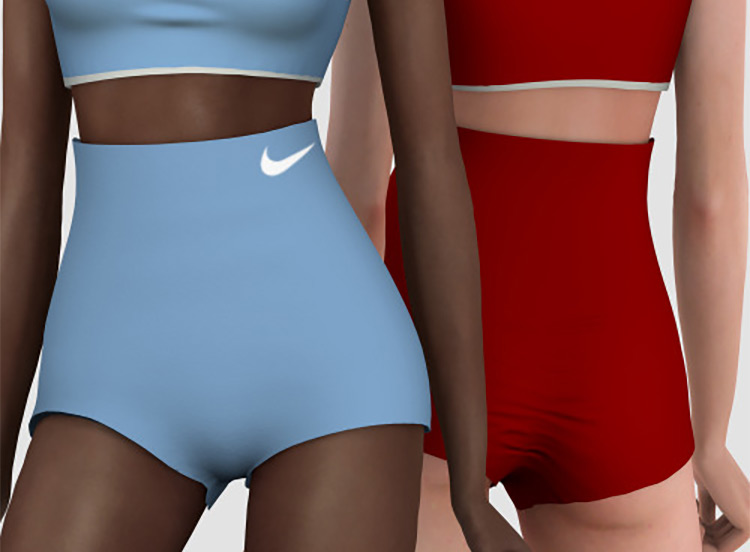 These retro high-rise shorts for female Sims come as part of a matching athleticwear set by BackTrack.
And it's a brilliant pack to check out.
With 20 color swatches to choose from, with or without the iconic Nike logo, you can send your fashion-conscious Sims to the gym in style.
All these designs are compatible with HQ mods too – just to give your athleticwear that professional-looking finish.
8.

Bermuda Sport Shorts For Men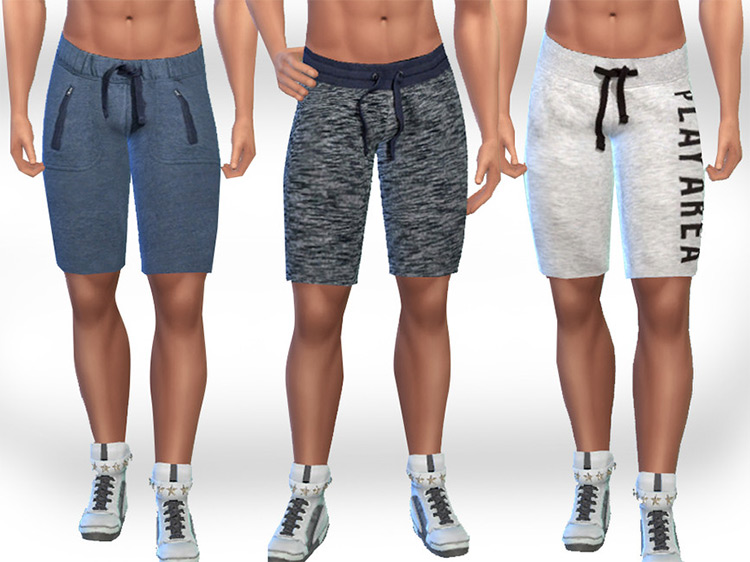 Surf's up!
Get the boards out with these Bermuda shorts by Saliwa. These comfy-looking sport shorts come with a woven texture for more realistic finishes, as well as a contrasting waistband pattern.
Not to mention the drawstring and pocket detailing.
Your guy Sims would be lucky to own a pair!
And these come in 3 different designs, so you can choose whether you prefer branded outfits or something more plain.
9.

Neon Sports Bottoms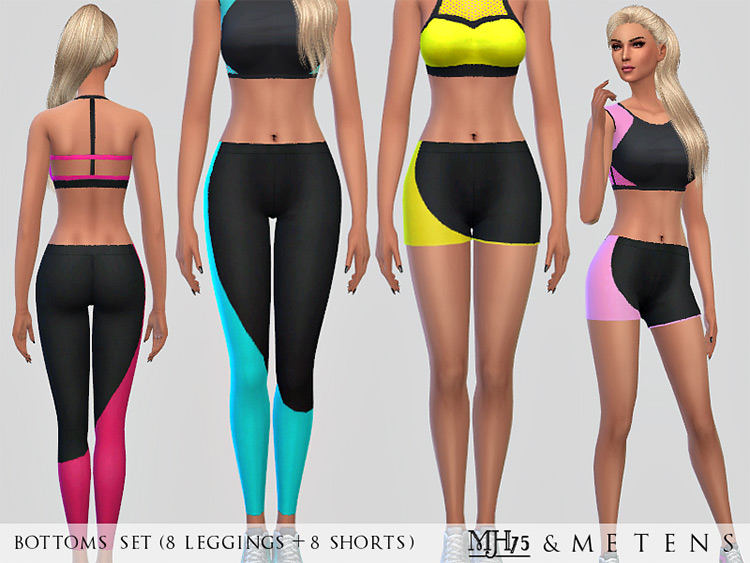 Bring back the '80s with these brightly-colored neon ladies sport shorts from Meten.
They're available in a matching set that includes neon legging varieties too!
Plus these amazing high-waisted shorts come in 8 different variations to choose from – with a personal favorite being the eye-catching neon color, made to grab everyone's attention.
10.

Adidas Male Shorts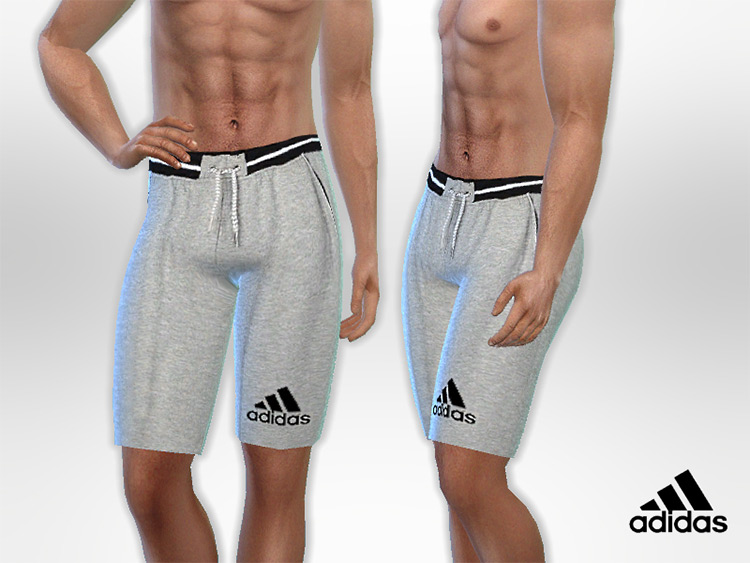 If branded clothing is your bag, you'll want to run and get these Adidas workout shorts.
They're for males only, but they are available for every age group from teens to elders.
And they're even suited to Everyday and Sleepwear attire, as well as the Athletic outfit category. So your Sims can rock their laidback sporty look any time of day or night.
11.

Darcey Denim Wrap Skort
Are your Sims more into tennis than jogging?
Now they can look the part in this fetching skirt-short combo from fantayzia.
This cute wrap detail with a neat little bow at the side is an adorable addition to any Sims' athleticwear. Although the skorts are mostly tailored to Sims with a feminine frame, but they're compatible for all frames, available for all ages from teens and up.
And you get 21 different color swatches to choose from.
12.

Travis Shorts
Sleek shorts are underrated – and these black color block shorts by Plumbobs N Fries are no exception!
These fashion-forward athletic shorts are a great choice for male Sims, with age options from teens to elders.
And you'll get a total of 12 different color swatches to pick from.
In addition to athletic wear, these shorts are also enabled for Hot Weather outfits, so your male Sims can always look summer-ready in style.
13.

Gloria Track Shorts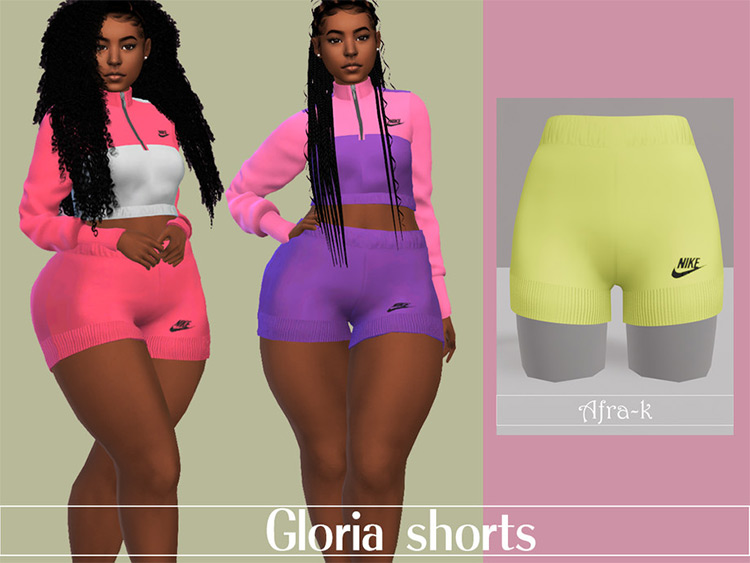 Here's some funky Nike track shorts from akaysims, sure to add a welcome pop of color to any female Sims' closet with some detailed ribbing patterns.
Whether your lady Sims are partial to pastels, or have a need for neon, you can pick and choose whichever color swatches best suit their personality.
Plus with HQ mod compatibility, these will always look fantastic no matter what else you have installed in your game (which is probably a lot).
14.

Puma Athletic Shorts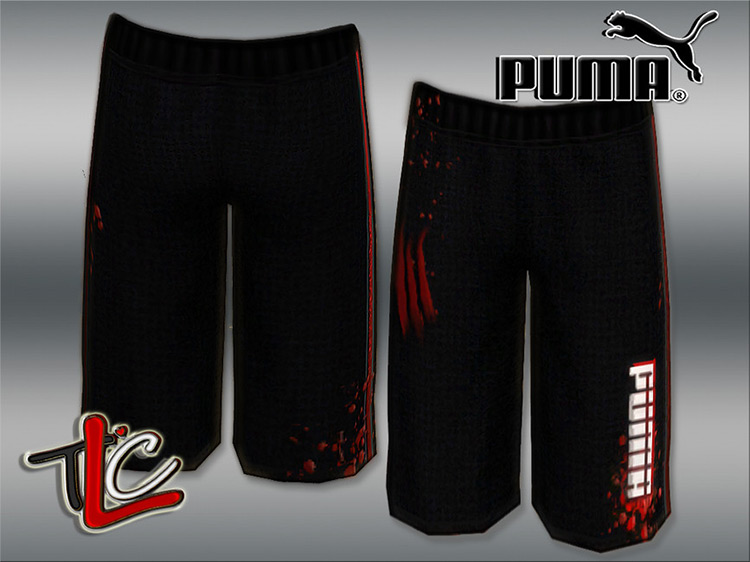 Here's a pair of male-only Puma athletic shorts, perfect for any Sims that want more of a thicker material to their sportswear.
This CC design from terriecason offers a selection of 30 different color swatches, all of which are completely compatible from the base game onwards.
And these shorts are available for any ages from teen and older.
Plus they can be used in the Everyday, Hot Weather, and Career outfit options. Because really, these shorts are too good to only use as Athletic gear!
15.

Ruched Cycle Shorts
These cute cycle shorts by CC maker Bill Sims are a great choice for any of your lady Sims who prefer a 'softer' aesthetic in their wardrobe, rather than the usual swimsuit or lycra material.
And with 25 different color swatches here, these ruched shorts offer a lot of variety.
These can be used by anyone aged teen through to elder, with the option to work these into your Everyday looks too.
Browse:
Lists
The Sims 4
Video Games