Best Sims 4 Attic Room CC (All Free)
This post may contain affiliate links. If you buy something we may get a small commission at no extra cost to you. (Learn more).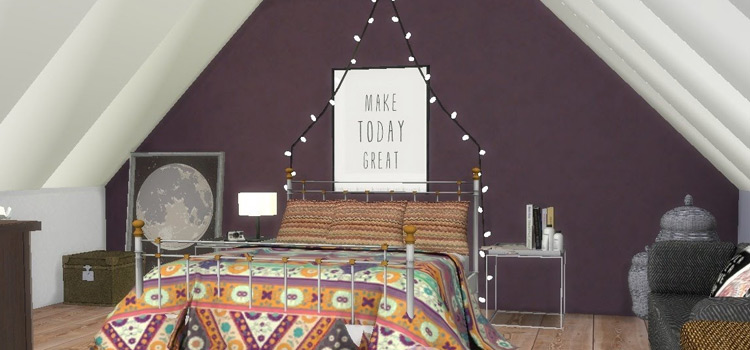 The attic has always been an interesting room.
Some attics are filled with old family photo albums and stuff no one uses anymore, essentially turning into an old storage area.
While others turn their attics into a loft-style bedroom, usually given to one of the younger siblings of the family.
Regardless of what your Sim attic is used for, we want to offer all these possibilities with some really cool attic CC for your Sims game.
Whether it's a bedroom or a storage space, or something else entirely, we've got you covered.
Let's creek up the foldable stairs, open that old hatch panel, and enter the world of mysterious rooms within rooftops.
15.

Stannum Storage Box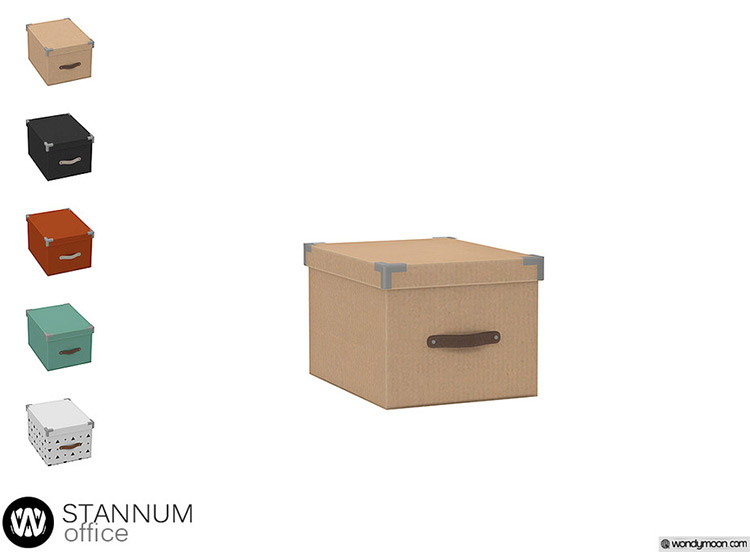 We couldn't make this list without mentioning the most standard item in any person's attic…
The good ol' storage box!
Perfectly squared and as desirable as a penny, the storage box is still essential in any Sim home.
Attics across the world are filled to the brim with these boxes. And thanks to creator wondymoon, so can your Sim's attic!
This box CC comes in 5 unique swatches including an oddly nice white box patterned with small black triangles.
14.

Palledium Bookshelf Stairs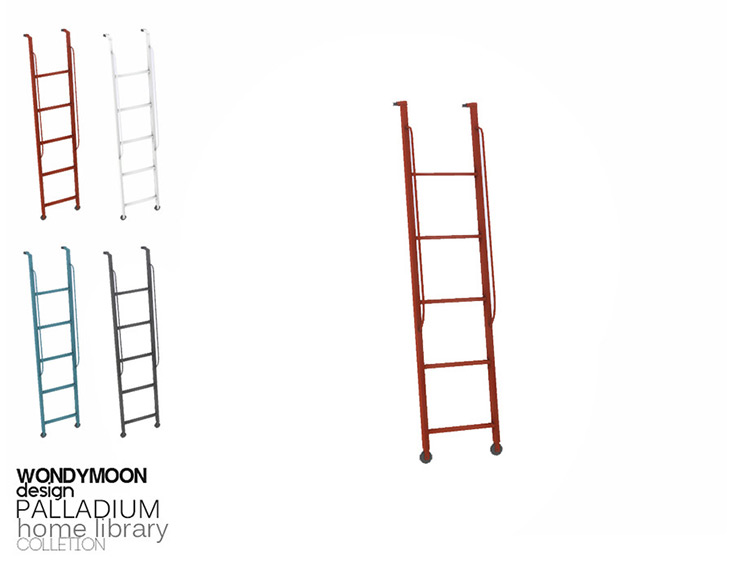 Stair ladders are also another essential attic item.
Wondymoon gives us another one (queue DJ Khaled voice) with these climbable stairs.
The interesting part of these particular stairs is that they could be used as attics stairs, or a ladder to climb into your bunk in a loft.
Being a hybrid of both in an attic makes it a definite for this list.
Its features 4 unique colors including a beautiful ocean blue.
13.

Industrial Light II – Ceiling Lamp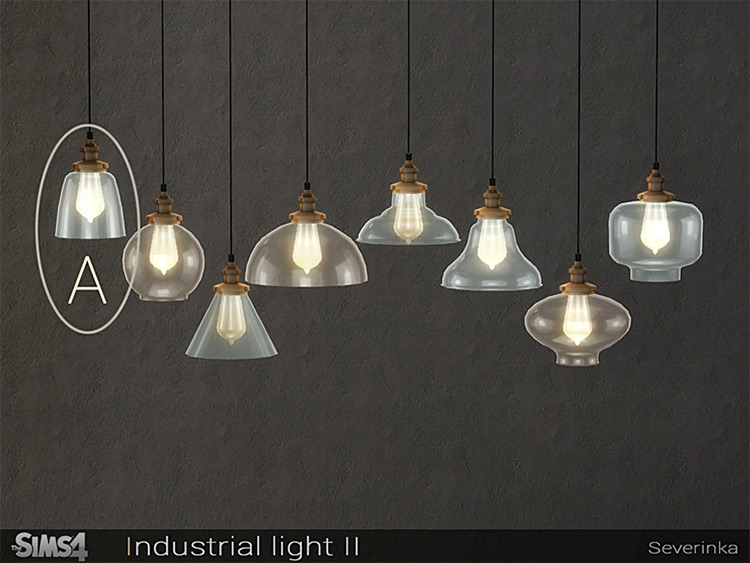 Lighting really helps bring out the uniqueness of any loft.
This ceiling lamp is a perfect example of that.
Severinka_ provides us with these gothic-inspired lights which features all shapes and sizes.
Great for setting the mood for a late-night cuddle session.
12.

Loft Living Old Flag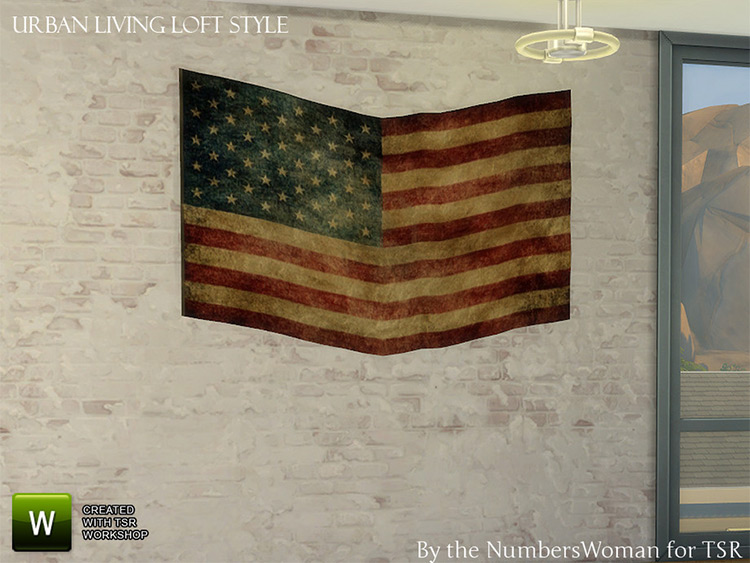 The home of the brave, we salute you.
All Americans can appreciate their country's flag. So this rugged and rustic look is perfectly fit for an older attic loft.
Giving off the vibe of a long-standing patriot, this might be perfect for your natural-born American Sim.
United we stand!
11.

Old Chest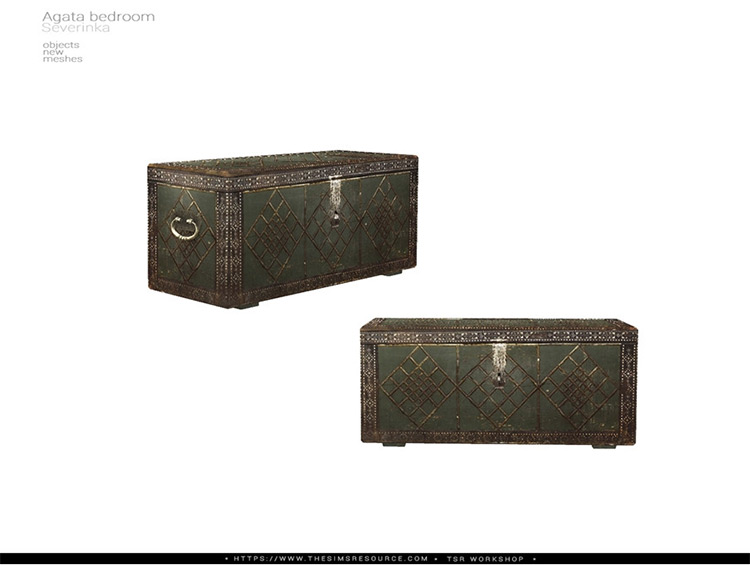 I know I've said before that some items are essential to the storage attic.
But this old storage chest basically screams "put me in the attic!"
Old, rusty, and reliable are the words that come to my mind when describing this CC piece by Severinka_.
It's a place to hideaway your Sims old teddy bears, stacks of photo albums, or just some family memorabilia.
Basically a must-have for painting the picture of what a storage attic would look like.
10.

Folding Attic Stairs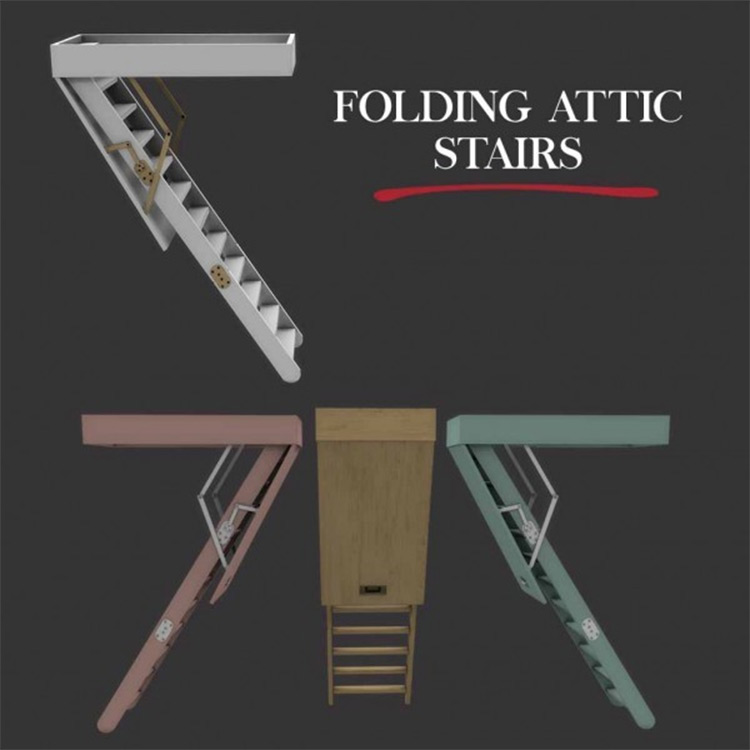 We find ourselves with another set of attic stairs, this time specifically made for going into the attic.
Leo Sims provides us with 3 unique swatches for this CC.
The main component that stands out here is the fact these stairs are truly foldable.
Hidden into the ceiling the way most of us remember.
Hopefully there's no aliens or ghosts hidden up there once you climb up…
9.

Wall Lamp Pipeline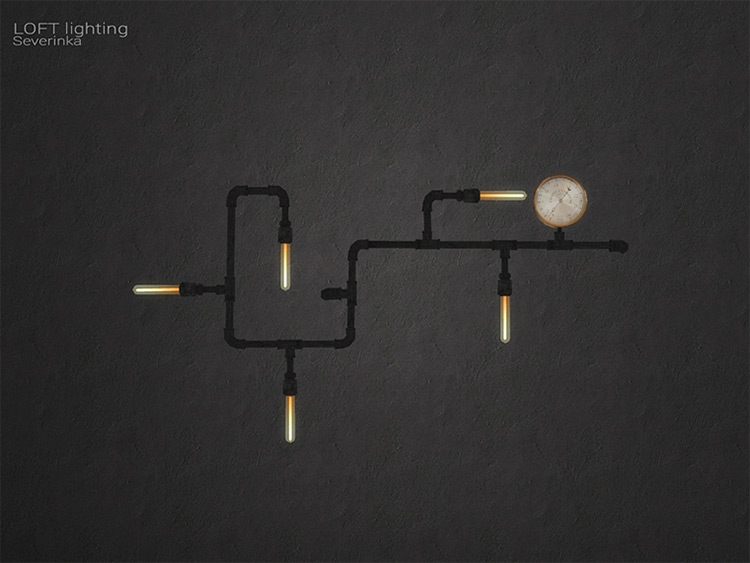 Here we have some more lighting pipelined into the wall.
A very cool design worth putting behind a bedframe, or maybe a desk area of your attic loft.
Just one more CC gem given to us from Severinka_.
If you're trying to catch the attention of your Sim peers, this decorative piece is sure to have that effect. Especially for just being a lighting item.
8.

Loft Corner Sideboard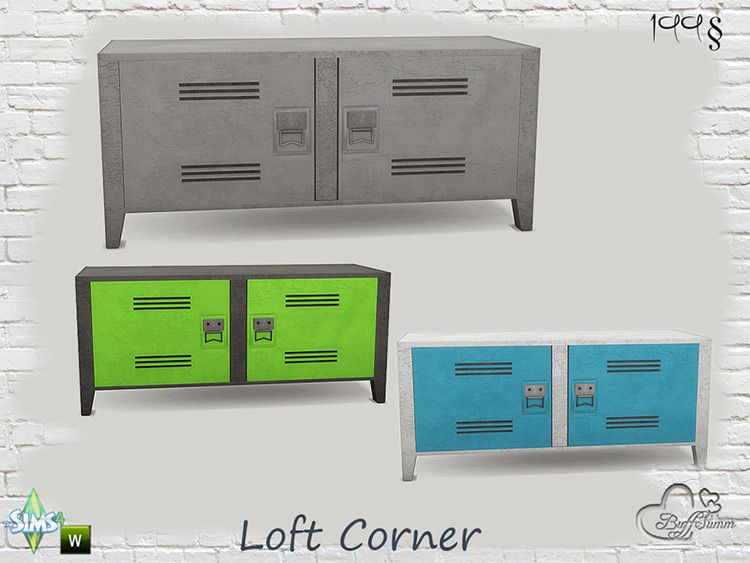 Something I would consider another hybrid piece is this sideboard table by BuffSumm.
Crafted in beautiful stainless steel, this CC comes in 3 awesome swatches.
The lime green would go great for any brighter color scheme, while the all-solid steel would fit better for just a storage area.
This sideboard feels like it could hold all the old family secret of your Sims for generations.
Maybe we can find out why the Landgraab's are rich after all.
7.

Ashen Double Bed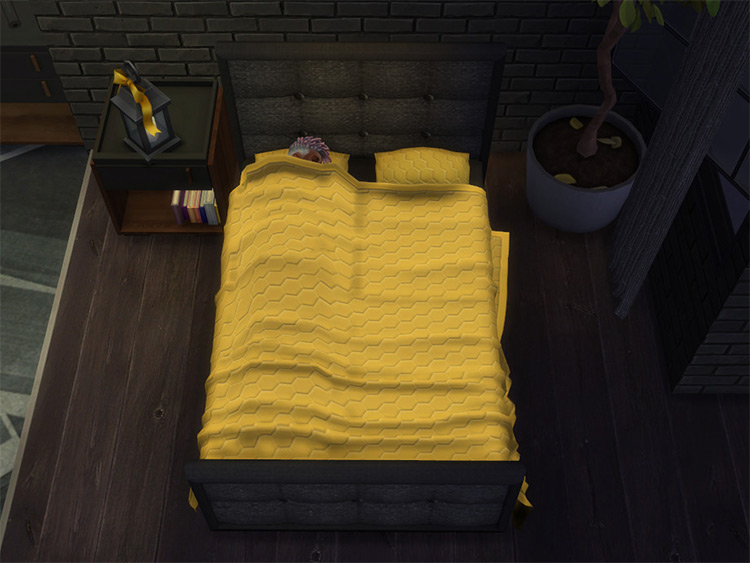 While a bed might be an odd choice for this list, most loft bedrooms need a bed (if you couldn't guess).
In my opinion, this double bed it a solid way to go.
It features a tightly squared cherry black bedframe with a matching end piece, and is layered with golden pillows and blanket for an absolutely luxurious look.
The blanket features a unique hexi-patterned design. And if the original swatch isn't to your taste, no worries.
Creator sim_man123 provides 8 total recolors for you to choose from.
This bed is a great piece to start building out your loft. Maybe even consider it the central piece of furniture to get you started.
6.

Ceiling Attic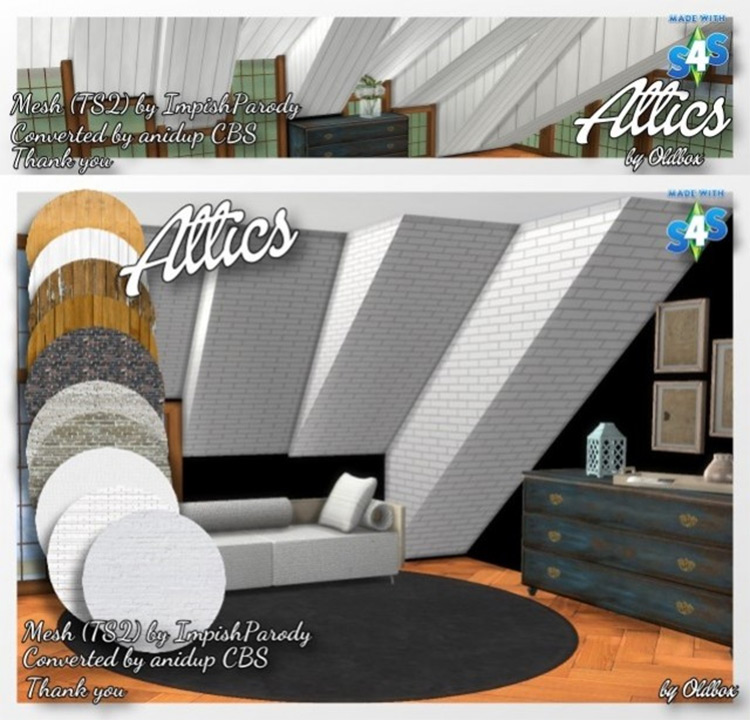 Creator anarchy-cat brings us the most intriguing thing on this list…
This CC includes diagonal ceiling sections that descends downwards, creating that enclosed feeling with sloped roofs that many attics have.
Surprisingly, this is a conversion piece coming from the days of The Sims 2. And this sloped ceiling CC has 10 different textures as well.
A great addition to give off the feeling that you're in the attic, and not just any regular room of the house.
5.

Attic Ladder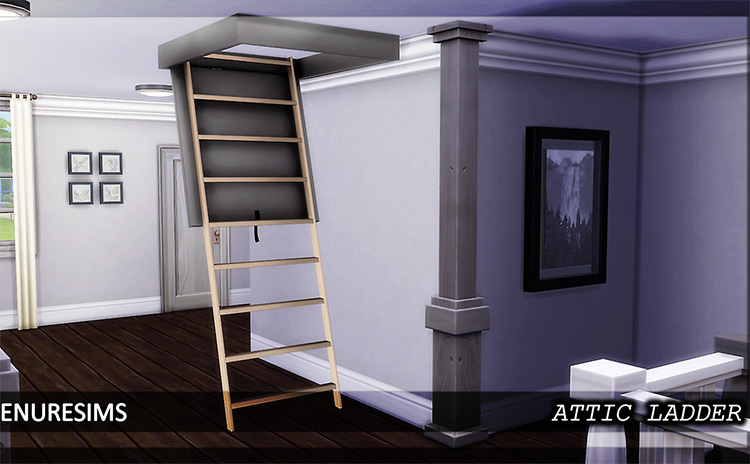 Creator ensure-style gives us the cream of the crop for attic ladders on this list.
This particular ladder comes with 10 swatches, and is fitted for 3 different wall sizes.
Larger flaps, nicer color choices, and an overall great design earn this stair ladder CC the spot of "king of all stair ladders".
Well, for The Sims 4 anyways.
4.

Loft Bed Mini Set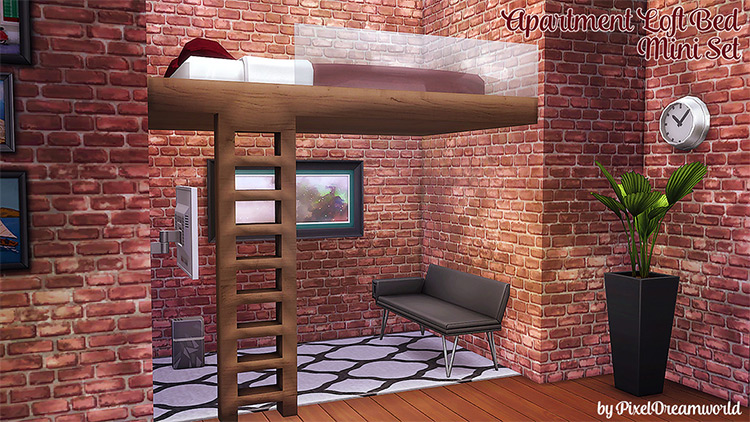 Here we feature our first full bedroom set for a loft bedroom design.
This CC set by creator pixeldreamworld is absolutely perfect for tiny spaces.
It features a bunk-style bed, but instead of two beds, there's only a bed on the top side.
The lower layer features a study area, or a small living area, the choice is yours.
And the best part of this set is the glass piece that stops your Sim from falling off the top bunk, lavishly designed for this simple yet stunning loft set.
Definitely a nice choice for someone working with a smaller area, that still wants to go for a modern touch.
3.

Paul Bedroom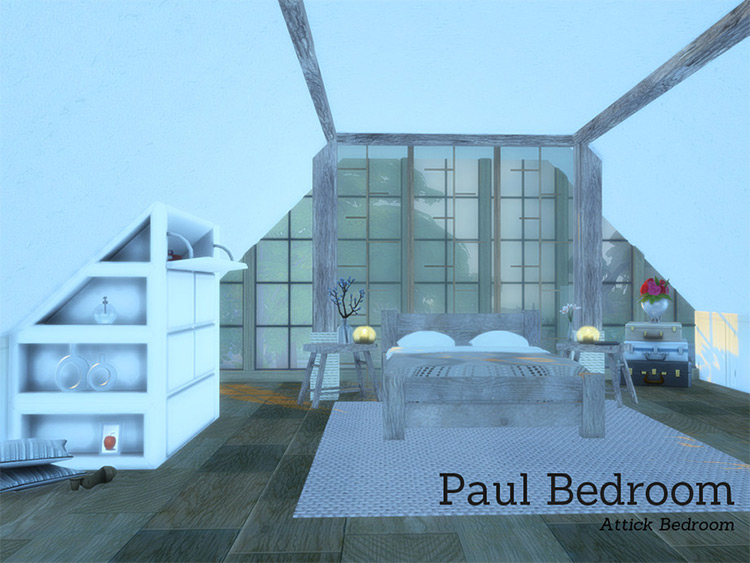 Ever wanted to live in something that looks like it belongs in an ice castle? *(cue "Let It Go")*
Well this loft CC set by Angela will bring that reality to life, for your Sim.
And it looks iced out with clear white and cold grey finish across the whole set.
This actually looks like somewhere Santa's daughter would sleep, and is polished to a tee.
One of the more stunning all-around loft sets you'll see from any CC. Even for a regular bedroom, this would be a standout.
If I had to choose one word to describe this CC – it would be icy.
2.

Attic Collection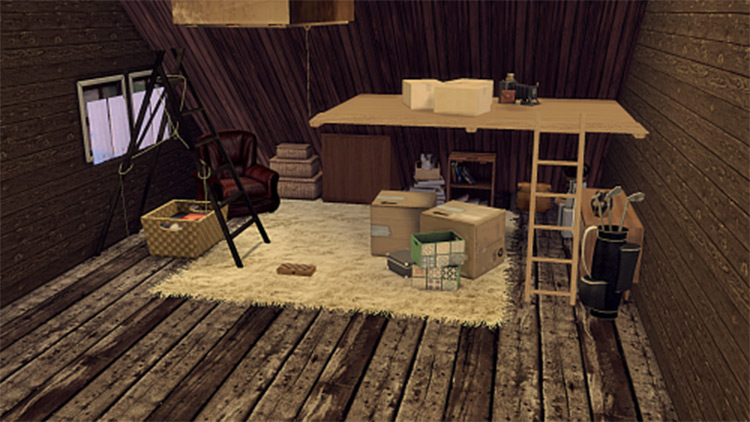 We've discussed hybrid items throughout this entire list. Specifically CC objects that would work both in a storage area, and a loft bedroom.
Well now we'll look at a full hybrid set.
Creator LunaticaVillage takes objects that would tend to fit in a loft, and makes them fit into a traditional attic area.
This includes a half bunk, but instead of a top bed, it's just more storage space.
We also have old books, golf clubs, a rusty sofa, and of course, old brown boxes for clutter to fill out the true attic image.
This set really describes what attics are like, while giving us usable items that would be great for a loft design.
Talk about the best of the both worlds.
1.

Bedroom Set Hamal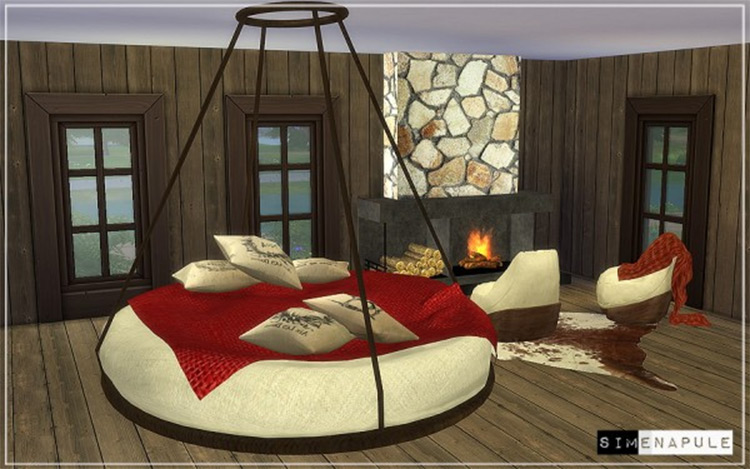 This piece, in my opinion, is what an attic loft should look like.
Featuring the main colorway of creamy white, and a secondary color of rich red, this CC set includes everything.
The centerpiece is the hovering mini bed. With its circular design and beautiful colorway, it would be a masterful addition to any loft.
Top that off with a bear skin carpet, a small fireplace, and small fur skin couches/seating.
You're looking at the almighty CC pack of loft rooms.
Hats off to creator Simenpule for putting together such an outstanding loft bedroom set.
Browse:
Lists
The Sims 4
Video Games