Sims 4 Autumn CC: Clothes, Décor & More
This post may contain affiliate links. If you buy something we may get a small commission at no extra cost to you. (Learn more).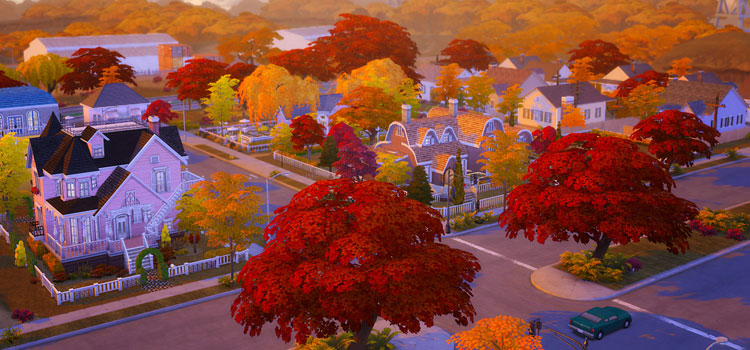 Love it or hate it, you can't argue that Seasons was an expansion that brought some great things to the Sims 4.
But let's face it: that pack didn't bring everything.
With a variety of spring, summer, autumn, and winter themed décor and clothing, there was a lot of ground to cover. Which meant a lot of stuff we wanted just couldn't be added in by EA.
If you're someone like me who loves the fall aesthetic, you may have been slightly disappointed with the autumnal clothing and décor. The things that exist in the game already are good, but us Simmers are greedy. And we always want more!
Lucky for you, I've organized this huge list of autumn-themed CC for The Sims 4. Which means you'll never have to go through a boring sims autumn again.
From now on, your fall aesthetic will be totally Simstagram-worthy!
15.

Autumn Leaves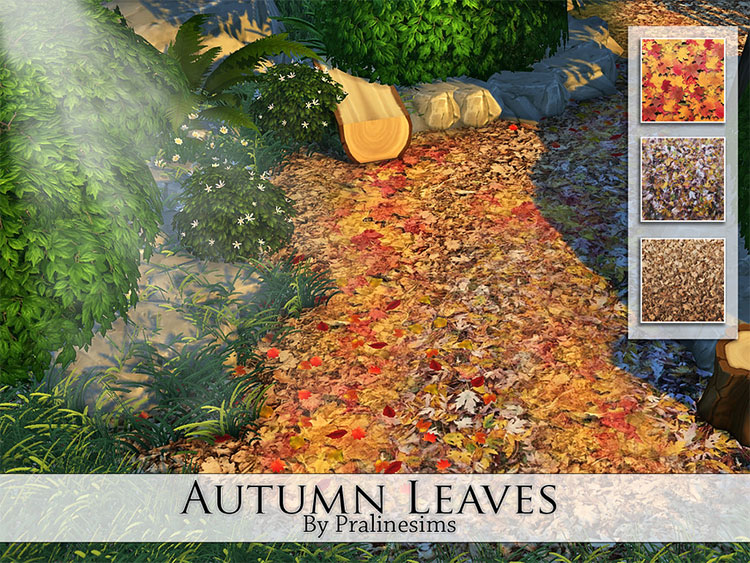 These adorable leaves by Praline sims look so realistic!
They're perfect for anyone who enjoys playing with alpha CC, and helps bring that vibe outdoors.
Cover your lawn with leaves in the exact places you need them in your garden, without spending hours painstakingly placing them from that tiny patch of leaves we have in the vanilla game.
This creation is super helpful for those of you who love landscaping.
14.

Autumn Walls and Floors
Some Sims love Autumn, and I mean love autumn.
To the extent their entire house is a cozy eternal fall season.
If this sounds like one of your sims (that artsy girl who just graduated from Britechester and is now moving into her own tiny-home cottage, maybe?) then this autumnal walls and floors CC set by Sharon 337 is here to make your interior design dreams come to life.
13.

Fall Stuff (CC Set)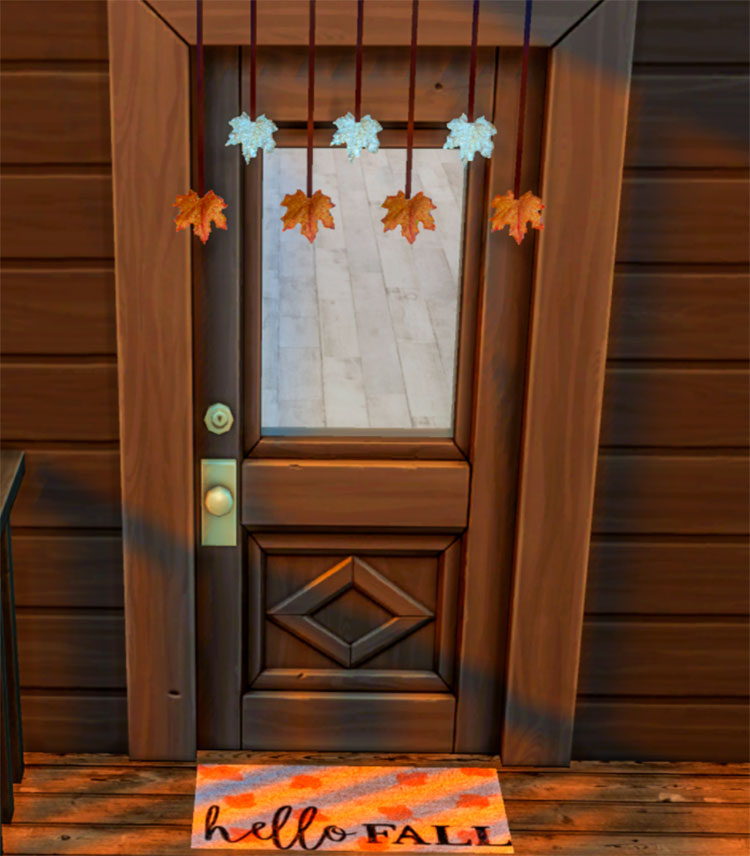 During the fall it can be difficult to scroll through Instagram (or Simstagram!) without seeing anything but leaves and mason jars.
Honestly, what are these things even for?
We don't know, but we love them!
This CC set by SimmerKate helps us bring that Insta-good (Simsta-good?) aesthetic to life. We get Mason Jars, cute mugs for cocoa, some hanging leaf décor, and some cute autumnal-themed welcome mats. Brilliant!
12.

Autumn Calendar
If you want autumn to be every season, then this is the piece of décor you need!
In spring, it's autumn… In summer, In autumn… You get the picture.
Simply put, this cute creation by Sugar owl means autumn never ends. And we all need a calendar, right?
11.

Autumn Glory Set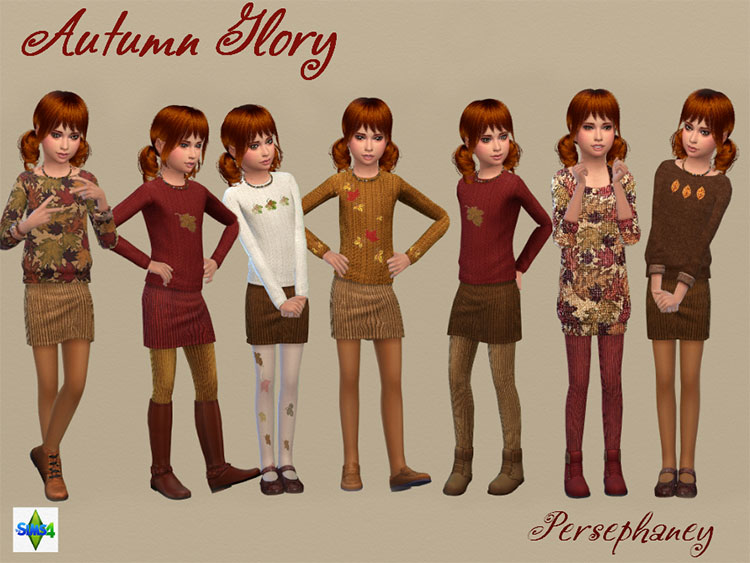 We can all agree that kids are neglected in The Sims when it comes to the variety of clothing they have. More so when it comes to a specific theme or season, such as clothing suitable for fall.
So to ensure that not all kids in your save file are dressed exactly the same, this adorable fall-themed CC set comes with a huge variety of clothing. All to keep your kids looking cool while staying warm!
This set by Persephany includes 7 tops, 5 pairs of leggings, 3 pairs of tights, 3 mini skirts, and a sweater dress, all in a cute autumnal color palette with adorable leaf motifs.
10.

Little Junior Autumn Overalls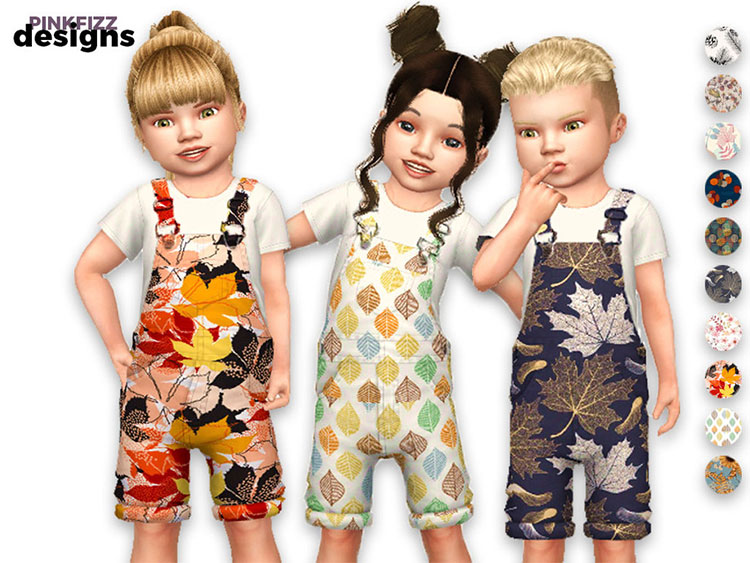 These Overalls may look simple. But they're just perfect for toddlers!
Whether it's for going to a Harvestfest party or going pumpkin picking at a pumpkin patch, this outfit is sure to keep your toddlers looking cute and feeling comfy.
CC creator Pinkfizzzzz gives us this set with 10 different swatches, so there's something to suit all the tots in town.
9.

Autumn Mornings Socks
I'm not gonna lie: personally I'm not a huge fan of socks in the Sims 4.
That being said, I do think that all our sims deserve to stay cozy and in style. And that's where these cute custom-made socks by Weeping simmer come in.
They're super stylish and thigh-high, so they're perfect for keeping toes (and legs) toasty in the cold weather. Plus they come in 30 different colors, so there's a pair for every outfit!
8.

Sign For Your Pumpkin Patch
Some of us take our love of Pumpkins to the next level in the fall. And what better way to do that than with a pumpkin patch?
Yes, this is something you can actually add into your Sims 4 gameplay.
This cute creation is gorgeous for a garden, or with Get To Work, it could even fit at an actual pumpkin patch where you can sell your cute décor!
7.

Female Autumn CC Collection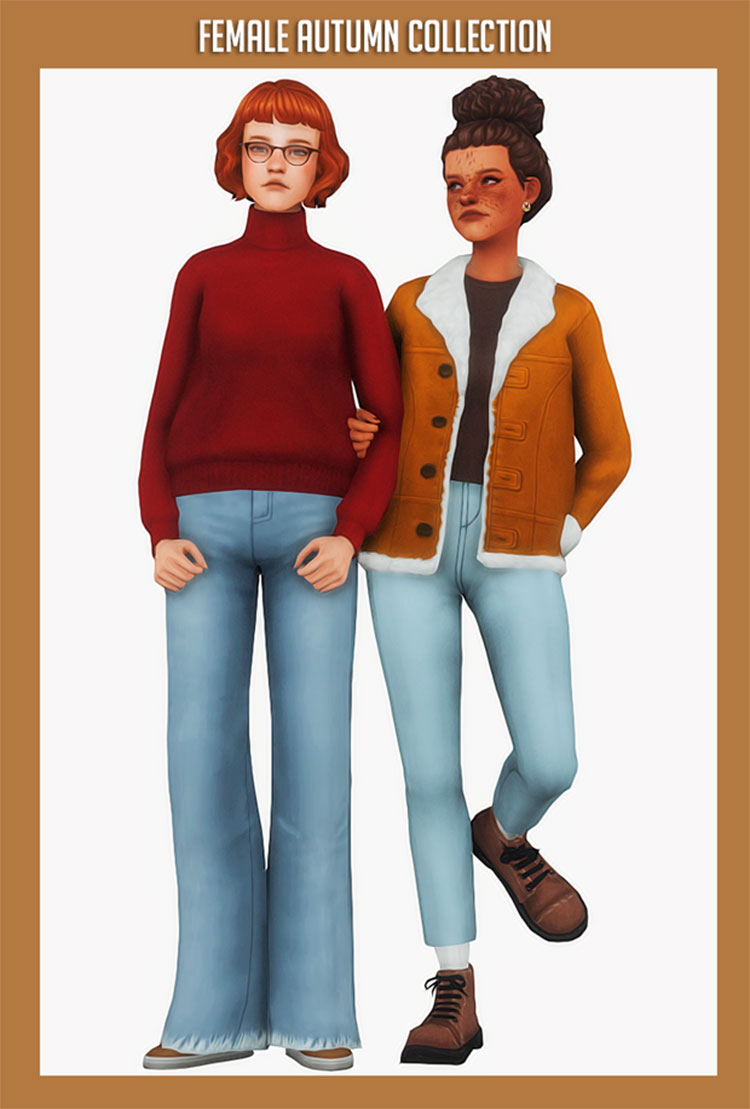 This small yet sweet collection by Clumsyalien includes some really cute Maxis-match pieces that are crucial for looking neat and sweet in the fall!
These pieces may look simple, sure. But this makes them super versatile, since they can be pretty much worn by anyone, and paired with anything!
In this set you'll find 2 pairs of jeans, a beautiful turtleneck sweater, and a stunning fleece-lined jacket, all available in a wide range of swatches.
6.

Autumn Pose Pack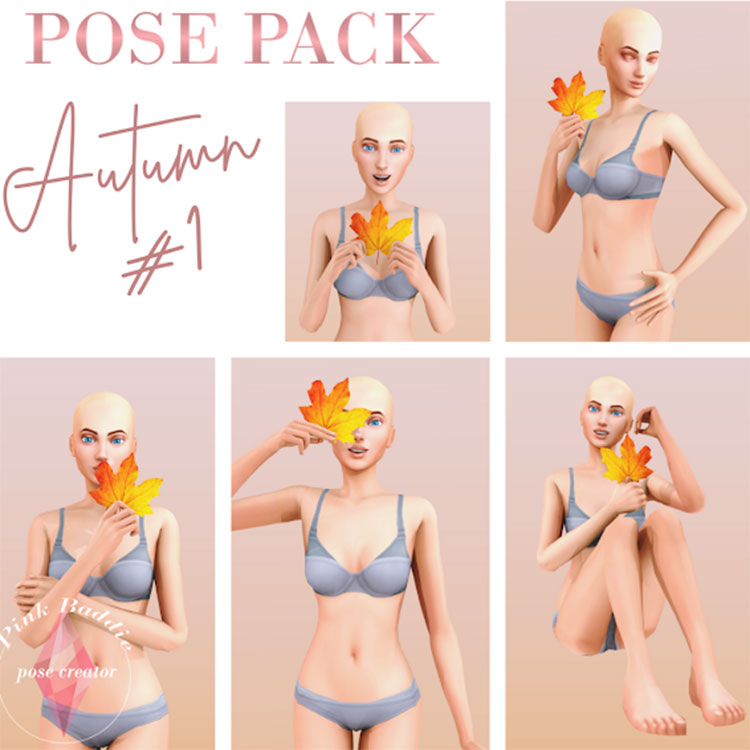 Now this is the point in this list where I say that even though everything I've listed is super cute, is there even any point to it unless you can show it off?
Whether it's for pictures to hang on your wall or for screenshots to share on your simstagram, cute fall-inspired poses are essential to making your sims look their best.
To capture that aesthetic, sometimes a Sim must become the aesthetic.
And with this pose pack from PinkBaddieSims, your Sims can do just that. Check it out and see what you think! Maybe even combine it with some other pose packs out there.
5.

Female Late Autumn Outfit #01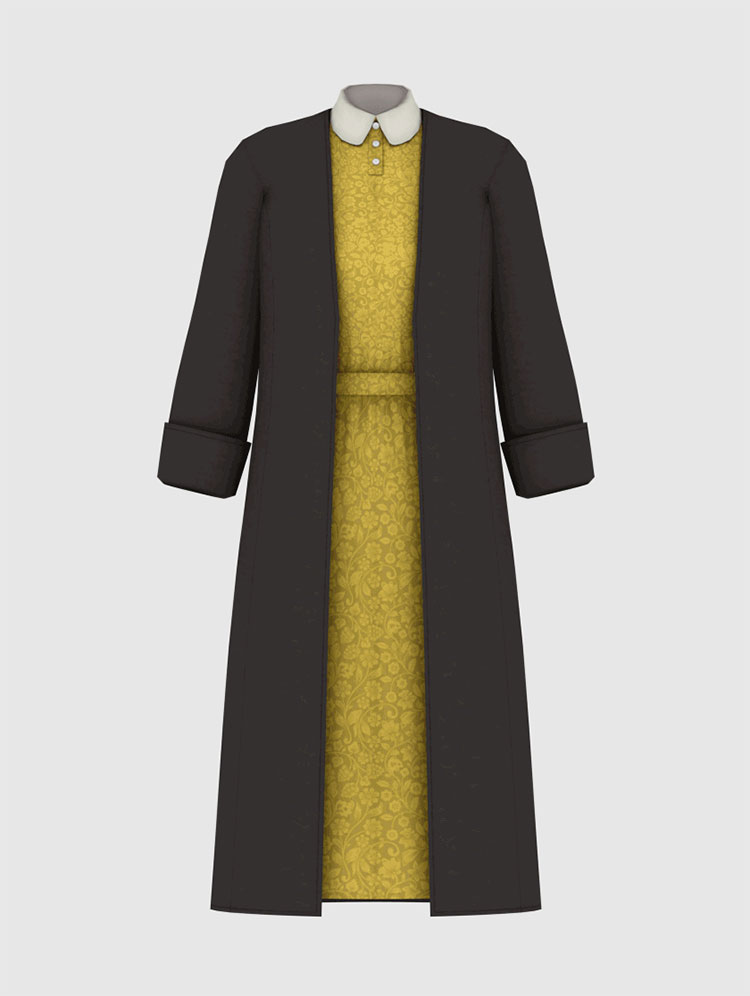 A super cute and super versatile outfit, right at your doorstep.
This long coat and floral dress one piece by Happylifesims is suitable for all ages!
From studious teens to hip elders, this cute combo can be styled up or dressed down. That way you can look adorable, but also keep your Sims warm and toasty.
4.

Fall Vibes (CC Set)
Something else we can't seem to go a day without seeing in the fall? Pumpkins!
In fairness, we do get a few of these in the Sims 4. But only in certain stuff packs and expansions, and let's be real, the variety we truly want just isn't there!
Well this CC set changes all of that for any pumpkin-obsessed Sims out there.
Those who want to simply fill every corner of their house with pumpkins and other fall related décor? Download this fall vibes pack.
Not only does this set include pumpkins galore, but also autumn candles, stands, crates, art, and plentymore! If it's a variety of autumnal décor you need, then you just hit the motherload.
3.

Autumn Garden Set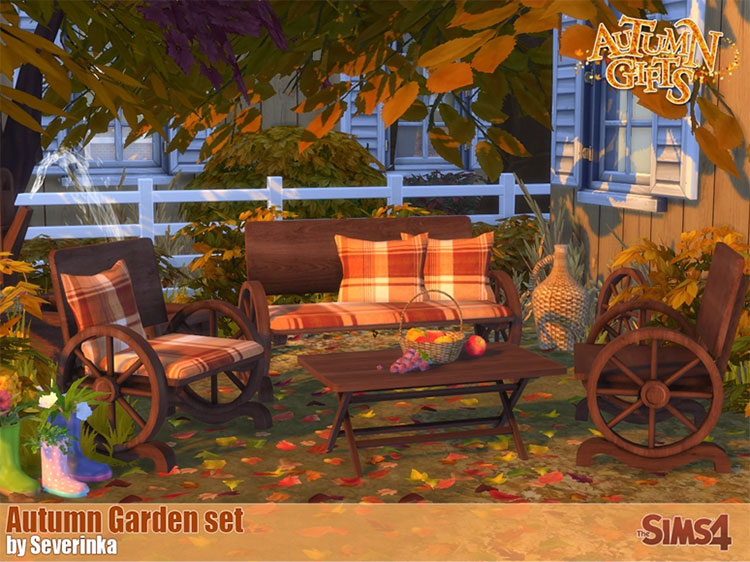 As the hot summer weather begins to fade and the cool winter weather starts approaching, sometimes we want to wrap up in a warm blanket and sit outside to watch the sunset.
Sure, Sims can't actually wrap themselves in a blanket – but they can sit outside on one of these gorgeous rustic benches made by Severinka.
Keep your Sims living that Autumn life as they relax into the soft cushions and just take it all in.
2.

Cozy Autumn Seating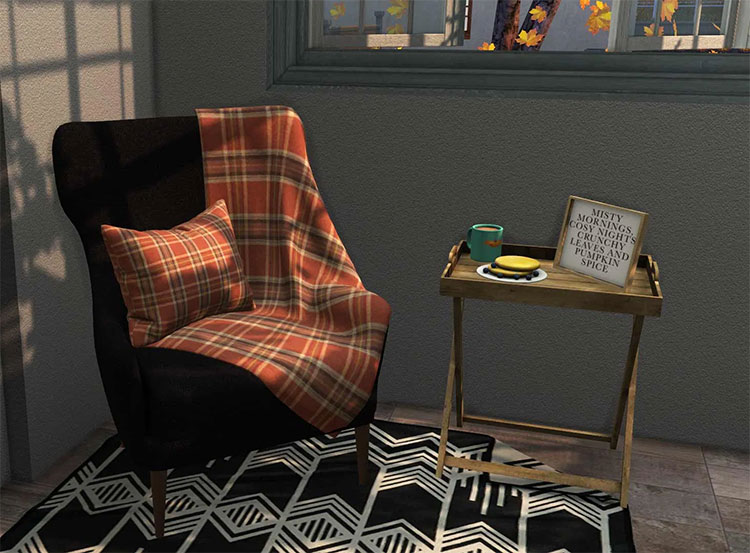 When the weather starts getting cool, there's nothing I like more than cozying up in a comfy chair with blankets and cushions, sipping on a hot cocoa, and reading a good book – something our Sims love to do also.
Although maybe not all at the same time until the multi-talking gets fixed – why can Sims not seem to drink and read at the same time?!
Either way, if your Sims also enjoy finding a nice reading nook, or just getting comfy by the fireplace when the weather starts getting colder, well I dare say this seating CC was made for them.
Brought to you by creator Sunkissedlilacs, this chair comes in a variety of swatches and styles. So there's sure to be one that'll match your living room just perfectly!
1.

"Through the Seasons" Fan-Made Stuff Pack
There's no denying that Seasons gave us some decent fall outfits.
But we all just want that little bit more!
Well thanks to CC creator Standardheld, that wish has been granted.
This amazing fan-made stuff pack includes a whole bunch of outfits, custom clothes, and accessories for male and female sims of all ages.
Be it a toddler or an elder, there's something in here to keep everyone in the family warm during fall. Definitely try it out!
Browse:
Lists
The Sims 4
Video Games