Sims 4 CC: Custom Baby Bottles & Sippy Cups
This post may contain affiliate links. If you buy something we may get a small commission at no extra cost to you. (Learn more).
Nearly everything in the game can be customized, so why not bottles and sippy cups?
Of course it's already been done, several times over!
Once you notice how one-note the game's default items are, there's no going back. It's not like it's the worst thing in the world for every Sim in every world to have the same cutlery and bottles, but it's just not much fun.
This collection includes functional options as well as some decorative ones, since it's kind of strange for bottles to appear out of thin air.
1.

Simbeings Sippy Cup Overrides
Tired of seeing that same old green cup every time your toddler wants a drink?
Well, you're not alone.
Make sure you're ready to say goodbye though, since you can only have one override at a time. This snazzy red is definitely a nice upgrade, even if it's simple.
2.

Drink-O-Baby Set
With this set, you'll get more than a basic replacement mod.
The fully functional bottle warmer appliance brings multiple new drink recipes to the game for toddlers, and they sound pretty delicious.
The best part might be all the new bottles and sippy cups however, since those are downright adorable.
3.

Extracted Baby Bottles
Some things are just meant to be designs for baby stuff, like giraffes, monkeys, and sailboats. I'm not sure why, that's just the way it is, and you've gotta love it.
These decorative bottles will add a nice realistic touch to any nursery.
Real babies require a lot more than a bassinet, so clutter is always a plus.
4.

Sippy Cup Mug Override
This mug will actually come in really handy for a number of Simmers. Not only will it be really useful for all the Decades Challenge players out there, those with rustic tastes will love the wood texture.
Also, it's clearly filled with milk.
Do we really know what's in the original sippy cup?
5.

Wooden Sippy Cup Override
Surprisingly, you'll have more than one option if you're after a non-plastic cup for your Sim's tots.
Thanks to AmeyaSims, we've got another wooden override. This one goes even further back than the previous, medieval-themed one. You can even have matching spoons and utensils, if you want!
6.

Toddler Sippy Cup & Bottles
The realistic look of this set might trigger your baby rabies, just saying. Unfortunately, you can't just age up the real thing for convenience.
There's just something about how bright and colorful these are that's really wholesome. They are also replicas of real bottles, which is a cool detail.
7.

Giraffe Baby Bottle Default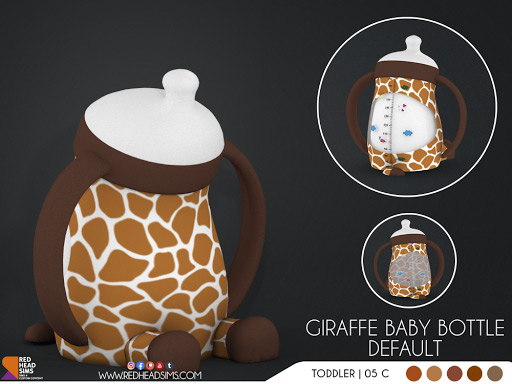 This giraffe patterned replacement takes the critter theme a bit further.
It has little feet and a tail! That's almost too precious.
Although up close it looks super realistic, overall the design is very Maxis Match and will fit right into The Sims 4 as it is.
And just to be clear, this is a full functional replacement of the base game sippy cup.
8.

Functional Toddler Sippy Cup
As great as it is to have such an abundance of custom options out there, at the end of the day the base game sippy cup is just fine.
It may not be aesthetically pleasing, but it'll get the job done.
Except it can kind of be a hassle to take time out of your Sim's busy day to give one to their toddler…so this mod makes it so it can be refilled at your leisure.
9.

NUK Learner Sippy Cup
NUK's popular sippy cup designs are back again, both in the form of an accessory and a decorative object.
The 8 swatches include several options with Mickey Mouse and Minnie Mouse, plus some happy monkeys.
All of them have a different colored top as well, and they're really bright.
10.

Baby Bottles 2.0
These may look familiar, since this same creator made some of the decorative options that have already been listed.
They're different this time around, though…now they are functional overrides!
Out with the old, forgettable baby bottles and in with these adorable and better-looking ones.
11.

No Probllama Sippy Cup Recolor
You'll have to grab the mesh for these recolors, but they bring even more fresh designs.
The artwork on these is just so good, you'll have trouble deciding which one to use
Cute, modern swatches include cacti and llamas, plus some fun affirmations. Sure, toddlers can't read them, but at least we can!
Any of these would be perfect as mugs for grown ups too, so they really won't look out of place in your game.
12.

Royal Nursery Milk Bottle
Here are a few more deco bottles for you to use in nurseries, kitchens, or maybe around that nifty CC bottle warmer!
As simple and basic as these are, they are actually perfect. This is a timeless look that won't look out of place, regardless of how many generations you play through.
13.

Green Plumbob Baby Bottle Default
If you want to switch things up without deviating too far from that Maxis Match Sims look we all know and love, Plumbobs are always a good choice.
This recolor just makes sense and seems like something that could've been here all along. It's also a little whiter, making the Plumbobs stand out even more.
Browse:
Lists
The Sims 4
Video Games