Sims 4 Baby CC: Clothes, Mods, Skins & More
This post may contain affiliate links. If you buy something we may get a small commission at no extra cost to you. (Learn more).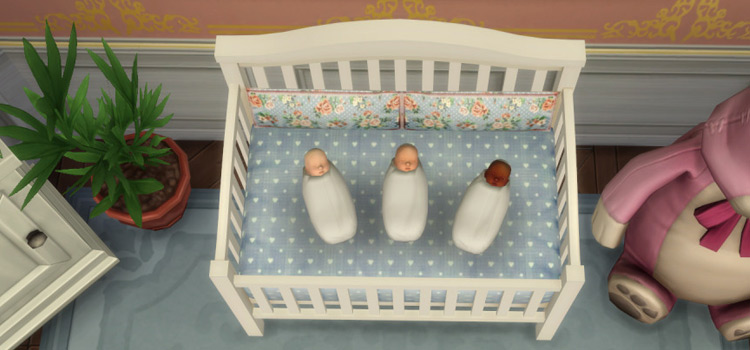 Sims 4 babies are a little depressing.
Even if you love the game, there's no denying that EA dropped the ball when it comes to newborns.
For a game that's meant to be a life simulator, it's pretty featureless with regards to new lives. Your Sims having a baby should be a momentous occasion, but instead it's just something TS4 glosses over!
That means you're limited to either pretending your object-babies don't exist, or pretending that they're way cooler than they actually are.
Custom content can't truly fix these underlying issues. But you know what?
At least with CC, you can dress them up.
1.

Invisible Crib Mod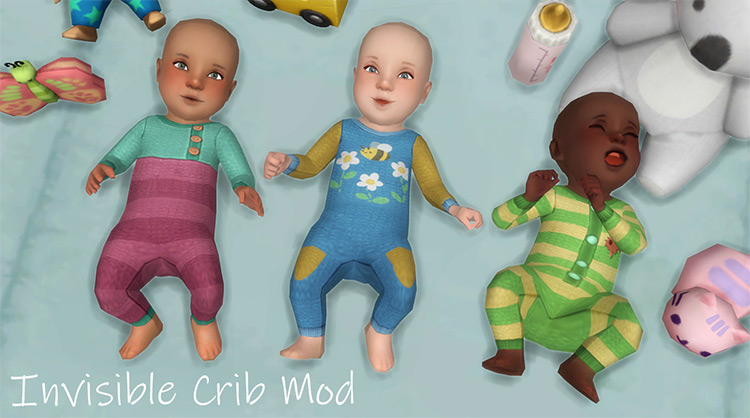 The first step in making your Sim babies feel less like objects is being able to remove them from their bassinet.
The invisible crib mod essentially lets you do that. Be free, little ones!
Well, not that free. You still have to keep an eye on them.
Using this mod, you can put your babies wherever you'd like.
That includes both CC and vanilla cribs and beds, as well as counters and tables (if for whatever reason you want to put a baby on a counter).
2.

Little Lamb Skins + Build Your Own Baby
Are you tired of the strangeness of Sim genetics?
Do you just want to be able to edit the looks of babies like you can your other Sims?
The Build Your Own Baby mod is the remedy.
You can swap between 3 different skin tones, 22 different hairstyles, 6 eye colors (with options to change the color even further), 3 types of freckles, extra baby clothes, and accessories.
It'll take a bit of upfront work on your part – but creator Martine has left helpful instructions on how to customize your babies.
It's not much more difficult than downloading a mod and using CAS!
3.

Baby Skin #7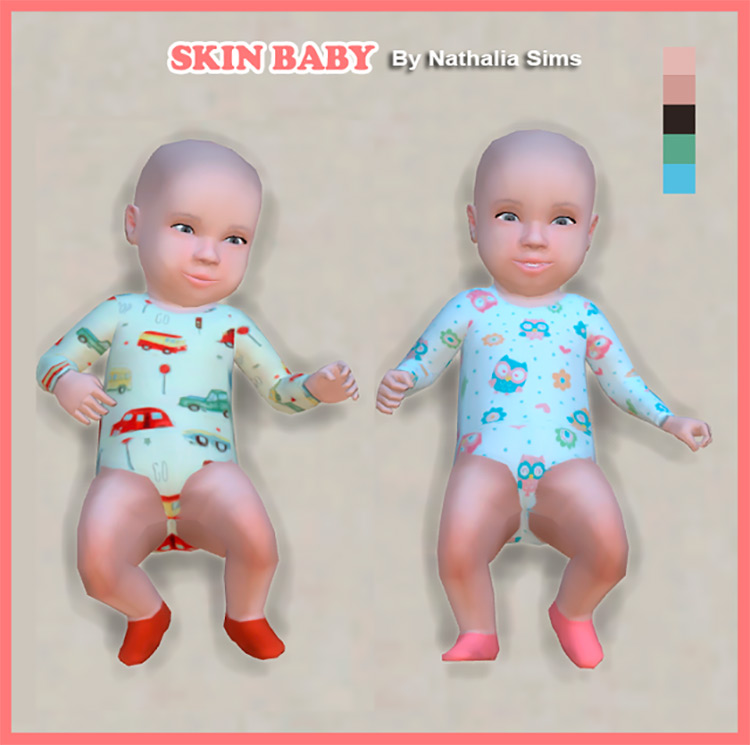 If you're looking for a quick fix to the sheer mediocrity of the default Sims baby outfits, then these baby skins are it.
Two unisex prints (colorful owls and a mixture of cars and traffic signs) will add just the pizazz that your baby's wardrobe is missing.
You can't change the color of the clothes themselves, but the 3 usual skin tones are still available.
On the off chance that your sim has given birth to an alien (it's okay, it happens), there are green and blue skin tones for them too.
4.

Baby Clothing and Skin CC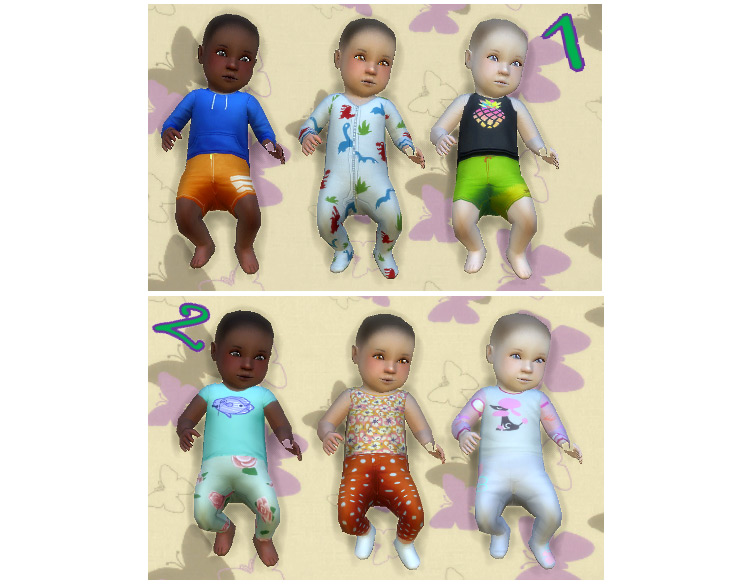 This set of baby skins doesn't exactly have groundbreaking designs.
But it does add 12 more options for your baby to wear, and they're not too shabby!
Most of the prints are recognizable stylized animals, which is always a great choice for baby clothing.
And despite most of the skins being very ordinary in design, there's something to be said about dinosaur onesies.
Overall, this set ensures that you won't run out of new default clothes to try and your kiddo is guaranteed to look good.
5.

Default Baby Skins & Outfits Set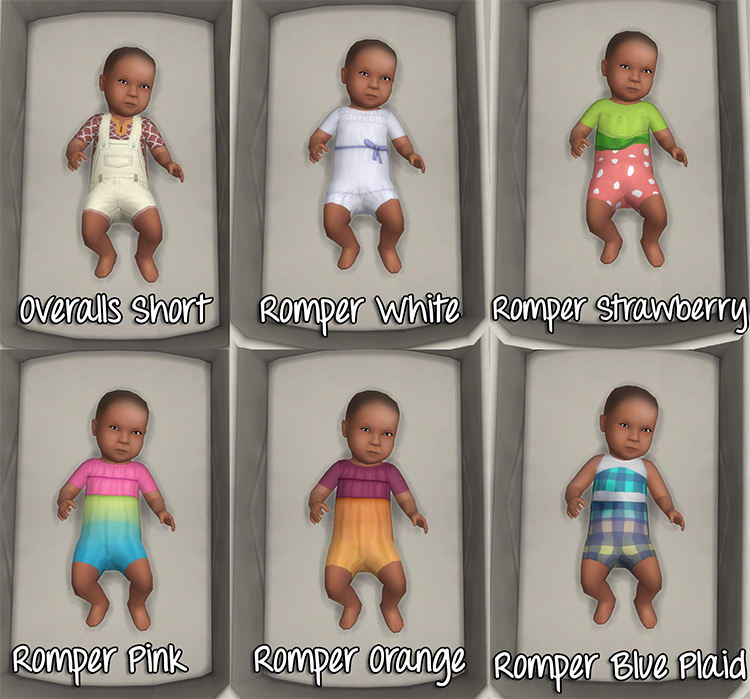 If you thought 12 was a lot of skins, then this set will blow your mind.
Coliswonderland made a very gracious 33 skins for this CC pack.
Many of these skins are still your typical baby onesies or rompers, but to be fair, that's kinda just how it is for babies. There are a few special designs, though.
This set includes frilled rompers, overalls, t-shirt and shorts/pants skins, and even a cardigan skin.
I'm not sure how comfortable or practical jeans and a cardigan would be for a real baby, but Sim babies aren't picky.
6.

My Sweet Child Baby Skins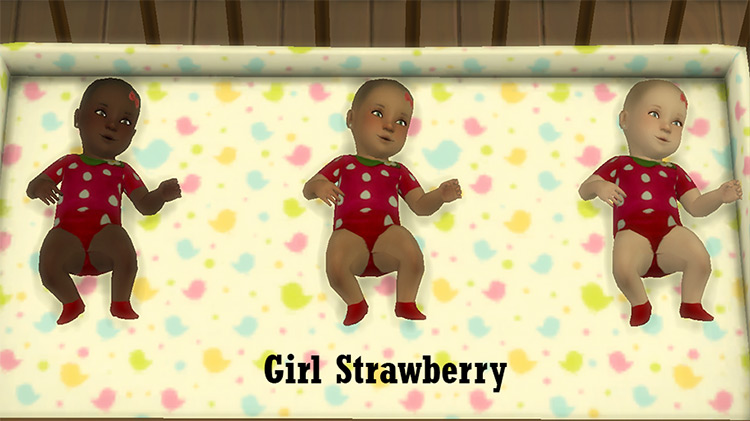 While other skins provide plenty of options in classic baby style, this CC set is especially in tune with real world trends and pop culture.
If you're questioning what I mean by that, just look at the cow print onesie or the ever popular baby-as-a-strawberry look.
Of course, the main attractions are the My Neighbor Totoro skins!
You have to admit that cuddling up your babies with a Totoro-themed onesie is ridiculously cute.
Plus they come in multiple colors: a grey color true to the anime, and a baby pink.
7.

S-Club Baby Pacifiers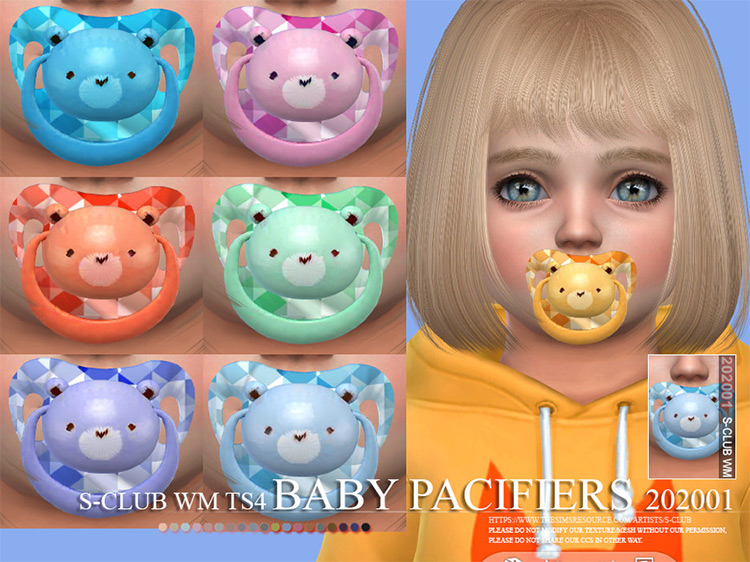 You've heard of teddy bears.
Now get ready for teddy bear pacifiers!
They may not be as soft and fluffy as a stuffed bear (which is a good thing, since they're pacifiers), but they still do a great job of calming your baby.
These bear pacifiers almost top the Totoro onesies in pure cuteness – and the 10 bright colors that they come in are both super fun and super matchable.
8.

Giraffe Pacifier and Baby Bottle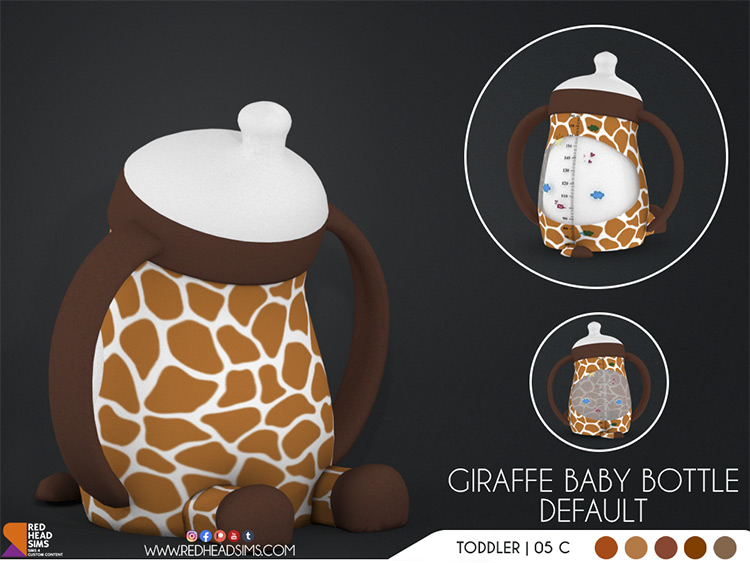 This creative CC takes it a step further than bear shaped pacifiers.
It attaches an entire giraffe for your baby to hold on to!
A fake one, obviously.
With multiple colors options and a giraffe-themed baby bottle to match, this set has a monopoly on soothing for your baby Sims.
The only better sources of comfort for an infant than a stuffed animal to cuddle are their caretaker(s).
And you just know that it would be the first choice of any animal-loving Sim parents, making this CC a great way to show off your Sims' unique parenting styles.
9.

Tommee Tippee Moda Pacifier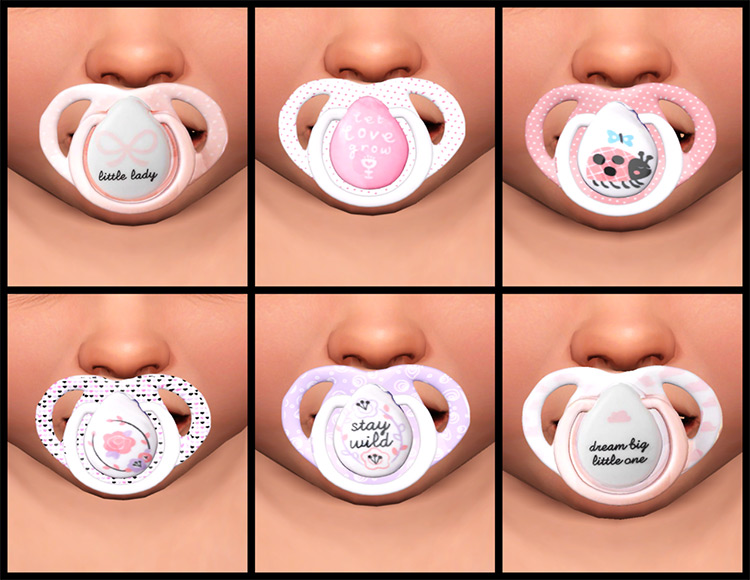 The Tommee Tippee Moda pacifiers might seem like a downgrade compared to the animal designs from before – but that really isn't the case.
Not only are there benefits to regular pacifier shapes (they're less clunky, for one), but these pacifiers are also printed with loads of cute designs and phrases that you just can't get anywhere else.
One of them reads "I love you to the moon & back".
It's like your Sim baby can tell you that they love you even before they say their first words!
10.

Baby in Swaddle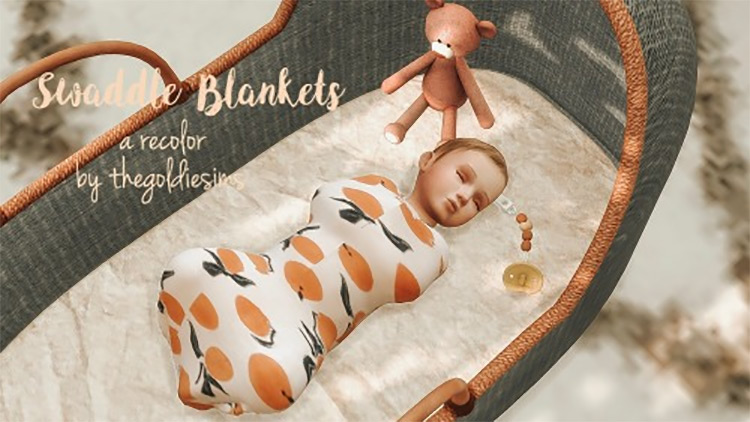 When looking for baby CC, most Simmers are looking for something less restrictive than what's already in-game.
Although a swaddled baby is technically more restrictive, it still fits the bill.
Not only is it a break from the vanilla baby clothing options, but it's unique even amongst other user content, which is often limited to onesies.
This CC adds more recolor options (8 patterns and 5 solids) to a preexisting mesh, which you'll have to download separately.
The link to the mesh can be found here, which is conveniently included in the post. But if you check around, there might be another option to try with similar features.
11.

Baby's Bag for Boy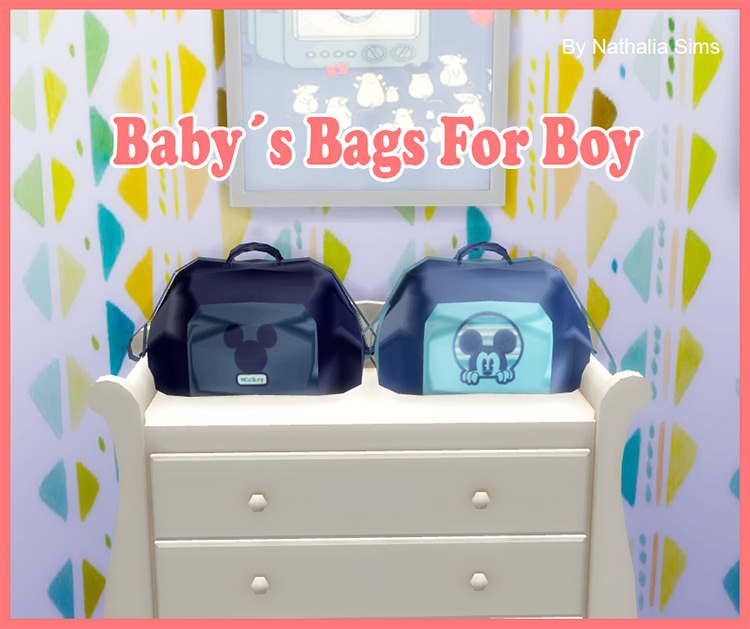 Now that you have countless skins and accessories for baby, you're going to need to find a way for your poor, stressed Sim parents to carry around their baby's drip.
The solution isn't complicated!
After all, there's no need to reinvent the wheel (or in this case, the bag).
No matter how much time passes, bags will always remain a great tool for carrying stuff. And every Sim parent needs a baby bag.
This CC says it's for a baby boy in the name – and while that's true, it doesn't have to be used exclusively for boys.
Because let's be honest: the color blue and a Disney print are about as universally appealing as it gets!
12.

Baby Hair TS2 to TS4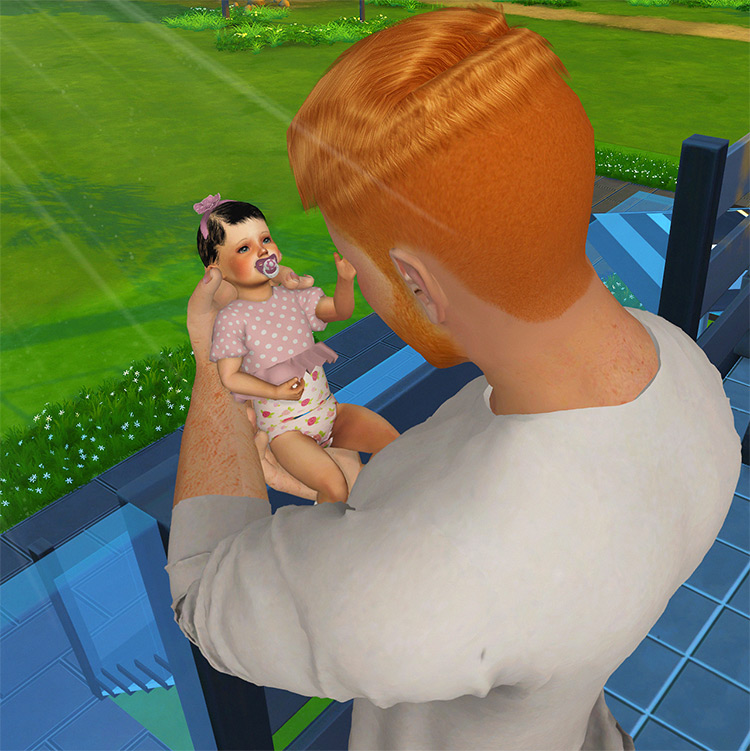 Not all babies are gifted with a full head of hair.
Frankly, many babies only get a couple hairs at best!
This full head of hair, converted from The Sims 2, will make your baby the talk of the baby town (or at least I think that's what the oohs and aahs mean).
Aside from giving everyone else a serious case of envy, this CC's 34 swatches can add tons of personality when you don't have many other customization options.
The wide range of color options means that it's vampire friendly, alien friendly, and friendly to any babies who are into alternative fashion.
13.

Welcome to the World! Newborn Stuff Pack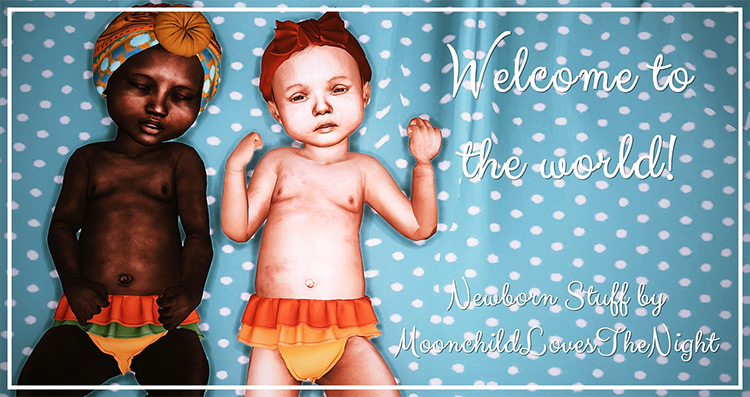 I'll admit, I might have recoiled when I first saw the pictures for this "Welcome to the World!" pack.
After scrolling through picturesque Maxis-match babies for so long, seeing an attempt at realism was quite shocking – and almost a little disturbing.
But upon second glance, the textures in this pack are actually… really good.
They're supposed to be used on toddlers to give them the same appearance as newborns, and they're the most realistic skin texturing I've ever seen.
And the pack doesn't stop at an anatomically accurate skin overlay. Not even close.
It includes all sorts of newborn skin health conditions (peeling, rashes, etc.) as well as a couple different ways that newborn skin can look "different" from the skin of an older human (couperose, mottling).
14.

Newborns Animations Pack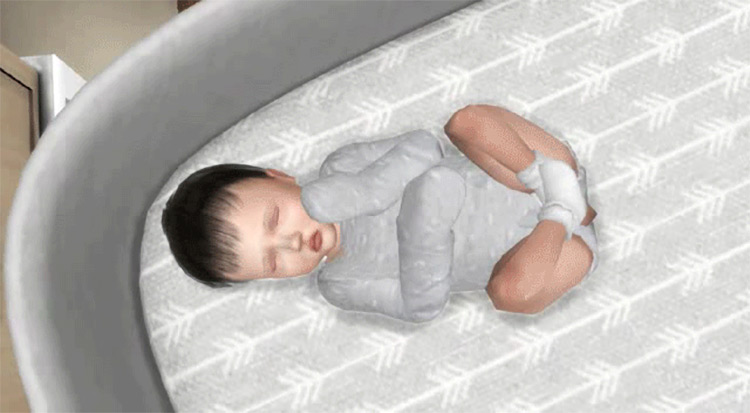 Movement is by far the best way to bring a Sim to life.
The innocent, gentle swaying motions in this animation pack are sure to steal you and your sim parent's hearts.
Whether or not it'll be enough to rid you both of new baby fatigue is another question entirely!
There are 5 new animations that this CC brings to the table, but they're all the same general idea.
Though babies may demand tons of investment and energy from their parents, they spend all of their time laying in cribs and slowly figuring out how to move coherently for the first time.
And this newborn animation pack is a wonderful depiction of that.
15.

Baby's Firsts Pose Pack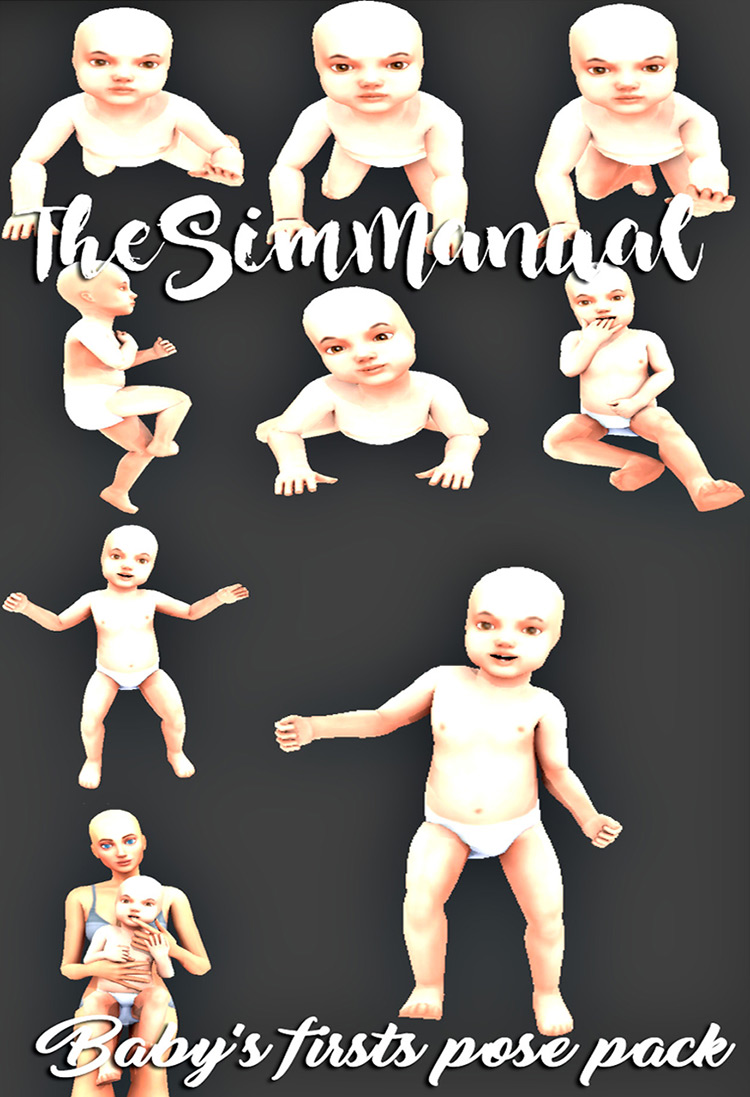 Babies have many "firsts" all in close succession after they're born.
They take their first gulps of air, open their eyes, make their first noises, touch people outside of the womb for the first time, and much more.
There are so many new things that babies experience that it would be impossible to list them all.
But some of the big firsts are picture-worthy memories that deserve to be saved in picture albums.
This pose pack collects 9 such momentous occasions that can be used to embarrass your Sim babies once they're all grown up!
But if you want even more ideas for Sims 4 baby pose packs, we've got an even larger collection right here.
Browse:
Lists
The Sims 4
Video Games