Cutest Sims 4 Baby Clothes CC To Download
This post may contain affiliate links. If you buy something we may get a small commission at no extra cost to you. (Learn more).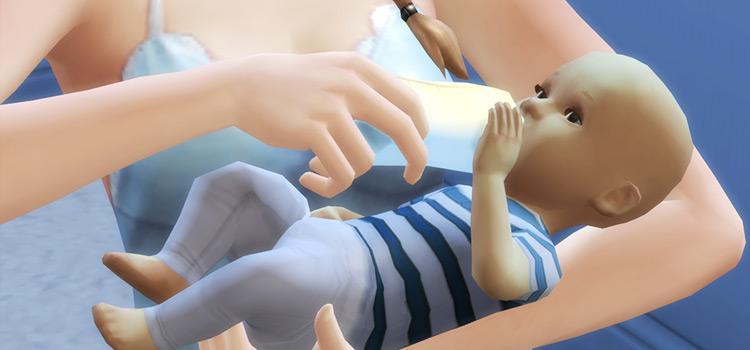 Poor Sims 4 babies. Technically they're objects – very needy ones, but objects nonetheless – and as such are forever tied down to their bassinet.
If that's not sad enough, they are also permanently in one outfit.
We've all seen it. Green onesie with a monkey for boys, yellow onesie with a butterfly for girls. In fact, you've probably gotten sick of seeing those same darn outfits over and over.
Who doesn't after a while? Where's the individualism, right?
There is really only one choice if you want to move away from those monkeys and butterflies, and that's to find custom content to override the defaults.
Yes, in order to dress your Sim baby in clothes of your own choosing, the originals must be forgotten. Tragic, I know.
If you're new to this sort of thing, I'm gonna give you a tip that is usually learned the hard way: you can only have one baby outfit per gender in your game at once. Otherwise, things get really wonky.
So as adorable as all the content I've gathered here is, pace yourself, my dears.
1.

Little Lamb 2.0 Outfit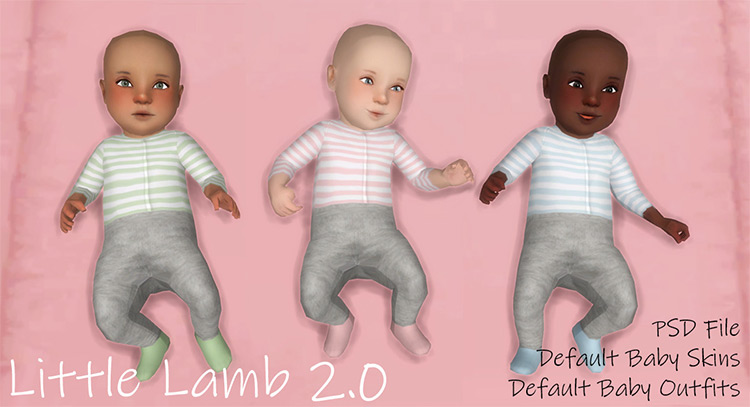 First up, this long-sleeved outfit is the perfect way to start off a list dedicated specifically to cute baby clothes.
Everyone looks good in stripes and sweatpants. That goes double for babies.
Casual clothes are important for them, too. The last thing you want is an uncomfortable baby. They make that well known with ear-piercing shrieks, you know.
So keep your Sim baby fashionable and comfy in this outfit from Martine!
2.

Baby Bear Outfits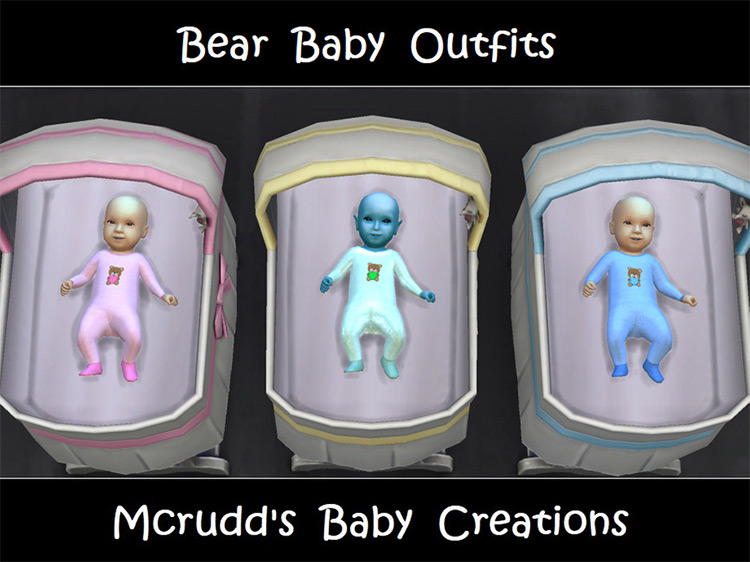 Is there anything more adorable than animals on baby outfits? Not really.
Simple definitely doesn't mean boring, as evidenced by these beary cute outfits from mcrudd. Each one is a smooth, solid pink or blue, with a little bear on it holding a matching heart.
These just look so snuggly!
3.

Skull Baby Onesie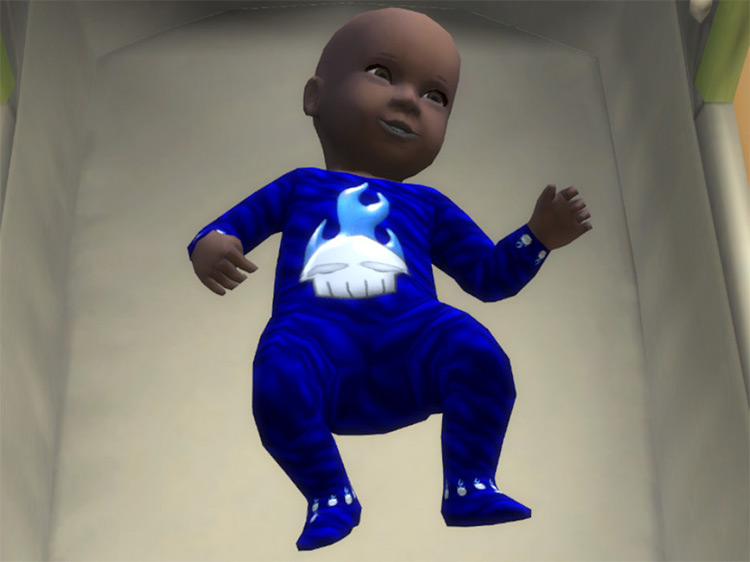 Perhaps your Sim's little bundle of joy isn't the type to wear typical baby clothes.
Maybe you need something a little edgier, something with skulls and flames…or both?
Luckily for you, A2J3 has made just that, the antithesis of a bear onesie: a flaming skull onesie.
I must admit, this is pretty cool. Certainly a change of pace from what you usually see, which actually makes a lot of sense.
Not every person (or Sim) has a cutesy style, so of course that would extend to their kids.
4.

Default Baby Skins and Outfits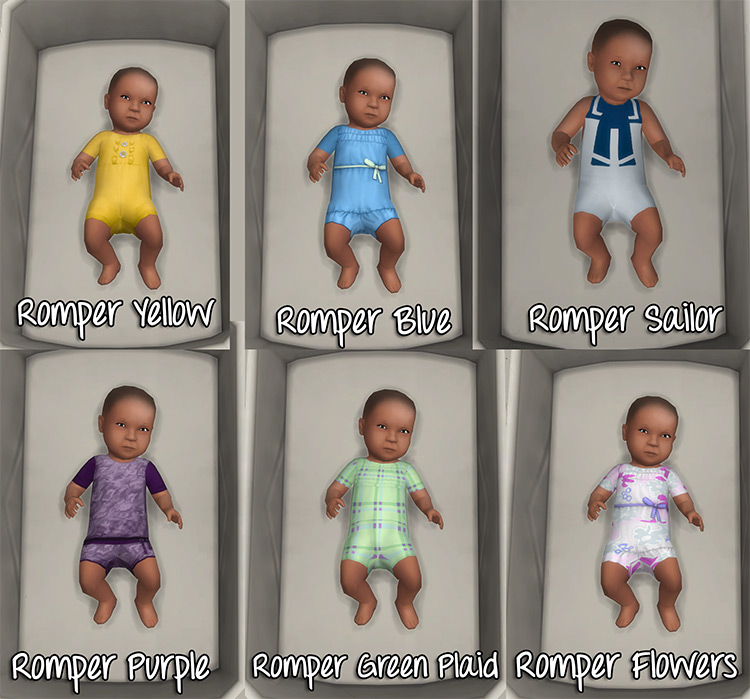 There are many, many, many outfit options for your baby to choose from here. It's a little crazy.
I can't imagine how long it took creator Coli to do this, but I'm amazed.
Overalls, rompers, shorts and tees, sweaters, onesies, they're all here. A style for every baby, in every season, for every reason.
Many of these outfits are heavily inspired by the base game or other packs, so if you've ever wished you could do matching sibling photos including the baby, you actually can now!
Other than that, these are all just perfect. The colors are just right for infants, as are the prints and animal designs. These look like legit baby clothes.
5.

Purple Hearts Overalls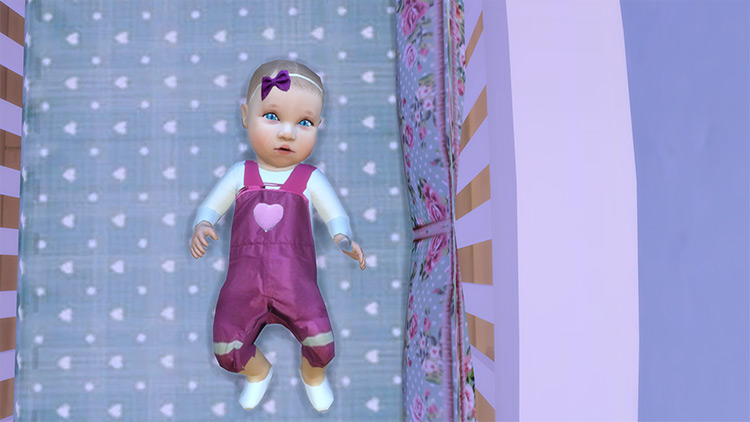 You can never wear too much purple.
And now your Sim baby girls can be equally stylin'.
These overalls are certainly a step up from the default onesies we're used to. And that's what is so fun about CC baby clothes: exploring the different designs and styles you won't find in-game.
6.

Default Replacement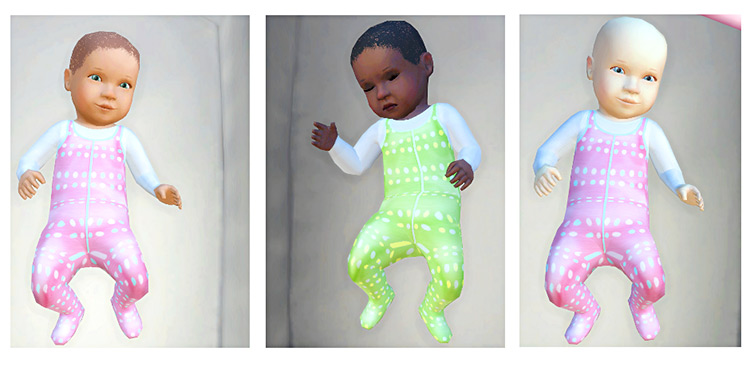 This default outfit replacement from elys-simsalabim is precious, coming in a blue long-sleeves shirt beneath pink or green overalls, gender permitting.
As if that isn't cute enough already, you also have the option to include hair with your outfit!
At last, your baby can have some peach fuzz, rather than them being stark bald their whole little lifespan.
If you'd rather they did remain hairless, however, that's totally fine. It's all about choices here.
Bald, fuzzy, whatever floats your boat. Your baby will still look great.
7.

Baby Defaults 2.0
These made me squeal a little bit, they're that cute.
The animal themed clothes just never get old.
You can choose from various critters for your little one to sport, including a bunny, bird, fox, wolf, or the ever trusty bear. They're all paired with sweatpants, which is never a bad route for a baby.
It all looks so natural, it makes me wonder why these options weren't available in the game already!
8.

Baby Angel Outfits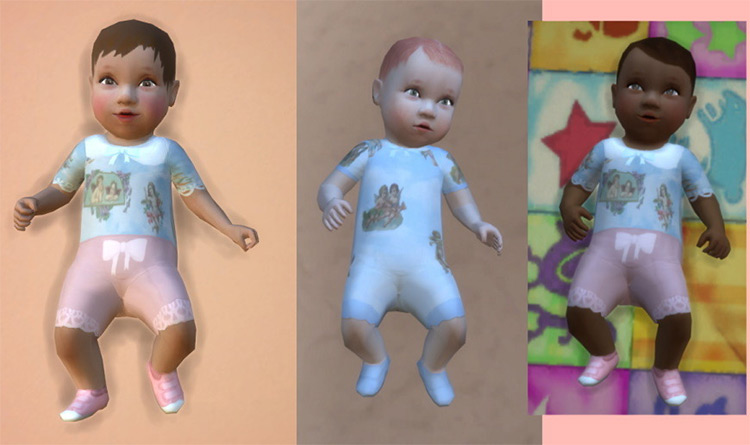 Every parent thinks their newborn is an angel.
That doesn't usually last long.
But with these onesies from sassymissollie, you can project an image of holiness even after they turn into little devils.
I love how unique these are. I've never seen an angel pattern like that, but it has made for adorable outfits, both for boys and girls.
9.

Baby Overalls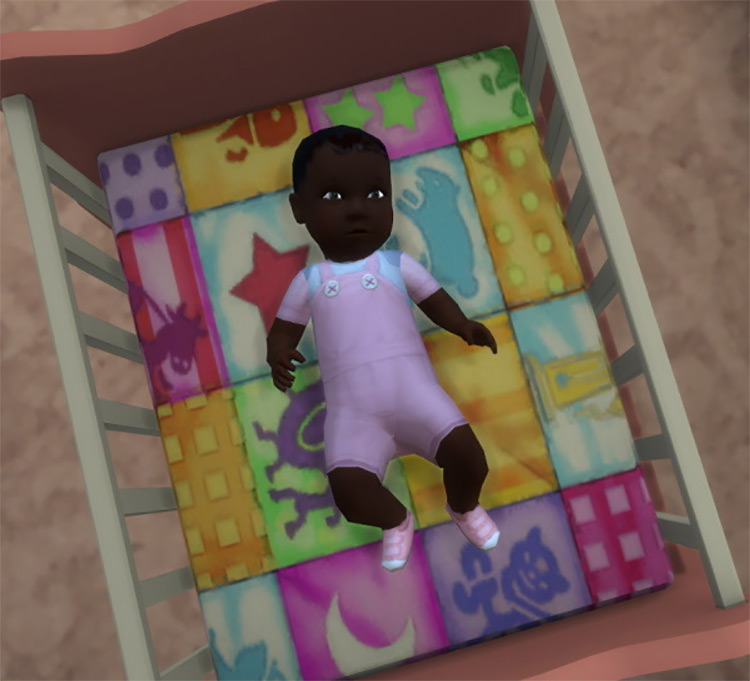 Maybe this is just my inner country bumpkin speaking, but overalls are without a doubt my favorite baby outfit.
A baby can pretty much make anything cute. It's not like when you're an adult and can succumb to fashion faux pause. The little ones can rock anything.
So I don't know why overalls are so exceptionally cute, but they are. Look at their little arms and legs poking out! Eeee!
Sassymissollie has struck again, this time giving us a timeless look in classic pink or blue.
10.

Baby Boy & Baby Girl Outfits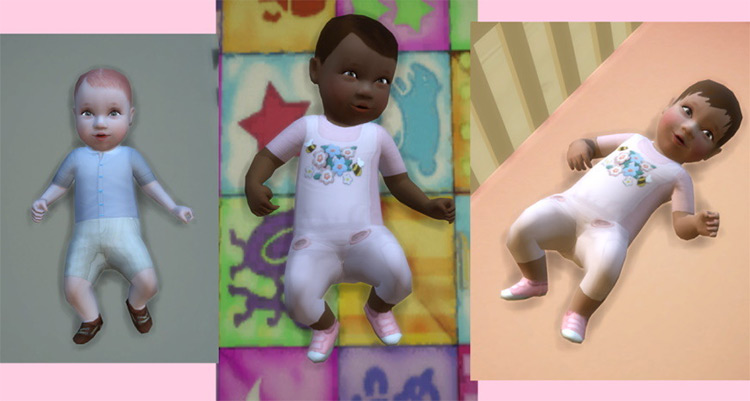 To top off this list, we have a third creation from the incredible sassymissollie.
It's a close contest no doubt, but I think these are two of the cutest outfits on this list.
For boys, you get a dapper button up shirt and khaki shorts, while the girls can have pink overalls adorned with flowers and bees. The adult version of those would be so trendy.
I get Spring vibes from these – just imagine how picturesque your babies will look in these come Love Day. But of course, they're perfect year round!
Browse:
Lists
The Sims 4
Video Games