Baby Crib CC & Mods For The Sims 4 (All Free To Download)
This post may contain affiliate links. If you buy something we may get a small commission at no extra cost to you. (Learn more).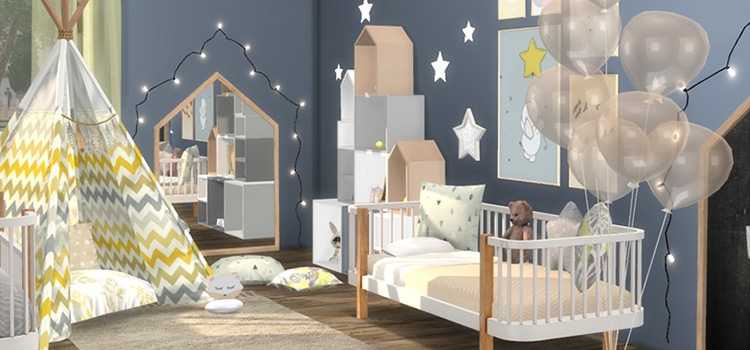 There are few things more exciting for expecting parents than picking out a crib. In fact, it's almost as important as picking out a name.
Cribs tend to stick with the family for long periods of time. If it's for the first-born, then it's very likely that it'll be handed down from sibling to sibling.
That means it'll be in photographs, it'll be part of stories, and generally it'll be swimming in your childrens' consciousness for years to come. It'll be as integral to their childhoods as their first pet, their favorite toys, and their best friends at school.
Obviously, there's far less pressure when choosing a crib for your virtual baby in the Sims.
And if you're as meticulous as me, you're probably obsessing over your Sim crib choices as much as a real-life parent would.
If you want some newer options then here's a bunch of CC for your newest member of the family!
10.

Heart Kids' Room Crib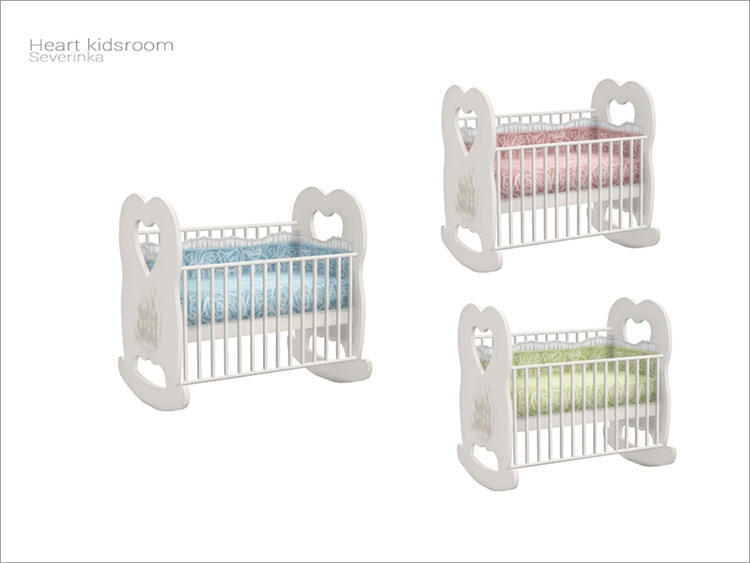 The heart is such an obvious symbol for love that even a new-born baby could probably recognize what it's about.
With that said, why not make it the first thing your Sim infant (Simfant? Is that a thing?) sees?
Severinka's Heart Kids' Room Cribs come with blue, red, and green mattresses.
It has rockers for legs, too, making it so much easier to put your Sim infant to sleep.
It features heart-shaped head and footboards, ensuring that your little bundle of joy is symbolically and literally surrounded by love.
9.

Heyden Nursery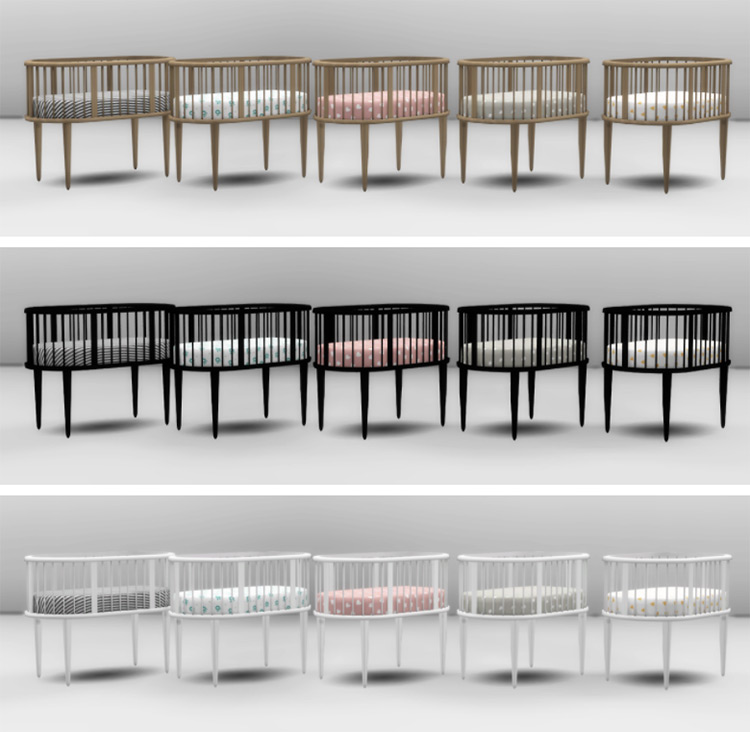 Are you trying to maintain a minimalist aesthetic, but your new baby keeps cramping your style?
Michelleabstuff's cribs CC might be a solid fit for your new nursery.
These classy and minimalist cribs can fit into any room aesthetically with just a dash of color to satisfy your little brat.
The crib's legs are taller than most, but luckily so are the panels, so you don't have to worry about your baby falling to its early grave.
Lastly, the cribs come with a matching comfy-looking chair so your Sim wouldn't have to stand over its baby all night like a total creep.
8.

Victoria Nursery Baby Crib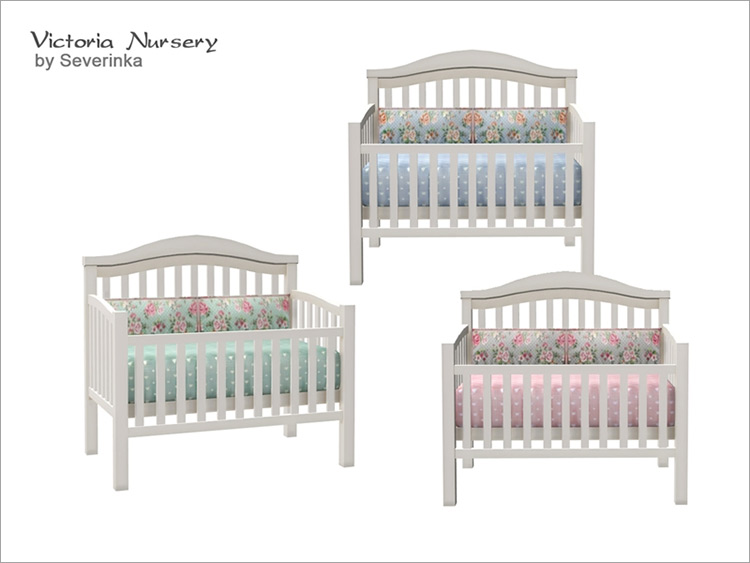 No matter how cool or artsy you are, you can't deny the magical warmth of a wholesome crib.
CC creator Severinka serves up another slice of infant heaven with these Victoria Nursery crib styles.
With soothing floral and polka dotted patterns and a wide space to crawl around, it's the type of crib that your baby will want to lie down in the whole day.
I won't blame them for wanting to, because if they made these for adults in real life, this would be my bed of choice for ignoring my responsibilities too.
7.

Hanging Cribs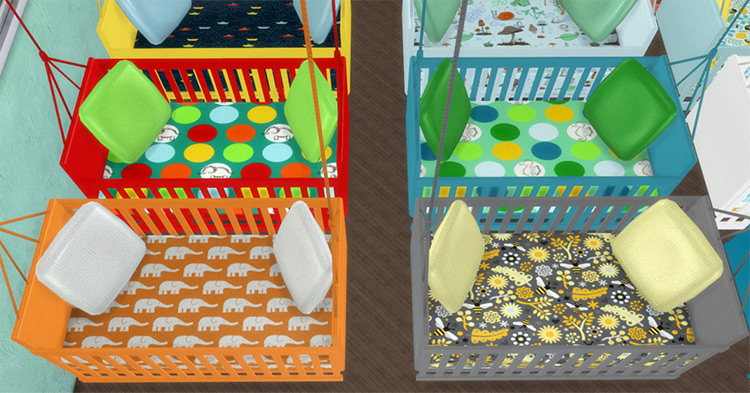 Everyone knows that bedtime is the least exciting part of a baby's day. But fallenstar1119 may have just changed that for your Sims.
With these Hanging Cribs, your Sim babies will be giggling with adrenaline until they drift to sleep.
Frankly, these look like death traps at first glance. But thankfully Sim babies are made of pixels and not actual flesh and bone.
The panels come in different colors that are easy on the eyes, and you can choose from a variety of designs for the sheets (a plane-filled sky and a sea of boats just to name a few) to stimulate your baby's imagination.
But don't take my word for it. Get this CC because – who knows – this might just be the crib that can get you into the swing of virtual parenting.
6.

Nana Nursery Baby Crib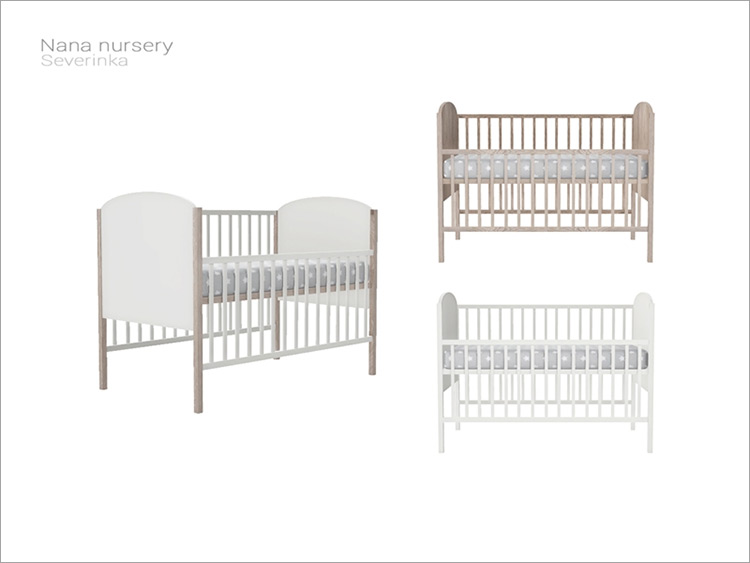 For those keeping score, this is the third time Severinka has appeared in this list. And it's for good reason.
Just like the Victoria Nursery Baby Crib, these are elegant cribs with no-nonsense designs.
You can have it in pure white, pure brown, or white with brown accents.
Each variation includes the same gray mattress, showing how aesthetically pleasing neutral colors can be when used well.
5.

Basket Baby Crib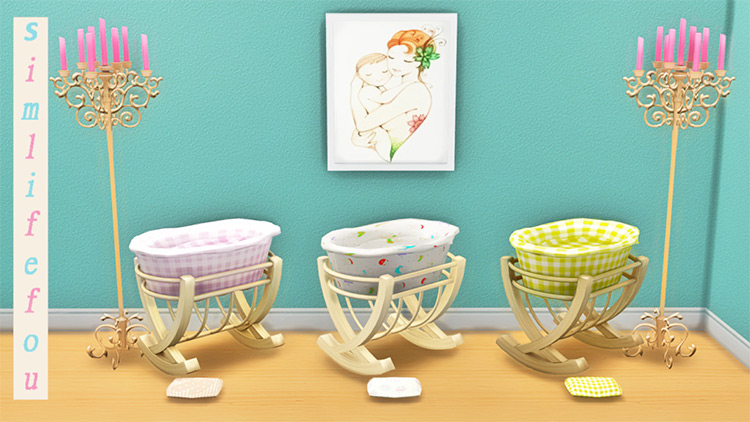 If you really think about it, The Sims is basically a giant virtual dollhouse.
So why not go all the way with mysimlifefou's baby cribs?
These cribs are some of the coziest baby baskets you'll ever see, set on wooden frames that have rockers.
Get this baby crib and go back to a simpler time when all you could do for WooHoos was rub naked Barbie and Ken dolls against each other.
4.

Sweet Buddies Nursery
Give your Sim baby a fairytale slumber with this Sweet Buddies Nursery crib CC.
Despite its muted colors, this crib looks like it was pulled out from an old-school fairytale with its images of tiny animals and a tree branch holding up a white veil.
Thankfully, poison apples and sketchy Prince Charmings are not included in this CC.
3.

Boho Crib
This Boho Crib CC is the best choice for your little hipster in training.
With its unique design and wooden minimalist mesh structure, you could easily mistake it for a sculpture in a modern art museum.
The colorful blanket casually thrown over the crib adds an extra touch of effortless cool.
Before the extensive vinyl collection and the artisan cold brew, your hipster kid is definitely going to need this.
2.

Evalina Nursery Crib
Want your Sim baby to experience the magic of camping without actually going outside?
Severinka yet again gives us a crib to die for with the Evalina Nursery Set!
Aside from the crib itself, this set also comes with an indoor teepee and a twin-sized bed for your baby's older siblings.
Perfect for slumber parties, this CC set is guaranteed to become the envy of your baby's playdates for years to come.
1.

Sleepi Crib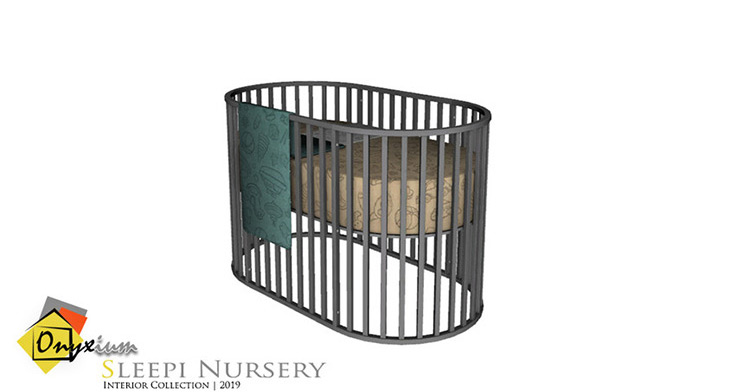 Are your Sims having trouble being overprotective parents while wanting to keep things #aesthetic?
Onyxium has the solution for your dilemma: the Sleepi Crib.
With one mesh panel wrapped around the entire mattress of the crib, you can rest assured that your baby won't be going anywhere unattended, or falling off the edge.
You can run off to WooHoo, burn your partner in a fire, or conjure the Grim Reaper by drowning in a pool.
Either way your baby will still be nestled into this crib, safe and sound.
Browse:
Lists
The Sims 4
Video Games