The Sims 4: Baby Shower Mods & CC (All Free To Download)
This post may contain affiliate links. If you buy something we may get a small commission at no extra cost to you. (Learn more).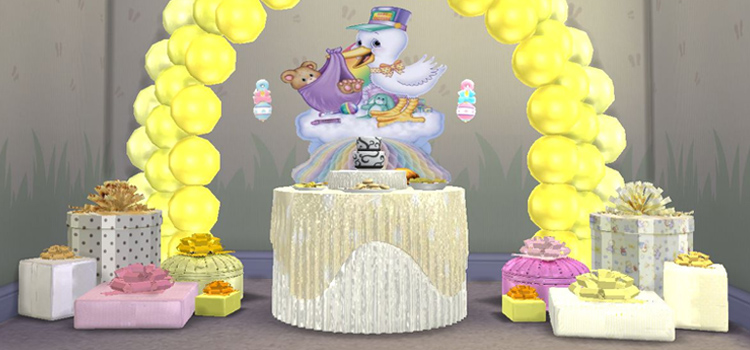 Congratulations! After numerous days spent wooing and canoodling your Sim of desire, you have decided to click the "Try for Baby" option and virtually go through the wonders of parenthood.
While we hope pregnancy is quick and painless (it won't be), it's still one of the most fun things your Sim can go through!
Gender reveals are all the rage right now. But nothing beats a good ole' traditional baby shower.
Baby showers celebrate both the mom-to-be and the baby, and offer an excuse to get tons of gifts!.
Get the full experience of parenthood by having the baby shower of your dreams in The Sims 4 (with lots of custom content to show for it). Everything you need to help your Sim plan and host the best baby-focused party ever.
15.

Baby Shower Event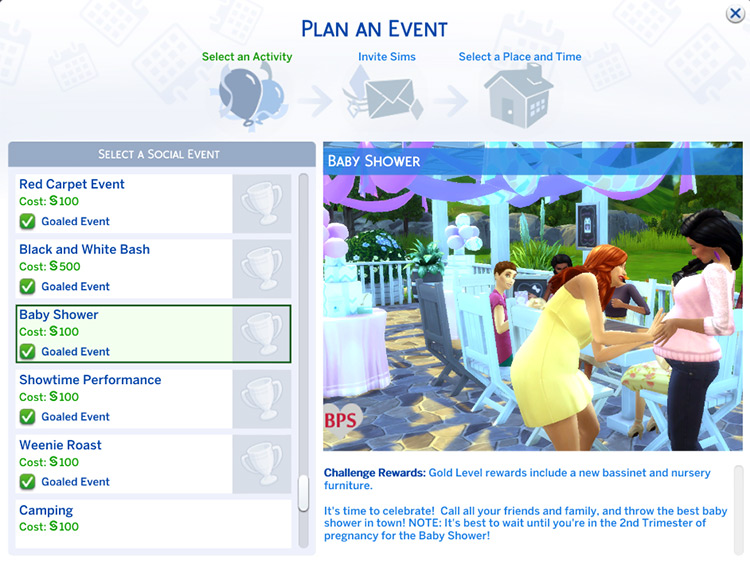 Planning a baby shower takes as much time and attention as planning any other big event in your life.
It's one day to reap the rewards of having a bun in the oven.
Let your Sim friends know that you and your offspring are the stars of the show with SHEnanigans' Baby Shower Event mod, which was originally made by retired modder BrittPinkieSims.
The set includes baby shower essentials such as greeting cards and presents. It's also modded for your Sim to receive rewards from a successful event (aside from, you know, having that baby!)
14.

Baby Shower Bundle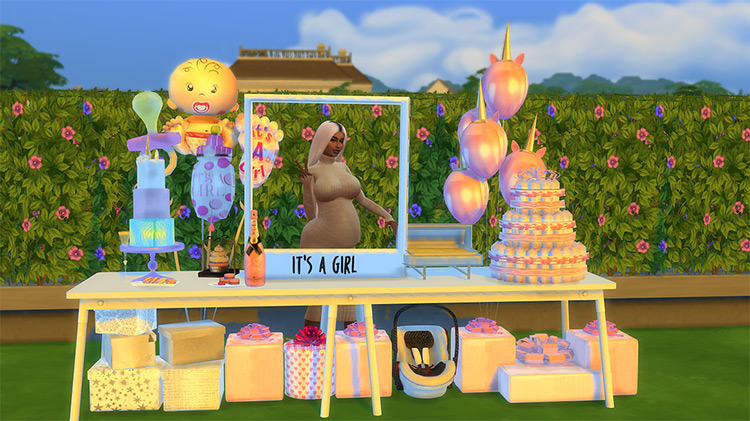 The best thing about throwing parties in The Sims?
There's no need to hire expensive event stylists and party planners. You can access a wealth of custom content, created by the very generous Sim community, for virtually every need. Ain't life grand?
Flex your styling muscles with the help of Meet The Dunlaps' Baby Shower Bundle.
The bundle includes cakes, balloons (both with gender and neutral options), food, and Polaroid-like photo frames to make your photos Simstagram-worthy.
13.

Pregnancy Animation Pack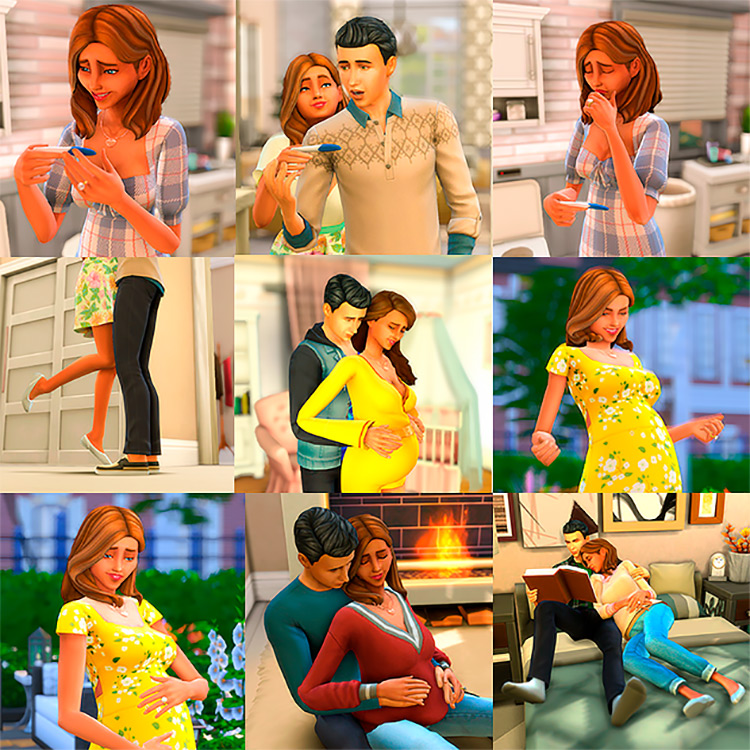 Want to share your whole pregnancy journey during your baby shower? (except the WooHoo part, please!)
Make it a bit more dramatic with the Pregnancy Animation Pack here, created by GoodChillsStudio.
It includes animation for moments such a getting that positive pregnancy test result (either showing happiness or worry), showing your partner the results, and more situations of pregnancy bliss.
Use this to create a reel of your most personal moments while expecting, making it perfect for storytelling or capturing images you want to highlight on your baby shower.
12.

Baby Shower Fake Cake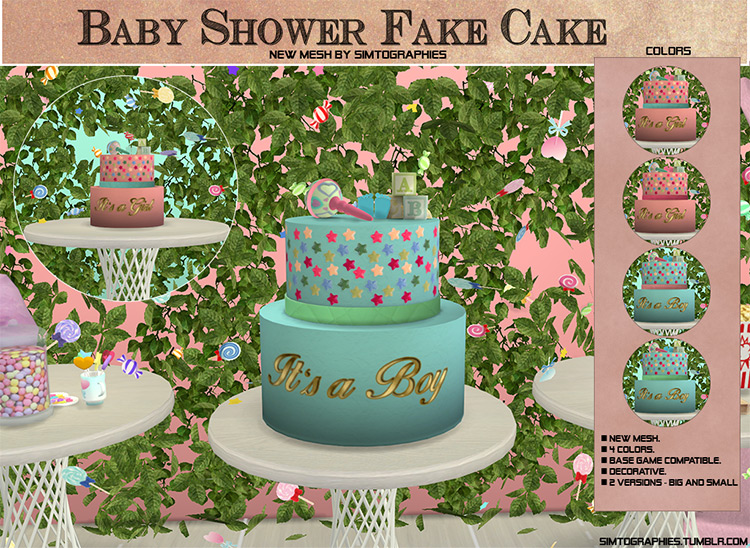 The cake is an essential part of every celebration.
We daresay that a celebration is not complete without these sweet sponges that are worth every. single. calorie.
However, for reasons we cannot comprehend (but do not judge!), not everyone is a fan of cake.
For those heathens, here's a fake cake CC by Chic4House. It comes in 4 colors, 2 for each gender, with either 'It's A Boy!' or 'It's A Girl' written on the base.
You can also have a small and big version of each design.
11.

Baby Shower Cakes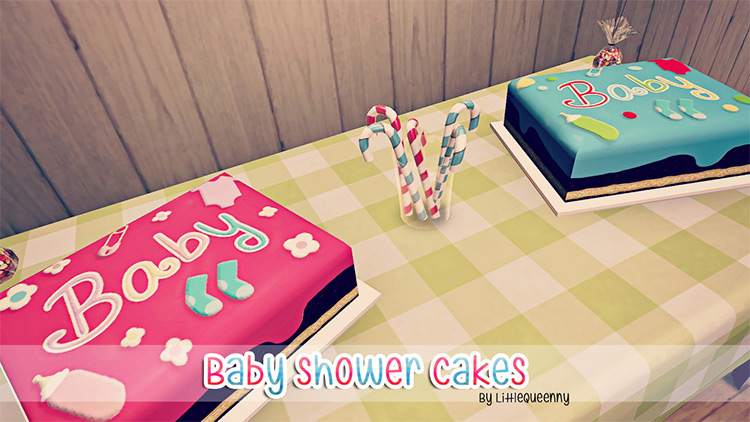 Now here's another decorative cake you can use for your party by modder LittleQueenny. Let them not eat cake!
Think of the possibilities you can have with these Baby Shower Cakes, coming in two colors: pink and blue.
Have a gender non-reveal baby shower and whip these two babies out to keep your guests guessing. Or if your Sims are expecting twins, why not have a cake for each?
It's good practice to get you ready for a lifetime of buying two gifts.
10.

Little Adventurers Poses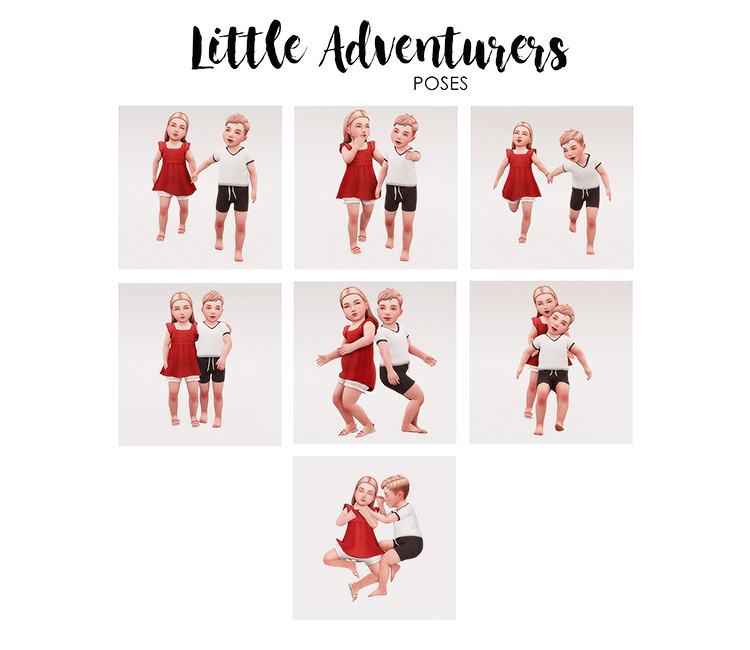 Baby showers are a family-friendly event that is highly photographed. Parents will bring their kids, and toddlers will be running around and knocking over some stuff.
If you want to capture memories of the party with the kids being at their best photogenic behavior, then we suggest getting this Little Adventurers pose pack by Sim-Bubble.
The pose pack includes 8 poses for two toddlers including playtime, walking hand in hand, and our personal and every parent's favorite – sleeping.
9.

Little Man or Little Miss Set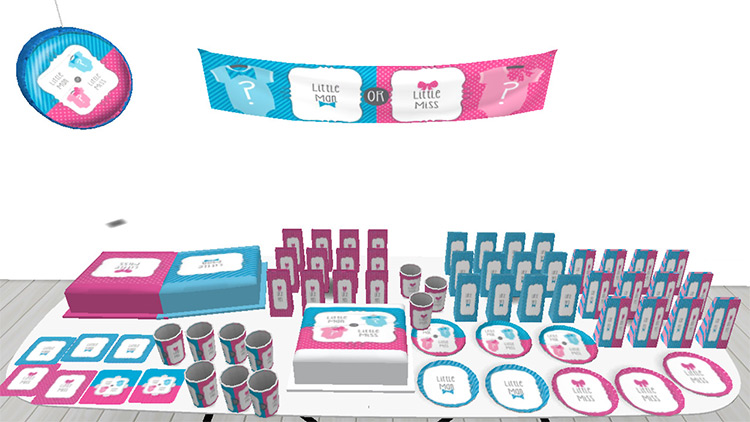 One of the fun parts of a baby shower is having your guests take a guess if you're expecting a boy or a girl.
Why not keep that a central theme?
The Little Man or Little Miss set by Akilah Sims makes the guesswork the actual theme of your baby shower. This set includes party must-haves such as utensils, favors, cakes, and banners with gender guessing as a focal point.
Take your party up a notch by not really revealing the actual gender, you little rebel you.
8.

Bundle of Joy Baby Shower Party Items Set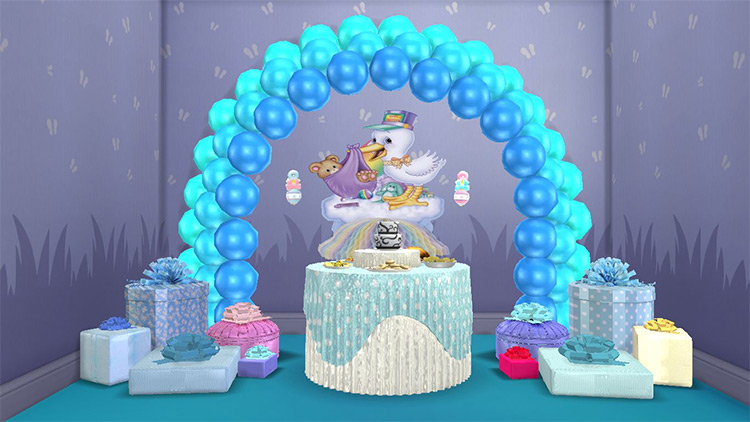 Everyone knows that there will come a time in a child's life that they will ask where babies come from.
Poor storks always got the blame until the kid grows of age and figures out the truth.
Honor the storks with this Bundle of Joy Baby Shower Party CC Set, created by Sanjama Sims Studio.
This set features the storks prominently on the décor, and must be one of the more stacked we've seen. It has a total of 11 items ranging from wall decals, balloon arches, table settings, gift boxes, and even ceiling lights!
Most items are dominated by three color choices: the usual suspects pink and blue, and yellow if you want a more lively feel.
7.

Gender Reveal Cotton Candy Table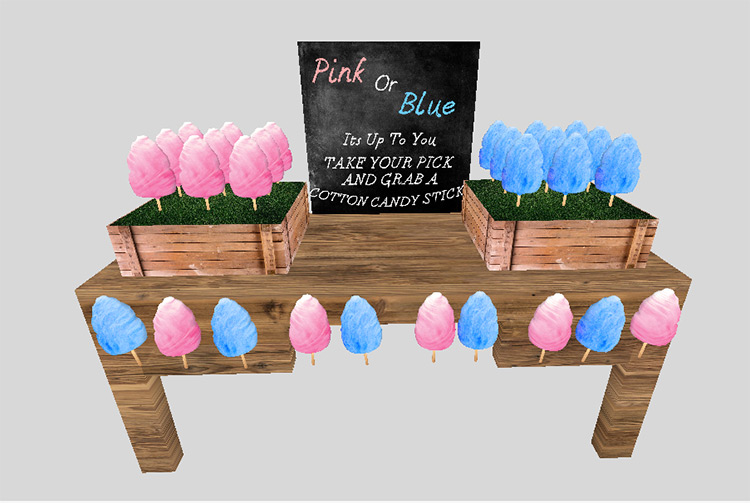 Want a safer way to reveal your baby's gender during your shower? A reveal that won't involve tons of confetti or hazardous materials?
May we suggest a more yummy way by using cotton candy with YourDorkBrains' Gender Reveal Cotton Candy Table?
This wooden table encourages your Sim guests to choose between pink or blue cotton candies, representing each gender. Your guests get a yummy treat and you get to save the environment.. we call that a win!
6.

Gender Reveal Box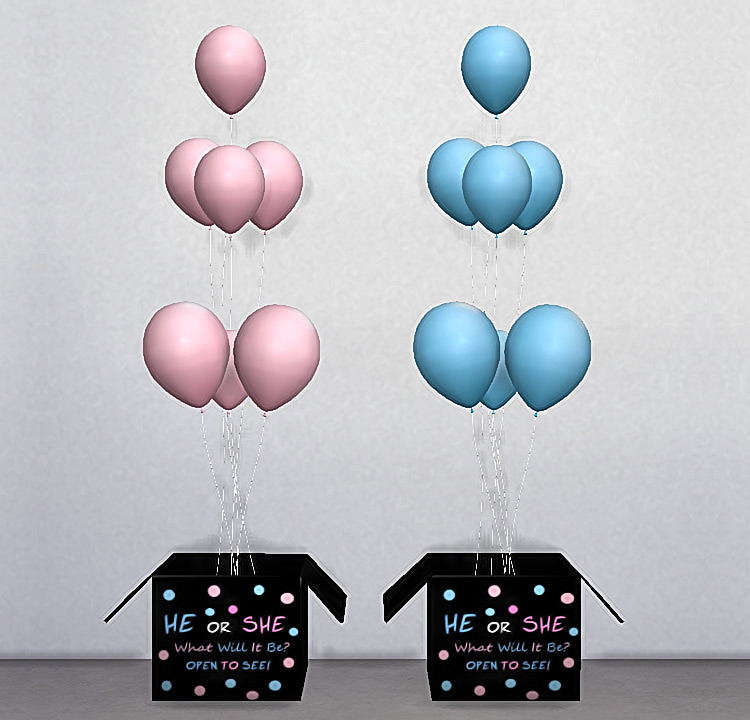 Another less threatening way to reveal your baby's gender during your baby shower is by balloons.
Do that using the Gender Reveal Box, another one by YourDorkBrains.
With a hard-to-beat price of 35 Simoleons, you get a box with aptly colored balloons (you know that typical colors already) to reveal the baby's gender.
Just make sure to secure them to ensure they don't fly away. You've seen those viral videos.
5.

Sweets Décor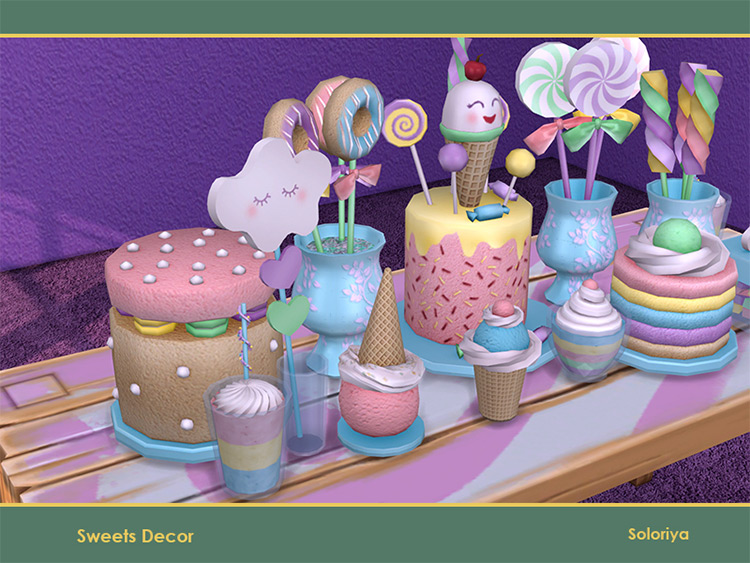 Running low on sweets for your party?
Add a little bit more using this Sweet Décor object pack by Soloriya.
The CC pack has 12 objects such as ice creams, pancakes, lollies, and marshmallows with 5 color variations to liven up your baby shower's dessert station. They can also be used as side decor for your cake!
Let the kids have all the sweets they want before they realize how costly dental work can get.
4.

Twinkle Twinkle Little Star Baby Shower Décor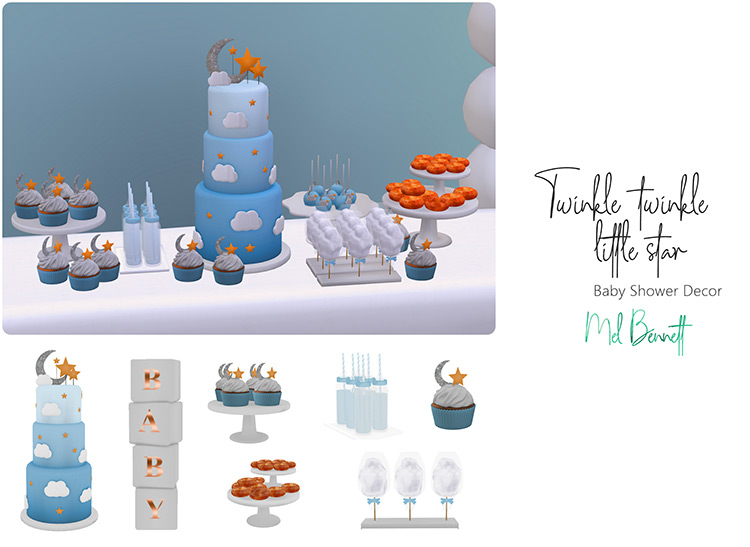 It's a universally accepted truth that Twinkle, Twinkle, Little Star is one of the first songs everyone heard and memorized.
Even tone-deaf people can sing this song on key (probably).
Pay homage to this timeless nursery rhyme by using the Twinkle Twinkle Little Star Baby Shower Décor by Mel Bennett.
This décor set features heavenly bodies such as the moon and of course, the stars. It comes in 5 swatches and includes items such as cupcakes, cotton candy, and cake. It will certainly add a dreamy touch to your party.
3.

Baby Shower Poses Package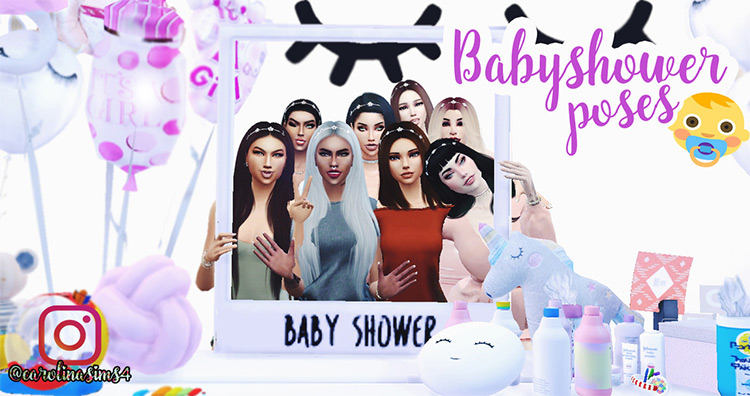 Being adults can sometimes mean not seeing your friends as often as you'd like.
Baby showers are a great way to get the gang to reunite! After all, who can refuse babies?
Capture you and your Sim crew's intrigue with the Baby Shower Poses Package from Carolina Da Silva.
What we love most about these poses is they're totally natural, something straight out of real life. Lots of work went into this set.
Some poses show friends touching the pregnant Sim's belly, and even the after-party drinking session. Just hold the alcohol for the pregnant lady.
2.

Bee Baby Shower Set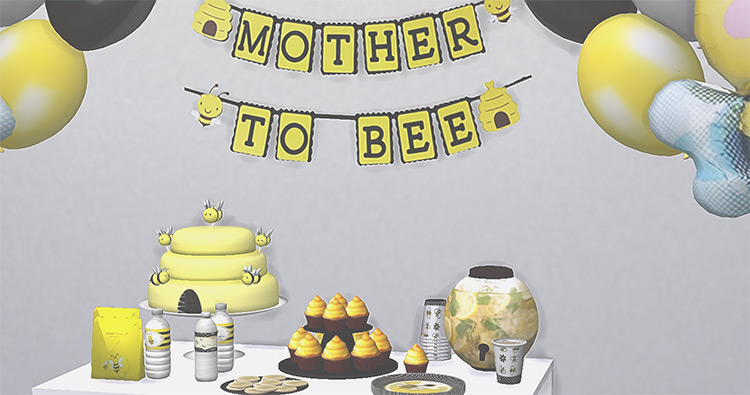 So you're not yet sure of the gender, or don't want to gender your kid right way?
Make your soon-to-be-Sim-mom the focal point of the party! After all, moms deserve everything right?
This Bee Baby Shower Set is another creation from YourDorkBrains that's definitely worth checking out.
Instead of using the stereotypical pink and blue, this set features a theme around bees. It focuses on the mom, with a playful banner saying "Mother to Bee".
15 items include balloons, cake, and water bottles in a black and yellow colorway. Perfect for the Queen Bee.
1.

Baby Shower Pose Pack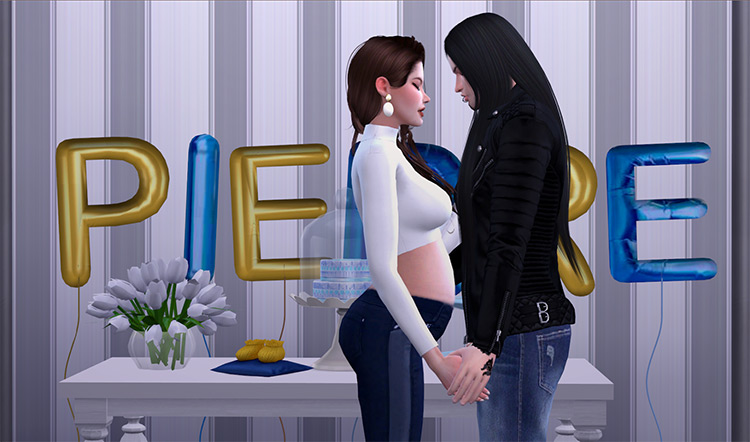 Capping our list is another group of poses from Mel Bennet – the Baby Shower Pose Pack.
Pose packs are great storytelling tools that can mold your Sims to whatever image you want.
This CC pack features the following poses: the hand under the belly pose for the mom, the couple cheese pose, and three duo poses that you can use for friends or family.
As the youngins put it – anything for the gram!
Browse:
Lists
The Sims 4
Video Games