The Sims 4: Bachelor Party CC, Mods & Poses (All Free)
This post may contain affiliate links. If you buy something we may get a small commission at no extra cost to you. (Learn more).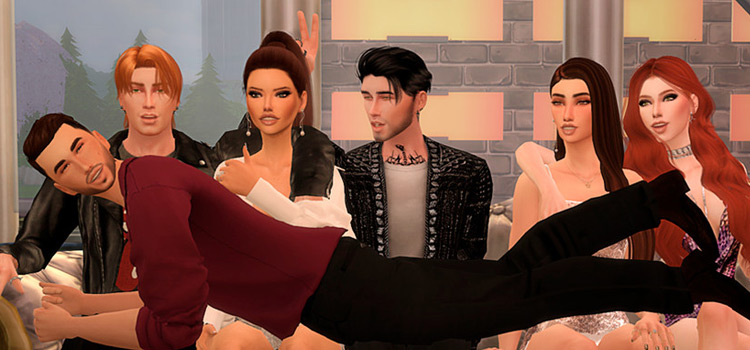 Before your guy Sim ties the knot, you want to give them the proper send-off.
And that often means one heck of a party with the boys.
So for this list we'll look into some CC offering the right tools to throw the most epic bachelor party ever!
We've got it all here for a night to remember (or maybe forget).
10.

Men's Jacket and Pants
We start with suiting up the boys in the perfect suits for your bachelor night.
3-star studded suits, perfect for getting swagged up on the last night of freedom.
This CC offers some great looks, including an all-black suit jacket with a golden pattern dotted across it.
I think this look just screams "bachelor", even though you're technically not one.
9.

Alcohol Bottles
All people need a little alcohol for this night of celebration.
Leosims offers us a handful of drinks to let off the edge for your bachelor party.
These bottles are specifically branded, including real life drinks such as Ciroc and Captain Morgan.
And as the infamous pop group LMFAO once said…
SHOTS! SHOTS! SHOTS!
8.

Champagne Bottles
For a classier experience, we go for a more elegant type of alcohol.
Creator SIMcredible gives us a beautiful set of champagne.
This CC set includes Bubblisimo Champagne with champagne buckets and tubs. Very smooth.
Along with the champagne we also have some glassware to cheer in absolute style for the big day.
7.

Beer & Wine Kegs
Bring the local frat out of your party with these awesome kegs!
We got wine for you bougee boys, and some classic beer for the bros.
One wooden barrel keg and one steel one, both great to guzzle down and do keg stands from.
Chug! Chug! Chug!
6.

Casino Hollywood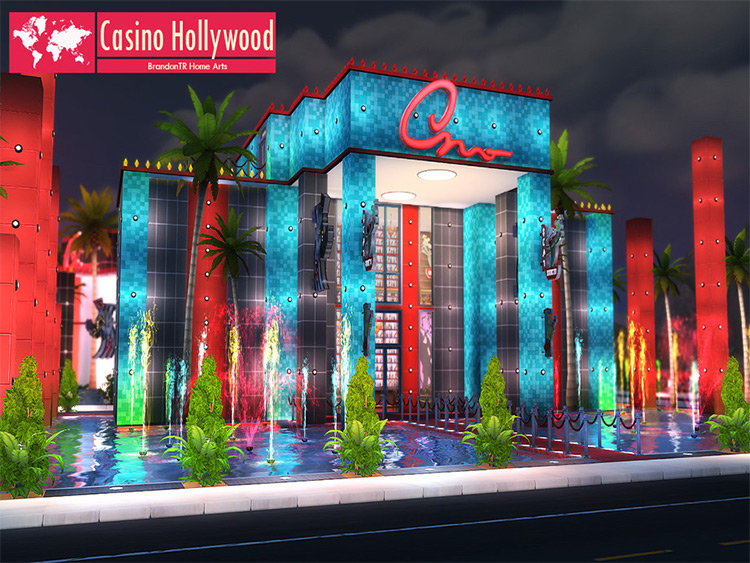 Time for the boys to hit the casino.
Creator BrandonTR gives us this grandiose take on a casino with a custom-designed lot.
Bright lights, gambling and good drinks…
I can't think of a better way to spend my bachelor party.
5.

Light Luxury Lounge
Going out to the nightclub is a favorite for bachelor parties.
It's the last time you can grab some drinks, dance with friends and let loose before entering the world of marriage.
This specific club lot mod by QE_ZZZZ comes in flashy neon colors, the perfect place to dance the night away.
Also a perfect lot to place in your nightlife cities.
4.

The Bachelor House
Slightly moving away from the bachelor theme, but also ready for a party, is this CC: the bachelor house from the hit reality TV show.
If you want to re-create the show or make your own version, now you have the house to do so.
Hopefully your bachelor Sim picks the right significant other though, because we've seen how it ends up for the final couple usually in that show. (Looking at you Matt James).
3.

The Flamingo Strip Club
While night clubs are popular for a bachelor party, strip clubs are the traditional club bachelor parties seem to go to.
A crude night setting, with sparkling lush pink lights, but certainly a fun time for the guys.
The flamingo lot is an awesome place to spend your bachelor party night out.
Just remember that your Sim is getting married… so don't get into too much trouble.
2.

Bachelor Party Mod
Here we have a super detailed bachelor party mod that offers even more extensive interactions than the vanilla game.
With this mod you can hire a stripper, ask for a private dance, and also ask people to be groomsmen or bridesmaids. Pretty crazy stuff.
So grab a drink, gush about your partner, and make it a night to remember!
Big ups to brittpinkiesims for designing such a well detailed party mod here.
1.

Last Night Of Freedom! Poses
Sims need to blow up their Simstagram and let every know that it's the night of their bachelor party.
Plyreality includes 5 unique group poses for you and your best buds to take pictures with. And trust me, you'll be using them.
Now you can remember your night no matter how crazy it gets. But again, let's try to keep it less crazy, right?
Take some fun pictures, but let's not re-create the end of The Hangover.
Browse:
Lists
The Sims 4
Video Games