Sims 4 CC: Bachelorette Party Must-Haves (All Free)
This post may contain affiliate links. If you buy something we may get a small commission at no extra cost to you. (Learn more).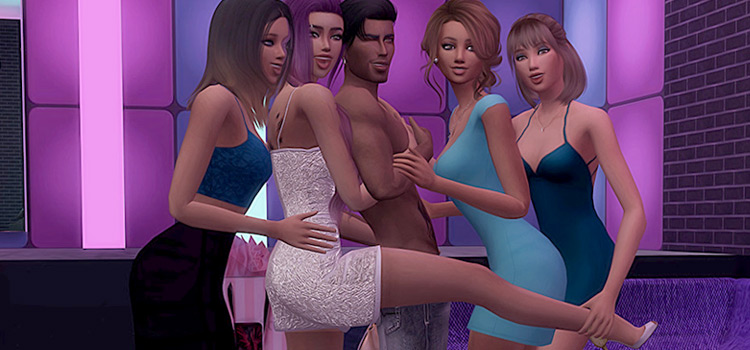 Being a bride-to-be is not an easy task. Especially since pre-wedding preparations can get busier than organizing a festival.
From choosing between calla lilies and peonies, to narrowing down the guest list, brides have tons of wedding details to sort through before saying "I do" – and it's not always fun.
But if there's one pre-wedding tradition that could get them excited in becoming a future Mrs., it's a bachelorette party.
If you think a stag party is a rowdy affair, then this list of TS4 bachelorette party CC might change your mind.
15.

Bachelorette Party Event
Before we dive into party must-haves and dangerous amounts of alcohol consumption, Sims must first be aware of what they're getting into.
This mod by Brittpinkiesims will let you throw a bachelorette party for your engaged Sims, complete with goals and interactions that could make anyone lose a significant other in the aftermath.
From hiring a stripper to getting a private dance, this mod enables engaged Sims to get rewards for enjoying the last night of their single lives.
14.

Sunny Beach Villa
For the past few years, bride squads have been jet-setting to exotic destinations like the Bahamas to celebrate a bachelorette party.
Sure, it's exciting to be at the beach.
But if you want to keep this final fling private, then evi's Sunny Beach Villa is an equally luxurious place to get wild.
You've got a big pool, a stacked bar, and some cozy bedrooms to pass out in!
It's big enough to host a bride and her army of bridesmaids, plus a couple of people who look tempting enough to question your Sim's decision to get hitched.
13.

Clay Mask
Not all brides want a Magic Mike-like setting for their bachelorette party.
Some are quite content with sleepovers and just spending quality time with girlfriends.
It's not the most lavish celebration, but it does have gossip, drinks, and thick layers of a clay mask, ticking all the boxes of a classic girl's night out.
Although your Sims don't really need a strong skincare routine, there's no better way to bond with gal pals than adding on a clay mask and ensuring a no-zit face on the big day.
12.

Pillow Fight
Think a bride-to-be is too old for pillow fights?
Of course not!
Even twenty to thirty-somethings would still find pillow fights enjoyable as long as they're drunk enough.
Your Sims would probably wake up eating cotton, but at least they won't be doing something they'll regret the next day (aside from giving their maid of honor a concussion).
11.

Natalie Dress
The dress code for bachelorette parties is simple: don't wear white unless you're the bride.
With that said, if your Sim's one of the lucky ladies to be marrying a pre-made soulmate, then you have every right to wear this Natalie Dress CC in whatever color you want.
Dress your Sim for the second hottest night of her life (next only to the honeymoon night) with this satin mini dress from creator belal1997!
10.

Aquamarine Set and Sash
A sash is just one of the cute accessories that could make a bride-to-be feel special.
It'll also single her out from that group of ladies who keep ordering glasses of Mai Tai or jello shots.
We'll only need the sash from this set, but if you're feeling generous to give your Sim the royal treatment, then by all means – glam her up like the queen she is!
9.

Aurora Crown V1
No bride would deny wearing a crown at her bachelorette party, even if it looks like it's made out of candies by Barbie's stylists.
Adorned by bubblegum-colored crystals, golden stars, and half-moons, this CC will make your Sim shine among a pack of cocktail-hungry bridesmaids.
It's not royal standard, but it's a colorful spotlight to direct on a drunk bride-to-be.
8.

Black Lingerie Collection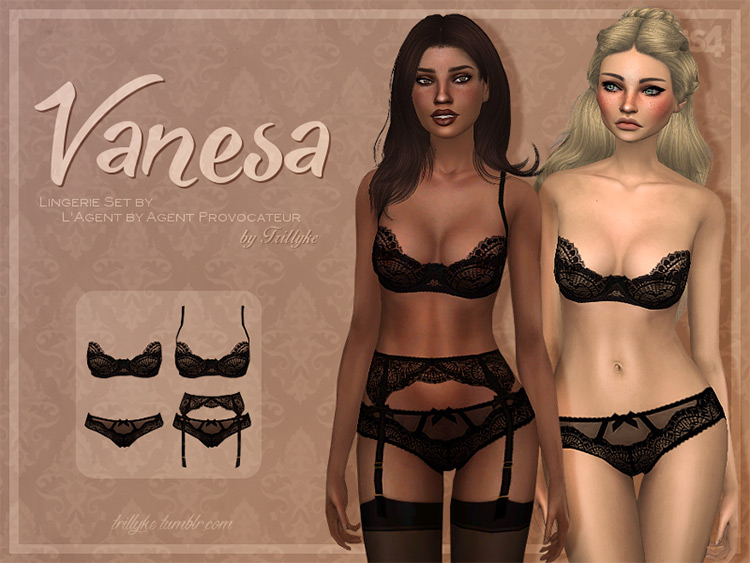 You aren't required to give a gift to the bride at a bachelorette party. But of course, it would be much appreciated, and might probably give you a better table at the reception.
When thinking about what to buy, you have to consider what the bride will need throughout her marriage.
Wine? Possibly.
Baby stuff? Too soon.
A lingerie set? Just perfect!
Give your Sim bride a boost in sex appeal with this Black Lingerie CC Collection from Trillyke!
7.

New Drinkable Drinks
In contrast to beer-chugging bachelors, bachelorettes have a taste for cocktails.
It's sleek, fun, and deceptively strong.
Drink too few and you're tipsy enough to make out with anyone.
Drink too many and it's a recipe for a wedding cancellation.
Whatever happens, you can't not have these cocktails at a bachelorette party – it's like having no Christmas tree during Christmas.
6.

Riekus Wine
Any groom should be worried about this amount of wine and champagne.
Not only is it capable of knocking out the bride until her wedding day, but she'll also be puking rainbows all morning.
It's not a good feeling to have at the altar, but at least your Sim won't be forgetting the last moments of her single life anytime soon.
5.

Drink, Drank, Drunk
No bachelorette party can be called as such without a drunk bride.
Unfortunately, EA never bothered to make this a possibility.
And fortunately, CC creators were willing to fill in that gap for free.
With this mod, your Sims can now finally experience a realistic effect when drinking too much at a bar.
There are 3 flavors you can choose from depending on how long you want your Sims to stay drunk.
Take too much and your Sim's a goner – a perfect end to an epic bachelorette party!
4.

Sexy Necktie
Every bride-to-be is damn lucky in their own right.
But I think we could all agree that the cast of 2012's Magic Mike had the blessing of gods.
Having to watch Channing Tatum dance half-naked to "It's Raining Men" is a once-in-a-lifetime chance for sure.
Your Sims won't be able to have that chance, but the least you can do is try and dress your bachelorette party surprise like Channing!
3.

Pelvic Lipstick Kiss Tattoo
A bachelorette party with lots of alcohol – what could possibly go wrong?
When you're having too much fun, chances are there's bound to be some regrets and pinkie swears.
Some of the events that happened can be kept a secret, but a Pelvic Lipstick Kiss Tattoo? You'll definitely have some explaining to do.
But I wouldn't sweat it – there are wilder things that could happen at a bachelorette party than waking up to a tramp stamp.
2.

Bachelorette Party Pose Pack by Simmerberlin
At first glance, this Bachelorette Party Pose pack by Simmerberlin looks like any college party you'll see in movies or on Instagram.
You got people doing karaoke, smoking, drinking, making out, and drinking some more.
It's a picture-perfect image of fun – just like how bachelorette parties are supposed to look like.
And with 60 poses in total, your bride-to-be has 60 more reasons to stay single for just a little while longer.
1.

Bachelorette Party Pose Pack by Beto
Beto has shown exactly what bachelorette parties are supposed to look like: pure debauchery.
This pose pack creates raunchy scenes that would make in-laws blush.
You have male strippers giving Sims a lap dance and carrying them bridal-style like they just got married at a strip club.
It's a pose pack of chaotic energy right before it all has to settle down at the altar.
Have your Sim indulge one more crazy night with the gals (and guys) by downloading this CC pack.
Browse:
Lists
The Sims 4
Video Games