Best Sims 4 Backpack CC Worth Downloading
This post may contain affiliate links. If you buy something we may get a small commission at no extra cost to you. (Learn more).
Call it whatever you like: knapsack, backsack, Simsack
We could all use one, whether it's for school or for hiking on a beautiful day.
If you think slinging on a backpack will make your Sim look like Dora The Explorer (big compliment) then you might care about the designs, too.
Take a look at our picks for the best custom content backpacks tailor-made for TS4.
10.

Neiden Décor Backpack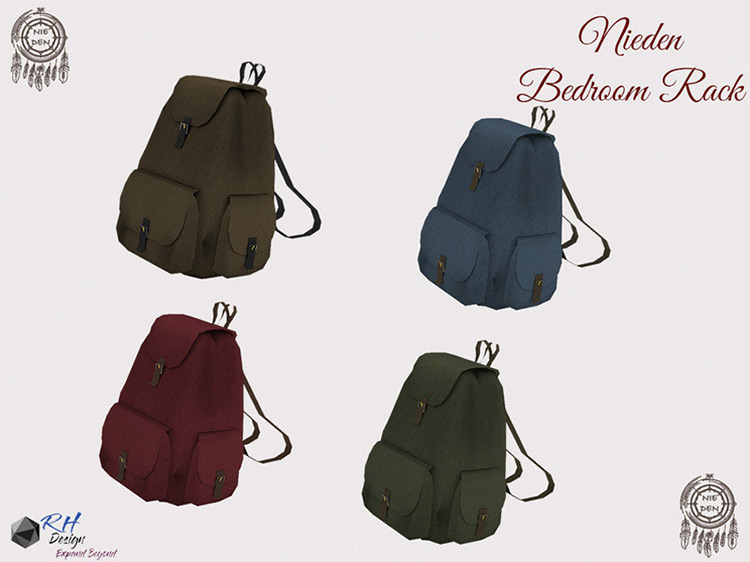 I betchya didn't know there are tons of different classifications of backpacks, eh?
Sure, every backpack goes on your back (unless you're a rebel who prefers to put it at the front). But there are many layers to the good ole pack.
This Neiden Décor Backpack CC by simmer RightHearted is an honest-to-goodness rucksack.
It's pretty to look at, and will add a lived-in look. Just note: it's only a décor option, so your Sim can't lug in around. But if you're into custom clutter this is one to check out.
It comes in 4 different variations and you can find it in the clutter section (naturally).
9.

Open Backpack
Admit it – you never close your backpack until it's game time.
There's something about a bag that just lets people know your Sim is a busy bee.
Trick your parents that you've been tirelessly studying by slinging this Open Backpack CC into your study chair.
This mini backpack is perpetually open – showing off all the books inside. You get eight swatches, each with distinct patterns and designs. Also found in the clutter section!
8.

Female Backpack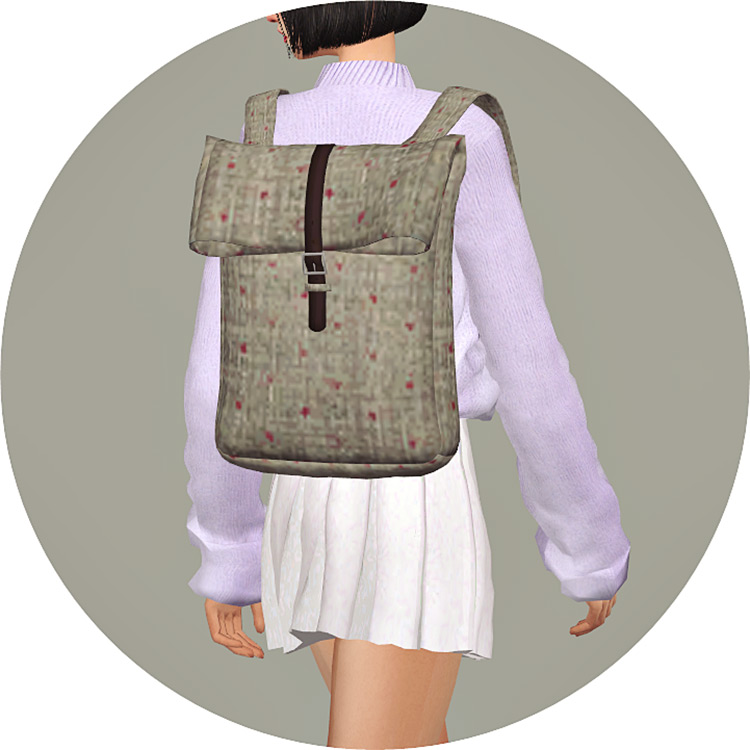 There was a time when Herschel seemingly overtook Jansport as everybody's backpack.
It became the cool kid's go-to accessory, and almost a status symbol at school. I bugged my mom to get me one, but she got me a bootleg.
But we're not here to talk about my sad life stories.
This Female Backpack CC created by Marigold is clearly inspired by Herschel's City Backpack line.
Basically a classic scouting bag with single strap closure. You can find it in the bracelet category, and both positions are used, so your Sim won't be able to wear any bracelets with this.
But it's worth it, with a total of 64 swatches! You can get the female version in the link, but a male version is also available from the download page above.
7.

Backpacks Pack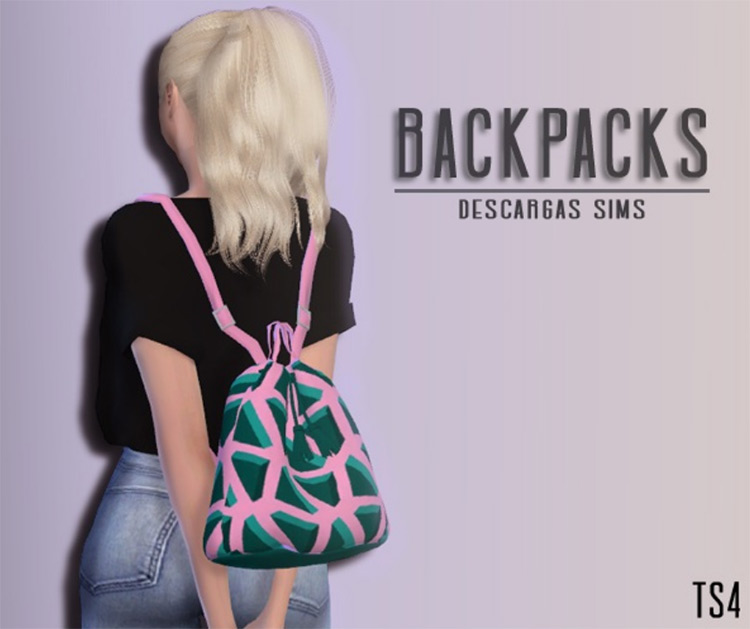 Let's continue with your backpack education with the drawstring backpack.
These backpacks are perfect if you want to fuse function with style.
They're lightweight and cheap. A great no-fuss choice for people who think pockets and compartments are overrated.
Descargas Sims made 15 variations of their backpacks, suited for female Sims of any age.
Prints include loud abstracts, floral, and even mermaid. This will best fit teens to young adults, but even elders can use them for their pharmacy runs. Go, granny!
6.

Hogwarts Backpack
Haven't got your Hogwarts acceptance letter yet? I feel you.
Mine's decades late. I'm ready, Hogwarts!
While we wait for an owl to be the bearer of good news, we'll settle for staring at our Hogwarts Backpack from Shahany.
All bags here have the school's insignia with four variations, representing each house's color: red for the brave Gryffindors, yellow for the loyal Hufflepuffs, blue for the witty Ravenclaws, and green for the cunning Slytherins.
These bags are exclusively decorative, so this CC will go well with a Hogwarts theme room.
5.

Fjallraven Kanken Backpack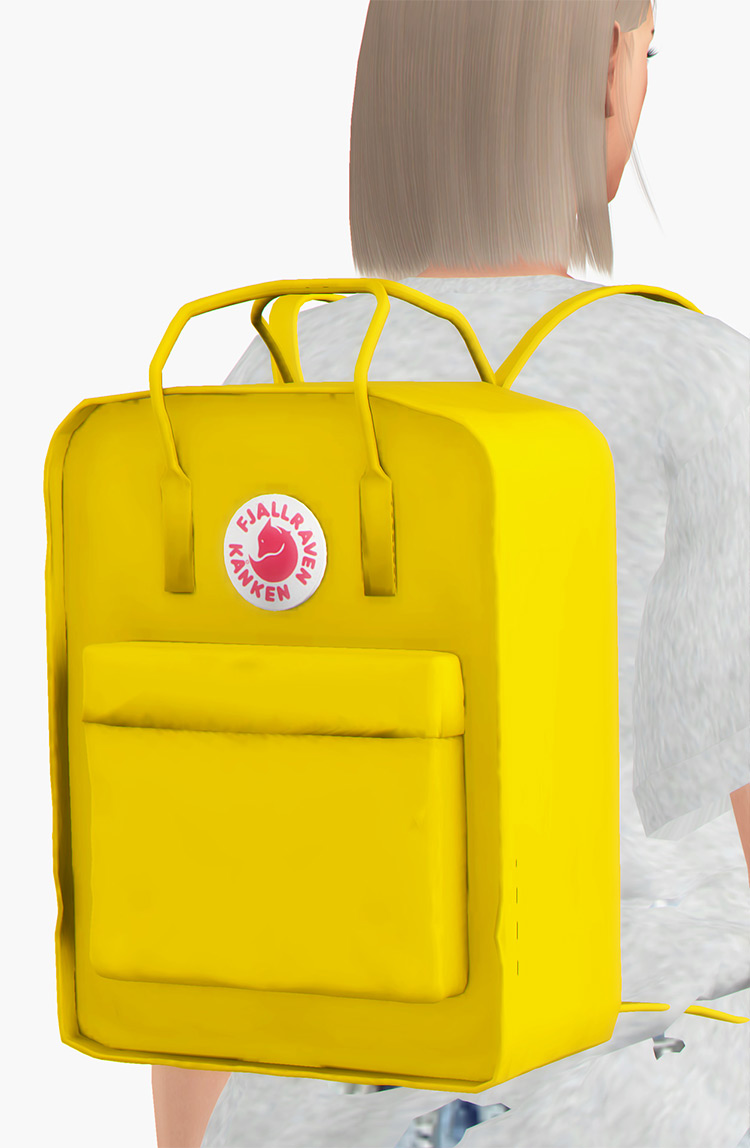 Fjallraven Kankens are so hot right now.
This Swedish branded tote is currently the backpack to have, and has been for a couple of years now. Admittedly, we can't quite put a finger on why it's so popular.
Is it because of the minimal look? The hard to pronounce name?
Owl Plumbob converted the Fjallraven Kanken Backpack for The Sims 4, as a gift for achieving 3000 followers. It's available for both guys and gals, as left wrist accessories, and comes in 15 swatches.
4.

Cat Backpack
From the beginning of time, cats have always been viewed as some kind of holy deities.
Humankind has always revered felines, and that doesn't stop in the new generation because the worship of cats continues.
Cat memes that never go old is a prime example.
It's only a matter of time before cats take over the world.. if they haven't already!
Prep your Sim child for a life of cat worshipping with the Cat Backpack CC by Karzalee. This randoseru-style bag (a Japanese firm-sided backpack) is shaped like a cat's head, and comes in 2 designs with 25 swatches.
You can get a toddler and a child version, depending at what age you want to start indoctrinating the cat life.
3.

Moschino Quilted Fabric Backpack
If you're brand crazy and wrinkle your nose at the thought of wearing backpacks, don't worry.
Here's a chic option that's good enough for the runway.
A fashion aficionado knows who and what Moschino is. They're a legendary luxury house that's known for their colorful and sometimes eccentric designs.
The Moschino Quilted Fabric Backpack, however, is a bit more refined – so you won't have any problem matching it with any of your Sim's clothes!
2.

Captain America Shield Backpack
Now this is not necessarily a backpack per se.
But if you ever had dreams to make your Sim be the leader of The Avengers, now's your chance!
You don't need rock hard pecs, abs of steel, gargantuan biceps, blue eyes… (sorry, I got distracted there a bit) to become Captain America.
Just download this Captain America Shield Backpack by AmiSwift, and other elements included in the pack, then complete the transformation.
1.

Jansport Backpack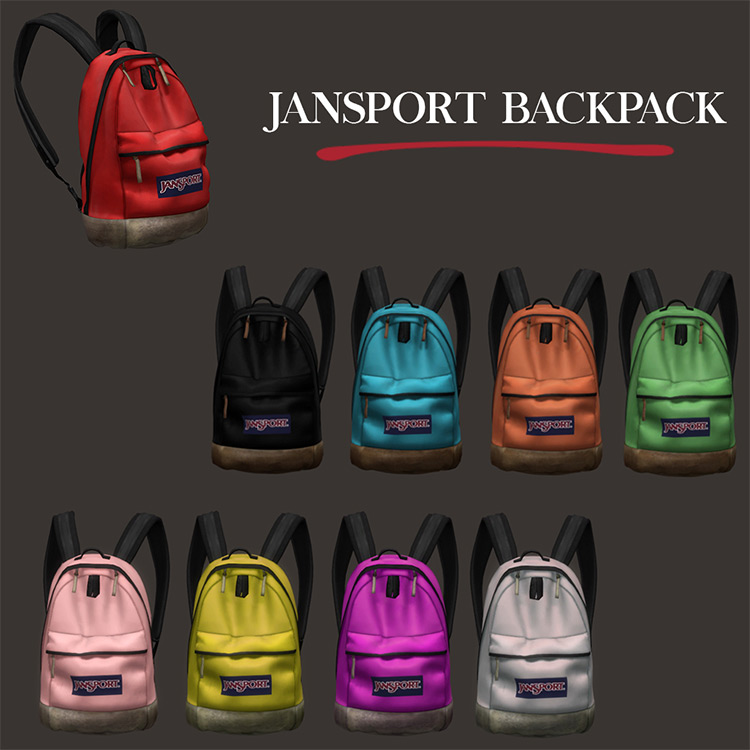 If you never had a Jansport backpack, did you live at all?
It's the crème de la crème.
The most recognizable backpack to ever walk the hallways of every school. And now your Sims can live that in their virtual simmy lives.
Big thanks to LeoSims, because they created the best version of CC mimicking the Jansport backpack for The Sims 4.
They're all high-poly (13k) with ten swatches in total. Just note for now this CC is decorative only, so it's best placed in classrooms or dorms of eager students.
Browse:
Lists
The Sims 4
Video Games