Sims 4 Backwards Hats CC (Guys + Girls)
This post may contain affiliate links. If you buy something we may get a small commission at no extra cost to you. (Learn more).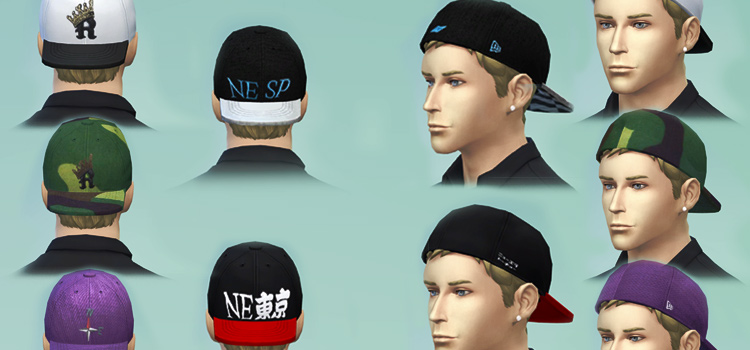 I'm not really a hat person, so I have no particular preference for wearing a baseball cap.
Front, backwards, sideways, slightly askew … I mean, as long as it looks good, who can say anything?
But your Sim might prefer twisting all their caps backwards and that's perfectly valid.
Ergo, here: a quick curated list of some custom backwards hats for your Sims to enjoy.
1.

Daydreamin' DIY Baseball Set by Pralinesims
Pralinesims is one of those TS4 CC creators who churn out a ton of content every month.
So I absolutely understand why they have so many mega collection packs.
This set in particular contains four different baseball cap meshes with 100+ different colors each (plus some texture variations), so yeah; "lots of designs" is an understatement here.
In theme with this article, you'd want to download the Backwards baseball cap mesh.
And don't forget the ring add-ons! They're really pretty.
2.

Snapped! by grhyme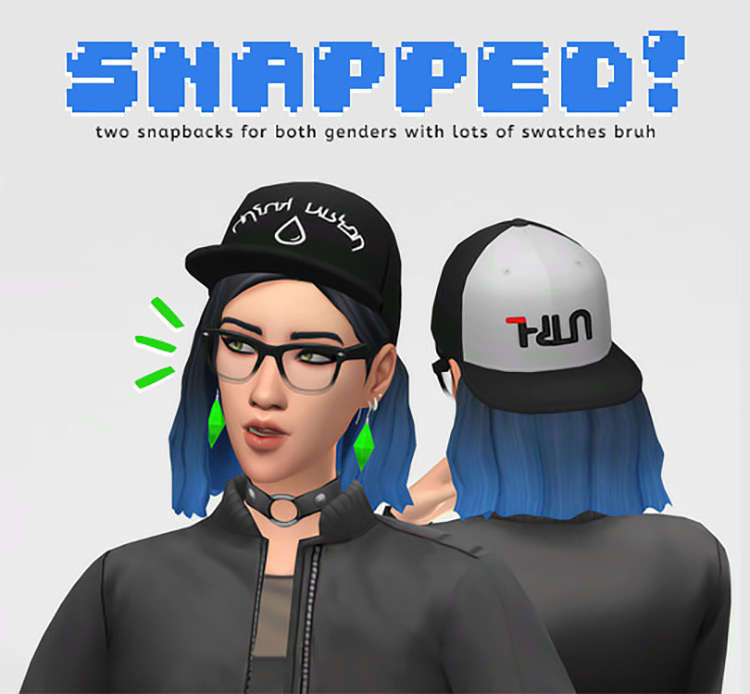 Get these snapbacks facing front or turned to the back — grhyme's download includes both placements!
There are 20+ swatches in total in a mix of solids, duotones, and solid/duotones with random Simlish logos.
Minor clipping happens with some custom hairs but, for the most part, this cap should sit seamlessly on your Sim's head.
3.

Seamless Caps by nucrests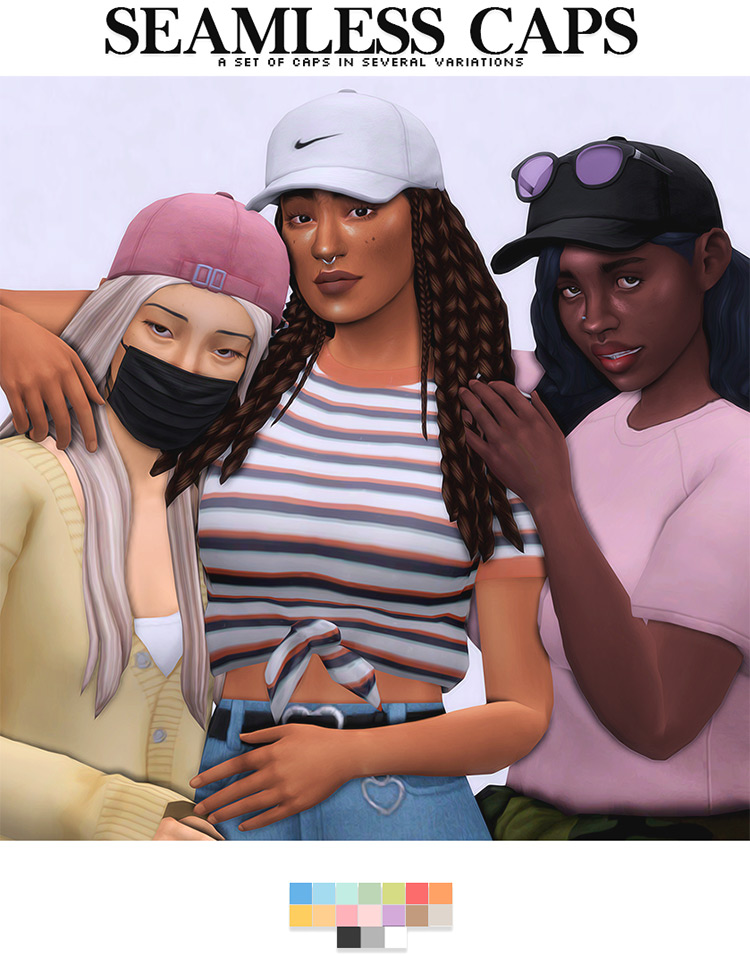 Just like Pralinesims' Daydreamin' mega pack, nucrests' Seamless caps have four versions: low, regular, lifted, and backwards.
They're clayified, stylish, and also incredibly customizable.
Four versions, 17 different colors each, and 13 extra Simlish logos that you can freely overlay.
I'm awful at math, but I'm pretty sure that adds up to a lot of possible styles.
4.

Chai Cap by goldenpixels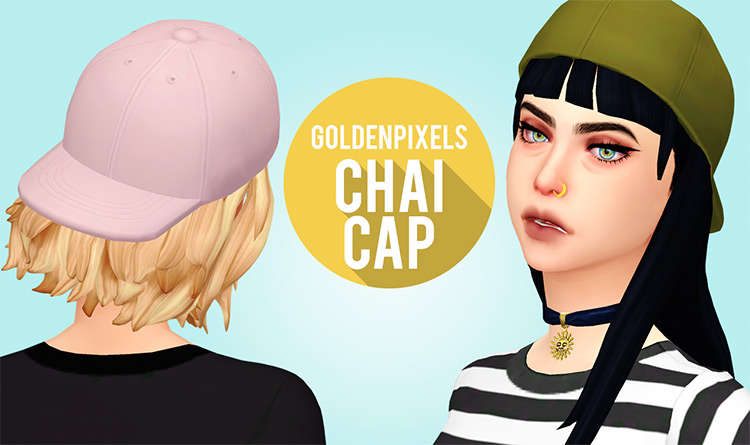 This is, as the creator puts it, a "super simple" recolor of the backwards cap that came with The Sims 4 base game.
Simple it may be, but the new colors are so worth the download: twelve rich neutrals (courtesy of @citrontart) and four baby-soft pastels.
We don't get a lot of clean, minimalist shades like this from EA. So I have to highly recommend this Chai cap!
5.

Child's Backwards Cap by Sim Citizens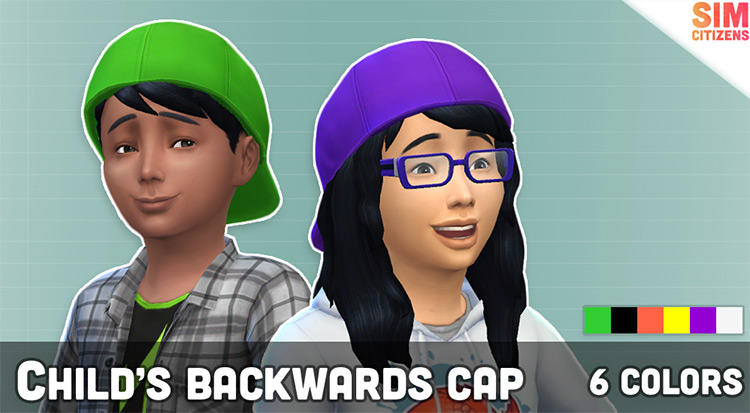 Yes, kids can wear backwards baseball caps. What a concept!
All jokes aside, this simple mesh conversion adds another kid-friendly accessory to your game.
The creator took the base game backwards baseball cap and reworked it for Child Sims. They also added six bright, vibrant, age-appropriate colors for the mesh.
6.

Child Baseball Backwards (27 Colors) by jeisse197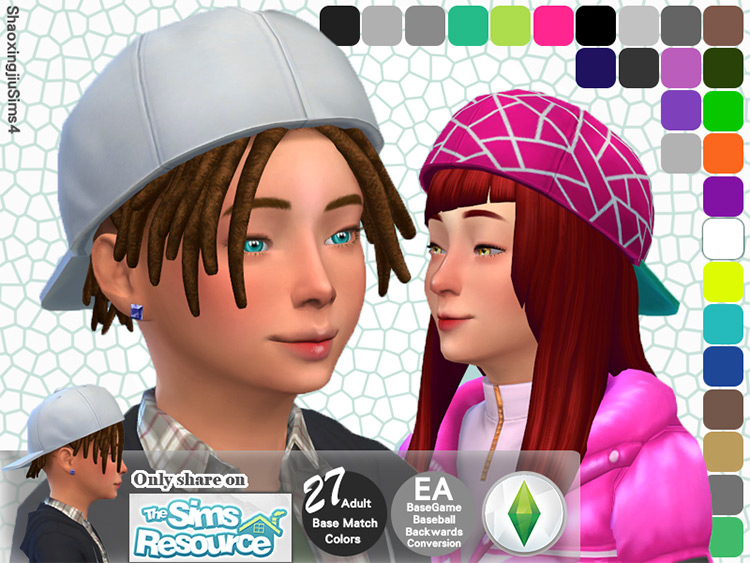 Here's another kid-friendly conversion of the Adult/Young Adult backwards cap, only with a few more colors and patterns. 27, to be exact!
Some of them are solid matte shades while others have minimal patterns and details (like different-colored beaks).
It's perfect for injecting more color into your Sim's kid's wardrobe!
7.

LGBTQ+ Pride Snapbacks by SimmieV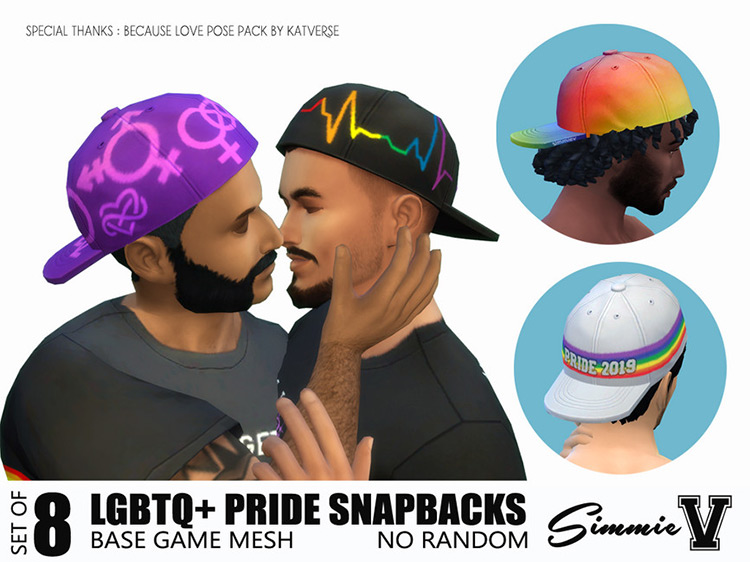 This cap's a pretty simple mesh with a cute, colorful concept (literally).
Show off your Sim's pride with these appropriately-colored caps.
They're bright, vibrant, and make a hell of a (fashion) statement for unapologetic Sims comfortable in their own skin. Comes in eight beautiful – and obvious – designs!
8.

Backward Strapped Baseball Hat by luumia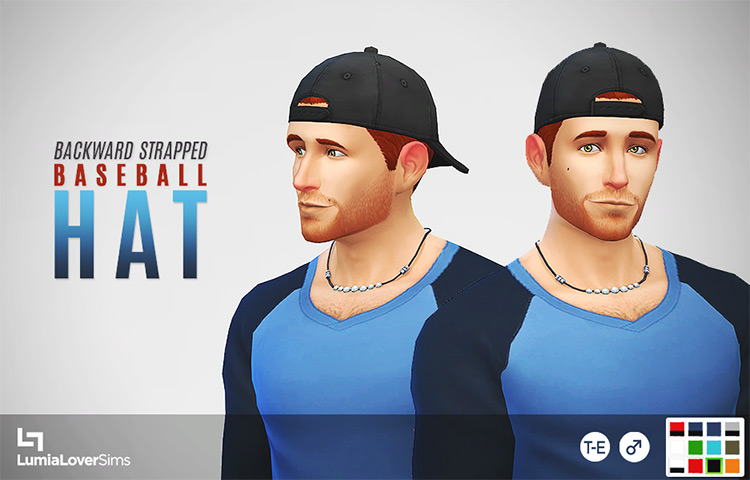 If the base game backwards hats are a little too large and bulky for your Sims' heads (a problem I did notice, which is why I don't use them that much), luumia's Backward Strapped Baseball Hat might be a better option.
It's a lot more streamlined and a lot more compact than EA's cap, and it's got a couple texture details that make for an interesting look.
The smaller size means it'll clip through poofy, voluminous hairstyles though, so keep that in mind!
9.

In Reverse Hat by annadandelion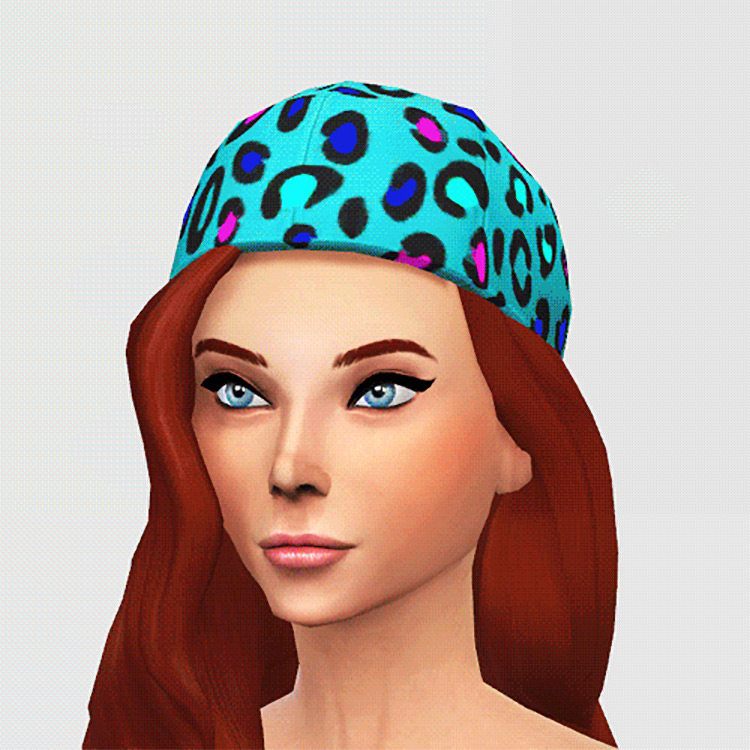 Luumia's backwards baseball hat was a Male-frames-only mesh, so here's the Female-frames-only equivalent.
Annadandelion converted the backwards cap to work for Females and added a couple dozen more designs.
Neat, huh?
They swatches are divided into solid colors, leopard patterns, and lines. Each iteration has nine further designs, for a total of 27 swatches.
10.

Baseball Cap for Girls (version 2) by bluebellsims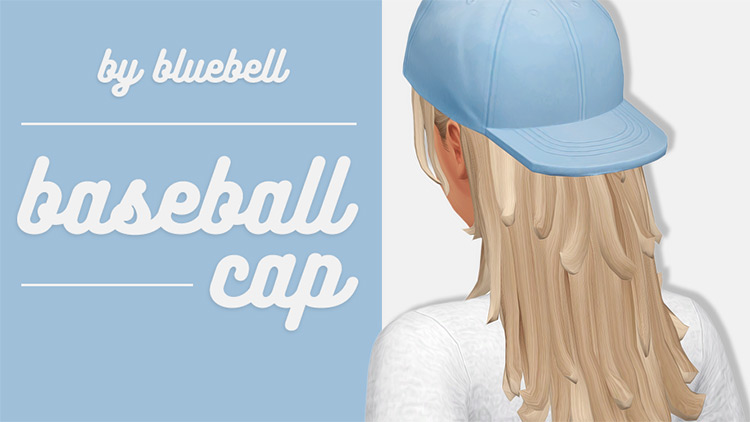 For casual teens and hip grandmas, bluebellsims' Baseball Cap is a cute, vibrantly-colored accessory that can brighten up any outfit palette.
Exclusively for Female Sim frames, this cap is sized up enough that clipping – when it does happen – is minimal and hardly visible.
Its fourteen-color palette is a mix of muted pastels and soft mattes.
Browse:
Lists
The Sims 4
Video Games