Best Backyard CC For The Sims 4 (All Free)
This post may contain affiliate links. If you buy something we may get a small commission at no extra cost to you. (Learn more).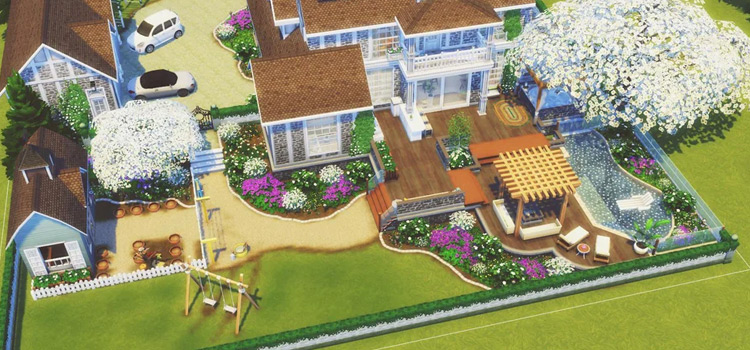 Unless your Sim lives in an apartment, they have a backyard.
But is it more than just a grassy space, with perhaps a picnic table in it?
Do you actually treat it with the same love and concern as the house itself?
Probably not. Unless you have certain packs, backyards can be rather boring. There isn't much to do in The Sims 4 – and of course you can't exactly personalize grass.
However, once you start looking into CC, you'll be dying to start decorating and furnishing your Sim's backyards!
There are actually a ton of ways for them to have fun out there, and for you to make their yards look good – and some of these CC sets may surprise you.
1.

Functional Trampoline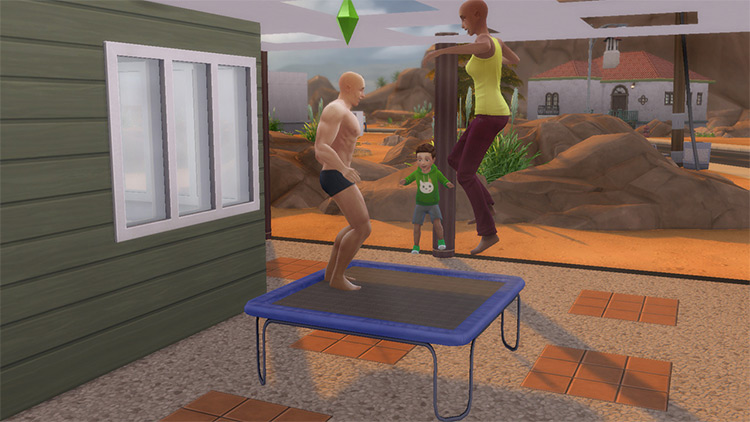 Ah, the trampoline.
The one item everybody wanted as a kid, but a seldom few were actually allowed to have.
Well guess what? Once you grow up, you can do whatever you want! Like download a trampoline for your Sims to use, for example.
Amazingly, this item is actually functional.
Your Sims can spend their days bouncing in the backyard to their heart's content.
If you've been playing The Sims for a while, it may look familiar – I believe this is the same one that came with The Sims 3: Ambitions, only better because now toddlers can jump on it as well.
2.

Old Tree Swing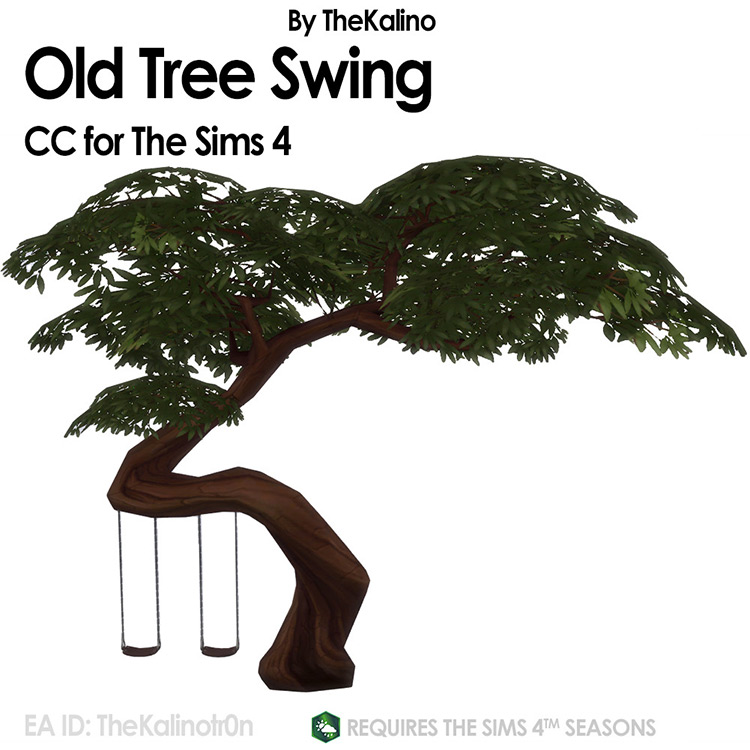 I'm not sure what it is about a tree swing that makes it so superior to a regular swing.
But I think we can all agree there is just something extra special about them.
Lots in The Sims 4 kind of lack on landscaping and plants anyway. Unless you yourself put them in (and I often forget to), their yards are usually pretty bare.
So what better way to fix that than by placing a tree that's also a swing?
This will be a great addition anywhere, and is somewhat of a space saver.
Backyards can get cramped pretty quick. So it's great that we can now place a tree and a swing all in one, rather than trying to fit the two of them in separately.
3.

Flower Stands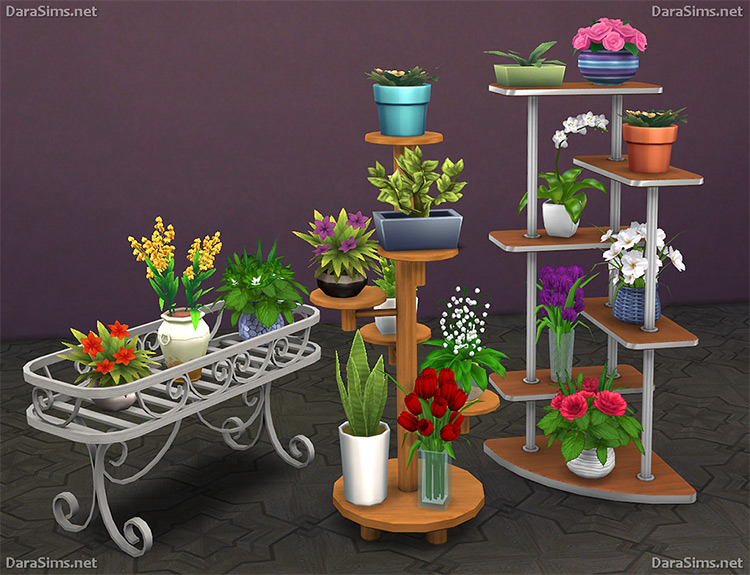 Every backyard needs a nicely decorated sitting area.
And plants are a fast track to just that.
Although we have an abundance of potted plants in the game already, there are limited options when it comes to placing them.
Most tables only have a single slot.
These flower stands are perfect for placing lots of plants in the same place. In total, there are 26 slots for you to use as you please.
They're even perfect for outdoor decorating, too. Now you can place flowers without needing to grow them yourself or only have one per table!
4.

Egby Garden Set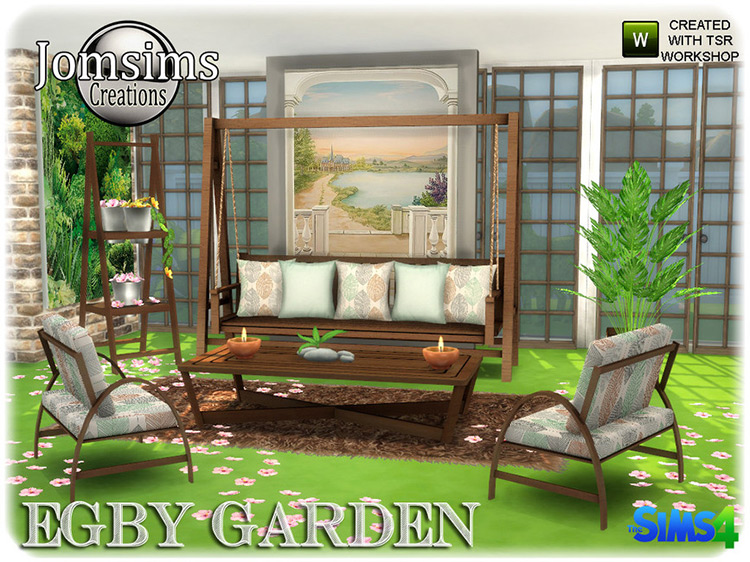 No matter how nice a backyard looks, you'll need ample seating options.
Most of what we have in the game will double as indoor furniture, so it would be nice to have some stuff that is firmly for outside.
Luckily, jomsims has created this incredible CC set.
First, there's the lovely lounger swing, as well as an armchair, coffee table, and decorative cushions. All seem so well-designed for your backyard or patio area.
Plus everything comes in some great swatches to suit any taste, including brown, white, or black wood swatches.
5.

Alveranda Outdoor Setting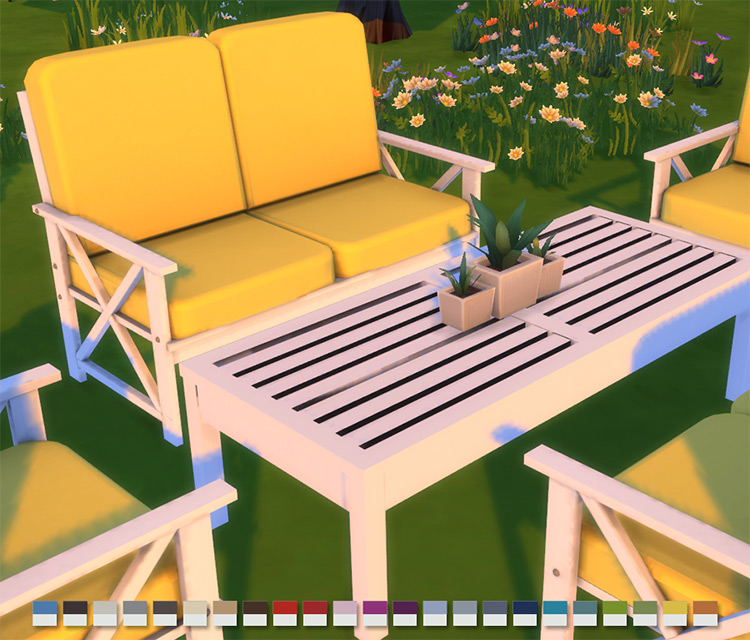 Here we have some more lovely outdoor seating CC.
This loveseat and chair set come with thick cushions which are available in a total of 23 colors.
Any backyard space will really be taken to the next level with these beauties.
There's also a matching coffee table, so you can create the perfect place for your Sims to relax on nice days. Just like for us, sitting outside on some comfy furniture in great weather is a lovely way to spend an afternoon.
Personally, I'll take any reason to get my Sims out of the house.
The less they're inside, the less messes they're making!
6.

Hills Hoist Clothesline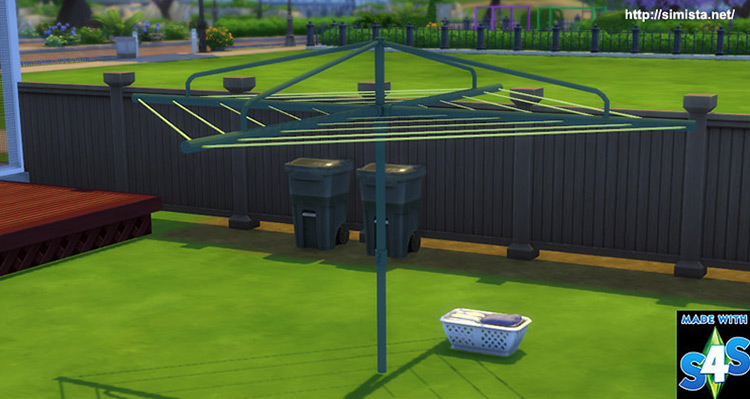 Clothes hanging outside to dry is a staple of any family home.
And we do already have that option with the Laundry Day Stuff Pack.
But it's nice to switch things up sometimes, isn't it?
According to the CC creator, this style of clothesline is very popular in Australia. And as an American I can't say I've ever seen one here – but it still looks nice, and will add that 'suburban' vibe to your Sim's backyard.
7.

Kids Playground Stuff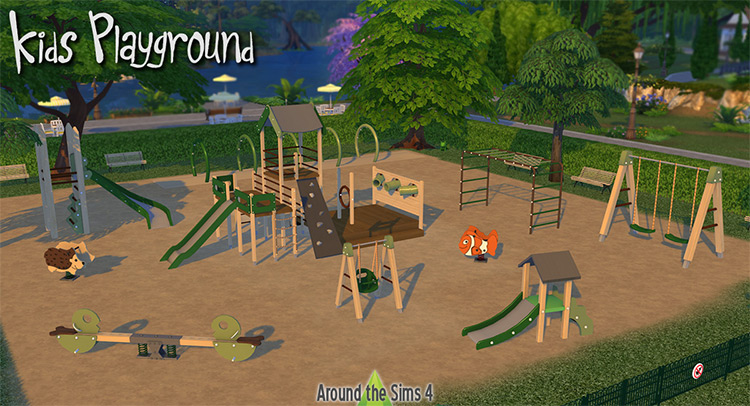 You know how I said before that it's good to get Sims out of the house so they're not inside making a mess?
That goes double for the kids… maybe triple.
I've said it before, I'll say it again: I miss how children had so many outdoor activities in The Sims 3.
Nowadays you practically have to lock the doors to keep them out, and they really don't have much to do.
Well, this set won't change that much, since it is largely decorative.
But you can still make your Sim's backyard look like it's used for family fun, at least.
There are many items included here that all kids wished they could have at home – jungle gyms, seesaws, swings, and even a sandbox.
My favorite is the little toddler swing, though. Even if it just functions as a chair, it's pretty cute.
I'm rooting for someone to make one of those functional!
8.

Island Paradise for Kids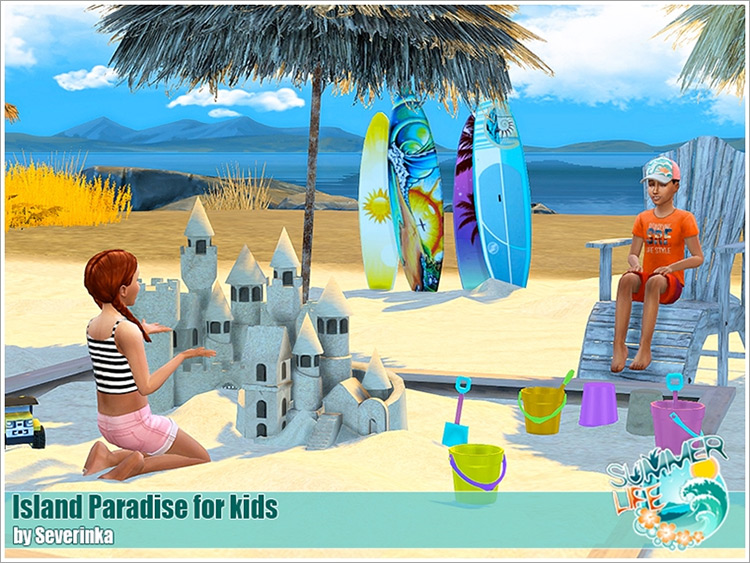 No matter who you are or where you live, having some sand to play with in your backyard is just the best thing ever.
Here I am in the midwest, far from any beaches, and I grew up spending summer days playing with pails and shovels and building sandcastles right from home.
Sim kids, who again need every excuse to get the heck out of the house, are deserving of the same experience.
This custom set has all the necessities, including the sandbox itself, buckets, shovels, and even functional sandcastles and toys.
9.

Caigel Garden Sign Collection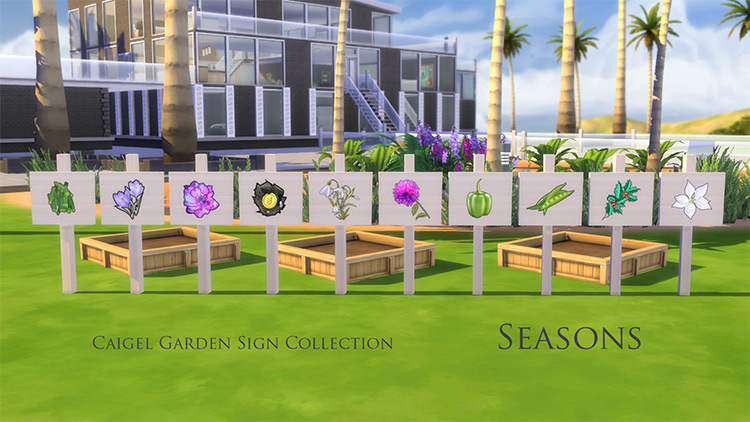 Backyards are also a good place to put in a garden.
It's a fairly simple way to get out in nature, and it's also very satisfying to grow your own food.
And in The Sims 4, it's even a pretty decent way to make money. I sure wish selling some carrots would bring in a few hundred bucks in real life, but I digress.
If you have multiple plants, or just forgetful kids who might go traipsing through your garden, it's a good idea to have signs marking the area.
This collection has signs for every plant, whether it's from the base game or a pack, and even a few extras.
10.

Wildflower Assortment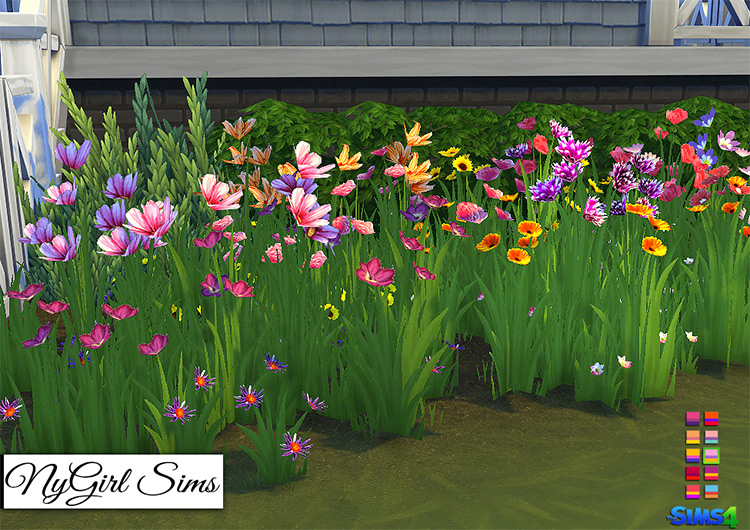 Flowers truly go such a long way in brightening up a space.
There are so many fun ways you can landscape and customize your yard with them, even in The Sims 4.
Whenever I have an area designated for grilling or outdoor seating, I like to have a flowerbed close by.
It just makes it look nice!
The problem is, there really are few variations for flowers in terms of color. Unless you just keep buying different plants, and probably more expensive plants, you can be stuck with the same three or four swatches.
But thanks to this creator, that's no longer the case.
She has made those lovely wildflowers from the base game available in several more colors, so you can have plenty of variety.
11.

Outdoor Living Set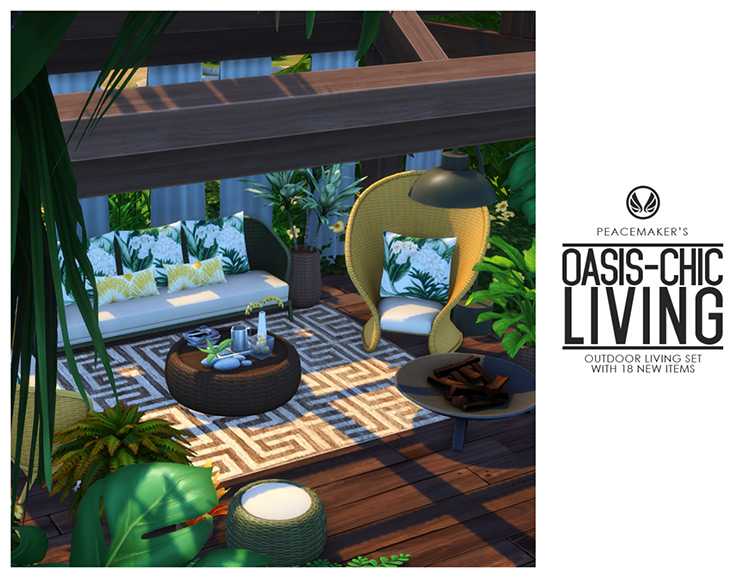 This set from the talented Peacemaker, dedicated entirely to sprucing up your outdoor spaces, has everything you'll need to create the best backyard ever.
First up, we have the furniture. And there's plenty of it here in unique designs.
The chairs, lounger, and couches all have a wicker texture, which is just a classic choice for outdoor seating.
Then there's the pergola, possibly one of the best ideas ever, both in Sims 4 and real life.
Sometimes you want some shelter without having to sit under a tree or build an awning.
And finally, once you have your seating and pergola all setup, there are several little ways you can further furnish and decorate your new space.
From new plants to tables and even a brazier, every item here is special in its own way.
12.

Adirondack Outdoors Set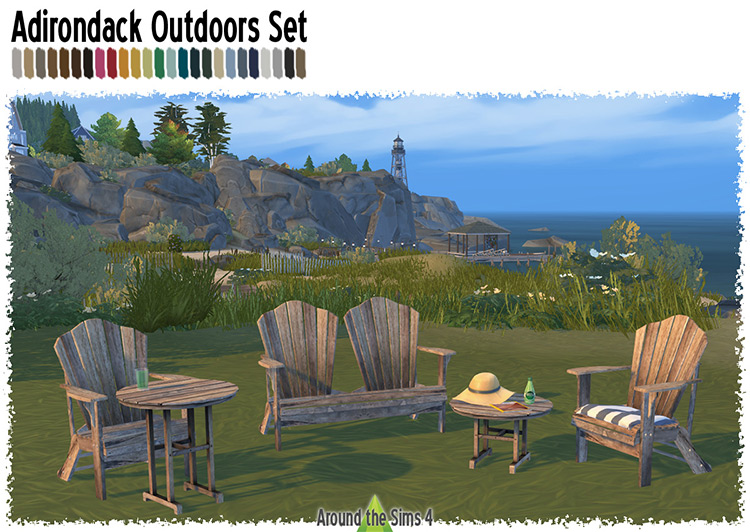 Adirondack chairs are actually so iconic that I'm surprised they aren't already in the game.
Something about them is just so lovable, from the aesthetic to how comfortable they are.
Thankfully, they're indeed available to us at last.
These custom chairs actually come as a set, including two regular chairs (one with a cushion, one without), an adirondack bench, and two tables.
As if that lovely wood texture isn't enough to win you over, they also come in a ton of swatches, so you can choose any color you want.
13.

Barium Outdoor Dining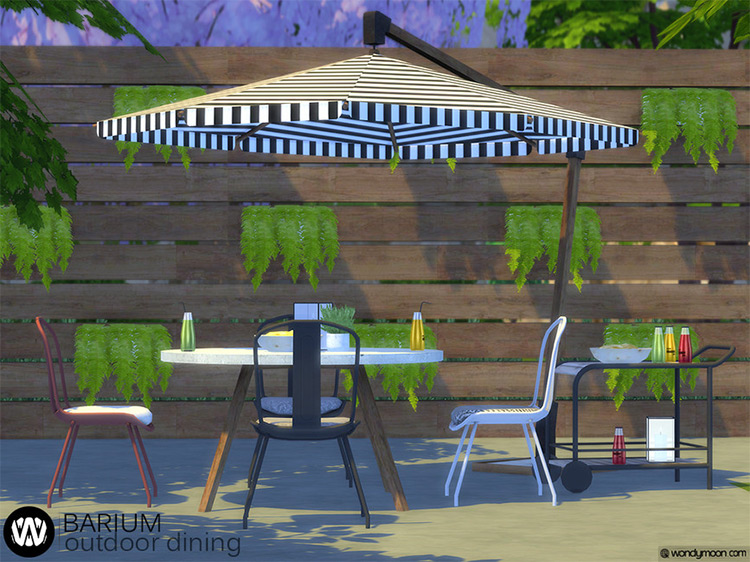 Have you ever wished you had more options for your Sims to eat outside than a picnic or dining table?
If so, this is the set for you!
Eating outdoors just never gets old.
I can't explain why, but I will never pass down an opportunity to have dinner out in the fresh air.
And having your Sims do the same is always a nice little change from having them snarf up quick meals in the house all day.
This CC set includes a nice new circular table, cool modern chairs, a large umbrella, and a food cart. It also has a few decorative food items too.
14.

Shining Globe Deco Sculpture Set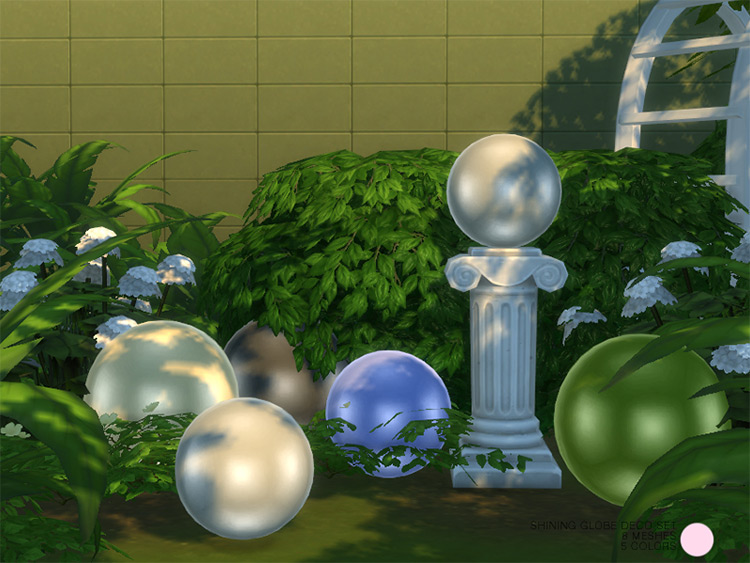 These decorative globes have become a popular decor choice.
They kind of look like a mix between a crystal ball and a giant gumdrop, and that's what makes them so fun!
There are several options here, for different sized globes and colors.
You can place these all around your Sim's backyard for some really great decorations.
They look really awesome in the sun, and placing both large and small ones will create a whimsical affect across the whole yard.
15.

Buyable Ponds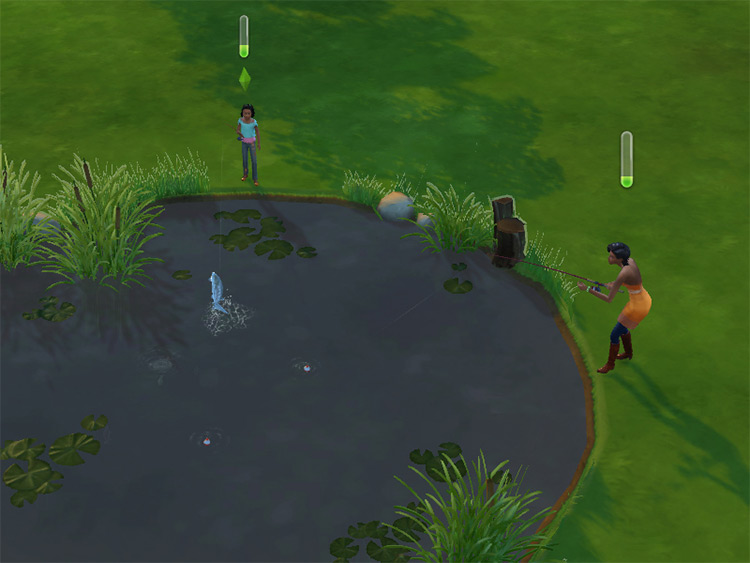 So this will require your Sims to have a rather large lot, but I think it's worth it.
Who wouldn't want their own pond?!
Not only are these very scenic, but they're functional as you would expect, too.
Sims can fish and look for frogs, all right in their backyard.
There are three different types of ponds in this mod, each pertaining to the sort of fish and frogs that can be found in them: common, uncommon, and rare.
Each type also has two styles, so you can pick the best pond for your yard.
Browse:
Lists
The Sims 4
Video Games