Sims 4 Bakery CC, Mods & Lots (All Free)
This post may contain affiliate links. If you buy something we may get a small commission at no extra cost to you. (Learn more).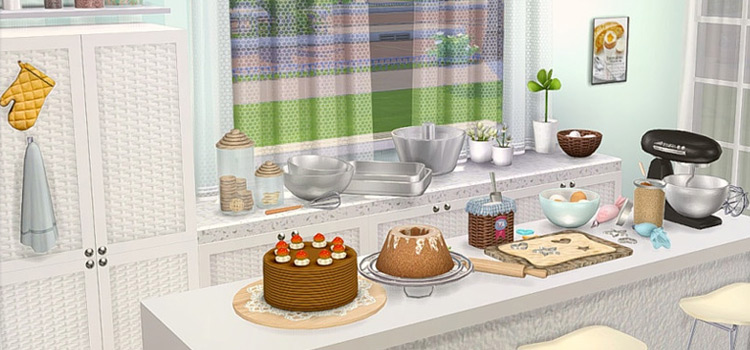 Get to Work introduced active careers and the ability to own your own retail lot.
And a super fun and rewarding business idea is to run your own bakery.
The cupcake machine and standard kitchen equipment are all you really need… but what about something more?
Decorations, new furniture, and a new career?
Sign me up!
And if you want to sign up too, then take note of these CC items to turn running your bakery business into a sweet treat.
Bakery Goodies Decor Collection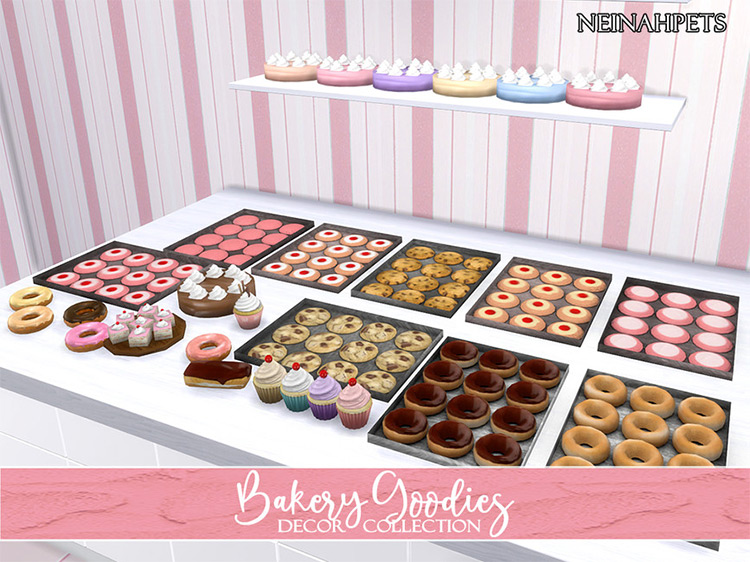 The in-game baked goods are a double-edged sword.
They must taste delicious, from the way our Sims rant and rave about them.
But we wish they were a little prettier in the display cases.
Creator Neinahpets' baked good decor set is the compromise we need.
You can't actually eat the trays of delicious donuts, cupcakes and cookies.
But you can draw hungry Sims into your bakery by putting these beauties on display.
And if you want only some of the goods then download them individually under set creations.
Bakery Set Cupcake #1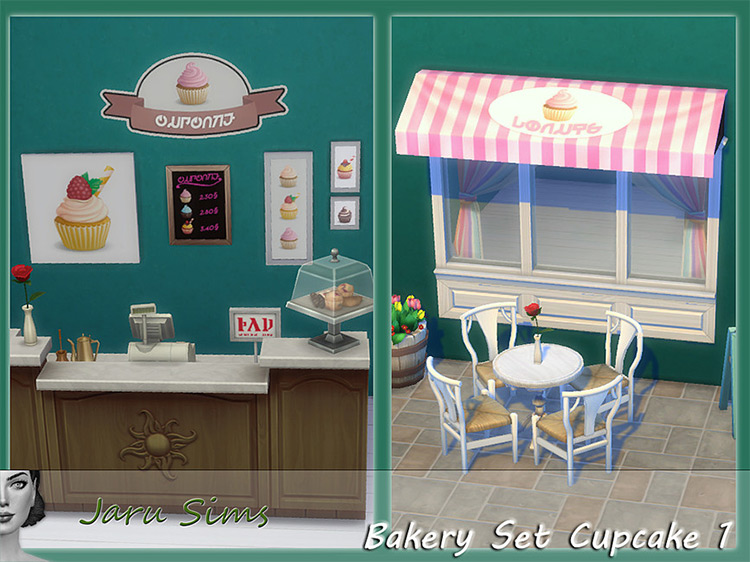 All cupcakes, all the time!
Some bakeries are dedicated to perfecting a single baked good.
If a cupcake bakery sounds like heaven then so will this bakery set from JaruSims.
Six items including a cupcake awning, cupcake menus (in Simlish), cupcake paintings and more!
We'd say we're all cupcake'd out but it would totally be a lie.
This is a good find for Maxis-Match and base game players so give it a whirl.
Formal Tea Set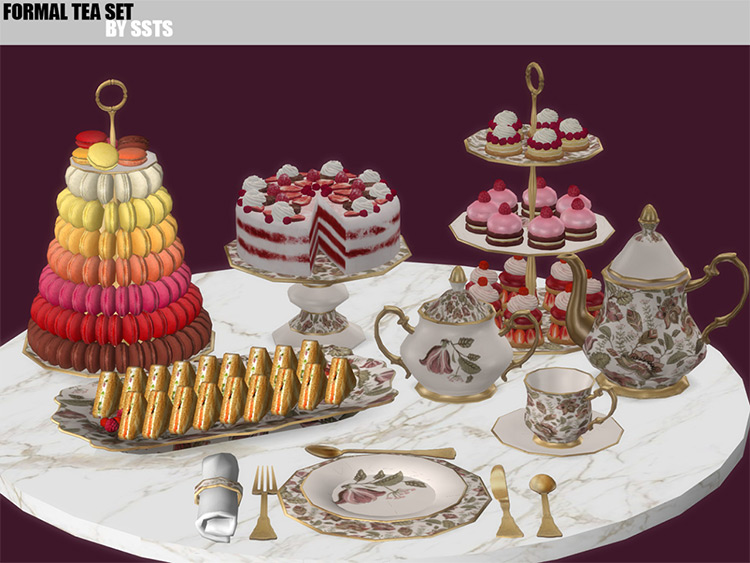 A bakery set fit for a Queen.
StrangeStoryteller is known for their historical-themed CC.
We're betting that the macarons, tea sandwiches and other goodies are meant for historical play.
But we think it'd work just as well for a Sim who runs an upscale bakery and tea house.
There's so many options here that you could rotate your bakery's offerings frequently.
We do have to mention the fine china and serveware included because it's super luxe.
The Bakery 2015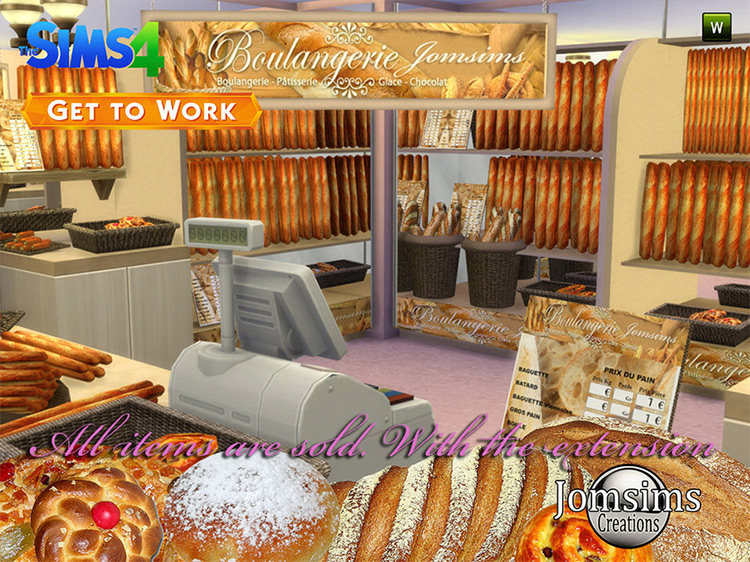 Who still misses Champes Les Sims from The Sims 3?
I imagine a lot of hands are up.
I'm with you all the way but at least we have something to tide us over until (if?) it comes back in the series:
This French-themed bakery, courtesy of JonSims.
Wall to wall of delicious baguettes, croissants and other pastries.
Plus display shelves, a menu and a sign to make it all official.
And the best part?
You can actually sell these goods to Sims, even though they're technically decor.
TS4 Paper Bakery Set (2021)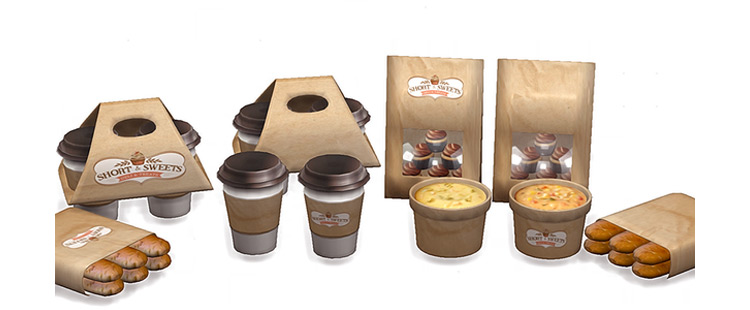 Some bakeries are munch and go kind of places.
You know the ones:
They offer your favorite coffee and muffin in a tasty paper bag for convenience.
YourDorkBrains' paper bag set allows you to replicate that exact kind of bakery.
Six items include bagged mini-cupcakes, a bag of bread and a delicious cup of soup that looks suspiciously like a Panera Bread fave.
And the quality looks so good that it's hard (and a little sad, tbh) to believe it's only decorative.
You can find this set under plants, clutter and miscellaneous decor.
Funny Kitchen Series – Time to Bake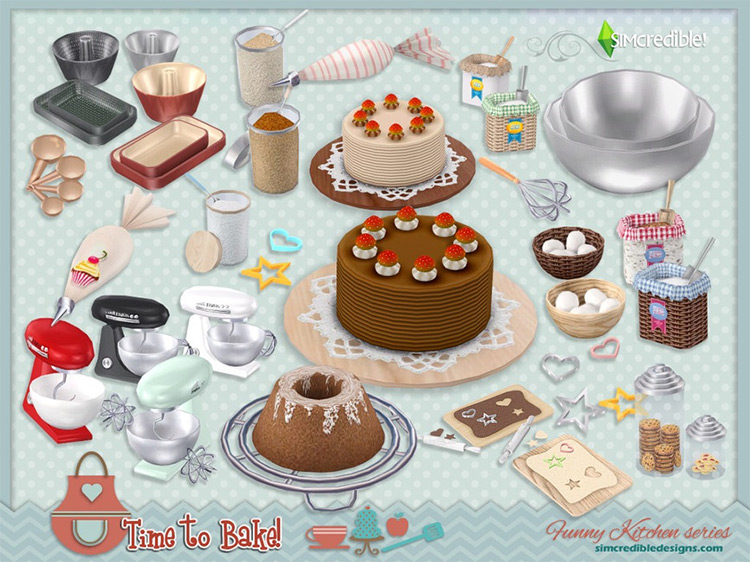 This one's great for a small bakery or a Sim with a big kitchen.
Plus it has a stand mixer! I don't even have a stand mixer (but a girl can dream, right?)
No one thing makes this set from Simcredible awesome.
The mixing bowls, rolling pins, rolled dough, cookie cutters and so much more make this an awesome collection of kitchen clutter.
Maybe your Sim's not successful enough for commercial equipment and they have to cook it all in a cramped kitchen.
The storytelling possibilities are endless.
ScandiFever Cake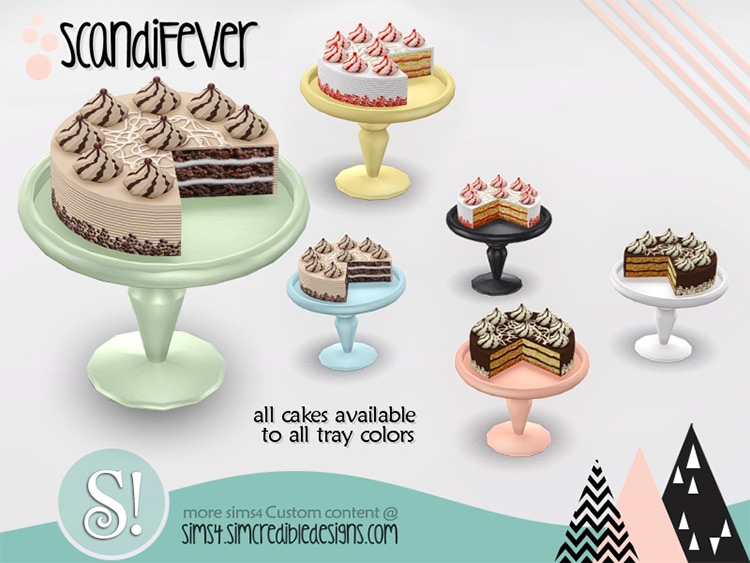 Yep, it's back to back Simcredible 'cause they're incredible!
Baker Sims will increase foot traffic 500% with these deco only cakes.
Every swatch of this cake is presented on a giant stand and looks like something you'd really want to eat.
We love the designs on these double-tiered cakes and the frosting design is super cute.
Plus the pastel colors of the stands make the sweets pop in contrast.
Vintage Bakery Lot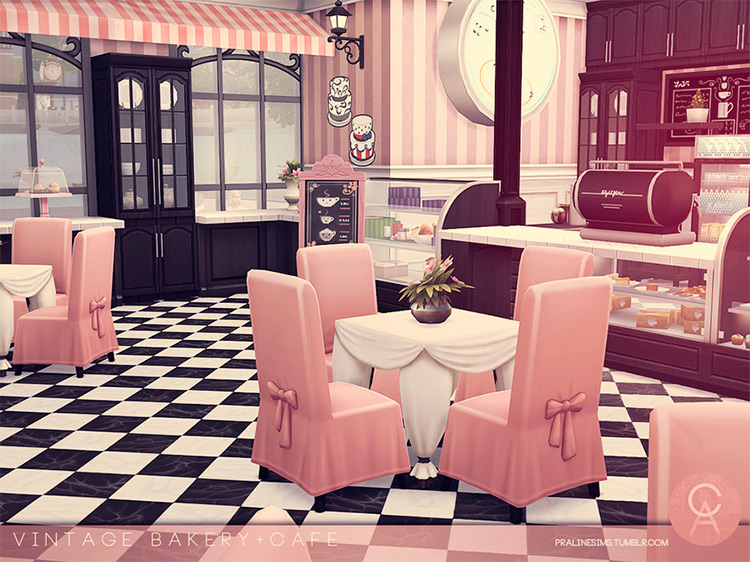 It's always hard to gauge how big is too big with retail lots.
Too small and Sims are breathing down each other's necks.
Too big and the wasted space might have your Sim losing money.
The gallery and CC lots are amazing for this very issue.
And PralineSims' vintage bakery lot is the perfect find for Simmers wanting an already built shop.
It's fully furnished and on a spacious 40×30 lot. Lots of seating inside, but some really nice table settings out.
This could definitely double as a wedding, prom, or birthday venue as well!
It does use assets from Get to Work and other packs so check the creator notes before downloading.
Bakery Career Mod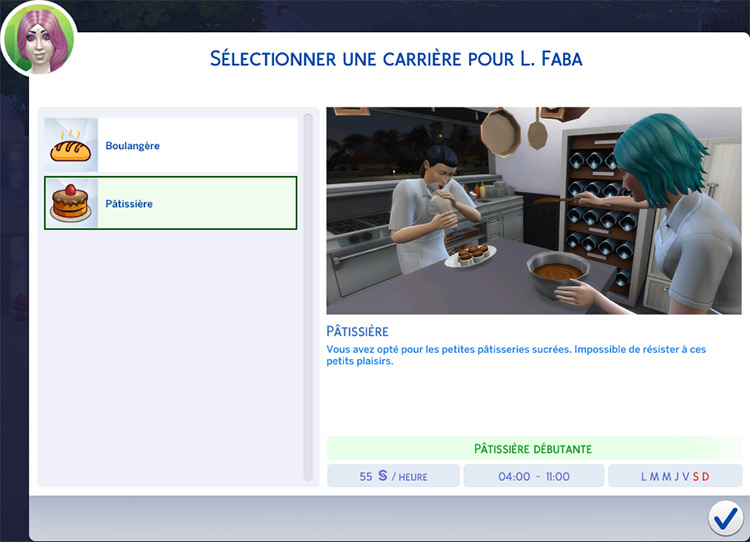 We appreciate the ability to own bakeries with Get to Work.
But what if your Sim's just not cut out to be a business owner?
Now your Sim can have a career in baking without fretting over tax laws.
This custom career from sorG has your Sim climb the ranks from Trainee to Famous Pastry Chef.
Completely as an employee, no less.
And while the photos show the language in French, there is an English version as well.
Edible Pastries
Pastries we can finally eat!
Every single item in AroundTheSims' pastry set can, yes, be eaten by your Sims at home or in restaurants.
From quiches to apple pie and flan, there's a ton of tasty desserts to choose from.
There's 15 items (16 if you include the cardboard tray) in all to test taste.
And you can download each item individually from their website linked above.
But if you like their content, consider donating or maybe become a member of their Patreon for all-in-one downloads.
It makes CC shopping so much easier.
Browse:
Lists
The Sims 4
Video Games